This is a follow up of my previous article about an analysis of all Extract parameters for Oracle GoldenGate 11.2 and 12.1. It is a comprehensive analysis of how the parameters UPDATERECORDFORMAT COMPACT|FULL, (NO)COMPRESSUPDATES, (NO)COMPRESSDELETES, (IGNORE)GETUPDATEBEFORES and also (NO)LOGALLSUPPCOLS used in Extract param file affect what is written to the trail file.
The blog post is about understanding how different (listed below) parameters decide what is read from the database redo/archive log and is written to the OGG trail. Please mind that this subject is totally independent of what is being written to the redo log (controlled by ADD TRANDATA). I am assuming that everything what I might be needed is written to the redo log (ADD TRANDATA is run with appropriate parameters) and there is no missing data that has to be read from the base table (using flashback query). We are just focusing of what will the Extract process write to trail file assuming that it has the required data.
Before continuing please read my my first post about the whole testing methodology and scripts that I am using for the test. Also read the results and conclusions for OGG 12.1. The scripts that have been used to test OGG 12.2 & 12.3 are pretty much the same that I have used before for OGG 12.1. There are some slight differences in OGG 12.2/12.3 scripts that should not affect the total result of the test (in defs commands: SOURCEDEFS & ASSUMETARGETDEFS) but the rest is the same.
Mind that this single article which covers both the behavior of OGG 12.2 and 12.3. I have not found any single difference between those two versions so I am assuming that the behavior of Extract parameters has not changed in OGG 12.3. I am not citing the documentation about the parameters that I am testing because I just do not understand what is written there. There are too many contradictions there. I am just presenting here what I have observed how it really works.
The version I have tested was:
OGG 12.2.0.1.170221 + database 12.1.0.2.170418,
OGG 12.3.0.1 + database 12.2.0.1.170516
The results are the same so I am presenting just one result – the one for OGG 12.2. All hosts are running on Linux x86_64.
1. Test cases
There are 10 options available for Extract process in OGG 12.2/12.3 that decide of what is written to the trail file:
UPDATERECORDFORMAT COMPACT (new in OGG 12.1)
UPDATERECORDFORMAT FULL (new in OGG 12.1)
NOLOGALLSUPCOLS (new in OGG 12.2)
LOGALLSUPCOLS (new in OGG 12.2)
NOCOMPRESSUPDATES
COMPRESSUPDATES
NOCOMPRESSDELETES
COMPRESSDELETES
IGNOREUPDATEBEFORES
GETUPDATEBEFORES
To test all permutations and combinations of them required to run 6331 test cases. Of course it does not make much sense to run test cases contrary (like both COMPRESSUPDATES and NOCOMPRESSUPDATES) or repeated options.
Some parameters are defaults according to the documentation, but I have tested if that was indeed the truth and that the DEFAULT work indeed.
2. Conclusions
The funny thing is that all those 10 parameters and 6331 permutations gave just 6 distinct result sets.
There are two possible ways that DELETE works and 3 possible ways that UPDATE works.
Analyzing the results I came to the following conclusions:
UPDATERECORDFORMAT COMPACT and UPDATERECORDFORMAT FULL behave exactly the same – but none of them is the default (like in OGG 12.1),
NOCOMPRESSDELETES is the default (different as OGG 12.1 and OGG 11.2),
NOCOMPRESSUPDATES is the default (this option was present in OGG 12.1 but was not working for Oracle),
NOCOMPRESSDELETES and COMPRESSDELETES affects the way UPDATE is being processed,
NOCOMPRESSUPDATES and COMPRESSUPDATES affects the way DELETE is being processed
Neither IGNOREUPDATEBEFORES nor GETUPDATEBEFORES is the default,
The Classic Extract works the same way as the Integrated Extract process.
Version 12.2/12.3 of OGG does not heave problems when PK is being updated any more. You can see that in the test results that it works as expected. The bug that still exists in OGG 11.2 and 12.1 has been corrected.
Since UPDATERECORDFORMAT COMPACT bahaves exactly the same as UPDATERECORDFORMAT FULL then I will be writing  UPDATERECORDFORMAT COMPACT|FULL in situations when one of those is being used (no matter witch one).
3. Results – DELETE
There are 2 possible ways DELETE is behaving:
All columns are written to the trail (default)
Just the Primary Key is written to the trail
By Primary Key I mean table Primary Key or any other key defined using KEYCOLS clause in Extract param file.
This diagram presents the behavior of OGG: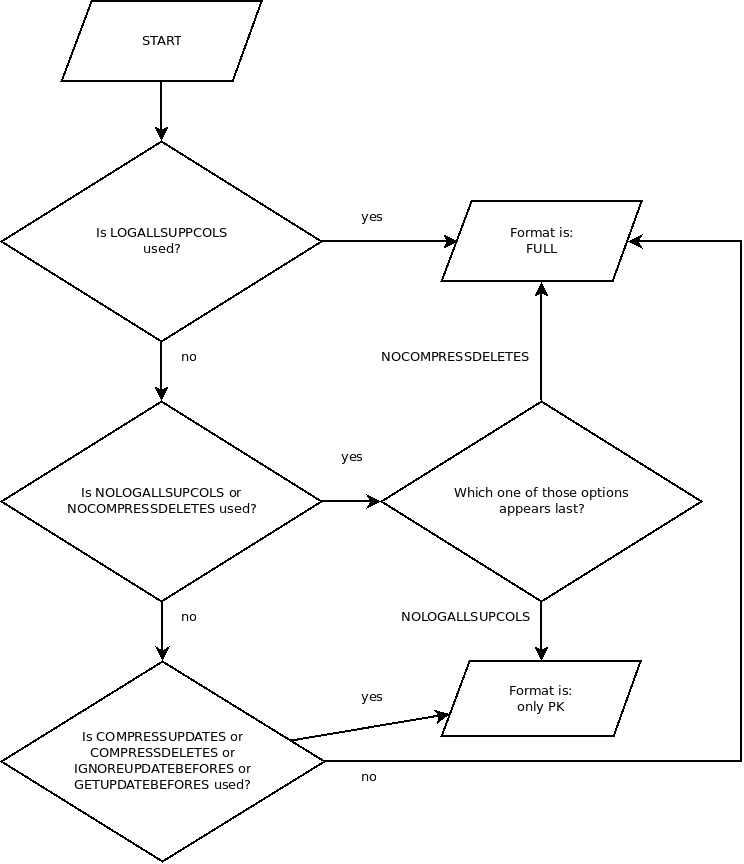 4. Results – UPDATE
The UPDATE command can be handled in 3 ways:
Only the AFTER value of UPDATE is written to the trail,
Both BEFORE and AFTER is written to the trail as 2 records (full),
Both BEFORE and AFTER is written to the trail as 1 record (compact) – this is default.
This diagram presents the behavior of OGG: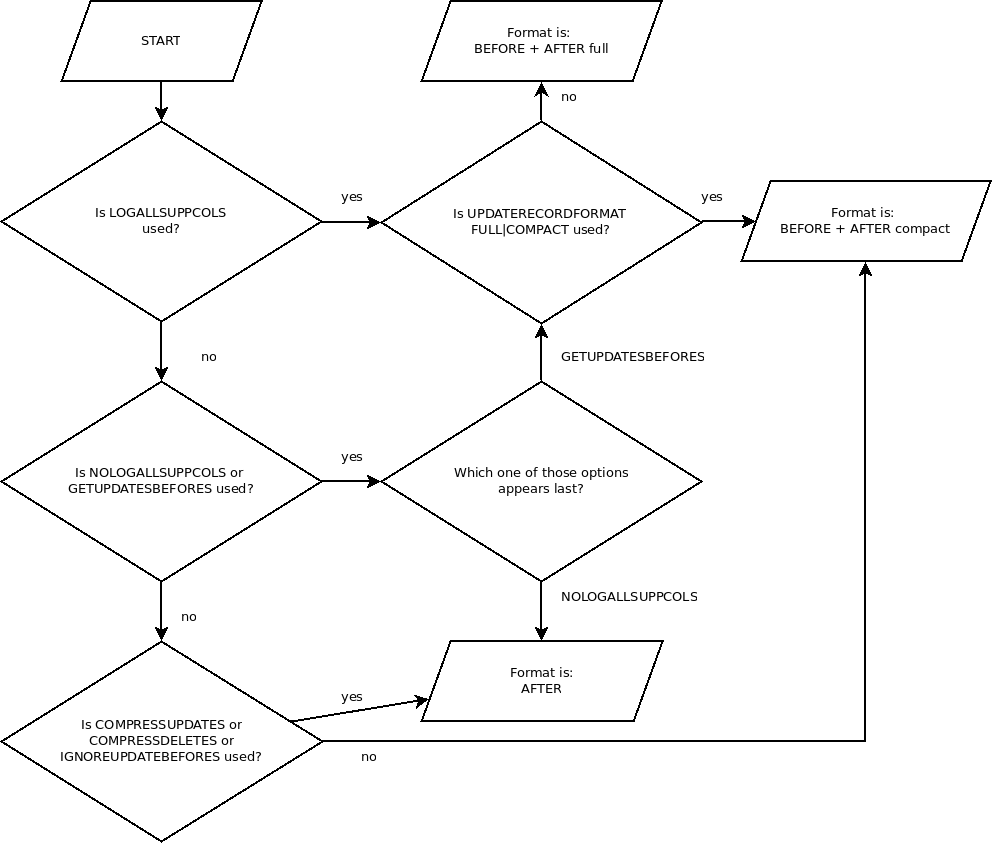 5. Raw data
To find parameters and their order in a more easy fashion I have used the following codes for them in my tests:
0 – UPDATERECORDFORMAT COMPACT
1 – UPDATERECORDFORMAT FULL
2 – NOLOGALLSUPCOLS
3 – LOGALLSUPCOLS
4 – NOCOMPRESSUPDATES
5 – COMPRESSUPDATE
6 – NOCOMPRESSDELETES
7 – COMPRESSDELETES
8 – IGNOREUPDATEBEFORES
9 – GETUPDATEBEFORES
These are the results for total 6331 test cases:
Test no.
Order
Parameters
Extract

Results
Result category
0
0
UPDATERECORDFORMAT COMPACT
PRM
SQL OUT
UPDATE: before + after in 1 record
DELETE: full
02
02
UPDATERECORDFORMAT COMPACT
NOLOGALLSUPCOLS
PRM
SQL OUT
UPDATE: only after
DELETE: only PK
02
20
NOLOGALLSUPCOLS
UPDATERECORDFORMAT COMPACT
PRM
SQL OUT
UPDATE: only after
DELETE: only PK
024
024
UPDATERECORDFORMAT COMPACT
NOLOGALLSUPCOLS
NOCOMPRESSUPDATES
PRM
SQL OUT
UPDATE: only after
DELETE: only PK
024
042
UPDATERECORDFORMAT COMPACT
NOCOMPRESSUPDATES
NOLOGALLSUPCOLS
PRM
SQL OUT
UPDATE: only after
DELETE: only PK
024
204
NOLOGALLSUPCOLS
UPDATERECORDFORMAT COMPACT
NOCOMPRESSUPDATES
PRM
SQL OUT
UPDATE: only after
DELETE: only PK
024
240
NOLOGALLSUPCOLS
NOCOMPRESSUPDATES
UPDATERECORDFORMAT COMPACT
PRM
SQL OUT
UPDATE: only after
DELETE: only PK
024
402
NOCOMPRESSUPDATES
UPDATERECORDFORMAT COMPACT
NOLOGALLSUPCOLS
PRM
SQL OUT
UPDATE: only after
DELETE: only PK
024
420
NOCOMPRESSUPDATES
NOLOGALLSUPCOLS
UPDATERECORDFORMAT COMPACT
PRM
SQL OUT
UPDATE: only after
DELETE: only PK
0246
0246
UPDATERECORDFORMAT COMPACT
NOLOGALLSUPCOLS
NOCOMPRESSUPDATES
NOCOMPRESSDELETES
PRM
SQL OUT
UPDATE: only after
DELETE: full
0246
0264
UPDATERECORDFORMAT COMPACT
NOLOGALLSUPCOLS
NOCOMPRESSDELETES
NOCOMPRESSUPDATES
PRM
SQL OUT
UPDATE: only after
DELETE: full
0246
0426
UPDATERECORDFORMAT COMPACT
NOCOMPRESSUPDATES
NOLOGALLSUPCOLS
NOCOMPRESSDELETES
PRM
SQL OUT
UPDATE: only after
DELETE: full
0246
0462
UPDATERECORDFORMAT COMPACT
NOCOMPRESSUPDATES
NOCOMPRESSDELETES
NOLOGALLSUPCOLS
PRM
SQL OUT
UPDATE: only after
DELETE: only PK
0246
0624
UPDATERECORDFORMAT COMPACT
NOCOMPRESSDELETES
NOLOGALLSUPCOLS
NOCOMPRESSUPDATES
PRM
SQL OUT
UPDATE: only after
DELETE: only PK
0246
0642
UPDATERECORDFORMAT COMPACT
NOCOMPRESSDELETES
NOCOMPRESSUPDATES
NOLOGALLSUPCOLS
PRM
SQL OUT
UPDATE: only after
DELETE: only PK
0246
2046
NOLOGALLSUPCOLS
UPDATERECORDFORMAT COMPACT
NOCOMPRESSUPDATES
NOCOMPRESSDELETES
PRM
SQL OUT
UPDATE: only after
DELETE: full
0246
2064
NOLOGALLSUPCOLS
UPDATERECORDFORMAT COMPACT
NOCOMPRESSDELETES
NOCOMPRESSUPDATES
PRM
SQL OUT
UPDATE: only after
DELETE: full
0246
2406
NOLOGALLSUPCOLS
NOCOMPRESSUPDATES
UPDATERECORDFORMAT COMPACT
NOCOMPRESSDELETES
PRM
SQL OUT
UPDATE: only after
DELETE: full
0246
2460
NOLOGALLSUPCOLS
NOCOMPRESSUPDATES
NOCOMPRESSDELETES
UPDATERECORDFORMAT COMPACT
PRM
SQL OUT
UPDATE: only after
DELETE: full
0246
2604
NOLOGALLSUPCOLS
NOCOMPRESSDELETES
UPDATERECORDFORMAT COMPACT
NOCOMPRESSUPDATES
PRM
SQL OUT
UPDATE: only after
DELETE: full
0246
2640
NOLOGALLSUPCOLS
NOCOMPRESSDELETES
NOCOMPRESSUPDATES
UPDATERECORDFORMAT COMPACT
PRM
SQL OUT
UPDATE: only after
DELETE: full
0246
4026
NOCOMPRESSUPDATES
UPDATERECORDFORMAT COMPACT
NOLOGALLSUPCOLS
NOCOMPRESSDELETES
PRM
SQL OUT
UPDATE: only after
DELETE: full
0246
4062
NOCOMPRESSUPDATES
UPDATERECORDFORMAT COMPACT
NOCOMPRESSDELETES
NOLOGALLSUPCOLS
PRM
SQL OUT
UPDATE: only after
DELETE: only PK
0246
4206
NOCOMPRESSUPDATES
NOLOGALLSUPCOLS
UPDATERECORDFORMAT COMPACT
NOCOMPRESSDELETES
PRM
SQL OUT
UPDATE: only after
DELETE: full
0246
4260
NOCOMPRESSUPDATES
NOLOGALLSUPCOLS
NOCOMPRESSDELETES
UPDATERECORDFORMAT COMPACT
PRM
SQL OUT
UPDATE: only after
DELETE: full
0246
4602
NOCOMPRESSUPDATES
NOCOMPRESSDELETES
UPDATERECORDFORMAT COMPACT
NOLOGALLSUPCOLS
PRM
SQL OUT
UPDATE: only after
DELETE: only PK
0246
4620
NOCOMPRESSUPDATES
NOCOMPRESSDELETES
NOLOGALLSUPCOLS
UPDATERECORDFORMAT COMPACT
PRM
SQL OUT
UPDATE: only after
DELETE: only PK
0246
6024
NOCOMPRESSDELETES
UPDATERECORDFORMAT COMPACT
NOLOGALLSUPCOLS
NOCOMPRESSUPDATES
PRM
SQL OUT
UPDATE: only after
DELETE: only PK
0246
6042
NOCOMPRESSDELETES
UPDATERECORDFORMAT COMPACT
NOCOMPRESSUPDATES
NOLOGALLSUPCOLS
PRM
SQL OUT
UPDATE: only after
DELETE: only PK
0246
6204
NOCOMPRESSDELETES
NOLOGALLSUPCOLS
UPDATERECORDFORMAT COMPACT
NOCOMPRESSUPDATES
PRM
SQL OUT
UPDATE: only after
DELETE: only PK
0246
6240
NOCOMPRESSDELETES
NOLOGALLSUPCOLS
NOCOMPRESSUPDATES
UPDATERECORDFORMAT COMPACT
PRM
SQL OUT
UPDATE: only after
DELETE: only PK
0246
6402
NOCOMPRESSDELETES
NOCOMPRESSUPDATES
UPDATERECORDFORMAT COMPACT
NOLOGALLSUPCOLS
PRM
SQL OUT
UPDATE: only after
DELETE: only PK
0246
6420
NOCOMPRESSDELETES
NOCOMPRESSUPDATES
NOLOGALLSUPCOLS
UPDATERECORDFORMAT COMPACT
PRM
SQL OUT
UPDATE: only after
DELETE: only PK
02468
02468
UPDATERECORDFORMAT COMPACT
NOLOGALLSUPCOLS
NOCOMPRESSUPDATES
NOCOMPRESSDELETES
IGNOREUPDATEBEFORES
PRM
SQL OUT
UPDATE: only after
DELETE: full
02468
02486
UPDATERECORDFORMAT COMPACT
NOLOGALLSUPCOLS
NOCOMPRESSUPDATES
IGNOREUPDATEBEFORES
NOCOMPRESSDELETES
PRM
SQL OUT
UPDATE: only after
DELETE: full
02468
02648
UPDATERECORDFORMAT COMPACT
NOLOGALLSUPCOLS
NOCOMPRESSDELETES
NOCOMPRESSUPDATES
IGNOREUPDATEBEFORES
PRM
SQL OUT
UPDATE: only after
DELETE: full
02468
02684
UPDATERECORDFORMAT COMPACT
NOLOGALLSUPCOLS
NOCOMPRESSDELETES
IGNOREUPDATEBEFORES
NOCOMPRESSUPDATES
PRM
SQL OUT
UPDATE: only after
DELETE: full
02468
02846
UPDATERECORDFORMAT COMPACT
NOLOGALLSUPCOLS
IGNOREUPDATEBEFORES
NOCOMPRESSUPDATES
NOCOMPRESSDELETES
PRM
SQL OUT
UPDATE: only after
DELETE: full
02468
02864
UPDATERECORDFORMAT COMPACT
NOLOGALLSUPCOLS
IGNOREUPDATEBEFORES
NOCOMPRESSDELETES
NOCOMPRESSUPDATES
PRM
SQL OUT
UPDATE: only after
DELETE: full
02468
04268
UPDATERECORDFORMAT COMPACT
NOCOMPRESSUPDATES
NOLOGALLSUPCOLS
NOCOMPRESSDELETES
IGNOREUPDATEBEFORES
PRM
SQL OUT
UPDATE: only after
DELETE: full
02468
04286
UPDATERECORDFORMAT COMPACT
NOCOMPRESSUPDATES
NOLOGALLSUPCOLS
IGNOREUPDATEBEFORES
NOCOMPRESSDELETES
PRM
SQL OUT
UPDATE: only after
DELETE: full
02468
04628
UPDATERECORDFORMAT COMPACT
NOCOMPRESSUPDATES
NOCOMPRESSDELETES
NOLOGALLSUPCOLS
IGNOREUPDATEBEFORES
PRM
SQL OUT
UPDATE: only after
DELETE: only PK
02468
04682
UPDATERECORDFORMAT COMPACT
NOCOMPRESSUPDATES
NOCOMPRESSDELETES
IGNOREUPDATEBEFORES
NOLOGALLSUPCOLS
PRM
SQL OUT
UPDATE: only after
DELETE: only PK
02468
04826
UPDATERECORDFORMAT COMPACT
NOCOMPRESSUPDATES
IGNOREUPDATEBEFORES
NOLOGALLSUPCOLS
NOCOMPRESSDELETES
PRM
SQL OUT
UPDATE: only after
DELETE: full
02468
04862
UPDATERECORDFORMAT COMPACT
NOCOMPRESSUPDATES
IGNOREUPDATEBEFORES
NOCOMPRESSDELETES
NOLOGALLSUPCOLS
PRM
SQL OUT
UPDATE: only after
DELETE: only PK
02468
06248
UPDATERECORDFORMAT COMPACT
NOCOMPRESSDELETES
NOLOGALLSUPCOLS
NOCOMPRESSUPDATES
IGNOREUPDATEBEFORES
PRM
SQL OUT
UPDATE: only after
DELETE: only PK
02468
06284
UPDATERECORDFORMAT COMPACT
NOCOMPRESSDELETES
NOLOGALLSUPCOLS
IGNOREUPDATEBEFORES
NOCOMPRESSUPDATES
PRM
SQL OUT
UPDATE: only after
DELETE: only PK
02468
06428
UPDATERECORDFORMAT COMPACT
NOCOMPRESSDELETES
NOCOMPRESSUPDATES
NOLOGALLSUPCOLS
IGNOREUPDATEBEFORES
PRM
SQL OUT
UPDATE: only after
DELETE: only PK
02468
06482
UPDATERECORDFORMAT COMPACT
NOCOMPRESSDELETES
NOCOMPRESSUPDATES
IGNOREUPDATEBEFORES
NOLOGALLSUPCOLS
PRM
SQL OUT
UPDATE: only after
DELETE: only PK
02468
06824
UPDATERECORDFORMAT COMPACT
NOCOMPRESSDELETES
IGNOREUPDATEBEFORES
NOLOGALLSUPCOLS
NOCOMPRESSUPDATES
PRM
SQL OUT
UPDATE: only after
DELETE: only PK
02468
06842
UPDATERECORDFORMAT COMPACT
NOCOMPRESSDELETES
IGNOREUPDATEBEFORES
NOCOMPRESSUPDATES
NOLOGALLSUPCOLS
PRM
SQL OUT
UPDATE: only after
DELETE: only PK
02468
08246
UPDATERECORDFORMAT COMPACT
IGNOREUPDATEBEFORES
NOLOGALLSUPCOLS
NOCOMPRESSUPDATES
NOCOMPRESSDELETES
PRM
SQL OUT
UPDATE: only after
DELETE: full
02468
08264
UPDATERECORDFORMAT COMPACT
IGNOREUPDATEBEFORES
NOLOGALLSUPCOLS
NOCOMPRESSDELETES
NOCOMPRESSUPDATES
PRM
SQL OUT
UPDATE: only after
DELETE: full
02468
08426
UPDATERECORDFORMAT COMPACT
IGNOREUPDATEBEFORES
NOCOMPRESSUPDATES
NOLOGALLSUPCOLS
NOCOMPRESSDELETES
PRM
SQL OUT
UPDATE: only after
DELETE: full
02468
08462
UPDATERECORDFORMAT COMPACT
IGNOREUPDATEBEFORES
NOCOMPRESSUPDATES
NOCOMPRESSDELETES
NOLOGALLSUPCOLS
PRM
SQL OUT
UPDATE: only after
DELETE: only PK
02468
08624
UPDATERECORDFORMAT COMPACT
IGNOREUPDATEBEFORES
NOCOMPRESSDELETES
NOLOGALLSUPCOLS
NOCOMPRESSUPDATES
PRM
SQL OUT
UPDATE: only after
DELETE: only PK
02468
08642
UPDATERECORDFORMAT COMPACT
IGNOREUPDATEBEFORES
NOCOMPRESSDELETES
NOCOMPRESSUPDATES
NOLOGALLSUPCOLS
PRM
SQL OUT
UPDATE: only after
DELETE: only PK
02468
20468
NOLOGALLSUPCOLS
UPDATERECORDFORMAT COMPACT
NOCOMPRESSUPDATES
NOCOMPRESSDELETES
IGNOREUPDATEBEFORES
PRM
SQL OUT
UPDATE: only after
DELETE: full
02468
20486
NOLOGALLSUPCOLS
UPDATERECORDFORMAT COMPACT
NOCOMPRESSUPDATES
IGNOREUPDATEBEFORES
NOCOMPRESSDELETES
PRM
SQL OUT
UPDATE: only after
DELETE: full
02468
20648
NOLOGALLSUPCOLS
UPDATERECORDFORMAT COMPACT
NOCOMPRESSDELETES
NOCOMPRESSUPDATES
IGNOREUPDATEBEFORES
PRM
SQL OUT
UPDATE: only after
DELETE: full
02468
20684
NOLOGALLSUPCOLS
UPDATERECORDFORMAT COMPACT
NOCOMPRESSDELETES
IGNOREUPDATEBEFORES
NOCOMPRESSUPDATES
PRM
SQL OUT
UPDATE: only after
DELETE: full
02468
20846
NOLOGALLSUPCOLS
UPDATERECORDFORMAT COMPACT
IGNOREUPDATEBEFORES
NOCOMPRESSUPDATES
NOCOMPRESSDELETES
PRM
SQL OUT
UPDATE: only after
DELETE: full
02468
20864
NOLOGALLSUPCOLS
UPDATERECORDFORMAT COMPACT
IGNOREUPDATEBEFORES
NOCOMPRESSDELETES
NOCOMPRESSUPDATES
PRM
SQL OUT
UPDATE: only after
DELETE: full
02468
24068
NOLOGALLSUPCOLS
NOCOMPRESSUPDATES
UPDATERECORDFORMAT COMPACT
NOCOMPRESSDELETES
IGNOREUPDATEBEFORES
PRM
SQL OUT
UPDATE: only after
DELETE: full
02468
24086
NOLOGALLSUPCOLS
NOCOMPRESSUPDATES
UPDATERECORDFORMAT COMPACT
IGNOREUPDATEBEFORES
NOCOMPRESSDELETES
PRM
SQL OUT
UPDATE: only after
DELETE: full
02468
24608
NOLOGALLSUPCOLS
NOCOMPRESSUPDATES
NOCOMPRESSDELETES
UPDATERECORDFORMAT COMPACT
IGNOREUPDATEBEFORES
PRM
SQL OUT
UPDATE: only after
DELETE: full
02468
24680
NOLOGALLSUPCOLS
NOCOMPRESSUPDATES
NOCOMPRESSDELETES
IGNOREUPDATEBEFORES
UPDATERECORDFORMAT COMPACT
PRM
SQL OUT
UPDATE: only after
DELETE: full
02468
24806
NOLOGALLSUPCOLS
NOCOMPRESSUPDATES
IGNOREUPDATEBEFORES
UPDATERECORDFORMAT COMPACT
NOCOMPRESSDELETES
PRM
SQL OUT
UPDATE: only after
DELETE: full
02468
24860
NOLOGALLSUPCOLS
NOCOMPRESSUPDATES
IGNOREUPDATEBEFORES
NOCOMPRESSDELETES
UPDATERECORDFORMAT COMPACT
PRM
SQL OUT
UPDATE: only after
DELETE: full
02468
26048
NOLOGALLSUPCOLS
NOCOMPRESSDELETES
UPDATERECORDFORMAT COMPACT
NOCOMPRESSUPDATES
IGNOREUPDATEBEFORES
PRM
SQL OUT
UPDATE: only after
DELETE: full
02468
26084
NOLOGALLSUPCOLS
NOCOMPRESSDELETES
UPDATERECORDFORMAT COMPACT
IGNOREUPDATEBEFORES
NOCOMPRESSUPDATES
PRM
SQL OUT
UPDATE: only after
DELETE: full
02468
26408
NOLOGALLSUPCOLS
NOCOMPRESSDELETES
NOCOMPRESSUPDATES
UPDATERECORDFORMAT COMPACT
IGNOREUPDATEBEFORES
PRM
SQL OUT
UPDATE: only after
DELETE: full
02468
26480
NOLOGALLSUPCOLS
NOCOMPRESSDELETES
NOCOMPRESSUPDATES
IGNOREUPDATEBEFORES
UPDATERECORDFORMAT COMPACT
PRM
SQL OUT
UPDATE: only after
DELETE: full
02468
26804
NOLOGALLSUPCOLS
NOCOMPRESSDELETES
IGNOREUPDATEBEFORES
UPDATERECORDFORMAT COMPACT
NOCOMPRESSUPDATES
PRM
SQL OUT
UPDATE: only after
DELETE: full
02468
26840
NOLOGALLSUPCOLS
NOCOMPRESSDELETES
IGNOREUPDATEBEFORES
NOCOMPRESSUPDATES
UPDATERECORDFORMAT COMPACT
PRM
SQL OUT
UPDATE: only after
DELETE: full
02468
28046
NOLOGALLSUPCOLS
IGNOREUPDATEBEFORES
UPDATERECORDFORMAT COMPACT
NOCOMPRESSUPDATES
NOCOMPRESSDELETES
PRM
SQL OUT
UPDATE: only after
DELETE: full
02468
28064
NOLOGALLSUPCOLS
IGNOREUPDATEBEFORES
UPDATERECORDFORMAT COMPACT
NOCOMPRESSDELETES
NOCOMPRESSUPDATES
PRM
SQL OUT
UPDATE: only after
DELETE: full
02468
28406
NOLOGALLSUPCOLS
IGNOREUPDATEBEFORES
NOCOMPRESSUPDATES
UPDATERECORDFORMAT COMPACT
NOCOMPRESSDELETES
PRM
SQL OUT
UPDATE: only after
DELETE: full
02468
28460
NOLOGALLSUPCOLS
IGNOREUPDATEBEFORES
NOCOMPRESSUPDATES
NOCOMPRESSDELETES
UPDATERECORDFORMAT COMPACT
PRM
SQL OUT
UPDATE: only after
DELETE: full
02468
28604
NOLOGALLSUPCOLS
IGNOREUPDATEBEFORES
NOCOMPRESSDELETES
UPDATERECORDFORMAT COMPACT
NOCOMPRESSUPDATES
PRM
SQL OUT
UPDATE: only after
DELETE: full
02468
28640
NOLOGALLSUPCOLS
IGNOREUPDATEBEFORES
NOCOMPRESSDELETES
NOCOMPRESSUPDATES
UPDATERECORDFORMAT COMPACT
PRM
SQL OUT
UPDATE: only after
DELETE: full
02468
40268
NOCOMPRESSUPDATES
UPDATERECORDFORMAT COMPACT
NOLOGALLSUPCOLS
NOCOMPRESSDELETES
IGNOREUPDATEBEFORES
PRM
SQL OUT
UPDATE: only after
DELETE: full
02468
40286
NOCOMPRESSUPDATES
UPDATERECORDFORMAT COMPACT
NOLOGALLSUPCOLS
IGNOREUPDATEBEFORES
NOCOMPRESSDELETES
PRM
SQL OUT
UPDATE: only after
DELETE: full
02468
40628
NOCOMPRESSUPDATES
UPDATERECORDFORMAT COMPACT
NOCOMPRESSDELETES
NOLOGALLSUPCOLS
IGNOREUPDATEBEFORES
PRM
SQL OUT
UPDATE: only after
DELETE: only PK
02468
40682
NOCOMPRESSUPDATES
UPDATERECORDFORMAT COMPACT
NOCOMPRESSDELETES
IGNOREUPDATEBEFORES
NOLOGALLSUPCOLS
PRM
SQL OUT
UPDATE: only after
DELETE: only PK
02468
40826
NOCOMPRESSUPDATES
UPDATERECORDFORMAT COMPACT
IGNOREUPDATEBEFORES
NOLOGALLSUPCOLS
NOCOMPRESSDELETES
PRM
SQL OUT
UPDATE: only after
DELETE: full
02468
40862
NOCOMPRESSUPDATES
UPDATERECORDFORMAT COMPACT
IGNOREUPDATEBEFORES
NOCOMPRESSDELETES
NOLOGALLSUPCOLS
PRM
SQL OUT
UPDATE: only after
DELETE: only PK
02468
42068
NOCOMPRESSUPDATES
NOLOGALLSUPCOLS
UPDATERECORDFORMAT COMPACT
NOCOMPRESSDELETES
IGNOREUPDATEBEFORES
PRM
SQL OUT
UPDATE: only after
DELETE: full
02468
42086
NOCOMPRESSUPDATES
NOLOGALLSUPCOLS
UPDATERECORDFORMAT COMPACT
IGNOREUPDATEBEFORES
NOCOMPRESSDELETES
PRM
SQL OUT
UPDATE: only after
DELETE: full
02468
42608
NOCOMPRESSUPDATES
NOLOGALLSUPCOLS
NOCOMPRESSDELETES
UPDATERECORDFORMAT COMPACT
IGNOREUPDATEBEFORES
PRM
SQL OUT
UPDATE: only after
DELETE: full
02468
42680
NOCOMPRESSUPDATES
NOLOGALLSUPCOLS
NOCOMPRESSDELETES
IGNOREUPDATEBEFORES
UPDATERECORDFORMAT COMPACT
PRM
SQL OUT
UPDATE: only after
DELETE: full
02468
42806
NOCOMPRESSUPDATES
NOLOGALLSUPCOLS
IGNOREUPDATEBEFORES
UPDATERECORDFORMAT COMPACT
NOCOMPRESSDELETES
PRM
SQL OUT
UPDATE: only after
DELETE: full
02468
42860
NOCOMPRESSUPDATES
NOLOGALLSUPCOLS
IGNOREUPDATEBEFORES
NOCOMPRESSDELETES
UPDATERECORDFORMAT COMPACT
PRM
SQL OUT
UPDATE: only after
DELETE: full
02468
46028
NOCOMPRESSUPDATES
NOCOMPRESSDELETES
UPDATERECORDFORMAT COMPACT
NOLOGALLSUPCOLS
IGNOREUPDATEBEFORES
PRM
SQL OUT
UPDATE: only after
DELETE: only PK
02468
46082
NOCOMPRESSUPDATES
NOCOMPRESSDELETES
UPDATERECORDFORMAT COMPACT
IGNOREUPDATEBEFORES
NOLOGALLSUPCOLS
PRM
SQL OUT
UPDATE: only after
DELETE: only PK
02468
46208
NOCOMPRESSUPDATES
NOCOMPRESSDELETES
NOLOGALLSUPCOLS
UPDATERECORDFORMAT COMPACT
IGNOREUPDATEBEFORES
PRM
SQL OUT
UPDATE: only after
DELETE: only PK
02468
46280
NOCOMPRESSUPDATES
NOCOMPRESSDELETES
NOLOGALLSUPCOLS
IGNOREUPDATEBEFORES
UPDATERECORDFORMAT COMPACT
PRM
SQL OUT
UPDATE: only after
DELETE: only PK
02468
46802
NOCOMPRESSUPDATES
NOCOMPRESSDELETES
IGNOREUPDATEBEFORES
UPDATERECORDFORMAT COMPACT
NOLOGALLSUPCOLS
PRM
SQL OUT
UPDATE: only after
DELETE: only PK
02468
46820
NOCOMPRESSUPDATES
NOCOMPRESSDELETES
IGNOREUPDATEBEFORES
NOLOGALLSUPCOLS
UPDATERECORDFORMAT COMPACT
PRM
SQL OUT
UPDATE: only after
DELETE: only PK
02468
48026
NOCOMPRESSUPDATES
IGNOREUPDATEBEFORES
UPDATERECORDFORMAT COMPACT
NOLOGALLSUPCOLS
NOCOMPRESSDELETES
PRM
SQL OUT
UPDATE: only after
DELETE: full
02468
48062
NOCOMPRESSUPDATES
IGNOREUPDATEBEFORES
UPDATERECORDFORMAT COMPACT
NOCOMPRESSDELETES
NOLOGALLSUPCOLS
PRM
SQL OUT
UPDATE: only after
DELETE: only PK
02468
48206
NOCOMPRESSUPDATES
IGNOREUPDATEBEFORES
NOLOGALLSUPCOLS
UPDATERECORDFORMAT COMPACT
NOCOMPRESSDELETES
PRM
SQL OUT
UPDATE: only after
DELETE: full
02468
48260
NOCOMPRESSUPDATES
IGNOREUPDATEBEFORES
NOLOGALLSUPCOLS
NOCOMPRESSDELETES
UPDATERECORDFORMAT COMPACT
PRM
SQL OUT
UPDATE: only after
DELETE: full
02468
48602
NOCOMPRESSUPDATES
IGNOREUPDATEBEFORES
NOCOMPRESSDELETES
UPDATERECORDFORMAT COMPACT
NOLOGALLSUPCOLS
PRM
SQL OUT
UPDATE: only after
DELETE: only PK
02468
48620
NOCOMPRESSUPDATES
IGNOREUPDATEBEFORES
NOCOMPRESSDELETES
NOLOGALLSUPCOLS
UPDATERECORDFORMAT COMPACT
PRM
SQL OUT
UPDATE: only after
DELETE: only PK
02468
60248
NOCOMPRESSDELETES
UPDATERECORDFORMAT COMPACT
NOLOGALLSUPCOLS
NOCOMPRESSUPDATES
IGNOREUPDATEBEFORES
PRM
SQL OUT
UPDATE: only after
DELETE: only PK
02468
60284
NOCOMPRESSDELETES
UPDATERECORDFORMAT COMPACT
NOLOGALLSUPCOLS
IGNOREUPDATEBEFORES
NOCOMPRESSUPDATES
PRM
SQL OUT
UPDATE: only after
DELETE: only PK
02468
60428
NOCOMPRESSDELETES
UPDATERECORDFORMAT COMPACT
NOCOMPRESSUPDATES
NOLOGALLSUPCOLS
IGNOREUPDATEBEFORES
PRM
SQL OUT
UPDATE: only after
DELETE: only PK
02468
60482
NOCOMPRESSDELETES
UPDATERECORDFORMAT COMPACT
NOCOMPRESSUPDATES
IGNOREUPDATEBEFORES
NOLOGALLSUPCOLS
PRM
SQL OUT
UPDATE: only after
DELETE: only PK
02468
60824
NOCOMPRESSDELETES
UPDATERECORDFORMAT COMPACT
IGNOREUPDATEBEFORES
NOLOGALLSUPCOLS
NOCOMPRESSUPDATES
PRM
SQL OUT
UPDATE: only after
DELETE: only PK
02468
60842
NOCOMPRESSDELETES
UPDATERECORDFORMAT COMPACT
IGNOREUPDATEBEFORES
NOCOMPRESSUPDATES
NOLOGALLSUPCOLS
PRM
SQL OUT
UPDATE: only after
DELETE: only PK
02468
62048
NOCOMPRESSDELETES
NOLOGALLSUPCOLS
UPDATERECORDFORMAT COMPACT
NOCOMPRESSUPDATES
IGNOREUPDATEBEFORES
PRM
SQL OUT
UPDATE: only after
DELETE: only PK
02468
62084
NOCOMPRESSDELETES
NOLOGALLSUPCOLS
UPDATERECORDFORMAT COMPACT
IGNOREUPDATEBEFORES
NOCOMPRESSUPDATES
PRM
SQL OUT
UPDATE: only after
DELETE: only PK
02468
62408
NOCOMPRESSDELETES
NOLOGALLSUPCOLS
NOCOMPRESSUPDATES
UPDATERECORDFORMAT COMPACT
IGNOREUPDATEBEFORES
PRM
SQL OUT
UPDATE: only after
DELETE: only PK
02468
62480
NOCOMPRESSDELETES
NOLOGALLSUPCOLS
NOCOMPRESSUPDATES
IGNOREUPDATEBEFORES
UPDATERECORDFORMAT COMPACT
PRM
SQL OUT
UPDATE: only after
DELETE: only PK
02468
62804
NOCOMPRESSDELETES
NOLOGALLSUPCOLS
IGNOREUPDATEBEFORES
UPDATERECORDFORMAT COMPACT
NOCOMPRESSUPDATES
PRM
SQL OUT
UPDATE: only after
DELETE: only PK
02468
62840
NOCOMPRESSDELETES
NOLOGALLSUPCOLS
IGNOREUPDATEBEFORES
NOCOMPRESSUPDATES
UPDATERECORDFORMAT COMPACT
PRM
SQL OUT
UPDATE: only after
DELETE: only PK
02468
64028
NOCOMPRESSDELETES
NOCOMPRESSUPDATES
UPDATERECORDFORMAT COMPACT
NOLOGALLSUPCOLS
IGNOREUPDATEBEFORES
PRM
SQL OUT
UPDATE: only after
DELETE: only PK
02468
64082
NOCOMPRESSDELETES
NOCOMPRESSUPDATES
UPDATERECORDFORMAT COMPACT
IGNOREUPDATEBEFORES
NOLOGALLSUPCOLS
PRM
SQL OUT
UPDATE: only after
DELETE: only PK
02468
64208
NOCOMPRESSDELETES
NOCOMPRESSUPDATES
NOLOGALLSUPCOLS
UPDATERECORDFORMAT COMPACT
IGNOREUPDATEBEFORES
PRM
SQL OUT
UPDATE: only after
DELETE: only PK
02468
64280
NOCOMPRESSDELETES
NOCOMPRESSUPDATES
NOLOGALLSUPCOLS
IGNOREUPDATEBEFORES
UPDATERECORDFORMAT COMPACT
PRM
SQL OUT
UPDATE: only after
DELETE: only PK
02468
64802
NOCOMPRESSDELETES
NOCOMPRESSUPDATES
IGNOREUPDATEBEFORES
UPDATERECORDFORMAT COMPACT
NOLOGALLSUPCOLS
PRM
SQL OUT
UPDATE: only after
DELETE: only PK
02468
64820
NOCOMPRESSDELETES
NOCOMPRESSUPDATES
IGNOREUPDATEBEFORES
NOLOGALLSUPCOLS
UPDATERECORDFORMAT COMPACT
PRM
SQL OUT
UPDATE: only after
DELETE: only PK
02468
68024
NOCOMPRESSDELETES
IGNOREUPDATEBEFORES
UPDATERECORDFORMAT COMPACT
NOLOGALLSUPCOLS
NOCOMPRESSUPDATES
PRM
SQL OUT
UPDATE: only after
DELETE: only PK
02468
68042
NOCOMPRESSDELETES
IGNOREUPDATEBEFORES
UPDATERECORDFORMAT COMPACT
NOCOMPRESSUPDATES
NOLOGALLSUPCOLS
PRM
SQL OUT
UPDATE: only after
DELETE: only PK
02468
68204
NOCOMPRESSDELETES
IGNOREUPDATEBEFORES
NOLOGALLSUPCOLS
UPDATERECORDFORMAT COMPACT
NOCOMPRESSUPDATES
PRM
SQL OUT
UPDATE: only after
DELETE: only PK
02468
68240
NOCOMPRESSDELETES
IGNOREUPDATEBEFORES
NOLOGALLSUPCOLS
NOCOMPRESSUPDATES
UPDATERECORDFORMAT COMPACT
PRM
SQL OUT
UPDATE: only after
DELETE: only PK
02468
68402
NOCOMPRESSDELETES
IGNOREUPDATEBEFORES
NOCOMPRESSUPDATES
UPDATERECORDFORMAT COMPACT
NOLOGALLSUPCOLS
PRM
SQL OUT
UPDATE: only after
DELETE: only PK
02468
68420
NOCOMPRESSDELETES
IGNOREUPDATEBEFORES
NOCOMPRESSUPDATES
NOLOGALLSUPCOLS
UPDATERECORDFORMAT COMPACT
PRM
SQL OUT
UPDATE: only after
DELETE: only PK
02468
80246
IGNOREUPDATEBEFORES
UPDATERECORDFORMAT COMPACT
NOLOGALLSUPCOLS
NOCOMPRESSUPDATES
NOCOMPRESSDELETES
PRM
SQL OUT
UPDATE: only after
DELETE: full
02468
80264
IGNOREUPDATEBEFORES
UPDATERECORDFORMAT COMPACT
NOLOGALLSUPCOLS
NOCOMPRESSDELETES
NOCOMPRESSUPDATES
PRM
SQL OUT
UPDATE: only after
DELETE: full
02468
80426
IGNOREUPDATEBEFORES
UPDATERECORDFORMAT COMPACT
NOCOMPRESSUPDATES
NOLOGALLSUPCOLS
NOCOMPRESSDELETES
PRM
SQL OUT
UPDATE: only after
DELETE: full
02468
80462
IGNOREUPDATEBEFORES
UPDATERECORDFORMAT COMPACT
NOCOMPRESSUPDATES
NOCOMPRESSDELETES
NOLOGALLSUPCOLS
PRM
SQL OUT
UPDATE: only after
DELETE: only PK
02468
80624
IGNOREUPDATEBEFORES
UPDATERECORDFORMAT COMPACT
NOCOMPRESSDELETES
NOLOGALLSUPCOLS
NOCOMPRESSUPDATES
PRM
SQL OUT
UPDATE: only after
DELETE: only PK
02468
80642
IGNOREUPDATEBEFORES
UPDATERECORDFORMAT COMPACT
NOCOMPRESSDELETES
NOCOMPRESSUPDATES
NOLOGALLSUPCOLS
PRM
SQL OUT
UPDATE: only after
DELETE: only PK
02468
82046
IGNOREUPDATEBEFORES
NOLOGALLSUPCOLS
UPDATERECORDFORMAT COMPACT
NOCOMPRESSUPDATES
NOCOMPRESSDELETES
PRM
SQL OUT
UPDATE: only after
DELETE: full
02468
82064
IGNOREUPDATEBEFORES
NOLOGALLSUPCOLS
UPDATERECORDFORMAT COMPACT
NOCOMPRESSDELETES
NOCOMPRESSUPDATES
PRM
SQL OUT
UPDATE: only after
DELETE: full
02468
82406
IGNOREUPDATEBEFORES
NOLOGALLSUPCOLS
NOCOMPRESSUPDATES
UPDATERECORDFORMAT COMPACT
NOCOMPRESSDELETES
PRM
SQL OUT
UPDATE: only after
DELETE: full
02468
82460
IGNOREUPDATEBEFORES
NOLOGALLSUPCOLS
NOCOMPRESSUPDATES
NOCOMPRESSDELETES
UPDATERECORDFORMAT COMPACT
PRM
SQL OUT
UPDATE: only after
DELETE: full
02468
82604
IGNOREUPDATEBEFORES
NOLOGALLSUPCOLS
NOCOMPRESSDELETES
UPDATERECORDFORMAT COMPACT
NOCOMPRESSUPDATES
PRM
SQL OUT
UPDATE: only after
DELETE: full
02468
82640
IGNOREUPDATEBEFORES
NOLOGALLSUPCOLS
NOCOMPRESSDELETES
NOCOMPRESSUPDATES
UPDATERECORDFORMAT COMPACT
PRM
SQL OUT
UPDATE: only after
DELETE: full
02468
84026
IGNOREUPDATEBEFORES
NOCOMPRESSUPDATES
UPDATERECORDFORMAT COMPACT
NOLOGALLSUPCOLS
NOCOMPRESSDELETES
PRM
SQL OUT
UPDATE: only after
DELETE: full
02468
84062
IGNOREUPDATEBEFORES
NOCOMPRESSUPDATES
UPDATERECORDFORMAT COMPACT
NOCOMPRESSDELETES
NOLOGALLSUPCOLS
PRM
SQL OUT
UPDATE: only after
DELETE: only PK
02468
84206
IGNOREUPDATEBEFORES
NOCOMPRESSUPDATES
NOLOGALLSUPCOLS
UPDATERECORDFORMAT COMPACT
NOCOMPRESSDELETES
PRM
SQL OUT
UPDATE: only after
DELETE: full
02468
84260
IGNOREUPDATEBEFORES
NOCOMPRESSUPDATES
NOLOGALLSUPCOLS
NOCOMPRESSDELETES
UPDATERECORDFORMAT COMPACT
PRM
SQL OUT
UPDATE: only after
DELETE: full
02468
84602
IGNOREUPDATEBEFORES
NOCOMPRESSUPDATES
NOCOMPRESSDELETES
UPDATERECORDFORMAT COMPACT
NOLOGALLSUPCOLS
PRM
SQL OUT
UPDATE: only after
DELETE: only PK
02468
84620
IGNOREUPDATEBEFORES
NOCOMPRESSUPDATES
NOCOMPRESSDELETES
NOLOGALLSUPCOLS
UPDATERECORDFORMAT COMPACT
PRM
SQL OUT
UPDATE: only after
DELETE: only PK
02468
86024
IGNOREUPDATEBEFORES
NOCOMPRESSDELETES
UPDATERECORDFORMAT COMPACT
NOLOGALLSUPCOLS
NOCOMPRESSUPDATES
PRM
SQL OUT
UPDATE: only after
DELETE: only PK
02468
86042
IGNOREUPDATEBEFORES
NOCOMPRESSDELETES
UPDATERECORDFORMAT COMPACT
NOCOMPRESSUPDATES
NOLOGALLSUPCOLS
PRM
SQL OUT
UPDATE: only after
DELETE: only PK
02468
86204
IGNOREUPDATEBEFORES
NOCOMPRESSDELETES
NOLOGALLSUPCOLS
UPDATERECORDFORMAT COMPACT
NOCOMPRESSUPDATES
PRM
SQL OUT
UPDATE: only after
DELETE: only PK
02468
86240
IGNOREUPDATEBEFORES
NOCOMPRESSDELETES
NOLOGALLSUPCOLS
NOCOMPRESSUPDATES
UPDATERECORDFORMAT COMPACT
PRM
SQL OUT
UPDATE: only after
DELETE: only PK
02468
86402
IGNOREUPDATEBEFORES
NOCOMPRESSDELETES
NOCOMPRESSUPDATES
UPDATERECORDFORMAT COMPACT
NOLOGALLSUPCOLS
PRM
SQL OUT
UPDATE: only after
DELETE: only PK
02468
86420
IGNOREUPDATEBEFORES
NOCOMPRESSDELETES
NOCOMPRESSUPDATES
NOLOGALLSUPCOLS
UPDATERECORDFORMAT COMPACT
PRM
SQL OUT
UPDATE: only after
DELETE: only PK
02469
02469
UPDATERECORDFORMAT COMPACT
NOLOGALLSUPCOLS
NOCOMPRESSUPDATES
NOCOMPRESSDELETES
GETUPDATEBEFORES
PRM
SQL OUT
UPDATE: before + after in 1 record
DELETE: full
02469
02496
UPDATERECORDFORMAT COMPACT
NOLOGALLSUPCOLS
NOCOMPRESSUPDATES
GETUPDATEBEFORES
NOCOMPRESSDELETES
PRM
SQL OUT
UPDATE: before + after in 1 record
DELETE: full
02469
02649
UPDATERECORDFORMAT COMPACT
NOLOGALLSUPCOLS
NOCOMPRESSDELETES
NOCOMPRESSUPDATES
GETUPDATEBEFORES
PRM
SQL OUT
UPDATE: before + after in 1 record
DELETE: full
02469
02694
UPDATERECORDFORMAT COMPACT
NOLOGALLSUPCOLS
NOCOMPRESSDELETES
GETUPDATEBEFORES
NOCOMPRESSUPDATES
PRM
SQL OUT
UPDATE: before + after in 1 record
DELETE: full
02469
02946
UPDATERECORDFORMAT COMPACT
NOLOGALLSUPCOLS
GETUPDATEBEFORES
NOCOMPRESSUPDATES
NOCOMPRESSDELETES
PRM
SQL OUT
UPDATE: before + after in 1 record
DELETE: full
02469
02964
UPDATERECORDFORMAT COMPACT
NOLOGALLSUPCOLS
GETUPDATEBEFORES
NOCOMPRESSDELETES
NOCOMPRESSUPDATES
PRM
SQL OUT
UPDATE: before + after in 1 record
DELETE: full
02469
04269
UPDATERECORDFORMAT COMPACT
NOCOMPRESSUPDATES
NOLOGALLSUPCOLS
NOCOMPRESSDELETES
GETUPDATEBEFORES
PRM
SQL OUT
UPDATE: before + after in 1 record
DELETE: full
02469
04296
UPDATERECORDFORMAT COMPACT
NOCOMPRESSUPDATES
NOLOGALLSUPCOLS
GETUPDATEBEFORES
NOCOMPRESSDELETES
PRM
SQL OUT
UPDATE: before + after in 1 record
DELETE: full
02469
04629
UPDATERECORDFORMAT COMPACT
NOCOMPRESSUPDATES
NOCOMPRESSDELETES
NOLOGALLSUPCOLS
GETUPDATEBEFORES
PRM
SQL OUT
UPDATE: before + after in 1 record
DELETE: only PK
02469
04692
UPDATERECORDFORMAT COMPACT
NOCOMPRESSUPDATES
NOCOMPRESSDELETES
GETUPDATEBEFORES
NOLOGALLSUPCOLS
PRM
SQL OUT
UPDATE: only after
DELETE: only PK
02469
04926
UPDATERECORDFORMAT COMPACT
NOCOMPRESSUPDATES
GETUPDATEBEFORES
NOLOGALLSUPCOLS
NOCOMPRESSDELETES
PRM
SQL OUT
UPDATE: only after
DELETE: full
02469
04962
UPDATERECORDFORMAT COMPACT
NOCOMPRESSUPDATES
GETUPDATEBEFORES
NOCOMPRESSDELETES
NOLOGALLSUPCOLS
PRM
SQL OUT
UPDATE: only after
DELETE: only PK
02469
06249
UPDATERECORDFORMAT COMPACT
NOCOMPRESSDELETES
NOLOGALLSUPCOLS
NOCOMPRESSUPDATES
GETUPDATEBEFORES
PRM
SQL OUT
UPDATE: before + after in 1 record
DELETE: only PK
02469
06294
UPDATERECORDFORMAT COMPACT
NOCOMPRESSDELETES
NOLOGALLSUPCOLS
GETUPDATEBEFORES
NOCOMPRESSUPDATES
PRM
SQL OUT
UPDATE: before + after in 1 record
DELETE: only PK
02469
06429
UPDATERECORDFORMAT COMPACT
NOCOMPRESSDELETES
NOCOMPRESSUPDATES
NOLOGALLSUPCOLS
GETUPDATEBEFORES
PRM
SQL OUT
UPDATE: before + after in 1 record
DELETE: only PK
02469
06492
UPDATERECORDFORMAT COMPACT
NOCOMPRESSDELETES
NOCOMPRESSUPDATES
GETUPDATEBEFORES
NOLOGALLSUPCOLS
PRM
SQL OUT
UPDATE: only after
DELETE: only PK
02469
06924
UPDATERECORDFORMAT COMPACT
NOCOMPRESSDELETES
GETUPDATEBEFORES
NOLOGALLSUPCOLS
NOCOMPRESSUPDATES
PRM
SQL OUT
UPDATE: only after
DELETE: only PK
02469
06942
UPDATERECORDFORMAT COMPACT
NOCOMPRESSDELETES
GETUPDATEBEFORES
NOCOMPRESSUPDATES
NOLOGALLSUPCOLS
PRM
SQL OUT
UPDATE: only after
DELETE: only PK
02469
09246
UPDATERECORDFORMAT COMPACT
GETUPDATEBEFORES
NOLOGALLSUPCOLS
NOCOMPRESSUPDATES
NOCOMPRESSDELETES
PRM
SQL OUT
UPDATE: only after
DELETE: full
02469
09264
UPDATERECORDFORMAT COMPACT
GETUPDATEBEFORES
NOLOGALLSUPCOLS
NOCOMPRESSDELETES
NOCOMPRESSUPDATES
PRM
SQL OUT
UPDATE: only after
DELETE: full
02469
09426
UPDATERECORDFORMAT COMPACT
GETUPDATEBEFORES
NOCOMPRESSUPDATES
NOLOGALLSUPCOLS
NOCOMPRESSDELETES
PRM
SQL OUT
UPDATE: only after
DELETE: full
02469
09462
UPDATERECORDFORMAT COMPACT
GETUPDATEBEFORES
NOCOMPRESSUPDATES
NOCOMPRESSDELETES
NOLOGALLSUPCOLS
PRM
SQL OUT
UPDATE: only after
DELETE: only PK
02469
09624
UPDATERECORDFORMAT COMPACT
GETUPDATEBEFORES
NOCOMPRESSDELETES
NOLOGALLSUPCOLS
NOCOMPRESSUPDATES
PRM
SQL OUT
UPDATE: only after
DELETE: only PK
02469
09642
UPDATERECORDFORMAT COMPACT
GETUPDATEBEFORES
NOCOMPRESSDELETES
NOCOMPRESSUPDATES
NOLOGALLSUPCOLS
PRM
SQL OUT
UPDATE: only after
DELETE: only PK
02469
20469
NOLOGALLSUPCOLS
UPDATERECORDFORMAT COMPACT
NOCOMPRESSUPDATES
NOCOMPRESSDELETES
GETUPDATEBEFORES
PRM
SQL OUT
UPDATE: before + after in 1 record
DELETE: full
02469
20496
NOLOGALLSUPCOLS
UPDATERECORDFORMAT COMPACT
NOCOMPRESSUPDATES
GETUPDATEBEFORES
NOCOMPRESSDELETES
PRM
SQL OUT
UPDATE: before + after in 1 record
DELETE: full
02469
20649
NOLOGALLSUPCOLS
UPDATERECORDFORMAT COMPACT
NOCOMPRESSDELETES
NOCOMPRESSUPDATES
GETUPDATEBEFORES
PRM
SQL OUT
UPDATE: before + after in 1 record
DELETE: full
02469
20694
NOLOGALLSUPCOLS
UPDATERECORDFORMAT COMPACT
NOCOMPRESSDELETES
GETUPDATEBEFORES
NOCOMPRESSUPDATES
PRM
SQL OUT
UPDATE: before + after in 1 record
DELETE: full
02469
20946
NOLOGALLSUPCOLS
UPDATERECORDFORMAT COMPACT
GETUPDATEBEFORES
NOCOMPRESSUPDATES
NOCOMPRESSDELETES
PRM
SQL OUT
UPDATE: before + after in 1 record
DELETE: full
02469
20964
NOLOGALLSUPCOLS
UPDATERECORDFORMAT COMPACT
GETUPDATEBEFORES
NOCOMPRESSDELETES
NOCOMPRESSUPDATES
PRM
SQL OUT
UPDATE: before + after in 1 record
DELETE: full
02469
24069
NOLOGALLSUPCOLS
NOCOMPRESSUPDATES
UPDATERECORDFORMAT COMPACT
NOCOMPRESSDELETES
GETUPDATEBEFORES
PRM
SQL OUT
UPDATE: before + after in 1 record
DELETE: full
02469
24096
NOLOGALLSUPCOLS
NOCOMPRESSUPDATES
UPDATERECORDFORMAT COMPACT
GETUPDATEBEFORES
NOCOMPRESSDELETES
PRM
SQL OUT
UPDATE: before + after in 1 record
DELETE: full
02469
24609
NOLOGALLSUPCOLS
NOCOMPRESSUPDATES
NOCOMPRESSDELETES
UPDATERECORDFORMAT COMPACT
GETUPDATEBEFORES
PRM
SQL OUT
UPDATE: before + after in 1 record
DELETE: full
02469
24690
NOLOGALLSUPCOLS
NOCOMPRESSUPDATES
NOCOMPRESSDELETES
GETUPDATEBEFORES
UPDATERECORDFORMAT COMPACT
PRM
SQL OUT
UPDATE: before + after in 1 record
DELETE: full
02469
24906
NOLOGALLSUPCOLS
NOCOMPRESSUPDATES
GETUPDATEBEFORES
UPDATERECORDFORMAT COMPACT
NOCOMPRESSDELETES
PRM
SQL OUT
UPDATE: before + after in 1 record
DELETE: full
02469
24960
NOLOGALLSUPCOLS
NOCOMPRESSUPDATES
GETUPDATEBEFORES
NOCOMPRESSDELETES
UPDATERECORDFORMAT COMPACT
PRM
SQL OUT
UPDATE: before + after in 1 record
DELETE: full
02469
26049
NOLOGALLSUPCOLS
NOCOMPRESSDELETES
UPDATERECORDFORMAT COMPACT
NOCOMPRESSUPDATES
GETUPDATEBEFORES
PRM
SQL OUT
UPDATE: before + after in 1 record
DELETE: full
02469
26094
NOLOGALLSUPCOLS
NOCOMPRESSDELETES
UPDATERECORDFORMAT COMPACT
GETUPDATEBEFORES
NOCOMPRESSUPDATES
PRM
SQL OUT
UPDATE: before + after in 1 record
DELETE: full
02469
26409
NOLOGALLSUPCOLS
NOCOMPRESSDELETES
NOCOMPRESSUPDATES
UPDATERECORDFORMAT COMPACT
GETUPDATEBEFORES
PRM
SQL OUT
UPDATE: before + after in 1 record
DELETE: full
02469
26490
NOLOGALLSUPCOLS
NOCOMPRESSDELETES
NOCOMPRESSUPDATES
GETUPDATEBEFORES
UPDATERECORDFORMAT COMPACT
PRM
SQL OUT
UPDATE: before + after in 1 record
DELETE: full
02469
26904
NOLOGALLSUPCOLS
NOCOMPRESSDELETES
GETUPDATEBEFORES
UPDATERECORDFORMAT COMPACT
NOCOMPRESSUPDATES
PRM
SQL OUT
UPDATE: before + after in 1 record
DELETE: full
02469
26940
NOLOGALLSUPCOLS
NOCOMPRESSDELETES
GETUPDATEBEFORES
NOCOMPRESSUPDATES
UPDATERECORDFORMAT COMPACT
PRM
SQL OUT
UPDATE: before + after in 1 record
DELETE: full
02469
29046
NOLOGALLSUPCOLS
GETUPDATEBEFORES
UPDATERECORDFORMAT COMPACT
NOCOMPRESSUPDATES
NOCOMPRESSDELETES
PRM
SQL OUT
UPDATE: before + after in 1 record
DELETE: full
02469
29064
NOLOGALLSUPCOLS
GETUPDATEBEFORES
UPDATERECORDFORMAT COMPACT
NOCOMPRESSDELETES
NOCOMPRESSUPDATES
PRM
SQL OUT
UPDATE: before + after in 1 record
DELETE: full
02469
29406
NOLOGALLSUPCOLS
GETUPDATEBEFORES
NOCOMPRESSUPDATES
UPDATERECORDFORMAT COMPACT
NOCOMPRESSDELETES
PRM
SQL OUT
UPDATE: before + after in 1 record
DELETE: full
02469
29460
NOLOGALLSUPCOLS
GETUPDATEBEFORES
NOCOMPRESSUPDATES
NOCOMPRESSDELETES
UPDATERECORDFORMAT COMPACT
PRM
SQL OUT
UPDATE: before + after in 1 record
DELETE: full
02469
29604
NOLOGALLSUPCOLS
GETUPDATEBEFORES
NOCOMPRESSDELETES
UPDATERECORDFORMAT COMPACT
NOCOMPRESSUPDATES
PRM
SQL OUT
UPDATE: before + after in 1 record
DELETE: full
02469
29640
NOLOGALLSUPCOLS
GETUPDATEBEFORES
NOCOMPRESSDELETES
NOCOMPRESSUPDATES
UPDATERECORDFORMAT COMPACT
PRM
SQL OUT
UPDATE: before + after in 1 record
DELETE: full
02469
40269
NOCOMPRESSUPDATES
UPDATERECORDFORMAT COMPACT
NOLOGALLSUPCOLS
NOCOMPRESSDELETES
GETUPDATEBEFORES
PRM
SQL OUT
UPDATE: before + after in 1 record
DELETE: full
02469
40296
NOCOMPRESSUPDATES
UPDATERECORDFORMAT COMPACT
NOLOGALLSUPCOLS
GETUPDATEBEFORES
NOCOMPRESSDELETES
PRM
SQL OUT
UPDATE: before + after in 1 record
DELETE: full
02469
40629
NOCOMPRESSUPDATES
UPDATERECORDFORMAT COMPACT
NOCOMPRESSDELETES
NOLOGALLSUPCOLS
GETUPDATEBEFORES
PRM
SQL OUT
UPDATE: before + after in 1 record
DELETE: only PK
02469
40692
NOCOMPRESSUPDATES
UPDATERECORDFORMAT COMPACT
NOCOMPRESSDELETES
GETUPDATEBEFORES
NOLOGALLSUPCOLS
PRM
SQL OUT
UPDATE: only after
DELETE: only PK
02469
40926
NOCOMPRESSUPDATES
UPDATERECORDFORMAT COMPACT
GETUPDATEBEFORES
NOLOGALLSUPCOLS
NOCOMPRESSDELETES
PRM
SQL OUT
UPDATE: only after
DELETE: full
02469
40962
NOCOMPRESSUPDATES
UPDATERECORDFORMAT COMPACT
GETUPDATEBEFORES
NOCOMPRESSDELETES
NOLOGALLSUPCOLS
PRM
SQL OUT
UPDATE: only after
DELETE: only PK
02469
42069
NOCOMPRESSUPDATES
NOLOGALLSUPCOLS
UPDATERECORDFORMAT COMPACT
NOCOMPRESSDELETES
GETUPDATEBEFORES
PRM
SQL OUT
UPDATE: before + after in 1 record
DELETE: full
02469
42096
NOCOMPRESSUPDATES
NOLOGALLSUPCOLS
UPDATERECORDFORMAT COMPACT
GETUPDATEBEFORES
NOCOMPRESSDELETES
PRM
SQL OUT
UPDATE: before + after in 1 record
DELETE: full
02469
42609
NOCOMPRESSUPDATES
NOLOGALLSUPCOLS
NOCOMPRESSDELETES
UPDATERECORDFORMAT COMPACT
GETUPDATEBEFORES
PRM
SQL OUT
UPDATE: before + after in 1 record
DELETE: full
02469
42690
NOCOMPRESSUPDATES
NOLOGALLSUPCOLS
NOCOMPRESSDELETES
GETUPDATEBEFORES
UPDATERECORDFORMAT COMPACT
PRM
SQL OUT
UPDATE: before + after in 1 record
DELETE: full
02469
42906
NOCOMPRESSUPDATES
NOLOGALLSUPCOLS
GETUPDATEBEFORES
UPDATERECORDFORMAT COMPACT
NOCOMPRESSDELETES
PRM
SQL OUT
UPDATE: before + after in 1 record
DELETE: full
02469
42960
NOCOMPRESSUPDATES
NOLOGALLSUPCOLS
GETUPDATEBEFORES
NOCOMPRESSDELETES
UPDATERECORDFORMAT COMPACT
PRM
SQL OUT
UPDATE: before + after in 1 record
DELETE: full
02469
46029
NOCOMPRESSUPDATES
NOCOMPRESSDELETES
UPDATERECORDFORMAT COMPACT
NOLOGALLSUPCOLS
GETUPDATEBEFORES
PRM
SQL OUT
UPDATE: before + after in 1 record
DELETE: only PK
02469
46092
NOCOMPRESSUPDATES
NOCOMPRESSDELETES
UPDATERECORDFORMAT COMPACT
GETUPDATEBEFORES
NOLOGALLSUPCOLS
PRM
SQL OUT
UPDATE: only after
DELETE: only PK
02469
46209
NOCOMPRESSUPDATES
NOCOMPRESSDELETES
NOLOGALLSUPCOLS
UPDATERECORDFORMAT COMPACT
GETUPDATEBEFORES
PRM
SQL OUT
UPDATE: before + after in 1 record
DELETE: only PK
02469
46290
NOCOMPRESSUPDATES
NOCOMPRESSDELETES
NOLOGALLSUPCOLS
GETUPDATEBEFORES
UPDATERECORDFORMAT COMPACT
PRM
SQL OUT
UPDATE: before + after in 1 record
DELETE: only PK
02469
46902
NOCOMPRESSUPDATES
NOCOMPRESSDELETES
GETUPDATEBEFORES
UPDATERECORDFORMAT COMPACT
NOLOGALLSUPCOLS
PRM
SQL OUT
UPDATE: only after
DELETE: only PK
02469
46920
NOCOMPRESSUPDATES
NOCOMPRESSDELETES
GETUPDATEBEFORES
NOLOGALLSUPCOLS
UPDATERECORDFORMAT COMPACT
PRM
SQL OUT
UPDATE: only after
DELETE: only PK
02469
49026
NOCOMPRESSUPDATES
GETUPDATEBEFORES
UPDATERECORDFORMAT COMPACT
NOLOGALLSUPCOLS
NOCOMPRESSDELETES
PRM
SQL OUT
UPDATE: only after
DELETE: full
02469
49062
NOCOMPRESSUPDATES
GETUPDATEBEFORES
UPDATERECORDFORMAT COMPACT
NOCOMPRESSDELETES
NOLOGALLSUPCOLS
PRM
SQL OUT
UPDATE: only after
DELETE: only PK
02469
49206
NOCOMPRESSUPDATES
GETUPDATEBEFORES
NOLOGALLSUPCOLS
UPDATERECORDFORMAT COMPACT
NOCOMPRESSDELETES
PRM
SQL OUT
UPDATE: only after
DELETE: full
02469
49260
NOCOMPRESSUPDATES
GETUPDATEBEFORES
NOLOGALLSUPCOLS
NOCOMPRESSDELETES
UPDATERECORDFORMAT COMPACT
PRM
SQL OUT
UPDATE: only after
DELETE: full
02469
49602
NOCOMPRESSUPDATES
GETUPDATEBEFORES
NOCOMPRESSDELETES
UPDATERECORDFORMAT COMPACT
NOLOGALLSUPCOLS
PRM
SQL OUT
UPDATE: only after
DELETE: only PK
02469
49620
NOCOMPRESSUPDATES
GETUPDATEBEFORES
NOCOMPRESSDELETES
NOLOGALLSUPCOLS
UPDATERECORDFORMAT COMPACT
PRM
SQL OUT
UPDATE: only after
DELETE: only PK
02469
60249
NOCOMPRESSDELETES
UPDATERECORDFORMAT COMPACT
NOLOGALLSUPCOLS
NOCOMPRESSUPDATES
GETUPDATEBEFORES
PRM
SQL OUT
UPDATE: before + after in 1 record
DELETE: only PK
02469
60294
NOCOMPRESSDELETES
UPDATERECORDFORMAT COMPACT
NOLOGALLSUPCOLS
GETUPDATEBEFORES
NOCOMPRESSUPDATES
PRM
SQL OUT
UPDATE: before + after in 1 record
DELETE: only PK
02469
60429
NOCOMPRESSDELETES
UPDATERECORDFORMAT COMPACT
NOCOMPRESSUPDATES
NOLOGALLSUPCOLS
GETUPDATEBEFORES
PRM
SQL OUT
UPDATE: before + after in 1 record
DELETE: only PK
02469
60492
NOCOMPRESSDELETES
UPDATERECORDFORMAT COMPACT
NOCOMPRESSUPDATES
GETUPDATEBEFORES
NOLOGALLSUPCOLS
PRM
SQL OUT
UPDATE: only after
DELETE: only PK
02469
60924
NOCOMPRESSDELETES
UPDATERECORDFORMAT COMPACT
GETUPDATEBEFORES
NOLOGALLSUPCOLS
NOCOMPRESSUPDATES
PRM
SQL OUT
UPDATE: only after
DELETE: only PK
02469
60942
NOCOMPRESSDELETES
UPDATERECORDFORMAT COMPACT
GETUPDATEBEFORES
NOCOMPRESSUPDATES
NOLOGALLSUPCOLS
PRM
SQL OUT
UPDATE: only after
DELETE: only PK
02469
62049
NOCOMPRESSDELETES
NOLOGALLSUPCOLS
UPDATERECORDFORMAT COMPACT
NOCOMPRESSUPDATES
GETUPDATEBEFORES
PRM
SQL OUT
UPDATE: before + after in 1 record
DELETE: only PK
02469
62094
NOCOMPRESSDELETES
NOLOGALLSUPCOLS
UPDATERECORDFORMAT COMPACT
GETUPDATEBEFORES
NOCOMPRESSUPDATES
PRM
SQL OUT
UPDATE: before + after in 1 record
DELETE: only PK
02469
62409
NOCOMPRESSDELETES
NOLOGALLSUPCOLS
NOCOMPRESSUPDATES
UPDATERECORDFORMAT COMPACT
GETUPDATEBEFORES
PRM
SQL OUT
UPDATE: before + after in 1 record
DELETE: only PK
02469
62490
NOCOMPRESSDELETES
NOLOGALLSUPCOLS
NOCOMPRESSUPDATES
GETUPDATEBEFORES
UPDATERECORDFORMAT COMPACT
PRM
SQL OUT
UPDATE: before + after in 1 record
DELETE: only PK
02469
62904
NOCOMPRESSDELETES
NOLOGALLSUPCOLS
GETUPDATEBEFORES
UPDATERECORDFORMAT COMPACT
NOCOMPRESSUPDATES
PRM
SQL OUT
UPDATE: before + after in 1 record
DELETE: only PK
02469
62940
NOCOMPRESSDELETES
NOLOGALLSUPCOLS
GETUPDATEBEFORES
NOCOMPRESSUPDATES
UPDATERECORDFORMAT COMPACT
PRM
SQL OUT
UPDATE: before + after in 1 record
DELETE: only PK
02469
64029
NOCOMPRESSDELETES
NOCOMPRESSUPDATES
UPDATERECORDFORMAT COMPACT
NOLOGALLSUPCOLS
GETUPDATEBEFORES
PRM
SQL OUT
UPDATE: before + after in 1 record
DELETE: only PK
02469
64092
NOCOMPRESSDELETES
NOCOMPRESSUPDATES
UPDATERECORDFORMAT COMPACT
GETUPDATEBEFORES
NOLOGALLSUPCOLS
PRM
SQL OUT
UPDATE: only after
DELETE: only PK
02469
64209
NOCOMPRESSDELETES
NOCOMPRESSUPDATES
NOLOGALLSUPCOLS
UPDATERECORDFORMAT COMPACT
GETUPDATEBEFORES
PRM
SQL OUT
UPDATE: before + after in 1 record
DELETE: only PK
02469
64290
NOCOMPRESSDELETES
NOCOMPRESSUPDATES
NOLOGALLSUPCOLS
GETUPDATEBEFORES
UPDATERECORDFORMAT COMPACT
PRM
SQL OUT
UPDATE: before + after in 1 record
DELETE: only PK
02469
64902
NOCOMPRESSDELETES
NOCOMPRESSUPDATES
GETUPDATEBEFORES
UPDATERECORDFORMAT COMPACT
NOLOGALLSUPCOLS
PRM
SQL OUT
UPDATE: only after
DELETE: only PK
02469
64920
NOCOMPRESSDELETES
NOCOMPRESSUPDATES
GETUPDATEBEFORES
NOLOGALLSUPCOLS
UPDATERECORDFORMAT COMPACT
PRM
SQL OUT
UPDATE: only after
DELETE: only PK
02469
69024
NOCOMPRESSDELETES
GETUPDATEBEFORES
UPDATERECORDFORMAT COMPACT
NOLOGALLSUPCOLS
NOCOMPRESSUPDATES
PRM
SQL OUT
UPDATE: only after
DELETE: only PK
02469
69042
NOCOMPRESSDELETES
GETUPDATEBEFORES
UPDATERECORDFORMAT COMPACT
NOCOMPRESSUPDATES
NOLOGALLSUPCOLS
PRM
SQL OUT
UPDATE: only after
DELETE: only PK
02469
69204
NOCOMPRESSDELETES
GETUPDATEBEFORES
NOLOGALLSUPCOLS
UPDATERECORDFORMAT COMPACT
NOCOMPRESSUPDATES
PRM
SQL OUT
UPDATE: only after
DELETE: only PK
02469
69240
NOCOMPRESSDELETES
GETUPDATEBEFORES
NOLOGALLSUPCOLS
NOCOMPRESSUPDATES
UPDATERECORDFORMAT COMPACT
PRM
SQL OUT
UPDATE: only after
DELETE: only PK
02469
69402
NOCOMPRESSDELETES
GETUPDATEBEFORES
NOCOMPRESSUPDATES
UPDATERECORDFORMAT COMPACT
NOLOGALLSUPCOLS
PRM
SQL OUT
UPDATE: only after
DELETE: only PK
02469
69420
NOCOMPRESSDELETES
GETUPDATEBEFORES
NOCOMPRESSUPDATES
NOLOGALLSUPCOLS
UPDATERECORDFORMAT COMPACT
PRM
SQL OUT
UPDATE: only after
DELETE: only PK
02469
90246
GETUPDATEBEFORES
UPDATERECORDFORMAT COMPACT
NOLOGALLSUPCOLS
NOCOMPRESSUPDATES
NOCOMPRESSDELETES
PRM
SQL OUT
UPDATE: only after
DELETE: full
02469
90264
GETUPDATEBEFORES
UPDATERECORDFORMAT COMPACT
NOLOGALLSUPCOLS
NOCOMPRESSDELETES
NOCOMPRESSUPDATES
PRM
SQL OUT
UPDATE: only after
DELETE: full
02469
90426
GETUPDATEBEFORES
UPDATERECORDFORMAT COMPACT
NOCOMPRESSUPDATES
NOLOGALLSUPCOLS
NOCOMPRESSDELETES
PRM
SQL OUT
UPDATE: only after
DELETE: full
02469
90462
GETUPDATEBEFORES
UPDATERECORDFORMAT COMPACT
NOCOMPRESSUPDATES
NOCOMPRESSDELETES
NOLOGALLSUPCOLS
PRM
SQL OUT
UPDATE: only after
DELETE: only PK
02469
90624
GETUPDATEBEFORES
UPDATERECORDFORMAT COMPACT
NOCOMPRESSDELETES
NOLOGALLSUPCOLS
NOCOMPRESSUPDATES
PRM
SQL OUT
UPDATE: only after
DELETE: only PK
02469
90642
GETUPDATEBEFORES
UPDATERECORDFORMAT COMPACT
NOCOMPRESSDELETES
NOCOMPRESSUPDATES
NOLOGALLSUPCOLS
PRM
SQL OUT
UPDATE: only after
DELETE: only PK
02469
92046
GETUPDATEBEFORES
NOLOGALLSUPCOLS
UPDATERECORDFORMAT COMPACT
NOCOMPRESSUPDATES
NOCOMPRESSDELETES
PRM
SQL OUT
UPDATE: only after
DELETE: full
02469
92064
GETUPDATEBEFORES
NOLOGALLSUPCOLS
UPDATERECORDFORMAT COMPACT
NOCOMPRESSDELETES
NOCOMPRESSUPDATES
PRM
SQL OUT
UPDATE: only after
DELETE: full
02469
92406
GETUPDATEBEFORES
NOLOGALLSUPCOLS
NOCOMPRESSUPDATES
UPDATERECORDFORMAT COMPACT
NOCOMPRESSDELETES
PRM
SQL OUT
UPDATE: only after
DELETE: full
02469
92460
GETUPDATEBEFORES
NOLOGALLSUPCOLS
NOCOMPRESSUPDATES
NOCOMPRESSDELETES
UPDATERECORDFORMAT COMPACT
PRM
SQL OUT
UPDATE: only after
DELETE: full
02469
92604
GETUPDATEBEFORES
NOLOGALLSUPCOLS
NOCOMPRESSDELETES
UPDATERECORDFORMAT COMPACT
NOCOMPRESSUPDATES
PRM
SQL OUT
UPDATE: only after
DELETE: full
02469
92640
GETUPDATEBEFORES
NOLOGALLSUPCOLS
NOCOMPRESSDELETES
NOCOMPRESSUPDATES
UPDATERECORDFORMAT COMPACT
PRM
SQL OUT
UPDATE: only after
DELETE: full
02469
94026
GETUPDATEBEFORES
NOCOMPRESSUPDATES
UPDATERECORDFORMAT COMPACT
NOLOGALLSUPCOLS
NOCOMPRESSDELETES
PRM
SQL OUT
UPDATE: only after
DELETE: full
02469
94062
GETUPDATEBEFORES
NOCOMPRESSUPDATES
UPDATERECORDFORMAT COMPACT
NOCOMPRESSDELETES
NOLOGALLSUPCOLS
PRM
SQL OUT
UPDATE: only after
DELETE: only PK
02469
94206
GETUPDATEBEFORES
NOCOMPRESSUPDATES
NOLOGALLSUPCOLS
UPDATERECORDFORMAT COMPACT
NOCOMPRESSDELETES
PRM
SQL OUT
UPDATE: only after
DELETE: full
02469
94260
GETUPDATEBEFORES
NOCOMPRESSUPDATES
NOLOGALLSUPCOLS
NOCOMPRESSDELETES
UPDATERECORDFORMAT COMPACT
PRM
SQL OUT
UPDATE: only after
DELETE: full
02469
94602
GETUPDATEBEFORES
NOCOMPRESSUPDATES
NOCOMPRESSDELETES
UPDATERECORDFORMAT COMPACT
NOLOGALLSUPCOLS
PRM
SQL OUT
UPDATE: only after
DELETE: only PK
02469
94620
GETUPDATEBEFORES
NOCOMPRESSUPDATES
NOCOMPRESSDELETES
NOLOGALLSUPCOLS
UPDATERECORDFORMAT COMPACT
PRM
SQL OUT
UPDATE: only after
DELETE: only PK
02469
96024
GETUPDATEBEFORES
NOCOMPRESSDELETES
UPDATERECORDFORMAT COMPACT
NOLOGALLSUPCOLS
NOCOMPRESSUPDATES
PRM
SQL OUT
UPDATE: only after
DELETE: only PK
02469
96042
GETUPDATEBEFORES
NOCOMPRESSDELETES
UPDATERECORDFORMAT COMPACT
NOCOMPRESSUPDATES
NOLOGALLSUPCOLS
PRM
SQL OUT
UPDATE: only after
DELETE: only PK
02469
96204
GETUPDATEBEFORES
NOCOMPRESSDELETES
NOLOGALLSUPCOLS
UPDATERECORDFORMAT COMPACT
NOCOMPRESSUPDATES
PRM
SQL OUT
UPDATE: only after
DELETE: only PK
02469
96240
GETUPDATEBEFORES
NOCOMPRESSDELETES
NOLOGALLSUPCOLS
NOCOMPRESSUPDATES
UPDATERECORDFORMAT COMPACT
PRM
SQL OUT
UPDATE: only after
DELETE: only PK
02469
96402
GETUPDATEBEFORES
NOCOMPRESSDELETES
NOCOMPRESSUPDATES
UPDATERECORDFORMAT COMPACT
NOLOGALLSUPCOLS
PRM
SQL OUT
UPDATE: only after
DELETE: only PK
02469
96420
GETUPDATEBEFORES
NOCOMPRESSDELETES
NOCOMPRESSUPDATES
NOLOGALLSUPCOLS
UPDATERECORDFORMAT COMPACT
PRM
SQL OUT
UPDATE: only after
DELETE: only PK
0247
0247
UPDATERECORDFORMAT COMPACT
NOLOGALLSUPCOLS
NOCOMPRESSUPDATES
COMPRESSDELETES
PRM
SQL OUT
UPDATE: only after
DELETE: only PK
0247
0274
UPDATERECORDFORMAT COMPACT
NOLOGALLSUPCOLS
COMPRESSDELETES
NOCOMPRESSUPDATES
PRM
SQL OUT
UPDATE: only after
DELETE: only PK
0247
0427
UPDATERECORDFORMAT COMPACT
NOCOMPRESSUPDATES
NOLOGALLSUPCOLS
COMPRESSDELETES
PRM
SQL OUT
UPDATE: only after
DELETE: only PK
0247
0472
UPDATERECORDFORMAT COMPACT
NOCOMPRESSUPDATES
COMPRESSDELETES
NOLOGALLSUPCOLS
PRM
SQL OUT
UPDATE: only after
DELETE: only PK
0247
0724
UPDATERECORDFORMAT COMPACT
COMPRESSDELETES
NOLOGALLSUPCOLS
NOCOMPRESSUPDATES
PRM
SQL OUT
UPDATE: only after
DELETE: only PK
0247
0742
UPDATERECORDFORMAT COMPACT
COMPRESSDELETES
NOCOMPRESSUPDATES
NOLOGALLSUPCOLS
PRM
SQL OUT
UPDATE: only after
DELETE: only PK
0247
2047
NOLOGALLSUPCOLS
UPDATERECORDFORMAT COMPACT
NOCOMPRESSUPDATES
COMPRESSDELETES
PRM
SQL OUT
UPDATE: only after
DELETE: only PK
0247
2074
NOLOGALLSUPCOLS
UPDATERECORDFORMAT COMPACT
COMPRESSDELETES
NOCOMPRESSUPDATES
PRM
SQL OUT
UPDATE: only after
DELETE: only PK
0247
2407
NOLOGALLSUPCOLS
NOCOMPRESSUPDATES
UPDATERECORDFORMAT COMPACT
COMPRESSDELETES
PRM
SQL OUT
UPDATE: only after
DELETE: only PK
0247
2470
NOLOGALLSUPCOLS
NOCOMPRESSUPDATES
COMPRESSDELETES
UPDATERECORDFORMAT COMPACT
PRM
SQL OUT
UPDATE: only after
DELETE: only PK
0247
2704
NOLOGALLSUPCOLS
COMPRESSDELETES
UPDATERECORDFORMAT COMPACT
NOCOMPRESSUPDATES
PRM
SQL OUT
UPDATE: only after
DELETE: only PK
0247
2740
NOLOGALLSUPCOLS
COMPRESSDELETES
NOCOMPRESSUPDATES
UPDATERECORDFORMAT COMPACT
PRM
SQL OUT
UPDATE: only after
DELETE: only PK
0247
4027
NOCOMPRESSUPDATES
UPDATERECORDFORMAT COMPACT
NOLOGALLSUPCOLS
COMPRESSDELETES
PRM
SQL OUT
UPDATE: only after
DELETE: only PK
0247
4072
NOCOMPRESSUPDATES
UPDATERECORDFORMAT COMPACT
COMPRESSDELETES
NOLOGALLSUPCOLS
PRM
SQL OUT
UPDATE: only after
DELETE: only PK
0247
4207
NOCOMPRESSUPDATES
NOLOGALLSUPCOLS
UPDATERECORDFORMAT COMPACT
COMPRESSDELETES
PRM
SQL OUT
UPDATE: only after
DELETE: only PK
0247
4270
NOCOMPRESSUPDATES
NOLOGALLSUPCOLS
COMPRESSDELETES
UPDATERECORDFORMAT COMPACT
PRM
SQL OUT
UPDATE: only after
DELETE: only PK
0247
4702
NOCOMPRESSUPDATES
COMPRESSDELETES
UPDATERECORDFORMAT COMPACT
NOLOGALLSUPCOLS
PRM
SQL OUT
UPDATE: only after
DELETE: only PK
0247
4720
NOCOMPRESSUPDATES
COMPRESSDELETES
NOLOGALLSUPCOLS
UPDATERECORDFORMAT COMPACT
PRM
SQL OUT
UPDATE: only after
DELETE: only PK
0247
7024
COMPRESSDELETES
UPDATERECORDFORMAT COMPACT
NOLOGALLSUPCOLS
NOCOMPRESSUPDATES
PRM
SQL OUT
UPDATE: only after
DELETE: only PK
0247
7042
COMPRESSDELETES
UPDATERECORDFORMAT COMPACT
NOCOMPRESSUPDATES
NOLOGALLSUPCOLS
PRM
SQL OUT
UPDATE: only after
DELETE: only PK
0247
7204
COMPRESSDELETES
NOLOGALLSUPCOLS
UPDATERECORDFORMAT COMPACT
NOCOMPRESSUPDATES
PRM
SQL OUT
UPDATE: only after
DELETE: only PK
0247
7240
COMPRESSDELETES
NOLOGALLSUPCOLS
NOCOMPRESSUPDATES
UPDATERECORDFORMAT COMPACT
PRM
SQL OUT
UPDATE: only after
DELETE: only PK
0247
7402
COMPRESSDELETES
NOCOMPRESSUPDATES
UPDATERECORDFORMAT COMPACT
NOLOGALLSUPCOLS
PRM
SQL OUT
UPDATE: only after
DELETE: only PK
0247
7420
COMPRESSDELETES
NOCOMPRESSUPDATES
NOLOGALLSUPCOLS
UPDATERECORDFORMAT COMPACT
PRM
SQL OUT
UPDATE: only after
DELETE: only PK
02478
02478
UPDATERECORDFORMAT COMPACT
NOLOGALLSUPCOLS
NOCOMPRESSUPDATES
COMPRESSDELETES
IGNOREUPDATEBEFORES
PRM
SQL OUT
UPDATE: only after
DELETE: only PK
02478
02487
UPDATERECORDFORMAT COMPACT
NOLOGALLSUPCOLS
NOCOMPRESSUPDATES
IGNOREUPDATEBEFORES
COMPRESSDELETES
PRM
SQL OUT
UPDATE: only after
DELETE: only PK
02478
02748
UPDATERECORDFORMAT COMPACT
NOLOGALLSUPCOLS
COMPRESSDELETES
NOCOMPRESSUPDATES
IGNOREUPDATEBEFORES
PRM
SQL OUT
UPDATE: only after
DELETE: only PK
02478
02784
UPDATERECORDFORMAT COMPACT
NOLOGALLSUPCOLS
COMPRESSDELETES
IGNOREUPDATEBEFORES
NOCOMPRESSUPDATES
PRM
SQL OUT
UPDATE: only after
DELETE: only PK
02478
02847
UPDATERECORDFORMAT COMPACT
NOLOGALLSUPCOLS
IGNOREUPDATEBEFORES
NOCOMPRESSUPDATES
COMPRESSDELETES
PRM
SQL OUT
UPDATE: only after
DELETE: only PK
02478
02874
UPDATERECORDFORMAT COMPACT
NOLOGALLSUPCOLS
IGNOREUPDATEBEFORES
COMPRESSDELETES
NOCOMPRESSUPDATES
PRM
SQL OUT
UPDATE: only after
DELETE: only PK
02478
04278
UPDATERECORDFORMAT COMPACT
NOCOMPRESSUPDATES
NOLOGALLSUPCOLS
COMPRESSDELETES
IGNOREUPDATEBEFORES
PRM
SQL OUT
UPDATE: only after
DELETE: only PK
02478
04287
UPDATERECORDFORMAT COMPACT
NOCOMPRESSUPDATES
NOLOGALLSUPCOLS
IGNOREUPDATEBEFORES
COMPRESSDELETES
PRM
SQL OUT
UPDATE: only after
DELETE: only PK
02478
04728
UPDATERECORDFORMAT COMPACT
NOCOMPRESSUPDATES
COMPRESSDELETES
NOLOGALLSUPCOLS
IGNOREUPDATEBEFORES
PRM
SQL OUT
UPDATE: only after
DELETE: only PK
02478
04782
UPDATERECORDFORMAT COMPACT
NOCOMPRESSUPDATES
COMPRESSDELETES
IGNOREUPDATEBEFORES
NOLOGALLSUPCOLS
PRM
SQL OUT
UPDATE: only after
DELETE: only PK
02478
04827
UPDATERECORDFORMAT COMPACT
NOCOMPRESSUPDATES
IGNOREUPDATEBEFORES
NOLOGALLSUPCOLS
COMPRESSDELETES
PRM
SQL OUT
UPDATE: only after
DELETE: only PK
02478
04872
UPDATERECORDFORMAT COMPACT
NOCOMPRESSUPDATES
IGNOREUPDATEBEFORES
COMPRESSDELETES
NOLOGALLSUPCOLS
PRM
SQL OUT
UPDATE: only after
DELETE: only PK
02478
07248
UPDATERECORDFORMAT COMPACT
COMPRESSDELETES
NOLOGALLSUPCOLS
NOCOMPRESSUPDATES
IGNOREUPDATEBEFORES
PRM
SQL OUT
UPDATE: only after
DELETE: only PK
02478
07284
UPDATERECORDFORMAT COMPACT
COMPRESSDELETES
NOLOGALLSUPCOLS
IGNOREUPDATEBEFORES
NOCOMPRESSUPDATES
PRM
SQL OUT
UPDATE: only after
DELETE: only PK
02478
07428
UPDATERECORDFORMAT COMPACT
COMPRESSDELETES
NOCOMPRESSUPDATES
NOLOGALLSUPCOLS
IGNOREUPDATEBEFORES
PRM
SQL OUT
UPDATE: only after
DELETE: only PK
02478
07482
UPDATERECORDFORMAT COMPACT
COMPRESSDELETES
NOCOMPRESSUPDATES
IGNOREUPDATEBEFORES
NOLOGALLSUPCOLS
PRM
SQL OUT
UPDATE: only after
DELETE: only PK
02478
07824
UPDATERECORDFORMAT COMPACT
COMPRESSDELETES
IGNOREUPDATEBEFORES
NOLOGALLSUPCOLS
NOCOMPRESSUPDATES
PRM
SQL OUT
UPDATE: only after
DELETE: only PK
02478
07842
UPDATERECORDFORMAT COMPACT
COMPRESSDELETES
IGNOREUPDATEBEFORES
NOCOMPRESSUPDATES
NOLOGALLSUPCOLS
PRM
SQL OUT
UPDATE: only after
DELETE: only PK
02478
08247
UPDATERECORDFORMAT COMPACT
IGNOREUPDATEBEFORES
NOLOGALLSUPCOLS
NOCOMPRESSUPDATES
COMPRESSDELETES
PRM
SQL OUT
UPDATE: only after
DELETE: only PK
02478
08274
UPDATERECORDFORMAT COMPACT
IGNOREUPDATEBEFORES
NOLOGALLSUPCOLS
COMPRESSDELETES
NOCOMPRESSUPDATES
PRM
SQL OUT
UPDATE: only after
DELETE: only PK
02478
08427
UPDATERECORDFORMAT COMPACT
IGNOREUPDATEBEFORES
NOCOMPRESSUPDATES
NOLOGALLSUPCOLS
COMPRESSDELETES
PRM
SQL OUT
UPDATE: only after
DELETE: only PK
02478
08472
UPDATERECORDFORMAT COMPACT
IGNOREUPDATEBEFORES
NOCOMPRESSUPDATES
COMPRESSDELETES
NOLOGALLSUPCOLS
PRM
SQL OUT
UPDATE: only after
DELETE: only PK
02478
08724
UPDATERECORDFORMAT COMPACT
IGNOREUPDATEBEFORES
COMPRESSDELETES
NOLOGALLSUPCOLS
NOCOMPRESSUPDATES
PRM
SQL OUT
UPDATE: only after
DELETE: only PK
02478
08742
UPDATERECORDFORMAT COMPACT
IGNOREUPDATEBEFORES
COMPRESSDELETES
NOCOMPRESSUPDATES
NOLOGALLSUPCOLS
PRM
SQL OUT
UPDATE: only after
DELETE: only PK
02478
20478
NOLOGALLSUPCOLS
UPDATERECORDFORMAT COMPACT
NOCOMPRESSUPDATES
COMPRESSDELETES
IGNOREUPDATEBEFORES
PRM
SQL OUT
UPDATE: only after
DELETE: only PK
02478
20487
NOLOGALLSUPCOLS
UPDATERECORDFORMAT COMPACT
NOCOMPRESSUPDATES
IGNOREUPDATEBEFORES
COMPRESSDELETES
PRM
SQL OUT
UPDATE: only after
DELETE: only PK
02478
20748
NOLOGALLSUPCOLS
UPDATERECORDFORMAT COMPACT
COMPRESSDELETES
NOCOMPRESSUPDATES
IGNOREUPDATEBEFORES
PRM
SQL OUT
UPDATE: only after
DELETE: only PK
02478
20784
NOLOGALLSUPCOLS
UPDATERECORDFORMAT COMPACT
COMPRESSDELETES
IGNOREUPDATEBEFORES
NOCOMPRESSUPDATES
PRM
SQL OUT
UPDATE: only after
DELETE: only PK
02478
20847
NOLOGALLSUPCOLS
UPDATERECORDFORMAT COMPACT
IGNOREUPDATEBEFORES
NOCOMPRESSUPDATES
COMPRESSDELETES
PRM
SQL OUT
UPDATE: only after
DELETE: only PK
02478
20874
NOLOGALLSUPCOLS
UPDATERECORDFORMAT COMPACT
IGNOREUPDATEBEFORES
COMPRESSDELETES
NOCOMPRESSUPDATES
PRM
SQL OUT
UPDATE: only after
DELETE: only PK
02478
24078
NOLOGALLSUPCOLS
NOCOMPRESSUPDATES
UPDATERECORDFORMAT COMPACT
COMPRESSDELETES
IGNOREUPDATEBEFORES
PRM
SQL OUT
UPDATE: only after
DELETE: only PK
02478
24087
NOLOGALLSUPCOLS
NOCOMPRESSUPDATES
UPDATERECORDFORMAT COMPACT
IGNOREUPDATEBEFORES
COMPRESSDELETES
PRM
SQL OUT
UPDATE: only after
DELETE: only PK
02478
24708
NOLOGALLSUPCOLS
NOCOMPRESSUPDATES
COMPRESSDELETES
UPDATERECORDFORMAT COMPACT
IGNOREUPDATEBEFORES
PRM
SQL OUT
UPDATE: only after
DELETE: only PK
02478
24780
NOLOGALLSUPCOLS
NOCOMPRESSUPDATES
COMPRESSDELETES
IGNOREUPDATEBEFORES
UPDATERECORDFORMAT COMPACT
PRM
SQL OUT
UPDATE: only after
DELETE: only PK
02478
24807
NOLOGALLSUPCOLS
NOCOMPRESSUPDATES
IGNOREUPDATEBEFORES
UPDATERECORDFORMAT COMPACT
COMPRESSDELETES
PRM
SQL OUT
UPDATE: only after
DELETE: only PK
02478
24870
NOLOGALLSUPCOLS
NOCOMPRESSUPDATES
IGNOREUPDATEBEFORES
COMPRESSDELETES
UPDATERECORDFORMAT COMPACT
PRM
SQL OUT
UPDATE: only after
DELETE: only PK
02478
27048
NOLOGALLSUPCOLS
COMPRESSDELETES
UPDATERECORDFORMAT COMPACT
NOCOMPRESSUPDATES
IGNOREUPDATEBEFORES
PRM
SQL OUT
UPDATE: only after
DELETE: only PK
02478
27084
NOLOGALLSUPCOLS
COMPRESSDELETES
UPDATERECORDFORMAT COMPACT
IGNOREUPDATEBEFORES
NOCOMPRESSUPDATES
PRM
SQL OUT
UPDATE: only after
DELETE: only PK
02478
27408
NOLOGALLSUPCOLS
COMPRESSDELETES
NOCOMPRESSUPDATES
UPDATERECORDFORMAT COMPACT
IGNOREUPDATEBEFORES
PRM
SQL OUT
UPDATE: only after
DELETE: only PK
02478
27480
NOLOGALLSUPCOLS
COMPRESSDELETES
NOCOMPRESSUPDATES
IGNOREUPDATEBEFORES
UPDATERECORDFORMAT COMPACT
PRM
SQL OUT
UPDATE: only after
DELETE: only PK
02478
27804
NOLOGALLSUPCOLS
COMPRESSDELETES
IGNOREUPDATEBEFORES
UPDATERECORDFORMAT COMPACT
NOCOMPRESSUPDATES
PRM
SQL OUT
UPDATE: only after
DELETE: only PK
02478
27840
NOLOGALLSUPCOLS
COMPRESSDELETES
IGNOREUPDATEBEFORES
NOCOMPRESSUPDATES
UPDATERECORDFORMAT COMPACT
PRM
SQL OUT
UPDATE: only after
DELETE: only PK
02478
28047
NOLOGALLSUPCOLS
IGNOREUPDATEBEFORES
UPDATERECORDFORMAT COMPACT
NOCOMPRESSUPDATES
COMPRESSDELETES
PRM
SQL OUT
UPDATE: only after
DELETE: only PK
02478
28074
NOLOGALLSUPCOLS
IGNOREUPDATEBEFORES
UPDATERECORDFORMAT COMPACT
COMPRESSDELETES
NOCOMPRESSUPDATES
PRM
SQL OUT
UPDATE: only after
DELETE: only PK
02478
28407
NOLOGALLSUPCOLS
IGNOREUPDATEBEFORES
NOCOMPRESSUPDATES
UPDATERECORDFORMAT COMPACT
COMPRESSDELETES
PRM
SQL OUT
UPDATE: only after
DELETE: only PK
02478
28470
NOLOGALLSUPCOLS
IGNOREUPDATEBEFORES
NOCOMPRESSUPDATES
COMPRESSDELETES
UPDATERECORDFORMAT COMPACT
PRM
SQL OUT
UPDATE: only after
DELETE: only PK
02478
28704
NOLOGALLSUPCOLS
IGNOREUPDATEBEFORES
COMPRESSDELETES
UPDATERECORDFORMAT COMPACT
NOCOMPRESSUPDATES
PRM
SQL OUT
UPDATE: only after
DELETE: only PK
02478
28740
NOLOGALLSUPCOLS
IGNOREUPDATEBEFORES
COMPRESSDELETES
NOCOMPRESSUPDATES
UPDATERECORDFORMAT COMPACT
PRM
SQL OUT
UPDATE: only after
DELETE: only PK
02478
40278
NOCOMPRESSUPDATES
UPDATERECORDFORMAT COMPACT
NOLOGALLSUPCOLS
COMPRESSDELETES
IGNOREUPDATEBEFORES
PRM
SQL OUT
UPDATE: only after
DELETE: only PK
02478
40287
NOCOMPRESSUPDATES
UPDATERECORDFORMAT COMPACT
NOLOGALLSUPCOLS
IGNOREUPDATEBEFORES
COMPRESSDELETES
PRM
SQL OUT
UPDATE: only after
DELETE: only PK
02478
40728
NOCOMPRESSUPDATES
UPDATERECORDFORMAT COMPACT
COMPRESSDELETES
NOLOGALLSUPCOLS
IGNOREUPDATEBEFORES
PRM
SQL OUT
UPDATE: only after
DELETE: only PK
02478
40782
NOCOMPRESSUPDATES
UPDATERECORDFORMAT COMPACT
COMPRESSDELETES
IGNOREUPDATEBEFORES
NOLOGALLSUPCOLS
PRM
SQL OUT
UPDATE: only after
DELETE: only PK
02478
40827
NOCOMPRESSUPDATES
UPDATERECORDFORMAT COMPACT
IGNOREUPDATEBEFORES
NOLOGALLSUPCOLS
COMPRESSDELETES
PRM
SQL OUT
UPDATE: only after
DELETE: only PK
02478
40872
NOCOMPRESSUPDATES
UPDATERECORDFORMAT COMPACT
IGNOREUPDATEBEFORES
COMPRESSDELETES
NOLOGALLSUPCOLS
PRM
SQL OUT
UPDATE: only after
DELETE: only PK
02478
42078
NOCOMPRESSUPDATES
NOLOGALLSUPCOLS
UPDATERECORDFORMAT COMPACT
COMPRESSDELETES
IGNOREUPDATEBEFORES
PRM
SQL OUT
UPDATE: only after
DELETE: only PK
02478
42087
NOCOMPRESSUPDATES
NOLOGALLSUPCOLS
UPDATERECORDFORMAT COMPACT
IGNOREUPDATEBEFORES
COMPRESSDELETES
PRM
SQL OUT
UPDATE: only after
DELETE: only PK
02478
42708
NOCOMPRESSUPDATES
NOLOGALLSUPCOLS
COMPRESSDELETES
UPDATERECORDFORMAT COMPACT
IGNOREUPDATEBEFORES
PRM
SQL OUT
UPDATE: only after
DELETE: only PK
02478
42780
NOCOMPRESSUPDATES
NOLOGALLSUPCOLS
COMPRESSDELETES
IGNOREUPDATEBEFORES
UPDATERECORDFORMAT COMPACT
PRM
SQL OUT
UPDATE: only after
DELETE: only PK
02478
42807
NOCOMPRESSUPDATES
NOLOGALLSUPCOLS
IGNOREUPDATEBEFORES
UPDATERECORDFORMAT COMPACT
COMPRESSDELETES
PRM
SQL OUT
UPDATE: only after
DELETE: only PK
02478
42870
NOCOMPRESSUPDATES
NOLOGALLSUPCOLS
IGNOREUPDATEBEFORES
COMPRESSDELETES
UPDATERECORDFORMAT COMPACT
PRM
SQL OUT
UPDATE: only after
DELETE: only PK
02478
47028
NOCOMPRESSUPDATES
COMPRESSDELETES
UPDATERECORDFORMAT COMPACT
NOLOGALLSUPCOLS
IGNOREUPDATEBEFORES
PRM
SQL OUT
UPDATE: only after
DELETE: only PK
02478
47082
NOCOMPRESSUPDATES
COMPRESSDELETES
UPDATERECORDFORMAT COMPACT
IGNOREUPDATEBEFORES
NOLOGALLSUPCOLS
PRM
SQL OUT
UPDATE: only after
DELETE: only PK
02478
47208
NOCOMPRESSUPDATES
COMPRESSDELETES
NOLOGALLSUPCOLS
UPDATERECORDFORMAT COMPACT
IGNOREUPDATEBEFORES
PRM
SQL OUT
UPDATE: only after
DELETE: only PK
02478
47280
NOCOMPRESSUPDATES
COMPRESSDELETES
NOLOGALLSUPCOLS
IGNOREUPDATEBEFORES
UPDATERECORDFORMAT COMPACT
PRM
SQL OUT
UPDATE: only after
DELETE: only PK
02478
47802
NOCOMPRESSUPDATES
COMPRESSDELETES
IGNOREUPDATEBEFORES
UPDATERECORDFORMAT COMPACT
NOLOGALLSUPCOLS
PRM
SQL OUT
UPDATE: only after
DELETE: only PK
02478
47820
NOCOMPRESSUPDATES
COMPRESSDELETES
IGNOREUPDATEBEFORES
NOLOGALLSUPCOLS
UPDATERECORDFORMAT COMPACT
PRM
SQL OUT
UPDATE: only after
DELETE: only PK
02478
48027
NOCOMPRESSUPDATES
IGNOREUPDATEBEFORES
UPDATERECORDFORMAT COMPACT
NOLOGALLSUPCOLS
COMPRESSDELETES
PRM
SQL OUT
UPDATE: only after
DELETE: only PK
02478
48072
NOCOMPRESSUPDATES
IGNOREUPDATEBEFORES
UPDATERECORDFORMAT COMPACT
COMPRESSDELETES
NOLOGALLSUPCOLS
PRM
SQL OUT
UPDATE: only after
DELETE: only PK
02478
48207
NOCOMPRESSUPDATES
IGNOREUPDATEBEFORES
NOLOGALLSUPCOLS
UPDATERECORDFORMAT COMPACT
COMPRESSDELETES
PRM
SQL OUT
UPDATE: only after
DELETE: only PK
02478
48270
NOCOMPRESSUPDATES
IGNOREUPDATEBEFORES
NOLOGALLSUPCOLS
COMPRESSDELETES
UPDATERECORDFORMAT COMPACT
PRM
SQL OUT
UPDATE: only after
DELETE: only PK
02478
48702
NOCOMPRESSUPDATES
IGNOREUPDATEBEFORES
COMPRESSDELETES
UPDATERECORDFORMAT COMPACT
NOLOGALLSUPCOLS
PRM
SQL OUT
UPDATE: only after
DELETE: only PK
02478
48720
NOCOMPRESSUPDATES
IGNOREUPDATEBEFORES
COMPRESSDELETES
NOLOGALLSUPCOLS
UPDATERECORDFORMAT COMPACT
PRM
SQL OUT
UPDATE: only after
DELETE: only PK
02478
70248
COMPRESSDELETES
UPDATERECORDFORMAT COMPACT
NOLOGALLSUPCOLS
NOCOMPRESSUPDATES
IGNOREUPDATEBEFORES
PRM
SQL OUT
UPDATE: only after
DELETE: only PK
02478
70284
COMPRESSDELETES
UPDATERECORDFORMAT COMPACT
NOLOGALLSUPCOLS
IGNOREUPDATEBEFORES
NOCOMPRESSUPDATES
PRM
SQL OUT
UPDATE: only after
DELETE: only PK
02478
70428
COMPRESSDELETES
UPDATERECORDFORMAT COMPACT
NOCOMPRESSUPDATES
NOLOGALLSUPCOLS
IGNOREUPDATEBEFORES
PRM
SQL OUT
UPDATE: only after
DELETE: only PK
02478
70482
COMPRESSDELETES
UPDATERECORDFORMAT COMPACT
NOCOMPRESSUPDATES
IGNOREUPDATEBEFORES
NOLOGALLSUPCOLS
PRM
SQL OUT
UPDATE: only after
DELETE: only PK
02478
70824
COMPRESSDELETES
UPDATERECORDFORMAT COMPACT
IGNOREUPDATEBEFORES
NOLOGALLSUPCOLS
NOCOMPRESSUPDATES
PRM
SQL OUT
UPDATE: only after
DELETE: only PK
02478
70842
COMPRESSDELETES
UPDATERECORDFORMAT COMPACT
IGNOREUPDATEBEFORES
NOCOMPRESSUPDATES
NOLOGALLSUPCOLS
PRM
SQL OUT
UPDATE: only after
DELETE: only PK
02478
72048
COMPRESSDELETES
NOLOGALLSUPCOLS
UPDATERECORDFORMAT COMPACT
NOCOMPRESSUPDATES
IGNOREUPDATEBEFORES
PRM
SQL OUT
UPDATE: only after
DELETE: only PK
02478
72084
COMPRESSDELETES
NOLOGALLSUPCOLS
UPDATERECORDFORMAT COMPACT
IGNOREUPDATEBEFORES
NOCOMPRESSUPDATES
PRM
SQL OUT
UPDATE: only after
DELETE: only PK
02478
72408
COMPRESSDELETES
NOLOGALLSUPCOLS
NOCOMPRESSUPDATES
UPDATERECORDFORMAT COMPACT
IGNOREUPDATEBEFORES
PRM
SQL OUT
UPDATE: only after
DELETE: only PK
02478
72480
COMPRESSDELETES
NOLOGALLSUPCOLS
NOCOMPRESSUPDATES
IGNOREUPDATEBEFORES
UPDATERECORDFORMAT COMPACT
PRM
SQL OUT
UPDATE: only after
DELETE: only PK
02478
72804
COMPRESSDELETES
NOLOGALLSUPCOLS
IGNOREUPDATEBEFORES
UPDATERECORDFORMAT COMPACT
NOCOMPRESSUPDATES
PRM
SQL OUT
UPDATE: only after
DELETE: only PK
02478
72840
COMPRESSDELETES
NOLOGALLSUPCOLS
IGNOREUPDATEBEFORES
NOCOMPRESSUPDATES
UPDATERECORDFORMAT COMPACT
PRM
SQL OUT
UPDATE: only after
DELETE: only PK
02478
74028
COMPRESSDELETES
NOCOMPRESSUPDATES
UPDATERECORDFORMAT COMPACT
NOLOGALLSUPCOLS
IGNOREUPDATEBEFORES
PRM
SQL OUT
UPDATE: only after
DELETE: only PK
02478
74082
COMPRESSDELETES
NOCOMPRESSUPDATES
UPDATERECORDFORMAT COMPACT
IGNOREUPDATEBEFORES
NOLOGALLSUPCOLS
PRM
SQL OUT
UPDATE: only after
DELETE: only PK
02478
74208
COMPRESSDELETES
NOCOMPRESSUPDATES
NOLOGALLSUPCOLS
UPDATERECORDFORMAT COMPACT
IGNOREUPDATEBEFORES
PRM
SQL OUT
UPDATE: only after
DELETE: only PK
02478
74280
COMPRESSDELETES
NOCOMPRESSUPDATES
NOLOGALLSUPCOLS
IGNOREUPDATEBEFORES
UPDATERECORDFORMAT COMPACT
PRM
SQL OUT
UPDATE: only after
DELETE: only PK
02478
74802
COMPRESSDELETES
NOCOMPRESSUPDATES
IGNOREUPDATEBEFORES
UPDATERECORDFORMAT COMPACT
NOLOGALLSUPCOLS
PRM
SQL OUT
UPDATE: only after
DELETE: only PK
02478
74820
COMPRESSDELETES
NOCOMPRESSUPDATES
IGNOREUPDATEBEFORES
NOLOGALLSUPCOLS
UPDATERECORDFORMAT COMPACT
PRM
SQL OUT
UPDATE: only after
DELETE: only PK
02478
78024
COMPRESSDELETES
IGNOREUPDATEBEFORES
UPDATERECORDFORMAT COMPACT
NOLOGALLSUPCOLS
NOCOMPRESSUPDATES
PRM
SQL OUT
UPDATE: only after
DELETE: only PK
02478
78042
COMPRESSDELETES
IGNOREUPDATEBEFORES
UPDATERECORDFORMAT COMPACT
NOCOMPRESSUPDATES
NOLOGALLSUPCOLS
PRM
SQL OUT
UPDATE: only after
DELETE: only PK
02478
78204
COMPRESSDELETES
IGNOREUPDATEBEFORES
NOLOGALLSUPCOLS
UPDATERECORDFORMAT COMPACT
NOCOMPRESSUPDATES
PRM
SQL OUT
UPDATE: only after
DELETE: only PK
02478
78240
COMPRESSDELETES
IGNOREUPDATEBEFORES
NOLOGALLSUPCOLS
NOCOMPRESSUPDATES
UPDATERECORDFORMAT COMPACT
PRM
SQL OUT
UPDATE: only after
DELETE: only PK
02478
78402
COMPRESSDELETES
IGNOREUPDATEBEFORES
NOCOMPRESSUPDATES
UPDATERECORDFORMAT COMPACT
NOLOGALLSUPCOLS
PRM
SQL OUT
UPDATE: only after
DELETE: only PK
02478
78420
COMPRESSDELETES
IGNOREUPDATEBEFORES
NOCOMPRESSUPDATES
NOLOGALLSUPCOLS
UPDATERECORDFORMAT COMPACT
PRM
SQL OUT
UPDATE: only after
DELETE: only PK
02478
80247
IGNOREUPDATEBEFORES
UPDATERECORDFORMAT COMPACT
NOLOGALLSUPCOLS
NOCOMPRESSUPDATES
COMPRESSDELETES
PRM
SQL OUT
UPDATE: only after
DELETE: only PK
02478
80274
IGNOREUPDATEBEFORES
UPDATERECORDFORMAT COMPACT
NOLOGALLSUPCOLS
COMPRESSDELETES
NOCOMPRESSUPDATES
PRM
SQL OUT
UPDATE: only after
DELETE: only PK
02478
80427
IGNOREUPDATEBEFORES
UPDATERECORDFORMAT COMPACT
NOCOMPRESSUPDATES
NOLOGALLSUPCOLS
COMPRESSDELETES
PRM
SQL OUT
UPDATE: only after
DELETE: only PK
02478
80472
IGNOREUPDATEBEFORES
UPDATERECORDFORMAT COMPACT
NOCOMPRESSUPDATES
COMPRESSDELETES
NOLOGALLSUPCOLS
PRM
SQL OUT
UPDATE: only after
DELETE: only PK
02478
80724
IGNOREUPDATEBEFORES
UPDATERECORDFORMAT COMPACT
COMPRESSDELETES
NOLOGALLSUPCOLS
NOCOMPRESSUPDATES
PRM
SQL OUT
UPDATE: only after
DELETE: only PK
02478
80742
IGNOREUPDATEBEFORES
UPDATERECORDFORMAT COMPACT
COMPRESSDELETES
NOCOMPRESSUPDATES
NOLOGALLSUPCOLS
PRM
SQL OUT
UPDATE: only after
DELETE: only PK
02478
82047
IGNOREUPDATEBEFORES
NOLOGALLSUPCOLS
UPDATERECORDFORMAT COMPACT
NOCOMPRESSUPDATES
COMPRESSDELETES
PRM
SQL OUT
UPDATE: only after
DELETE: only PK
02478
82074
IGNOREUPDATEBEFORES
NOLOGALLSUPCOLS
UPDATERECORDFORMAT COMPACT
COMPRESSDELETES
NOCOMPRESSUPDATES
PRM
SQL OUT
UPDATE: only after
DELETE: only PK
02478
82407
IGNOREUPDATEBEFORES
NOLOGALLSUPCOLS
NOCOMPRESSUPDATES
UPDATERECORDFORMAT COMPACT
COMPRESSDELETES
PRM
SQL OUT
UPDATE: only after
DELETE: only PK
02478
82470
IGNOREUPDATEBEFORES
NOLOGALLSUPCOLS
NOCOMPRESSUPDATES
COMPRESSDELETES
UPDATERECORDFORMAT COMPACT
PRM
SQL OUT
UPDATE: only after
DELETE: only PK
02478
82704
IGNOREUPDATEBEFORES
NOLOGALLSUPCOLS
COMPRESSDELETES
UPDATERECORDFORMAT COMPACT
NOCOMPRESSUPDATES
PRM
SQL OUT
UPDATE: only after
DELETE: only PK
02478
82740
IGNOREUPDATEBEFORES
NOLOGALLSUPCOLS
COMPRESSDELETES
NOCOMPRESSUPDATES
UPDATERECORDFORMAT COMPACT
PRM
SQL OUT
UPDATE: only after
DELETE: only PK
02478
84027
IGNOREUPDATEBEFORES
NOCOMPRESSUPDATES
UPDATERECORDFORMAT COMPACT
NOLOGALLSUPCOLS
COMPRESSDELETES
PRM
SQL OUT
UPDATE: only after
DELETE: only PK
02478
84072
IGNOREUPDATEBEFORES
NOCOMPRESSUPDATES
UPDATERECORDFORMAT COMPACT
COMPRESSDELETES
NOLOGALLSUPCOLS
PRM
SQL OUT
UPDATE: only after
DELETE: only PK
02478
84207
IGNOREUPDATEBEFORES
NOCOMPRESSUPDATES
NOLOGALLSUPCOLS
UPDATERECORDFORMAT COMPACT
COMPRESSDELETES
PRM
SQL OUT
UPDATE: only after
DELETE: only PK
02478
84270
IGNOREUPDATEBEFORES
NOCOMPRESSUPDATES
NOLOGALLSUPCOLS
COMPRESSDELETES
UPDATERECORDFORMAT COMPACT
PRM
SQL OUT
UPDATE: only after
DELETE: only PK
02478
84702
IGNOREUPDATEBEFORES
NOCOMPRESSUPDATES
COMPRESSDELETES
UPDATERECORDFORMAT COMPACT
NOLOGALLSUPCOLS
PRM
SQL OUT
UPDATE: only after
DELETE: only PK
02478
84720
IGNOREUPDATEBEFORES
NOCOMPRESSUPDATES
COMPRESSDELETES
NOLOGALLSUPCOLS
UPDATERECORDFORMAT COMPACT
PRM
SQL OUT
UPDATE: only after
DELETE: only PK
02478
87024
IGNOREUPDATEBEFORES
COMPRESSDELETES
UPDATERECORDFORMAT COMPACT
NOLOGALLSUPCOLS
NOCOMPRESSUPDATES
PRM
SQL OUT
UPDATE: only after
DELETE: only PK
02478
87042
IGNOREUPDATEBEFORES
COMPRESSDELETES
UPDATERECORDFORMAT COMPACT
NOCOMPRESSUPDATES
NOLOGALLSUPCOLS
PRM
SQL OUT
UPDATE: only after
DELETE: only PK
02478
87204
IGNOREUPDATEBEFORES
COMPRESSDELETES
NOLOGALLSUPCOLS
UPDATERECORDFORMAT COMPACT
NOCOMPRESSUPDATES
PRM
SQL OUT
UPDATE: only after
DELETE: only PK
02478
87240
IGNOREUPDATEBEFORES
COMPRESSDELETES
NOLOGALLSUPCOLS
NOCOMPRESSUPDATES
UPDATERECORDFORMAT COMPACT
PRM
SQL OUT
UPDATE: only after
DELETE: only PK
02478
87402
IGNOREUPDATEBEFORES
COMPRESSDELETES
NOCOMPRESSUPDATES
UPDATERECORDFORMAT COMPACT
NOLOGALLSUPCOLS
PRM
SQL OUT
UPDATE: only after
DELETE: only PK
02478
87420
IGNOREUPDATEBEFORES
COMPRESSDELETES
NOCOMPRESSUPDATES
NOLOGALLSUPCOLS
UPDATERECORDFORMAT COMPACT
PRM
SQL OUT
UPDATE: only after
DELETE: only PK
02479
02479
UPDATERECORDFORMAT COMPACT
NOLOGALLSUPCOLS
NOCOMPRESSUPDATES
COMPRESSDELETES
GETUPDATEBEFORES
PRM
SQL OUT
UPDATE: before + after in 1 record
DELETE: only PK
02479
02497
UPDATERECORDFORMAT COMPACT
NOLOGALLSUPCOLS
NOCOMPRESSUPDATES
GETUPDATEBEFORES
COMPRESSDELETES
PRM
SQL OUT
UPDATE: before + after in 1 record
DELETE: only PK
02479
02749
UPDATERECORDFORMAT COMPACT
NOLOGALLSUPCOLS
COMPRESSDELETES
NOCOMPRESSUPDATES
GETUPDATEBEFORES
PRM
SQL OUT
UPDATE: before + after in 1 record
DELETE: only PK
02479
02794
UPDATERECORDFORMAT COMPACT
NOLOGALLSUPCOLS
COMPRESSDELETES
GETUPDATEBEFORES
NOCOMPRESSUPDATES
PRM
SQL OUT
UPDATE: before + after in 1 record
DELETE: only PK
02479
02947
UPDATERECORDFORMAT COMPACT
NOLOGALLSUPCOLS
GETUPDATEBEFORES
NOCOMPRESSUPDATES
COMPRESSDELETES
PRM
SQL OUT
UPDATE: before + after in 1 record
DELETE: only PK
02479
02974
UPDATERECORDFORMAT COMPACT
NOLOGALLSUPCOLS
GETUPDATEBEFORES
COMPRESSDELETES
NOCOMPRESSUPDATES
PRM
SQL OUT
UPDATE: before + after in 1 record
DELETE: only PK
02479
04279
UPDATERECORDFORMAT COMPACT
NOCOMPRESSUPDATES
NOLOGALLSUPCOLS
COMPRESSDELETES
GETUPDATEBEFORES
PRM
SQL OUT
UPDATE: before + after in 1 record
DELETE: only PK
02479
04297
UPDATERECORDFORMAT COMPACT
NOCOMPRESSUPDATES
NOLOGALLSUPCOLS
GETUPDATEBEFORES
COMPRESSDELETES
PRM
SQL OUT
UPDATE: before + after in 1 record
DELETE: only PK
02479
04729
UPDATERECORDFORMAT COMPACT
NOCOMPRESSUPDATES
COMPRESSDELETES
NOLOGALLSUPCOLS
GETUPDATEBEFORES
PRM
SQL OUT
UPDATE: before + after in 1 record
DELETE: only PK
02479
04792
UPDATERECORDFORMAT COMPACT
NOCOMPRESSUPDATES
COMPRESSDELETES
GETUPDATEBEFORES
NOLOGALLSUPCOLS
PRM
SQL OUT
UPDATE: only after
DELETE: only PK
02479
04927
UPDATERECORDFORMAT COMPACT
NOCOMPRESSUPDATES
GETUPDATEBEFORES
NOLOGALLSUPCOLS
COMPRESSDELETES
PRM
SQL OUT
UPDATE: only after
DELETE: only PK
02479
04972
UPDATERECORDFORMAT COMPACT
NOCOMPRESSUPDATES
GETUPDATEBEFORES
COMPRESSDELETES
NOLOGALLSUPCOLS
PRM
SQL OUT
UPDATE: only after
DELETE: only PK
02479
07249
UPDATERECORDFORMAT COMPACT
COMPRESSDELETES
NOLOGALLSUPCOLS
NOCOMPRESSUPDATES
GETUPDATEBEFORES
PRM
SQL OUT
UPDATE: before + after in 1 record
DELETE: only PK
02479
07294
UPDATERECORDFORMAT COMPACT
COMPRESSDELETES
NOLOGALLSUPCOLS
GETUPDATEBEFORES
NOCOMPRESSUPDATES
PRM
SQL OUT
UPDATE: before + after in 1 record
DELETE: only PK
02479
07429
UPDATERECORDFORMAT COMPACT
COMPRESSDELETES
NOCOMPRESSUPDATES
NOLOGALLSUPCOLS
GETUPDATEBEFORES
PRM
SQL OUT
UPDATE: before + after in 1 record
DELETE: only PK
02479
07492
UPDATERECORDFORMAT COMPACT
COMPRESSDELETES
NOCOMPRESSUPDATES
GETUPDATEBEFORES
NOLOGALLSUPCOLS
PRM
SQL OUT
UPDATE: only after
DELETE: only PK
02479
07924
UPDATERECORDFORMAT COMPACT
COMPRESSDELETES
GETUPDATEBEFORES
NOLOGALLSUPCOLS
NOCOMPRESSUPDATES
PRM
SQL OUT
UPDATE: only after
DELETE: only PK
02479
07942
UPDATERECORDFORMAT COMPACT
COMPRESSDELETES
GETUPDATEBEFORES
NOCOMPRESSUPDATES
NOLOGALLSUPCOLS
PRM
SQL OUT
UPDATE: only after
DELETE: only PK
02479
09247
UPDATERECORDFORMAT COMPACT
GETUPDATEBEFORES
NOLOGALLSUPCOLS
NOCOMPRESSUPDATES
COMPRESSDELETES
PRM
SQL OUT
UPDATE: only after
DELETE: only PK
02479
09274
UPDATERECORDFORMAT COMPACT
GETUPDATEBEFORES
NOLOGALLSUPCOLS
COMPRESSDELETES
NOCOMPRESSUPDATES
PRM
SQL OUT
UPDATE: only after
DELETE: only PK
02479
09427
UPDATERECORDFORMAT COMPACT
GETUPDATEBEFORES
NOCOMPRESSUPDATES
NOLOGALLSUPCOLS
COMPRESSDELETES
PRM
SQL OUT
UPDATE: only after
DELETE: only PK
02479
09472
UPDATERECORDFORMAT COMPACT
GETUPDATEBEFORES
NOCOMPRESSUPDATES
COMPRESSDELETES
NOLOGALLSUPCOLS
PRM
SQL OUT
UPDATE: only after
DELETE: only PK
02479
09724
UPDATERECORDFORMAT COMPACT
GETUPDATEBEFORES
COMPRESSDELETES
NOLOGALLSUPCOLS
NOCOMPRESSUPDATES
PRM
SQL OUT
UPDATE: only after
DELETE: only PK
02479
09742
UPDATERECORDFORMAT COMPACT
GETUPDATEBEFORES
COMPRESSDELETES
NOCOMPRESSUPDATES
NOLOGALLSUPCOLS
PRM
SQL OUT
UPDATE: only after
DELETE: only PK
02479
20479
NOLOGALLSUPCOLS
UPDATERECORDFORMAT COMPACT
NOCOMPRESSUPDATES
COMPRESSDELETES
GETUPDATEBEFORES
PRM
SQL OUT
UPDATE: before + after in 1 record
DELETE: only PK
02479
20497
NOLOGALLSUPCOLS
UPDATERECORDFORMAT COMPACT
NOCOMPRESSUPDATES
GETUPDATEBEFORES
COMPRESSDELETES
PRM
SQL OUT
UPDATE: before + after in 1 record
DELETE: only PK
02479
20749
NOLOGALLSUPCOLS
UPDATERECORDFORMAT COMPACT
COMPRESSDELETES
NOCOMPRESSUPDATES
GETUPDATEBEFORES
PRM
SQL OUT
UPDATE: before + after in 1 record
DELETE: only PK
02479
20794
NOLOGALLSUPCOLS
UPDATERECORDFORMAT COMPACT
COMPRESSDELETES
GETUPDATEBEFORES
NOCOMPRESSUPDATES
PRM
SQL OUT
UPDATE: before + after in 1 record
DELETE: only PK
02479
20947
NOLOGALLSUPCOLS
UPDATERECORDFORMAT COMPACT
GETUPDATEBEFORES
NOCOMPRESSUPDATES
COMPRESSDELETES
PRM
SQL OUT
UPDATE: before + after in 1 record
DELETE: only PK
02479
20974
NOLOGALLSUPCOLS
UPDATERECORDFORMAT COMPACT
GETUPDATEBEFORES
COMPRESSDELETES
NOCOMPRESSUPDATES
PRM
SQL OUT
UPDATE: before + after in 1 record
DELETE: only PK
02479
24079
NOLOGALLSUPCOLS
NOCOMPRESSUPDATES
UPDATERECORDFORMAT COMPACT
COMPRESSDELETES
GETUPDATEBEFORES
PRM
SQL OUT
UPDATE: before + after in 1 record
DELETE: only PK
02479
24097
NOLOGALLSUPCOLS
NOCOMPRESSUPDATES
UPDATERECORDFORMAT COMPACT
GETUPDATEBEFORES
COMPRESSDELETES
PRM
SQL OUT
UPDATE: before + after in 1 record
DELETE: only PK
02479
24709
NOLOGALLSUPCOLS
NOCOMPRESSUPDATES
COMPRESSDELETES
UPDATERECORDFORMAT COMPACT
GETUPDATEBEFORES
PRM
SQL OUT
UPDATE: before + after in 1 record
DELETE: only PK
02479
24790
NOLOGALLSUPCOLS
NOCOMPRESSUPDATES
COMPRESSDELETES
GETUPDATEBEFORES
UPDATERECORDFORMAT COMPACT
PRM
SQL OUT
UPDATE: before + after in 1 record
DELETE: only PK
02479
24907
NOLOGALLSUPCOLS
NOCOMPRESSUPDATES
GETUPDATEBEFORES
UPDATERECORDFORMAT COMPACT
COMPRESSDELETES
PRM
SQL OUT
UPDATE: before + after in 1 record
DELETE: only PK
02479
24970
NOLOGALLSUPCOLS
NOCOMPRESSUPDATES
GETUPDATEBEFORES
COMPRESSDELETES
UPDATERECORDFORMAT COMPACT
PRM
SQL OUT
UPDATE: before + after in 1 record
DELETE: only PK
02479
27049
NOLOGALLSUPCOLS
COMPRESSDELETES
UPDATERECORDFORMAT COMPACT
NOCOMPRESSUPDATES
GETUPDATEBEFORES
PRM
SQL OUT
UPDATE: before + after in 1 record
DELETE: only PK
02479
27094
NOLOGALLSUPCOLS
COMPRESSDELETES
UPDATERECORDFORMAT COMPACT
GETUPDATEBEFORES
NOCOMPRESSUPDATES
PRM
SQL OUT
UPDATE: before + after in 1 record
DELETE: only PK
02479
27409
NOLOGALLSUPCOLS
COMPRESSDELETES
NOCOMPRESSUPDATES
UPDATERECORDFORMAT COMPACT
GETUPDATEBEFORES
PRM
SQL OUT
UPDATE: before + after in 1 record
DELETE: only PK
02479
27490
NOLOGALLSUPCOLS
COMPRESSDELETES
NOCOMPRESSUPDATES
GETUPDATEBEFORES
UPDATERECORDFORMAT COMPACT
PRM
SQL OUT
UPDATE: before + after in 1 record
DELETE: only PK
02479
27904
NOLOGALLSUPCOLS
COMPRESSDELETES
GETUPDATEBEFORES
UPDATERECORDFORMAT COMPACT
NOCOMPRESSUPDATES
PRM
SQL OUT
UPDATE: before + after in 1 record
DELETE: only PK
02479
27940
NOLOGALLSUPCOLS
COMPRESSDELETES
GETUPDATEBEFORES
NOCOMPRESSUPDATES
UPDATERECORDFORMAT COMPACT
PRM
SQL OUT
UPDATE: before + after in 1 record
DELETE: only PK
02479
29047
NOLOGALLSUPCOLS
GETUPDATEBEFORES
UPDATERECORDFORMAT COMPACT
NOCOMPRESSUPDATES
COMPRESSDELETES
PRM
SQL OUT
UPDATE: before + after in 1 record
DELETE: only PK
02479
29074
NOLOGALLSUPCOLS
GETUPDATEBEFORES
UPDATERECORDFORMAT COMPACT
COMPRESSDELETES
NOCOMPRESSUPDATES
PRM
SQL OUT
UPDATE: before + after in 1 record
DELETE: only PK
02479
29407
NOLOGALLSUPCOLS
GETUPDATEBEFORES
NOCOMPRESSUPDATES
UPDATERECORDFORMAT COMPACT
COMPRESSDELETES
PRM
SQL OUT
UPDATE: before + after in 1 record
DELETE: only PK
02479
29470
NOLOGALLSUPCOLS
GETUPDATEBEFORES
NOCOMPRESSUPDATES
COMPRESSDELETES
UPDATERECORDFORMAT COMPACT
PRM
SQL OUT
UPDATE: before + after in 1 record
DELETE: only PK
02479
29704
NOLOGALLSUPCOLS
GETUPDATEBEFORES
COMPRESSDELETES
UPDATERECORDFORMAT COMPACT
NOCOMPRESSUPDATES
PRM
SQL OUT
UPDATE: before + after in 1 record
DELETE: only PK
02479
29740
NOLOGALLSUPCOLS
GETUPDATEBEFORES
COMPRESSDELETES
NOCOMPRESSUPDATES
UPDATERECORDFORMAT COMPACT
PRM
SQL OUT
UPDATE: before + after in 1 record
DELETE: only PK
02479
40279
NOCOMPRESSUPDATES
UPDATERECORDFORMAT COMPACT
NOLOGALLSUPCOLS
COMPRESSDELETES
GETUPDATEBEFORES
PRM
SQL OUT
UPDATE: before + after in 1 record
DELETE: only PK
02479
40297
NOCOMPRESSUPDATES
UPDATERECORDFORMAT COMPACT
NOLOGALLSUPCOLS
GETUPDATEBEFORES
COMPRESSDELETES
PRM
SQL OUT
UPDATE: before + after in 1 record
DELETE: only PK
02479
40729
NOCOMPRESSUPDATES
UPDATERECORDFORMAT COMPACT
COMPRESSDELETES
NOLOGALLSUPCOLS
GETUPDATEBEFORES
PRM
SQL OUT
UPDATE: before + after in 1 record
DELETE: only PK
02479
40792
NOCOMPRESSUPDATES
UPDATERECORDFORMAT COMPACT
COMPRESSDELETES
GETUPDATEBEFORES
NOLOGALLSUPCOLS
PRM
SQL OUT
UPDATE: only after
DELETE: only PK
02479
40927
NOCOMPRESSUPDATES
UPDATERECORDFORMAT COMPACT
GETUPDATEBEFORES
NOLOGALLSUPCOLS
COMPRESSDELETES
PRM
SQL OUT
UPDATE: only after
DELETE: only PK
02479
40972
NOCOMPRESSUPDATES
UPDATERECORDFORMAT COMPACT
GETUPDATEBEFORES
COMPRESSDELETES
NOLOGALLSUPCOLS
PRM
SQL OUT
UPDATE: only after
DELETE: only PK
02479
42079
NOCOMPRESSUPDATES
NOLOGALLSUPCOLS
UPDATERECORDFORMAT COMPACT
COMPRESSDELETES
GETUPDATEBEFORES
PRM
SQL OUT
UPDATE: before + after in 1 record
DELETE: only PK
02479
42097
NOCOMPRESSUPDATES
NOLOGALLSUPCOLS
UPDATERECORDFORMAT COMPACT
GETUPDATEBEFORES
COMPRESSDELETES
PRM
SQL OUT
UPDATE: before + after in 1 record
DELETE: only PK
02479
42709
NOCOMPRESSUPDATES
NOLOGALLSUPCOLS
COMPRESSDELETES
UPDATERECORDFORMAT COMPACT
GETUPDATEBEFORES
PRM
SQL OUT
UPDATE: before + after in 1 record
DELETE: only PK
02479
42790
NOCOMPRESSUPDATES
NOLOGALLSUPCOLS
COMPRESSDELETES
GETUPDATEBEFORES
UPDATERECORDFORMAT COMPACT
PRM
SQL OUT
UPDATE: before + after in 1 record
DELETE: only PK
02479
42907
NOCOMPRESSUPDATES
NOLOGALLSUPCOLS
GETUPDATEBEFORES
UPDATERECORDFORMAT COMPACT
COMPRESSDELETES
PRM
SQL OUT
UPDATE: before + after in 1 record
DELETE: only PK
02479
42970
NOCOMPRESSUPDATES
NOLOGALLSUPCOLS
GETUPDATEBEFORES
COMPRESSDELETES
UPDATERECORDFORMAT COMPACT
PRM
SQL OUT
UPDATE: before + after in 1 record
DELETE: only PK
02479
47029
NOCOMPRESSUPDATES
COMPRESSDELETES
UPDATERECORDFORMAT COMPACT
NOLOGALLSUPCOLS
GETUPDATEBEFORES
PRM
SQL OUT
UPDATE: before + after in 1 record
DELETE: only PK
02479
47092
NOCOMPRESSUPDATES
COMPRESSDELETES
UPDATERECORDFORMAT COMPACT
GETUPDATEBEFORES
NOLOGALLSUPCOLS
PRM
SQL OUT
UPDATE: only after
DELETE: only PK
02479
47209
NOCOMPRESSUPDATES
COMPRESSDELETES
NOLOGALLSUPCOLS
UPDATERECORDFORMAT COMPACT
GETUPDATEBEFORES
PRM
SQL OUT
UPDATE: before + after in 1 record
DELETE: only PK
02479
47290
NOCOMPRESSUPDATES
COMPRESSDELETES
NOLOGALLSUPCOLS
GETUPDATEBEFORES
UPDATERECORDFORMAT COMPACT
PRM
SQL OUT
UPDATE: before + after in 1 record
DELETE: only PK
02479
47902
NOCOMPRESSUPDATES
COMPRESSDELETES
GETUPDATEBEFORES
UPDATERECORDFORMAT COMPACT
NOLOGALLSUPCOLS
PRM
SQL OUT
UPDATE: only after
DELETE: only PK
02479
47920
NOCOMPRESSUPDATES
COMPRESSDELETES
GETUPDATEBEFORES
NOLOGALLSUPCOLS
UPDATERECORDFORMAT COMPACT
PRM
SQL OUT
UPDATE: only after
DELETE: only PK
02479
49027
NOCOMPRESSUPDATES
GETUPDATEBEFORES
UPDATERECORDFORMAT COMPACT
NOLOGALLSUPCOLS
COMPRESSDELETES
PRM
SQL OUT
UPDATE: only after
DELETE: only PK
02479
49072
NOCOMPRESSUPDATES
GETUPDATEBEFORES
UPDATERECORDFORMAT COMPACT
COMPRESSDELETES
NOLOGALLSUPCOLS
PRM
SQL OUT
UPDATE: only after
DELETE: only PK
02479
49207
NOCOMPRESSUPDATES
GETUPDATEBEFORES
NOLOGALLSUPCOLS
UPDATERECORDFORMAT COMPACT
COMPRESSDELETES
PRM
SQL OUT
UPDATE: only after
DELETE: only PK
02479
49270
NOCOMPRESSUPDATES
GETUPDATEBEFORES
NOLOGALLSUPCOLS
COMPRESSDELETES
UPDATERECORDFORMAT COMPACT
PRM
SQL OUT
UPDATE: only after
DELETE: only PK
02479
49702
NOCOMPRESSUPDATES
GETUPDATEBEFORES
COMPRESSDELETES
UPDATERECORDFORMAT COMPACT
NOLOGALLSUPCOLS
PRM
SQL OUT
UPDATE: only after
DELETE: only PK
02479
49720
NOCOMPRESSUPDATES
GETUPDATEBEFORES
COMPRESSDELETES
NOLOGALLSUPCOLS
UPDATERECORDFORMAT COMPACT
PRM
SQL OUT
UPDATE: only after
DELETE: only PK
02479
70249
COMPRESSDELETES
UPDATERECORDFORMAT COMPACT
NOLOGALLSUPCOLS
NOCOMPRESSUPDATES
GETUPDATEBEFORES
PRM
SQL OUT
UPDATE: before + after in 1 record
DELETE: only PK
02479
70294
COMPRESSDELETES
UPDATERECORDFORMAT COMPACT
NOLOGALLSUPCOLS
GETUPDATEBEFORES
NOCOMPRESSUPDATES
PRM
SQL OUT
UPDATE: before + after in 1 record
DELETE: only PK
02479
70429
COMPRESSDELETES
UPDATERECORDFORMAT COMPACT
NOCOMPRESSUPDATES
NOLOGALLSUPCOLS
GETUPDATEBEFORES
PRM
SQL OUT
UPDATE: before + after in 1 record
DELETE: only PK
02479
70492
COMPRESSDELETES
UPDATERECORDFORMAT COMPACT
NOCOMPRESSUPDATES
GETUPDATEBEFORES
NOLOGALLSUPCOLS
PRM
SQL OUT
UPDATE: only after
DELETE: only PK
02479
70924
COMPRESSDELETES
UPDATERECORDFORMAT COMPACT
GETUPDATEBEFORES
NOLOGALLSUPCOLS
NOCOMPRESSUPDATES
PRM
SQL OUT
UPDATE: only after
DELETE: only PK
02479
70942
COMPRESSDELETES
UPDATERECORDFORMAT COMPACT
GETUPDATEBEFORES
NOCOMPRESSUPDATES
NOLOGALLSUPCOLS
PRM
SQL OUT
UPDATE: only after
DELETE: only PK
02479
72049
COMPRESSDELETES
NOLOGALLSUPCOLS
UPDATERECORDFORMAT COMPACT
NOCOMPRESSUPDATES
GETUPDATEBEFORES
PRM
SQL OUT
UPDATE: before + after in 1 record
DELETE: only PK
02479
72094
COMPRESSDELETES
NOLOGALLSUPCOLS
UPDATERECORDFORMAT COMPACT
GETUPDATEBEFORES
NOCOMPRESSUPDATES
PRM
SQL OUT
UPDATE: before + after in 1 record
DELETE: only PK
02479
72409
COMPRESSDELETES
NOLOGALLSUPCOLS
NOCOMPRESSUPDATES
UPDATERECORDFORMAT COMPACT
GETUPDATEBEFORES
PRM
SQL OUT
UPDATE: before + after in 1 record
DELETE: only PK
02479
72490
COMPRESSDELETES
NOLOGALLSUPCOLS
NOCOMPRESSUPDATES
GETUPDATEBEFORES
UPDATERECORDFORMAT COMPACT
PRM
SQL OUT
UPDATE: before + after in 1 record
DELETE: only PK
02479
72904
COMPRESSDELETES
NOLOGALLSUPCOLS
GETUPDATEBEFORES
UPDATERECORDFORMAT COMPACT
NOCOMPRESSUPDATES
PRM
SQL OUT
UPDATE: before + after in 1 record
DELETE: only PK
02479
72940
COMPRESSDELETES
NOLOGALLSUPCOLS
GETUPDATEBEFORES
NOCOMPRESSUPDATES
UPDATERECORDFORMAT COMPACT
PRM
SQL OUT
UPDATE: before + after in 1 record
DELETE: only PK
02479
74029
COMPRESSDELETES
NOCOMPRESSUPDATES
UPDATERECORDFORMAT COMPACT
NOLOGALLSUPCOLS
GETUPDATEBEFORES
PRM
SQL OUT
UPDATE: before + after in 1 record
DELETE: only PK
02479
74092
COMPRESSDELETES
NOCOMPRESSUPDATES
UPDATERECORDFORMAT COMPACT
GETUPDATEBEFORES
NOLOGALLSUPCOLS
PRM
SQL OUT
UPDATE: only after
DELETE: only PK
02479
74209
COMPRESSDELETES
NOCOMPRESSUPDATES
NOLOGALLSUPCOLS
UPDATERECORDFORMAT COMPACT
GETUPDATEBEFORES
PRM
SQL OUT
UPDATE: before + after in 1 record
DELETE: only PK
02479
74290
COMPRESSDELETES
NOCOMPRESSUPDATES
NOLOGALLSUPCOLS
GETUPDATEBEFORES
UPDATERECORDFORMAT COMPACT
PRM
SQL OUT
UPDATE: before + after in 1 record
DELETE: only PK
02479
74902
COMPRESSDELETES
NOCOMPRESSUPDATES
GETUPDATEBEFORES
UPDATERECORDFORMAT COMPACT
NOLOGALLSUPCOLS
PRM
SQL OUT
UPDATE: only after
DELETE: only PK
02479
74920
COMPRESSDELETES
NOCOMPRESSUPDATES
GETUPDATEBEFORES
NOLOGALLSUPCOLS
UPDATERECORDFORMAT COMPACT
PRM
SQL OUT
UPDATE: only after
DELETE: only PK
02479
79024
COMPRESSDELETES
GETUPDATEBEFORES
UPDATERECORDFORMAT COMPACT
NOLOGALLSUPCOLS
NOCOMPRESSUPDATES
PRM
SQL OUT
UPDATE: only after
DELETE: only PK
02479
79042
COMPRESSDELETES
GETUPDATEBEFORES
UPDATERECORDFORMAT COMPACT
NOCOMPRESSUPDATES
NOLOGALLSUPCOLS
PRM
SQL OUT
UPDATE: only after
DELETE: only PK
02479
79204
COMPRESSDELETES
GETUPDATEBEFORES
NOLOGALLSUPCOLS
UPDATERECORDFORMAT COMPACT
NOCOMPRESSUPDATES
PRM
SQL OUT
UPDATE: only after
DELETE: only PK
02479
79240
COMPRESSDELETES
GETUPDATEBEFORES
NOLOGALLSUPCOLS
NOCOMPRESSUPDATES
UPDATERECORDFORMAT COMPACT
PRM
SQL OUT
UPDATE: only after
DELETE: only PK
02479
79402
COMPRESSDELETES
GETUPDATEBEFORES
NOCOMPRESSUPDATES
UPDATERECORDFORMAT COMPACT
NOLOGALLSUPCOLS
PRM
SQL OUT
UPDATE: only after
DELETE: only PK
02479
79420
COMPRESSDELETES
GETUPDATEBEFORES
NOCOMPRESSUPDATES
NOLOGALLSUPCOLS
UPDATERECORDFORMAT COMPACT
PRM
SQL OUT
UPDATE: only after
DELETE: only PK
02479
90247
GETUPDATEBEFORES
UPDATERECORDFORMAT COMPACT
NOLOGALLSUPCOLS
NOCOMPRESSUPDATES
COMPRESSDELETES
PRM
SQL OUT
UPDATE: only after
DELETE: only PK
02479
90274
GETUPDATEBEFORES
UPDATERECORDFORMAT COMPACT
NOLOGALLSUPCOLS
COMPRESSDELETES
NOCOMPRESSUPDATES
PRM
SQL OUT
UPDATE: only after
DELETE: only PK
02479
90427
GETUPDATEBEFORES
UPDATERECORDFORMAT COMPACT
NOCOMPRESSUPDATES
NOLOGALLSUPCOLS
COMPRESSDELETES
PRM
SQL OUT
UPDATE: only after
DELETE: only PK
02479
90472
GETUPDATEBEFORES
UPDATERECORDFORMAT COMPACT
NOCOMPRESSUPDATES
COMPRESSDELETES
NOLOGALLSUPCOLS
PRM
SQL OUT
UPDATE: only after
DELETE: only PK
02479
90724
GETUPDATEBEFORES
UPDATERECORDFORMAT COMPACT
COMPRESSDELETES
NOLOGALLSUPCOLS
NOCOMPRESSUPDATES
PRM
SQL OUT
UPDATE: only after
DELETE: only PK
02479
90742
GETUPDATEBEFORES
UPDATERECORDFORMAT COMPACT
COMPRESSDELETES
NOCOMPRESSUPDATES
NOLOGALLSUPCOLS
PRM
SQL OUT
UPDATE: only after
DELETE: only PK
02479
92047
GETUPDATEBEFORES
NOLOGALLSUPCOLS
UPDATERECORDFORMAT COMPACT
NOCOMPRESSUPDATES
COMPRESSDELETES
PRM
SQL OUT
UPDATE: only after
DELETE: only PK
02479
92074
GETUPDATEBEFORES
NOLOGALLSUPCOLS
UPDATERECORDFORMAT COMPACT
COMPRESSDELETES
NOCOMPRESSUPDATES
PRM
SQL OUT
UPDATE: only after
DELETE: only PK
02479
92407
GETUPDATEBEFORES
NOLOGALLSUPCOLS
NOCOMPRESSUPDATES
UPDATERECORDFORMAT COMPACT
COMPRESSDELETES
PRM
SQL OUT
UPDATE: only after
DELETE: only PK
02479
92470
GETUPDATEBEFORES
NOLOGALLSUPCOLS
NOCOMPRESSUPDATES
COMPRESSDELETES
UPDATERECORDFORMAT COMPACT
PRM
SQL OUT
UPDATE: only after
DELETE: only PK
02479
92704
GETUPDATEBEFORES
NOLOGALLSUPCOLS
COMPRESSDELETES
UPDATERECORDFORMAT COMPACT
NOCOMPRESSUPDATES
PRM
SQL OUT
UPDATE: only after
DELETE: only PK
02479
92740
GETUPDATEBEFORES
NOLOGALLSUPCOLS
COMPRESSDELETES
NOCOMPRESSUPDATES
UPDATERECORDFORMAT COMPACT
PRM
SQL OUT
UPDATE: only after
DELETE: only PK
02479
94027
GETUPDATEBEFORES
NOCOMPRESSUPDATES
UPDATERECORDFORMAT COMPACT
NOLOGALLSUPCOLS
COMPRESSDELETES
PRM
SQL OUT
UPDATE: only after
DELETE: only PK
02479
94072
GETUPDATEBEFORES
NOCOMPRESSUPDATES
UPDATERECORDFORMAT COMPACT
COMPRESSDELETES
NOLOGALLSUPCOLS
PRM
SQL OUT
UPDATE: only after
DELETE: only PK
02479
94207
GETUPDATEBEFORES
NOCOMPRESSUPDATES
NOLOGALLSUPCOLS
UPDATERECORDFORMAT COMPACT
COMPRESSDELETES
PRM
SQL OUT
UPDATE: only after
DELETE: only PK
02479
94270
GETUPDATEBEFORES
NOCOMPRESSUPDATES
NOLOGALLSUPCOLS
COMPRESSDELETES
UPDATERECORDFORMAT COMPACT
PRM
SQL OUT
UPDATE: only after
DELETE: only PK
02479
94702
GETUPDATEBEFORES
NOCOMPRESSUPDATES
COMPRESSDELETES
UPDATERECORDFORMAT COMPACT
NOLOGALLSUPCOLS
PRM
SQL OUT
UPDATE: only after
DELETE: only PK
02479
94720
GETUPDATEBEFORES
NOCOMPRESSUPDATES
COMPRESSDELETES
NOLOGALLSUPCOLS
UPDATERECORDFORMAT COMPACT
PRM
SQL OUT
UPDATE: only after
DELETE: only PK
02479
97024
GETUPDATEBEFORES
COMPRESSDELETES
UPDATERECORDFORMAT COMPACT
NOLOGALLSUPCOLS
NOCOMPRESSUPDATES
PRM
SQL OUT
UPDATE: only after
DELETE: only PK
02479
97042
GETUPDATEBEFORES
COMPRESSDELETES
UPDATERECORDFORMAT COMPACT
NOCOMPRESSUPDATES
NOLOGALLSUPCOLS
PRM
SQL OUT
UPDATE: only after
DELETE: only PK
02479
97204
GETUPDATEBEFORES
COMPRESSDELETES
NOLOGALLSUPCOLS
UPDATERECORDFORMAT COMPACT
NOCOMPRESSUPDATES
PRM
SQL OUT
UPDATE: only after
DELETE: only PK
02479
97240
GETUPDATEBEFORES
COMPRESSDELETES
NOLOGALLSUPCOLS
NOCOMPRESSUPDATES
UPDATERECORDFORMAT COMPACT
PRM
SQL OUT
UPDATE: only after
DELETE: only PK
02479
97402
GETUPDATEBEFORES
COMPRESSDELETES
NOCOMPRESSUPDATES
UPDATERECORDFORMAT COMPACT
NOLOGALLSUPCOLS
PRM
SQL OUT
UPDATE: only after
DELETE: only PK
02479
97420
GETUPDATEBEFORES
COMPRESSDELETES
NOCOMPRESSUPDATES
NOLOGALLSUPCOLS
UPDATERECORDFORMAT COMPACT
PRM
SQL OUT
UPDATE: only after
DELETE: only PK
0248
0248
UPDATERECORDFORMAT COMPACT
NOLOGALLSUPCOLS
NOCOMPRESSUPDATES
IGNOREUPDATEBEFORES
PRM
SQL OUT
UPDATE: only after
DELETE: only PK
0248
0284
UPDATERECORDFORMAT COMPACT
NOLOGALLSUPCOLS
IGNOREUPDATEBEFORES
NOCOMPRESSUPDATES
PRM
SQL OUT
UPDATE: only after
DELETE: only PK
0248
0428
UPDATERECORDFORMAT COMPACT
NOCOMPRESSUPDATES
NOLOGALLSUPCOLS
IGNOREUPDATEBEFORES
PRM
SQL OUT
UPDATE: only after
DELETE: only PK
0248
0482
UPDATERECORDFORMAT COMPACT
NOCOMPRESSUPDATES
IGNOREUPDATEBEFORES
NOLOGALLSUPCOLS
PRM
SQL OUT
UPDATE: only after
DELETE: only PK
0248
0824
UPDATERECORDFORMAT COMPACT
IGNOREUPDATEBEFORES
NOLOGALLSUPCOLS
NOCOMPRESSUPDATES
PRM
SQL OUT
UPDATE: only after
DELETE: only PK
0248
0842
UPDATERECORDFORMAT COMPACT
IGNOREUPDATEBEFORES
NOCOMPRESSUPDATES
NOLOGALLSUPCOLS
PRM
SQL OUT
UPDATE: only after
DELETE: only PK
0248
2048
NOLOGALLSUPCOLS
UPDATERECORDFORMAT COMPACT
NOCOMPRESSUPDATES
IGNOREUPDATEBEFORES
PRM
SQL OUT
UPDATE: only after
DELETE: only PK
0248
2084
NOLOGALLSUPCOLS
UPDATERECORDFORMAT COMPACT
IGNOREUPDATEBEFORES
NOCOMPRESSUPDATES
PRM
SQL OUT
UPDATE: only after
DELETE: only PK
0248
2408
NOLOGALLSUPCOLS
NOCOMPRESSUPDATES
UPDATERECORDFORMAT COMPACT
IGNOREUPDATEBEFORES
PRM
SQL OUT
UPDATE: only after
DELETE: only PK
0248
2480
NOLOGALLSUPCOLS
NOCOMPRESSUPDATES
IGNOREUPDATEBEFORES
UPDATERECORDFORMAT COMPACT
PRM
SQL OUT
UPDATE: only after
DELETE: only PK
0248
2804
NOLOGALLSUPCOLS
IGNOREUPDATEBEFORES
UPDATERECORDFORMAT COMPACT
NOCOMPRESSUPDATES
PRM
SQL OUT
UPDATE: only after
DELETE: only PK
0248
2840
NOLOGALLSUPCOLS
IGNOREUPDATEBEFORES
NOCOMPRESSUPDATES
UPDATERECORDFORMAT COMPACT
PRM
SQL OUT
UPDATE: only after
DELETE: only PK
0248
4028
NOCOMPRESSUPDATES
UPDATERECORDFORMAT COMPACT
NOLOGALLSUPCOLS
IGNOREUPDATEBEFORES
PRM
SQL OUT
UPDATE: only after
DELETE: only PK
0248
4082
NOCOMPRESSUPDATES
UPDATERECORDFORMAT COMPACT
IGNOREUPDATEBEFORES
NOLOGALLSUPCOLS
PRM
SQL OUT
UPDATE: only after
DELETE: only PK
0248
4208
NOCOMPRESSUPDATES
NOLOGALLSUPCOLS
UPDATERECORDFORMAT COMPACT
IGNOREUPDATEBEFORES
PRM
SQL OUT
UPDATE: only after
DELETE: only PK
0248
4280
NOCOMPRESSUPDATES
NOLOGALLSUPCOLS
IGNOREUPDATEBEFORES
UPDATERECORDFORMAT COMPACT
PRM
SQL OUT
UPDATE: only after
DELETE: only PK
0248
4802
NOCOMPRESSUPDATES
IGNOREUPDATEBEFORES
UPDATERECORDFORMAT COMPACT
NOLOGALLSUPCOLS
PRM
SQL OUT
UPDATE: only after
DELETE: only PK
0248
4820
NOCOMPRESSUPDATES
IGNOREUPDATEBEFORES
NOLOGALLSUPCOLS
UPDATERECORDFORMAT COMPACT
PRM
SQL OUT
UPDATE: only after
DELETE: only PK
0248
8024
IGNOREUPDATEBEFORES
UPDATERECORDFORMAT COMPACT
NOLOGALLSUPCOLS
NOCOMPRESSUPDATES
PRM
SQL OUT
UPDATE: only after
DELETE: only PK
0248
8042
IGNOREUPDATEBEFORES
UPDATERECORDFORMAT COMPACT
NOCOMPRESSUPDATES
NOLOGALLSUPCOLS
PRM
SQL OUT
UPDATE: only after
DELETE: only PK
0248
8204
IGNOREUPDATEBEFORES
NOLOGALLSUPCOLS
UPDATERECORDFORMAT COMPACT
NOCOMPRESSUPDATES
PRM
SQL OUT
UPDATE: only after
DELETE: only PK
0248
8240
IGNOREUPDATEBEFORES
NOLOGALLSUPCOLS
NOCOMPRESSUPDATES
UPDATERECORDFORMAT COMPACT
PRM
SQL OUT
UPDATE: only after
DELETE: only PK
0248
8402
IGNOREUPDATEBEFORES
NOCOMPRESSUPDATES
UPDATERECORDFORMAT COMPACT
NOLOGALLSUPCOLS
PRM
SQL OUT
UPDATE: only after
DELETE: only PK
0248
8420
IGNOREUPDATEBEFORES
NOCOMPRESSUPDATES
NOLOGALLSUPCOLS
UPDATERECORDFORMAT COMPACT
PRM
SQL OUT
UPDATE: only after
DELETE: only PK
0249
0249
UPDATERECORDFORMAT COMPACT
NOLOGALLSUPCOLS
NOCOMPRESSUPDATES
GETUPDATEBEFORES
PRM
SQL OUT
UPDATE: before + after in 1 record
DELETE: only PK
0249
0294
UPDATERECORDFORMAT COMPACT
NOLOGALLSUPCOLS
GETUPDATEBEFORES
NOCOMPRESSUPDATES
PRM
SQL OUT
UPDATE: before + after in 1 record
DELETE: only PK
0249
0429
UPDATERECORDFORMAT COMPACT
NOCOMPRESSUPDATES
NOLOGALLSUPCOLS
GETUPDATEBEFORES
PRM
SQL OUT
UPDATE: before + after in 1 record
DELETE: only PK
0249
0492
UPDATERECORDFORMAT COMPACT
NOCOMPRESSUPDATES
GETUPDATEBEFORES
NOLOGALLSUPCOLS
PRM
SQL OUT
UPDATE: only after
DELETE: only PK
0249
0924
UPDATERECORDFORMAT COMPACT
GETUPDATEBEFORES
NOLOGALLSUPCOLS
NOCOMPRESSUPDATES
PRM
SQL OUT
UPDATE: only after
DELETE: only PK
0249
0942
UPDATERECORDFORMAT COMPACT
GETUPDATEBEFORES
NOCOMPRESSUPDATES
NOLOGALLSUPCOLS
PRM
SQL OUT
UPDATE: only after
DELETE: only PK
0249
2049
NOLOGALLSUPCOLS
UPDATERECORDFORMAT COMPACT
NOCOMPRESSUPDATES
GETUPDATEBEFORES
PRM
SQL OUT
UPDATE: before + after in 1 record
DELETE: only PK
0249
2094
NOLOGALLSUPCOLS
UPDATERECORDFORMAT COMPACT
GETUPDATEBEFORES
NOCOMPRESSUPDATES
PRM
SQL OUT
UPDATE: before + after in 1 record
DELETE: only PK
0249
2409
NOLOGALLSUPCOLS
NOCOMPRESSUPDATES
UPDATERECORDFORMAT COMPACT
GETUPDATEBEFORES
PRM
SQL OUT
UPDATE: before + after in 1 record
DELETE: only PK
0249
2490
NOLOGALLSUPCOLS
NOCOMPRESSUPDATES
GETUPDATEBEFORES
UPDATERECORDFORMAT COMPACT
PRM
SQL OUT
UPDATE: before + after in 1 record
DELETE: only PK
0249
2904
NOLOGALLSUPCOLS
GETUPDATEBEFORES
UPDATERECORDFORMAT COMPACT
NOCOMPRESSUPDATES
PRM
SQL OUT
UPDATE: before + after in 1 record
DELETE: only PK
0249
2940
NOLOGALLSUPCOLS
GETUPDATEBEFORES
NOCOMPRESSUPDATES
UPDATERECORDFORMAT COMPACT
PRM
SQL OUT
UPDATE: before + after in 1 record
DELETE: only PK
0249
4029
NOCOMPRESSUPDATES
UPDATERECORDFORMAT COMPACT
NOLOGALLSUPCOLS
GETUPDATEBEFORES
PRM
SQL OUT
UPDATE: before + after in 1 record
DELETE: only PK
0249
4092
NOCOMPRESSUPDATES
UPDATERECORDFORMAT COMPACT
GETUPDATEBEFORES
NOLOGALLSUPCOLS
PRM
SQL OUT
UPDATE: only after
DELETE: only PK
0249
4209
NOCOMPRESSUPDATES
NOLOGALLSUPCOLS
UPDATERECORDFORMAT COMPACT
GETUPDATEBEFORES
PRM
SQL OUT
UPDATE: before + after in 1 record
DELETE: only PK
0249
4290
NOCOMPRESSUPDATES
NOLOGALLSUPCOLS
GETUPDATEBEFORES
UPDATERECORDFORMAT COMPACT
PRM
SQL OUT
UPDATE: before + after in 1 record
DELETE: only PK
0249
4902
NOCOMPRESSUPDATES
GETUPDATEBEFORES
UPDATERECORDFORMAT COMPACT
NOLOGALLSUPCOLS
PRM
SQL OUT
UPDATE: only after
DELETE: only PK
0249
4920
NOCOMPRESSUPDATES
GETUPDATEBEFORES
NOLOGALLSUPCOLS
UPDATERECORDFORMAT COMPACT
PRM
SQL OUT
UPDATE: only after
DELETE: only PK
0249
9024
GETUPDATEBEFORES
UPDATERECORDFORMAT COMPACT
NOLOGALLSUPCOLS
NOCOMPRESSUPDATES
PRM
SQL OUT
UPDATE: only after
DELETE: only PK
0249
9042
GETUPDATEBEFORES
UPDATERECORDFORMAT COMPACT
NOCOMPRESSUPDATES
NOLOGALLSUPCOLS
PRM
SQL OUT
UPDATE: only after
DELETE: only PK
0249
9204
GETUPDATEBEFORES
NOLOGALLSUPCOLS
UPDATERECORDFORMAT COMPACT
NOCOMPRESSUPDATES
PRM
SQL OUT
UPDATE: only after
DELETE: only PK
0249
9240
GETUPDATEBEFORES
NOLOGALLSUPCOLS
NOCOMPRESSUPDATES
UPDATERECORDFORMAT COMPACT
PRM
SQL OUT
UPDATE: only after
DELETE: only PK
0249
9402
GETUPDATEBEFORES
NOCOMPRESSUPDATES
UPDATERECORDFORMAT COMPACT
NOLOGALLSUPCOLS
PRM
SQL OUT
UPDATE: only after
DELETE: only PK
0249
9420
GETUPDATEBEFORES
NOCOMPRESSUPDATES
NOLOGALLSUPCOLS
UPDATERECORDFORMAT COMPACT
PRM
SQL OUT
UPDATE: only after
DELETE: only PK
025
025
UPDATERECORDFORMAT COMPACT
NOLOGALLSUPCOLS
COMPRESSUPDATES
PRM
SQL OUT
UPDATE: only after
DELETE: only PK
025
052
UPDATERECORDFORMAT COMPACT
COMPRESSUPDATES
NOLOGALLSUPCOLS
PRM
SQL OUT
UPDATE: only after
DELETE: only PK
025
205
NOLOGALLSUPCOLS
UPDATERECORDFORMAT COMPACT
COMPRESSUPDATES
PRM
SQL OUT
UPDATE: only after
DELETE: only PK
025
250
NOLOGALLSUPCOLS
COMPRESSUPDATES
UPDATERECORDFORMAT COMPACT
PRM
SQL OUT
UPDATE: only after
DELETE: only PK
025
502
COMPRESSUPDATES
UPDATERECORDFORMAT COMPACT
NOLOGALLSUPCOLS
PRM
SQL OUT
UPDATE: only after
DELETE: only PK
025
520
COMPRESSUPDATES
NOLOGALLSUPCOLS
UPDATERECORDFORMAT COMPACT
PRM
SQL OUT
UPDATE: only after
DELETE: only PK
0256
0256
UPDATERECORDFORMAT COMPACT
NOLOGALLSUPCOLS
COMPRESSUPDATES
NOCOMPRESSDELETES
PRM
SQL OUT
UPDATE: only after
DELETE: full
0256
0265
UPDATERECORDFORMAT COMPACT
NOLOGALLSUPCOLS
NOCOMPRESSDELETES
COMPRESSUPDATES
PRM
SQL OUT
UPDATE: only after
DELETE: full
0256
0526
UPDATERECORDFORMAT COMPACT
COMPRESSUPDATES
NOLOGALLSUPCOLS
NOCOMPRESSDELETES
PRM
SQL OUT
UPDATE: only after
DELETE: full
0256
0562
UPDATERECORDFORMAT COMPACT
COMPRESSUPDATES
NOCOMPRESSDELETES
NOLOGALLSUPCOLS
PRM
SQL OUT
UPDATE: only after
DELETE: only PK
0256
0625
UPDATERECORDFORMAT COMPACT
NOCOMPRESSDELETES
NOLOGALLSUPCOLS
COMPRESSUPDATES
PRM
SQL OUT
UPDATE: only after
DELETE: only PK
0256
0652
UPDATERECORDFORMAT COMPACT
NOCOMPRESSDELETES
COMPRESSUPDATES
NOLOGALLSUPCOLS
PRM
SQL OUT
UPDATE: only after
DELETE: only PK
0256
2056
NOLOGALLSUPCOLS
UPDATERECORDFORMAT COMPACT
COMPRESSUPDATES
NOCOMPRESSDELETES
PRM
SQL OUT
UPDATE: only after
DELETE: full
0256
2065
NOLOGALLSUPCOLS
UPDATERECORDFORMAT COMPACT
NOCOMPRESSDELETES
COMPRESSUPDATES
PRM
SQL OUT
UPDATE: only after
DELETE: full
0256
2506
NOLOGALLSUPCOLS
COMPRESSUPDATES
UPDATERECORDFORMAT COMPACT
NOCOMPRESSDELETES
PRM
SQL OUT
UPDATE: only after
DELETE: full
0256
2560
NOLOGALLSUPCOLS
COMPRESSUPDATES
NOCOMPRESSDELETES
UPDATERECORDFORMAT COMPACT
PRM
SQL OUT
UPDATE: only after
DELETE: full
0256
2605
NOLOGALLSUPCOLS
NOCOMPRESSDELETES
UPDATERECORDFORMAT COMPACT
COMPRESSUPDATES
PRM
SQL OUT
UPDATE: only after
DELETE: full
0256
2650
NOLOGALLSUPCOLS
NOCOMPRESSDELETES
COMPRESSUPDATES
UPDATERECORDFORMAT COMPACT
PRM
SQL OUT
UPDATE: only after
DELETE: full
0256
5026
COMPRESSUPDATES
UPDATERECORDFORMAT COMPACT
NOLOGALLSUPCOLS
NOCOMPRESSDELETES
PRM
SQL OUT
UPDATE: only after
DELETE: full
0256
5062
COMPRESSUPDATES
UPDATERECORDFORMAT COMPACT
NOCOMPRESSDELETES
NOLOGALLSUPCOLS
PRM
SQL OUT
UPDATE: only after
DELETE: only PK
0256
5206
COMPRESSUPDATES
NOLOGALLSUPCOLS
UPDATERECORDFORMAT COMPACT
NOCOMPRESSDELETES
PRM
SQL OUT
UPDATE: only after
DELETE: full
0256
5260
COMPRESSUPDATES
NOLOGALLSUPCOLS
NOCOMPRESSDELETES
UPDATERECORDFORMAT COMPACT
PRM
SQL OUT
UPDATE: only after
DELETE: full
0256
5602
COMPRESSUPDATES
NOCOMPRESSDELETES
UPDATERECORDFORMAT COMPACT
NOLOGALLSUPCOLS
PRM
SQL OUT
UPDATE: only after
DELETE: only PK
0256
5620
COMPRESSUPDATES
NOCOMPRESSDELETES
NOLOGALLSUPCOLS
UPDATERECORDFORMAT COMPACT
PRM
SQL OUT
UPDATE: only after
DELETE: only PK
0256
6025
NOCOMPRESSDELETES
UPDATERECORDFORMAT COMPACT
NOLOGALLSUPCOLS
COMPRESSUPDATES
PRM
SQL OUT
UPDATE: only after
DELETE: only PK
0256
6052
NOCOMPRESSDELETES
UPDATERECORDFORMAT COMPACT
COMPRESSUPDATES
NOLOGALLSUPCOLS
PRM
SQL OUT
UPDATE: only after
DELETE: only PK
0256
6205
NOCOMPRESSDELETES
NOLOGALLSUPCOLS
UPDATERECORDFORMAT COMPACT
COMPRESSUPDATES
PRM
SQL OUT
UPDATE: only after
DELETE: only PK
0256
6250
NOCOMPRESSDELETES
NOLOGALLSUPCOLS
COMPRESSUPDATES
UPDATERECORDFORMAT COMPACT
PRM
SQL OUT
UPDATE: only after
DELETE: only PK
0256
6502
NOCOMPRESSDELETES
COMPRESSUPDATES
UPDATERECORDFORMAT COMPACT
NOLOGALLSUPCOLS
PRM
SQL OUT
UPDATE: only after
DELETE: only PK
0256
6520
NOCOMPRESSDELETES
COMPRESSUPDATES
NOLOGALLSUPCOLS
UPDATERECORDFORMAT COMPACT
PRM
SQL OUT
UPDATE: only after
DELETE: only PK
02568
02568
UPDATERECORDFORMAT COMPACT
NOLOGALLSUPCOLS
COMPRESSUPDATES
NOCOMPRESSDELETES
IGNOREUPDATEBEFORES
PRM
SQL OUT
UPDATE: only after
DELETE: full
02568
02586
UPDATERECORDFORMAT COMPACT
NOLOGALLSUPCOLS
COMPRESSUPDATES
IGNOREUPDATEBEFORES
NOCOMPRESSDELETES
PRM
SQL OUT
UPDATE: only after
DELETE: full
02568
02658
UPDATERECORDFORMAT COMPACT
NOLOGALLSUPCOLS
NOCOMPRESSDELETES
COMPRESSUPDATES
IGNOREUPDATEBEFORES
PRM
SQL OUT
UPDATE: only after
DELETE: full
02568
02685
UPDATERECORDFORMAT COMPACT
NOLOGALLSUPCOLS
NOCOMPRESSDELETES
IGNOREUPDATEBEFORES
COMPRESSUPDATES
PRM
SQL OUT
UPDATE: only after
DELETE: full
02568
02856
UPDATERECORDFORMAT COMPACT
NOLOGALLSUPCOLS
IGNOREUPDATEBEFORES
COMPRESSUPDATES
NOCOMPRESSDELETES
PRM
SQL OUT
UPDATE: only after
DELETE: full
02568
02865
UPDATERECORDFORMAT COMPACT
NOLOGALLSUPCOLS
IGNOREUPDATEBEFORES
NOCOMPRESSDELETES
COMPRESSUPDATES
PRM
SQL OUT
UPDATE: only after
DELETE: full
02568
05268
UPDATERECORDFORMAT COMPACT
COMPRESSUPDATES
NOLOGALLSUPCOLS
NOCOMPRESSDELETES
IGNOREUPDATEBEFORES
PRM
SQL OUT
UPDATE: only after
DELETE: full
02568
05286
UPDATERECORDFORMAT COMPACT
COMPRESSUPDATES
NOLOGALLSUPCOLS
IGNOREUPDATEBEFORES
NOCOMPRESSDELETES
PRM
SQL OUT
UPDATE: only after
DELETE: full
02568
05628
UPDATERECORDFORMAT COMPACT
COMPRESSUPDATES
NOCOMPRESSDELETES
NOLOGALLSUPCOLS
IGNOREUPDATEBEFORES
PRM
SQL OUT
UPDATE: only after
DELETE: only PK
02568
05682
UPDATERECORDFORMAT COMPACT
COMPRESSUPDATES
NOCOMPRESSDELETES
IGNOREUPDATEBEFORES
NOLOGALLSUPCOLS
PRM
SQL OUT
UPDATE: only after
DELETE: only PK
02568
05826
UPDATERECORDFORMAT COMPACT
COMPRESSUPDATES
IGNOREUPDATEBEFORES
NOLOGALLSUPCOLS
NOCOMPRESSDELETES
PRM
SQL OUT
UPDATE: only after
DELETE: full
02568
05862
UPDATERECORDFORMAT COMPACT
COMPRESSUPDATES
IGNOREUPDATEBEFORES
NOCOMPRESSDELETES
NOLOGALLSUPCOLS
PRM
SQL OUT
UPDATE: only after
DELETE: only PK
02568
06258
UPDATERECORDFORMAT COMPACT
NOCOMPRESSDELETES
NOLOGALLSUPCOLS
COMPRESSUPDATES
IGNOREUPDATEBEFORES
PRM
SQL OUT
UPDATE: only after
DELETE: only PK
02568
06285
UPDATERECORDFORMAT COMPACT
NOCOMPRESSDELETES
NOLOGALLSUPCOLS
IGNOREUPDATEBEFORES
COMPRESSUPDATES
PRM
SQL OUT
UPDATE: only after
DELETE: only PK
02568
06528
UPDATERECORDFORMAT COMPACT
NOCOMPRESSDELETES
COMPRESSUPDATES
NOLOGALLSUPCOLS
IGNOREUPDATEBEFORES
PRM
SQL OUT
UPDATE: only after
DELETE: only PK
02568
06582
UPDATERECORDFORMAT COMPACT
NOCOMPRESSDELETES
COMPRESSUPDATES
IGNOREUPDATEBEFORES
NOLOGALLSUPCOLS
PRM
SQL OUT
UPDATE: only after
DELETE: only PK
02568
06825
UPDATERECORDFORMAT COMPACT
NOCOMPRESSDELETES
IGNOREUPDATEBEFORES
NOLOGALLSUPCOLS
COMPRESSUPDATES
PRM
SQL OUT
UPDATE: only after
DELETE: only PK
02568
06852
UPDATERECORDFORMAT COMPACT
NOCOMPRESSDELETES
IGNOREUPDATEBEFORES
COMPRESSUPDATES
NOLOGALLSUPCOLS
PRM
SQL OUT
UPDATE: only after
DELETE: only PK
02568
08256
UPDATERECORDFORMAT COMPACT
IGNOREUPDATEBEFORES
NOLOGALLSUPCOLS
COMPRESSUPDATES
NOCOMPRESSDELETES
PRM
SQL OUT
UPDATE: only after
DELETE: full
02568
08265
UPDATERECORDFORMAT COMPACT
IGNOREUPDATEBEFORES
NOLOGALLSUPCOLS
NOCOMPRESSDELETES
COMPRESSUPDATES
PRM
SQL OUT
UPDATE: only after
DELETE: full
02568
08526
UPDATERECORDFORMAT COMPACT
IGNOREUPDATEBEFORES
COMPRESSUPDATES
NOLOGALLSUPCOLS
NOCOMPRESSDELETES
PRM
SQL OUT
UPDATE: only after
DELETE: full
02568
08562
UPDATERECORDFORMAT COMPACT
IGNOREUPDATEBEFORES
COMPRESSUPDATES
NOCOMPRESSDELETES
NOLOGALLSUPCOLS
PRM
SQL OUT
UPDATE: only after
DELETE: only PK
02568
08625
UPDATERECORDFORMAT COMPACT
IGNOREUPDATEBEFORES
NOCOMPRESSDELETES
NOLOGALLSUPCOLS
COMPRESSUPDATES
PRM
SQL OUT
UPDATE: only after
DELETE: only PK
02568
08652
UPDATERECORDFORMAT COMPACT
IGNOREUPDATEBEFORES
NOCOMPRESSDELETES
COMPRESSUPDATES
NOLOGALLSUPCOLS
PRM
SQL OUT
UPDATE: only after
DELETE: only PK
02568
20568
NOLOGALLSUPCOLS
UPDATERECORDFORMAT COMPACT
COMPRESSUPDATES
NOCOMPRESSDELETES
IGNOREUPDATEBEFORES
PRM
SQL OUT
UPDATE: only after
DELETE: full
02568
20586
NOLOGALLSUPCOLS
UPDATERECORDFORMAT COMPACT
COMPRESSUPDATES
IGNOREUPDATEBEFORES
NOCOMPRESSDELETES
PRM
SQL OUT
UPDATE: only after
DELETE: full
02568
20658
NOLOGALLSUPCOLS
UPDATERECORDFORMAT COMPACT
NOCOMPRESSDELETES
COMPRESSUPDATES
IGNOREUPDATEBEFORES
PRM
SQL OUT
UPDATE: only after
DELETE: full
02568
20685
NOLOGALLSUPCOLS
UPDATERECORDFORMAT COMPACT
NOCOMPRESSDELETES
IGNOREUPDATEBEFORES
COMPRESSUPDATES
PRM
SQL OUT
UPDATE: only after
DELETE: full
02568
20856
NOLOGALLSUPCOLS
UPDATERECORDFORMAT COMPACT
IGNOREUPDATEBEFORES
COMPRESSUPDATES
NOCOMPRESSDELETES
PRM
SQL OUT
UPDATE: only after
DELETE: full
02568
20865
NOLOGALLSUPCOLS
UPDATERECORDFORMAT COMPACT
IGNOREUPDATEBEFORES
NOCOMPRESSDELETES
COMPRESSUPDATES
PRM
SQL OUT
UPDATE: only after
DELETE: full
02568
25068
NOLOGALLSUPCOLS
COMPRESSUPDATES
UPDATERECORDFORMAT COMPACT
NOCOMPRESSDELETES
IGNOREUPDATEBEFORES
PRM
SQL OUT
UPDATE: only after
DELETE: full
02568
25086
NOLOGALLSUPCOLS
COMPRESSUPDATES
UPDATERECORDFORMAT COMPACT
IGNOREUPDATEBEFORES
NOCOMPRESSDELETES
PRM
SQL OUT
UPDATE: only after
DELETE: full
02568
25608
NOLOGALLSUPCOLS
COMPRESSUPDATES
NOCOMPRESSDELETES
UPDATERECORDFORMAT COMPACT
IGNOREUPDATEBEFORES
PRM
SQL OUT
UPDATE: only after
DELETE: full
02568
25680
NOLOGALLSUPCOLS
COMPRESSUPDATES
NOCOMPRESSDELETES
IGNOREUPDATEBEFORES
UPDATERECORDFORMAT COMPACT
PRM
SQL OUT
UPDATE: only after
DELETE: full
02568
25806
NOLOGALLSUPCOLS
COMPRESSUPDATES
IGNOREUPDATEBEFORES
UPDATERECORDFORMAT COMPACT
NOCOMPRESSDELETES
PRM
SQL OUT
UPDATE: only after
DELETE: full
02568
25860
NOLOGALLSUPCOLS
COMPRESSUPDATES
IGNOREUPDATEBEFORES
NOCOMPRESSDELETES
UPDATERECORDFORMAT COMPACT
PRM
SQL OUT
UPDATE: only after
DELETE: full
02568
26058
NOLOGALLSUPCOLS
NOCOMPRESSDELETES
UPDATERECORDFORMAT COMPACT
COMPRESSUPDATES
IGNOREUPDATEBEFORES
PRM
SQL OUT
UPDATE: only after
DELETE: full
02568
26085
NOLOGALLSUPCOLS
NOCOMPRESSDELETES
UPDATERECORDFORMAT COMPACT
IGNOREUPDATEBEFORES
COMPRESSUPDATES
PRM
SQL OUT
UPDATE: only after
DELETE: full
02568
26508
NOLOGALLSUPCOLS
NOCOMPRESSDELETES
COMPRESSUPDATES
UPDATERECORDFORMAT COMPACT
IGNOREUPDATEBEFORES
PRM
SQL OUT
UPDATE: only after
DELETE: full
02568
26580
NOLOGALLSUPCOLS
NOCOMPRESSDELETES
COMPRESSUPDATES
IGNOREUPDATEBEFORES
UPDATERECORDFORMAT COMPACT
PRM
SQL OUT
UPDATE: only after
DELETE: full
02568
26805
NOLOGALLSUPCOLS
NOCOMPRESSDELETES
IGNOREUPDATEBEFORES
UPDATERECORDFORMAT COMPACT
COMPRESSUPDATES
PRM
SQL OUT
UPDATE: only after
DELETE: full
02568
26850
NOLOGALLSUPCOLS
NOCOMPRESSDELETES
IGNOREUPDATEBEFORES
COMPRESSUPDATES
UPDATERECORDFORMAT COMPACT
PRM
SQL OUT
UPDATE: only after
DELETE: full
02568
28056
NOLOGALLSUPCOLS
IGNOREUPDATEBEFORES
UPDATERECORDFORMAT COMPACT
COMPRESSUPDATES
NOCOMPRESSDELETES
PRM
SQL OUT
UPDATE: only after
DELETE: full
02568
28065
NOLOGALLSUPCOLS
IGNOREUPDATEBEFORES
UPDATERECORDFORMAT COMPACT
NOCOMPRESSDELETES
COMPRESSUPDATES
PRM
SQL OUT
UPDATE: only after
DELETE: full
02568
28506
NOLOGALLSUPCOLS
IGNOREUPDATEBEFORES
COMPRESSUPDATES
UPDATERECORDFORMAT COMPACT
NOCOMPRESSDELETES
PRM
SQL OUT
UPDATE: only after
DELETE: full
02568
28560
NOLOGALLSUPCOLS
IGNOREUPDATEBEFORES
COMPRESSUPDATES
NOCOMPRESSDELETES
UPDATERECORDFORMAT COMPACT
PRM
SQL OUT
UPDATE: only after
DELETE: full
02568
28605
NOLOGALLSUPCOLS
IGNOREUPDATEBEFORES
NOCOMPRESSDELETES
UPDATERECORDFORMAT COMPACT
COMPRESSUPDATES
PRM
SQL OUT
UPDATE: only after
DELETE: full
02568
28650
NOLOGALLSUPCOLS
IGNOREUPDATEBEFORES
NOCOMPRESSDELETES
COMPRESSUPDATES
UPDATERECORDFORMAT COMPACT
PRM
SQL OUT
UPDATE: only after
DELETE: full
02568
50268
COMPRESSUPDATES
UPDATERECORDFORMAT COMPACT
NOLOGALLSUPCOLS
NOCOMPRESSDELETES
IGNOREUPDATEBEFORES
PRM
SQL OUT
UPDATE: only after
DELETE: full
02568
50286
COMPRESSUPDATES
UPDATERECORDFORMAT COMPACT
NOLOGALLSUPCOLS
IGNOREUPDATEBEFORES
NOCOMPRESSDELETES
PRM
SQL OUT
UPDATE: only after
DELETE: full
02568
50628
COMPRESSUPDATES
UPDATERECORDFORMAT COMPACT
NOCOMPRESSDELETES
NOLOGALLSUPCOLS
IGNOREUPDATEBEFORES
PRM
SQL OUT
UPDATE: only after
DELETE: only PK
02568
50682
COMPRESSUPDATES
UPDATERECORDFORMAT COMPACT
NOCOMPRESSDELETES
IGNOREUPDATEBEFORES
NOLOGALLSUPCOLS
PRM
SQL OUT
UPDATE: only after
DELETE: only PK
02568
50826
COMPRESSUPDATES
UPDATERECORDFORMAT COMPACT
IGNOREUPDATEBEFORES
NOLOGALLSUPCOLS
NOCOMPRESSDELETES
PRM
SQL OUT
UPDATE: only after
DELETE: full
02568
50862
COMPRESSUPDATES
UPDATERECORDFORMAT COMPACT
IGNOREUPDATEBEFORES
NOCOMPRESSDELETES
NOLOGALLSUPCOLS
PRM
SQL OUT
UPDATE: only after
DELETE: only PK
02568
52068
COMPRESSUPDATES
NOLOGALLSUPCOLS
UPDATERECORDFORMAT COMPACT
NOCOMPRESSDELETES
IGNOREUPDATEBEFORES
PRM
SQL OUT
UPDATE: only after
DELETE: full
02568
52086
COMPRESSUPDATES
NOLOGALLSUPCOLS
UPDATERECORDFORMAT COMPACT
IGNOREUPDATEBEFORES
NOCOMPRESSDELETES
PRM
SQL OUT
UPDATE: only after
DELETE: full
02568
52608
COMPRESSUPDATES
NOLOGALLSUPCOLS
NOCOMPRESSDELETES
UPDATERECORDFORMAT COMPACT
IGNOREUPDATEBEFORES
PRM
SQL OUT
UPDATE: only after
DELETE: full
02568
52680
COMPRESSUPDATES
NOLOGALLSUPCOLS
NOCOMPRESSDELETES
IGNOREUPDATEBEFORES
UPDATERECORDFORMAT COMPACT
PRM
SQL OUT
UPDATE: only after
DELETE: full
02568
52806
COMPRESSUPDATES
NOLOGALLSUPCOLS
IGNOREUPDATEBEFORES
UPDATERECORDFORMAT COMPACT
NOCOMPRESSDELETES
PRM
SQL OUT
UPDATE: only after
DELETE: full
02568
52860
COMPRESSUPDATES
NOLOGALLSUPCOLS
IGNOREUPDATEBEFORES
NOCOMPRESSDELETES
UPDATERECORDFORMAT COMPACT
PRM
SQL OUT
UPDATE: only after
DELETE: full
02568
56028
COMPRESSUPDATES
NOCOMPRESSDELETES
UPDATERECORDFORMAT COMPACT
NOLOGALLSUPCOLS
IGNOREUPDATEBEFORES
PRM
SQL OUT
UPDATE: only after
DELETE: only PK
02568
56082
COMPRESSUPDATES
NOCOMPRESSDELETES
UPDATERECORDFORMAT COMPACT
IGNOREUPDATEBEFORES
NOLOGALLSUPCOLS
PRM
SQL OUT
UPDATE: only after
DELETE: only PK
02568
56208
COMPRESSUPDATES
NOCOMPRESSDELETES
NOLOGALLSUPCOLS
UPDATERECORDFORMAT COMPACT
IGNOREUPDATEBEFORES
PRM
SQL OUT
UPDATE: only after
DELETE: only PK
02568
56280
COMPRESSUPDATES
NOCOMPRESSDELETES
NOLOGALLSUPCOLS
IGNOREUPDATEBEFORES
UPDATERECORDFORMAT COMPACT
PRM
SQL OUT
UPDATE: only after
DELETE: only PK
02568
56802
COMPRESSUPDATES
NOCOMPRESSDELETES
IGNOREUPDATEBEFORES
UPDATERECORDFORMAT COMPACT
NOLOGALLSUPCOLS
PRM
SQL OUT
UPDATE: only after
DELETE: only PK
02568
56820
COMPRESSUPDATES
NOCOMPRESSDELETES
IGNOREUPDATEBEFORES
NOLOGALLSUPCOLS
UPDATERECORDFORMAT COMPACT
PRM
SQL OUT
UPDATE: only after
DELETE: only PK
02568
58026
COMPRESSUPDATES
IGNOREUPDATEBEFORES
UPDATERECORDFORMAT COMPACT
NOLOGALLSUPCOLS
NOCOMPRESSDELETES
PRM
SQL OUT
UPDATE: only after
DELETE: full
02568
58062
COMPRESSUPDATES
IGNOREUPDATEBEFORES
UPDATERECORDFORMAT COMPACT
NOCOMPRESSDELETES
NOLOGALLSUPCOLS
PRM
SQL OUT
UPDATE: only after
DELETE: only PK
02568
58206
COMPRESSUPDATES
IGNOREUPDATEBEFORES
NOLOGALLSUPCOLS
UPDATERECORDFORMAT COMPACT
NOCOMPRESSDELETES
PRM
SQL OUT
UPDATE: only after
DELETE: full
02568
58260
COMPRESSUPDATES
IGNOREUPDATEBEFORES
NOLOGALLSUPCOLS
NOCOMPRESSDELETES
UPDATERECORDFORMAT COMPACT
PRM
SQL OUT
UPDATE: only after
DELETE: full
02568
58602
COMPRESSUPDATES
IGNOREUPDATEBEFORES
NOCOMPRESSDELETES
UPDATERECORDFORMAT COMPACT
NOLOGALLSUPCOLS
PRM
SQL OUT
UPDATE: only after
DELETE: only PK
02568
58620
COMPRESSUPDATES
IGNOREUPDATEBEFORES
NOCOMPRESSDELETES
NOLOGALLSUPCOLS
UPDATERECORDFORMAT COMPACT
PRM
SQL OUT
UPDATE: only after
DELETE: only PK
02568
60258
NOCOMPRESSDELETES
UPDATERECORDFORMAT COMPACT
NOLOGALLSUPCOLS
COMPRESSUPDATES
IGNOREUPDATEBEFORES
PRM
SQL OUT
UPDATE: only after
DELETE: only PK
02568
60285
NOCOMPRESSDELETES
UPDATERECORDFORMAT COMPACT
NOLOGALLSUPCOLS
IGNOREUPDATEBEFORES
COMPRESSUPDATES
PRM
SQL OUT
UPDATE: only after
DELETE: only PK
02568
60528
NOCOMPRESSDELETES
UPDATERECORDFORMAT COMPACT
COMPRESSUPDATES
NOLOGALLSUPCOLS
IGNOREUPDATEBEFORES
PRM
SQL OUT
UPDATE: only after
DELETE: only PK
02568
60582
NOCOMPRESSDELETES
UPDATERECORDFORMAT COMPACT
COMPRESSUPDATES
IGNOREUPDATEBEFORES
NOLOGALLSUPCOLS
PRM
SQL OUT
UPDATE: only after
DELETE: only PK
02568
60825
NOCOMPRESSDELETES
UPDATERECORDFORMAT COMPACT
IGNOREUPDATEBEFORES
NOLOGALLSUPCOLS
COMPRESSUPDATES
PRM
SQL OUT
UPDATE: only after
DELETE: only PK
02568
60852
NOCOMPRESSDELETES
UPDATERECORDFORMAT COMPACT
IGNOREUPDATEBEFORES
COMPRESSUPDATES
NOLOGALLSUPCOLS
PRM
SQL OUT
UPDATE: only after
DELETE: only PK
02568
62058
NOCOMPRESSDELETES
NOLOGALLSUPCOLS
UPDATERECORDFORMAT COMPACT
COMPRESSUPDATES
IGNOREUPDATEBEFORES
PRM
SQL OUT
UPDATE: only after
DELETE: only PK
02568
62085
NOCOMPRESSDELETES
NOLOGALLSUPCOLS
UPDATERECORDFORMAT COMPACT
IGNOREUPDATEBEFORES
COMPRESSUPDATES
PRM
SQL OUT
UPDATE: only after
DELETE: only PK
02568
62508
NOCOMPRESSDELETES
NOLOGALLSUPCOLS
COMPRESSUPDATES
UPDATERECORDFORMAT COMPACT
IGNOREUPDATEBEFORES
PRM
SQL OUT
UPDATE: only after
DELETE: only PK
02568
62580
NOCOMPRESSDELETES
NOLOGALLSUPCOLS
COMPRESSUPDATES
IGNOREUPDATEBEFORES
UPDATERECORDFORMAT COMPACT
PRM
SQL OUT
UPDATE: only after
DELETE: only PK
02568
62805
NOCOMPRESSDELETES
NOLOGALLSUPCOLS
IGNOREUPDATEBEFORES
UPDATERECORDFORMAT COMPACT
COMPRESSUPDATES
PRM
SQL OUT
UPDATE: only after
DELETE: only PK
02568
62850
NOCOMPRESSDELETES
NOLOGALLSUPCOLS
IGNOREUPDATEBEFORES
COMPRESSUPDATES
UPDATERECORDFORMAT COMPACT
PRM
SQL OUT
UPDATE: only after
DELETE: only PK
02568
65028
NOCOMPRESSDELETES
COMPRESSUPDATES
UPDATERECORDFORMAT COMPACT
NOLOGALLSUPCOLS
IGNOREUPDATEBEFORES
PRM
SQL OUT
UPDATE: only after
DELETE: only PK
02568
65082
NOCOMPRESSDELETES
COMPRESSUPDATES
UPDATERECORDFORMAT COMPACT
IGNOREUPDATEBEFORES
NOLOGALLSUPCOLS
PRM
SQL OUT
UPDATE: only after
DELETE: only PK
02568
65208
NOCOMPRESSDELETES
COMPRESSUPDATES
NOLOGALLSUPCOLS
UPDATERECORDFORMAT COMPACT
IGNOREUPDATEBEFORES
PRM
SQL OUT
UPDATE: only after
DELETE: only PK
02568
65280
NOCOMPRESSDELETES
COMPRESSUPDATES
NOLOGALLSUPCOLS
IGNOREUPDATEBEFORES
UPDATERECORDFORMAT COMPACT
PRM
SQL OUT
UPDATE: only after
DELETE: only PK
02568
65802
NOCOMPRESSDELETES
COMPRESSUPDATES
IGNOREUPDATEBEFORES
UPDATERECORDFORMAT COMPACT
NOLOGALLSUPCOLS
PRM
SQL OUT
UPDATE: only after
DELETE: only PK
02568
65820
NOCOMPRESSDELETES
COMPRESSUPDATES
IGNOREUPDATEBEFORES
NOLOGALLSUPCOLS
UPDATERECORDFORMAT COMPACT
PRM
SQL OUT
UPDATE: only after
DELETE: only PK
02568
68025
NOCOMPRESSDELETES
IGNOREUPDATEBEFORES
UPDATERECORDFORMAT COMPACT
NOLOGALLSUPCOLS
COMPRESSUPDATES
PRM
SQL OUT
UPDATE: only after
DELETE: only PK
02568
68052
NOCOMPRESSDELETES
IGNOREUPDATEBEFORES
UPDATERECORDFORMAT COMPACT
COMPRESSUPDATES
NOLOGALLSUPCOLS
PRM
SQL OUT
UPDATE: only after
DELETE: only PK
02568
68205
NOCOMPRESSDELETES
IGNOREUPDATEBEFORES
NOLOGALLSUPCOLS
UPDATERECORDFORMAT COMPACT
COMPRESSUPDATES
PRM
SQL OUT
UPDATE: only after
DELETE: only PK
02568
68250
NOCOMPRESSDELETES
IGNOREUPDATEBEFORES
NOLOGALLSUPCOLS
COMPRESSUPDATES
UPDATERECORDFORMAT COMPACT
PRM
SQL OUT
UPDATE: only after
DELETE: only PK
02568
68502
NOCOMPRESSDELETES
IGNOREUPDATEBEFORES
COMPRESSUPDATES
UPDATERECORDFORMAT COMPACT
NOLOGALLSUPCOLS
PRM
SQL OUT
UPDATE: only after
DELETE: only PK
02568
68520
NOCOMPRESSDELETES
IGNOREUPDATEBEFORES
COMPRESSUPDATES
NOLOGALLSUPCOLS
UPDATERECORDFORMAT COMPACT
PRM
SQL OUT
UPDATE: only after
DELETE: only PK
02568
80256
IGNOREUPDATEBEFORES
UPDATERECORDFORMAT COMPACT
NOLOGALLSUPCOLS
COMPRESSUPDATES
NOCOMPRESSDELETES
PRM
SQL OUT
UPDATE: only after
DELETE: full
02568
80265
IGNOREUPDATEBEFORES
UPDATERECORDFORMAT COMPACT
NOLOGALLSUPCOLS
NOCOMPRESSDELETES
COMPRESSUPDATES
PRM
SQL OUT
UPDATE: only after
DELETE: full
02568
80526
IGNOREUPDATEBEFORES
UPDATERECORDFORMAT COMPACT
COMPRESSUPDATES
NOLOGALLSUPCOLS
NOCOMPRESSDELETES
PRM
SQL OUT
UPDATE: only after
DELETE: full
02568
80562
IGNOREUPDATEBEFORES
UPDATERECORDFORMAT COMPACT
COMPRESSUPDATES
NOCOMPRESSDELETES
NOLOGALLSUPCOLS
PRM
SQL OUT
UPDATE: only after
DELETE: only PK
02568
80625
IGNOREUPDATEBEFORES
UPDATERECORDFORMAT COMPACT
NOCOMPRESSDELETES
NOLOGALLSUPCOLS
COMPRESSUPDATES
PRM
SQL OUT
UPDATE: only after
DELETE: only PK
02568
80652
IGNOREUPDATEBEFORES
UPDATERECORDFORMAT COMPACT
NOCOMPRESSDELETES
COMPRESSUPDATES
NOLOGALLSUPCOLS
PRM
SQL OUT
UPDATE: only after
DELETE: only PK
02568
82056
IGNOREUPDATEBEFORES
NOLOGALLSUPCOLS
UPDATERECORDFORMAT COMPACT
COMPRESSUPDATES
NOCOMPRESSDELETES
PRM
SQL OUT
UPDATE: only after
DELETE: full
02568
82065
IGNOREUPDATEBEFORES
NOLOGALLSUPCOLS
UPDATERECORDFORMAT COMPACT
NOCOMPRESSDELETES
COMPRESSUPDATES
PRM
SQL OUT
UPDATE: only after
DELETE: full
02568
82506
IGNOREUPDATEBEFORES
NOLOGALLSUPCOLS
COMPRESSUPDATES
UPDATERECORDFORMAT COMPACT
NOCOMPRESSDELETES
PRM
SQL OUT
UPDATE: only after
DELETE: full
02568
82560
IGNOREUPDATEBEFORES
NOLOGALLSUPCOLS
COMPRESSUPDATES
NOCOMPRESSDELETES
UPDATERECORDFORMAT COMPACT
PRM
SQL OUT
UPDATE: only after
DELETE: full
02568
82605
IGNOREUPDATEBEFORES
NOLOGALLSUPCOLS
NOCOMPRESSDELETES
UPDATERECORDFORMAT COMPACT
COMPRESSUPDATES
PRM
SQL OUT
UPDATE: only after
DELETE: full
02568
82650
IGNOREUPDATEBEFORES
NOLOGALLSUPCOLS
NOCOMPRESSDELETES
COMPRESSUPDATES
UPDATERECORDFORMAT COMPACT
PRM
SQL OUT
UPDATE: only after
DELETE: full
02568
85026
IGNOREUPDATEBEFORES
COMPRESSUPDATES
UPDATERECORDFORMAT COMPACT
NOLOGALLSUPCOLS
NOCOMPRESSDELETES
PRM
SQL OUT
UPDATE: only after
DELETE: full
02568
85062
IGNOREUPDATEBEFORES
COMPRESSUPDATES
UPDATERECORDFORMAT COMPACT
NOCOMPRESSDELETES
NOLOGALLSUPCOLS
PRM
SQL OUT
UPDATE: only after
DELETE: only PK
02568
85206
IGNOREUPDATEBEFORES
COMPRESSUPDATES
NOLOGALLSUPCOLS
UPDATERECORDFORMAT COMPACT
NOCOMPRESSDELETES
PRM
SQL OUT
UPDATE: only after
DELETE: full
02568
85260
IGNOREUPDATEBEFORES
COMPRESSUPDATES
NOLOGALLSUPCOLS
NOCOMPRESSDELETES
UPDATERECORDFORMAT COMPACT
PRM
SQL OUT
UPDATE: only after
DELETE: full
02568
85602
IGNOREUPDATEBEFORES
COMPRESSUPDATES
NOCOMPRESSDELETES
UPDATERECORDFORMAT COMPACT
NOLOGALLSUPCOLS
PRM
SQL OUT
UPDATE: only after
DELETE: only PK
02568
85620
IGNOREUPDATEBEFORES
COMPRESSUPDATES
NOCOMPRESSDELETES
NOLOGALLSUPCOLS
UPDATERECORDFORMAT COMPACT
PRM
SQL OUT
UPDATE: only after
DELETE: only PK
02568
86025
IGNOREUPDATEBEFORES
NOCOMPRESSDELETES
UPDATERECORDFORMAT COMPACT
NOLOGALLSUPCOLS
COMPRESSUPDATES
PRM
SQL OUT
UPDATE: only after
DELETE: only PK
02568
86052
IGNOREUPDATEBEFORES
NOCOMPRESSDELETES
UPDATERECORDFORMAT COMPACT
COMPRESSUPDATES
NOLOGALLSUPCOLS
PRM
SQL OUT
UPDATE: only after
DELETE: only PK
02568
86205
IGNOREUPDATEBEFORES
NOCOMPRESSDELETES
NOLOGALLSUPCOLS
UPDATERECORDFORMAT COMPACT
COMPRESSUPDATES
PRM
SQL OUT
UPDATE: only after
DELETE: only PK
02568
86250
IGNOREUPDATEBEFORES
NOCOMPRESSDELETES
NOLOGALLSUPCOLS
COMPRESSUPDATES
UPDATERECORDFORMAT COMPACT
PRM
SQL OUT
UPDATE: only after
DELETE: only PK
02568
86502
IGNOREUPDATEBEFORES
NOCOMPRESSDELETES
COMPRESSUPDATES
UPDATERECORDFORMAT COMPACT
NOLOGALLSUPCOLS
PRM
SQL OUT
UPDATE: only after
DELETE: only PK
02568
86520
IGNOREUPDATEBEFORES
NOCOMPRESSDELETES
COMPRESSUPDATES
NOLOGALLSUPCOLS
UPDATERECORDFORMAT COMPACT
PRM
SQL OUT
UPDATE: only after
DELETE: only PK
02569
02569
UPDATERECORDFORMAT COMPACT
NOLOGALLSUPCOLS
COMPRESSUPDATES
NOCOMPRESSDELETES
GETUPDATEBEFORES
PRM
SQL OUT
UPDATE: before + after in 1 record
DELETE: full
02569
02596
UPDATERECORDFORMAT COMPACT
NOLOGALLSUPCOLS
COMPRESSUPDATES
GETUPDATEBEFORES
NOCOMPRESSDELETES
PRM
SQL OUT
UPDATE: before + after in 1 record
DELETE: full
02569
02659
UPDATERECORDFORMAT COMPACT
NOLOGALLSUPCOLS
NOCOMPRESSDELETES
COMPRESSUPDATES
GETUPDATEBEFORES
PRM
SQL OUT
UPDATE: before + after in 1 record
DELETE: full
02569
02695
UPDATERECORDFORMAT COMPACT
NOLOGALLSUPCOLS
NOCOMPRESSDELETES
GETUPDATEBEFORES
COMPRESSUPDATES
PRM
SQL OUT
UPDATE: before + after in 1 record
DELETE: full
02569
02956
UPDATERECORDFORMAT COMPACT
NOLOGALLSUPCOLS
GETUPDATEBEFORES
COMPRESSUPDATES
NOCOMPRESSDELETES
PRM
SQL OUT
UPDATE: before + after in 1 record
DELETE: full
02569
02965
UPDATERECORDFORMAT COMPACT
NOLOGALLSUPCOLS
GETUPDATEBEFORES
NOCOMPRESSDELETES
COMPRESSUPDATES
PRM
SQL OUT
UPDATE: before + after in 1 record
DELETE: full
02569
05269
UPDATERECORDFORMAT COMPACT
COMPRESSUPDATES
NOLOGALLSUPCOLS
NOCOMPRESSDELETES
GETUPDATEBEFORES
PRM
SQL OUT
UPDATE: before + after in 1 record
DELETE: full
02569
05296
UPDATERECORDFORMAT COMPACT
COMPRESSUPDATES
NOLOGALLSUPCOLS
GETUPDATEBEFORES
NOCOMPRESSDELETES
PRM
SQL OUT
UPDATE: before + after in 1 record
DELETE: full
02569
05629
UPDATERECORDFORMAT COMPACT
COMPRESSUPDATES
NOCOMPRESSDELETES
NOLOGALLSUPCOLS
GETUPDATEBEFORES
PRM
SQL OUT
UPDATE: before + after in 1 record
DELETE: only PK
02569
05692
UPDATERECORDFORMAT COMPACT
COMPRESSUPDATES
NOCOMPRESSDELETES
GETUPDATEBEFORES
NOLOGALLSUPCOLS
PRM
SQL OUT
UPDATE: only after
DELETE: only PK
02569
05926
UPDATERECORDFORMAT COMPACT
COMPRESSUPDATES
GETUPDATEBEFORES
NOLOGALLSUPCOLS
NOCOMPRESSDELETES
PRM
SQL OUT
UPDATE: only after
DELETE: full
02569
05962
UPDATERECORDFORMAT COMPACT
COMPRESSUPDATES
GETUPDATEBEFORES
NOCOMPRESSDELETES
NOLOGALLSUPCOLS
PRM
SQL OUT
UPDATE: only after
DELETE: only PK
02569
06259
UPDATERECORDFORMAT COMPACT
NOCOMPRESSDELETES
NOLOGALLSUPCOLS
COMPRESSUPDATES
GETUPDATEBEFORES
PRM
SQL OUT
UPDATE: before + after in 1 record
DELETE: only PK
02569
06295
UPDATERECORDFORMAT COMPACT
NOCOMPRESSDELETES
NOLOGALLSUPCOLS
GETUPDATEBEFORES
COMPRESSUPDATES
PRM
SQL OUT
UPDATE: before + after in 1 record
DELETE: only PK
02569
06529
UPDATERECORDFORMAT COMPACT
NOCOMPRESSDELETES
COMPRESSUPDATES
NOLOGALLSUPCOLS
GETUPDATEBEFORES
PRM
SQL OUT
UPDATE: before + after in 1 record
DELETE: only PK
02569
06592
UPDATERECORDFORMAT COMPACT
NOCOMPRESSDELETES
COMPRESSUPDATES
GETUPDATEBEFORES
NOLOGALLSUPCOLS
PRM
SQL OUT
UPDATE: only after
DELETE: only PK
02569
06925
UPDATERECORDFORMAT COMPACT
NOCOMPRESSDELETES
GETUPDATEBEFORES
NOLOGALLSUPCOLS
COMPRESSUPDATES
PRM
SQL OUT
UPDATE: only after
DELETE: only PK
02569
06952
UPDATERECORDFORMAT COMPACT
NOCOMPRESSDELETES
GETUPDATEBEFORES
COMPRESSUPDATES
NOLOGALLSUPCOLS
PRM
SQL OUT
UPDATE: only after
DELETE: only PK
02569
09256
UPDATERECORDFORMAT COMPACT
GETUPDATEBEFORES
NOLOGALLSUPCOLS
COMPRESSUPDATES
NOCOMPRESSDELETES
PRM
SQL OUT
UPDATE: only after
DELETE: full
02569
09265
UPDATERECORDFORMAT COMPACT
GETUPDATEBEFORES
NOLOGALLSUPCOLS
NOCOMPRESSDELETES
COMPRESSUPDATES
PRM
SQL OUT
UPDATE: only after
DELETE: full
02569
09526
UPDATERECORDFORMAT COMPACT
GETUPDATEBEFORES
COMPRESSUPDATES
NOLOGALLSUPCOLS
NOCOMPRESSDELETES
PRM
SQL OUT
UPDATE: only after
DELETE: full
02569
09562
UPDATERECORDFORMAT COMPACT
GETUPDATEBEFORES
COMPRESSUPDATES
NOCOMPRESSDELETES
NOLOGALLSUPCOLS
PRM
SQL OUT
UPDATE: only after
DELETE: only PK
02569
09625
UPDATERECORDFORMAT COMPACT
GETUPDATEBEFORES
NOCOMPRESSDELETES
NOLOGALLSUPCOLS
COMPRESSUPDATES
PRM
SQL OUT
UPDATE: only after
DELETE: only PK
02569
09652
UPDATERECORDFORMAT COMPACT
GETUPDATEBEFORES
NOCOMPRESSDELETES
COMPRESSUPDATES
NOLOGALLSUPCOLS
PRM
SQL OUT
UPDATE: only after
DELETE: only PK
02569
20569
NOLOGALLSUPCOLS
UPDATERECORDFORMAT COMPACT
COMPRESSUPDATES
NOCOMPRESSDELETES
GETUPDATEBEFORES
PRM
SQL OUT
UPDATE: before + after in 1 record
DELETE: full
02569
20596
NOLOGALLSUPCOLS
UPDATERECORDFORMAT COMPACT
COMPRESSUPDATES
GETUPDATEBEFORES
NOCOMPRESSDELETES
PRM
SQL OUT
UPDATE: before + after in 1 record
DELETE: full
02569
20659
NOLOGALLSUPCOLS
UPDATERECORDFORMAT COMPACT
NOCOMPRESSDELETES
COMPRESSUPDATES
GETUPDATEBEFORES
PRM
SQL OUT
UPDATE: before + after in 1 record
DELETE: full
02569
20695
NOLOGALLSUPCOLS
UPDATERECORDFORMAT COMPACT
NOCOMPRESSDELETES
GETUPDATEBEFORES
COMPRESSUPDATES
PRM
SQL OUT
UPDATE: before + after in 1 record
DELETE: full
02569
20956
NOLOGALLSUPCOLS
UPDATERECORDFORMAT COMPACT
GETUPDATEBEFORES
COMPRESSUPDATES
NOCOMPRESSDELETES
PRM
SQL OUT
UPDATE: before + after in 1 record
DELETE: full
02569
20965
NOLOGALLSUPCOLS
UPDATERECORDFORMAT COMPACT
GETUPDATEBEFORES
NOCOMPRESSDELETES
COMPRESSUPDATES
PRM
SQL OUT
UPDATE: before + after in 1 record
DELETE: full
02569
25069
NOLOGALLSUPCOLS
COMPRESSUPDATES
UPDATERECORDFORMAT COMPACT
NOCOMPRESSDELETES
GETUPDATEBEFORES
PRM
SQL OUT
UPDATE: before + after in 1 record
DELETE: full
02569
25096
NOLOGALLSUPCOLS
COMPRESSUPDATES
UPDATERECORDFORMAT COMPACT
GETUPDATEBEFORES
NOCOMPRESSDELETES
PRM
SQL OUT
UPDATE: before + after in 1 record
DELETE: full
02569
25609
NOLOGALLSUPCOLS
COMPRESSUPDATES
NOCOMPRESSDELETES
UPDATERECORDFORMAT COMPACT
GETUPDATEBEFORES
PRM
SQL OUT
UPDATE: before + after in 1 record
DELETE: full
02569
25690
NOLOGALLSUPCOLS
COMPRESSUPDATES
NOCOMPRESSDELETES
GETUPDATEBEFORES
UPDATERECORDFORMAT COMPACT
PRM
SQL OUT
UPDATE: before + after in 1 record
DELETE: full
02569
25906
NOLOGALLSUPCOLS
COMPRESSUPDATES
GETUPDATEBEFORES
UPDATERECORDFORMAT COMPACT
NOCOMPRESSDELETES
PRM
SQL OUT
UPDATE: before + after in 1 record
DELETE: full
02569
25960
NOLOGALLSUPCOLS
COMPRESSUPDATES
GETUPDATEBEFORES
NOCOMPRESSDELETES
UPDATERECORDFORMAT COMPACT
PRM
SQL OUT
UPDATE: before + after in 1 record
DELETE: full
02569
26059
NOLOGALLSUPCOLS
NOCOMPRESSDELETES
UPDATERECORDFORMAT COMPACT
COMPRESSUPDATES
GETUPDATEBEFORES
PRM
SQL OUT
UPDATE: before + after in 1 record
DELETE: full
02569
26095
NOLOGALLSUPCOLS
NOCOMPRESSDELETES
UPDATERECORDFORMAT COMPACT
GETUPDATEBEFORES
COMPRESSUPDATES
PRM
SQL OUT
UPDATE: before + after in 1 record
DELETE: full
02569
26509
NOLOGALLSUPCOLS
NOCOMPRESSDELETES
COMPRESSUPDATES
UPDATERECORDFORMAT COMPACT
GETUPDATEBEFORES
PRM
SQL OUT
UPDATE: before + after in 1 record
DELETE: full
02569
26590
NOLOGALLSUPCOLS
NOCOMPRESSDELETES
COMPRESSUPDATES
GETUPDATEBEFORES
UPDATERECORDFORMAT COMPACT
PRM
SQL OUT
UPDATE: before + after in 1 record
DELETE: full
02569
26905
NOLOGALLSUPCOLS
NOCOMPRESSDELETES
GETUPDATEBEFORES
UPDATERECORDFORMAT COMPACT
COMPRESSUPDATES
PRM
SQL OUT
UPDATE: before + after in 1 record
DELETE: full
02569
26950
NOLOGALLSUPCOLS
NOCOMPRESSDELETES
GETUPDATEBEFORES
COMPRESSUPDATES
UPDATERECORDFORMAT COMPACT
PRM
SQL OUT
UPDATE: before + after in 1 record
DELETE: full
02569
29056
NOLOGALLSUPCOLS
GETUPDATEBEFORES
UPDATERECORDFORMAT COMPACT
COMPRESSUPDATES
NOCOMPRESSDELETES
PRM
SQL OUT
UPDATE: before + after in 1 record
DELETE: full
02569
29065
NOLOGALLSUPCOLS
GETUPDATEBEFORES
UPDATERECORDFORMAT COMPACT
NOCOMPRESSDELETES
COMPRESSUPDATES
PRM
SQL OUT
UPDATE: before + after in 1 record
DELETE: full
02569
29506
NOLOGALLSUPCOLS
GETUPDATEBEFORES
COMPRESSUPDATES
UPDATERECORDFORMAT COMPACT
NOCOMPRESSDELETES
PRM
SQL OUT
UPDATE: before + after in 1 record
DELETE: full
02569
29560
NOLOGALLSUPCOLS
GETUPDATEBEFORES
COMPRESSUPDATES
NOCOMPRESSDELETES
UPDATERECORDFORMAT COMPACT
PRM
SQL OUT
UPDATE: before + after in 1 record
DELETE: full
02569
29605
NOLOGALLSUPCOLS
GETUPDATEBEFORES
NOCOMPRESSDELETES
UPDATERECORDFORMAT COMPACT
COMPRESSUPDATES
PRM
SQL OUT
UPDATE: before + after in 1 record
DELETE: full
02569
29650
NOLOGALLSUPCOLS
GETUPDATEBEFORES
NOCOMPRESSDELETES
COMPRESSUPDATES
UPDATERECORDFORMAT COMPACT
PRM
SQL OUT
UPDATE: before + after in 1 record
DELETE: full
02569
50269
COMPRESSUPDATES
UPDATERECORDFORMAT COMPACT
NOLOGALLSUPCOLS
NOCOMPRESSDELETES
GETUPDATEBEFORES
PRM
SQL OUT
UPDATE: before + after in 1 record
DELETE: full
02569
50296
COMPRESSUPDATES
UPDATERECORDFORMAT COMPACT
NOLOGALLSUPCOLS
GETUPDATEBEFORES
NOCOMPRESSDELETES
PRM
SQL OUT
UPDATE: before + after in 1 record
DELETE: full
02569
50629
COMPRESSUPDATES
UPDATERECORDFORMAT COMPACT
NOCOMPRESSDELETES
NOLOGALLSUPCOLS
GETUPDATEBEFORES
PRM
SQL OUT
UPDATE: before + after in 1 record
DELETE: only PK
02569
50692
COMPRESSUPDATES
UPDATERECORDFORMAT COMPACT
NOCOMPRESSDELETES
GETUPDATEBEFORES
NOLOGALLSUPCOLS
PRM
SQL OUT
UPDATE: only after
DELETE: only PK
02569
50926
COMPRESSUPDATES
UPDATERECORDFORMAT COMPACT
GETUPDATEBEFORES
NOLOGALLSUPCOLS
NOCOMPRESSDELETES
PRM
SQL OUT
UPDATE: only after
DELETE: full
02569
50962
COMPRESSUPDATES
UPDATERECORDFORMAT COMPACT
GETUPDATEBEFORES
NOCOMPRESSDELETES
NOLOGALLSUPCOLS
PRM
SQL OUT
UPDATE: only after
DELETE: only PK
02569
52069
COMPRESSUPDATES
NOLOGALLSUPCOLS
UPDATERECORDFORMAT COMPACT
NOCOMPRESSDELETES
GETUPDATEBEFORES
PRM
SQL OUT
UPDATE: before + after in 1 record
DELETE: full
02569
52096
COMPRESSUPDATES
NOLOGALLSUPCOLS
UPDATERECORDFORMAT COMPACT
GETUPDATEBEFORES
NOCOMPRESSDELETES
PRM
SQL OUT
UPDATE: before + after in 1 record
DELETE: full
02569
52609
COMPRESSUPDATES
NOLOGALLSUPCOLS
NOCOMPRESSDELETES
UPDATERECORDFORMAT COMPACT
GETUPDATEBEFORES
PRM
SQL OUT
UPDATE: before + after in 1 record
DELETE: full
02569
52690
COMPRESSUPDATES
NOLOGALLSUPCOLS
NOCOMPRESSDELETES
GETUPDATEBEFORES
UPDATERECORDFORMAT COMPACT
PRM
SQL OUT
UPDATE: before + after in 1 record
DELETE: full
02569
52906
COMPRESSUPDATES
NOLOGALLSUPCOLS
GETUPDATEBEFORES
UPDATERECORDFORMAT COMPACT
NOCOMPRESSDELETES
PRM
SQL OUT
UPDATE: before + after in 1 record
DELETE: full
02569
52960
COMPRESSUPDATES
NOLOGALLSUPCOLS
GETUPDATEBEFORES
NOCOMPRESSDELETES
UPDATERECORDFORMAT COMPACT
PRM
SQL OUT
UPDATE: before + after in 1 record
DELETE: full
02569
56029
COMPRESSUPDATES
NOCOMPRESSDELETES
UPDATERECORDFORMAT COMPACT
NOLOGALLSUPCOLS
GETUPDATEBEFORES
PRM
SQL OUT
UPDATE: before + after in 1 record
DELETE: only PK
02569
56092
COMPRESSUPDATES
NOCOMPRESSDELETES
UPDATERECORDFORMAT COMPACT
GETUPDATEBEFORES
NOLOGALLSUPCOLS
PRM
SQL OUT
UPDATE: only after
DELETE: only PK
02569
56209
COMPRESSUPDATES
NOCOMPRESSDELETES
NOLOGALLSUPCOLS
UPDATERECORDFORMAT COMPACT
GETUPDATEBEFORES
PRM
SQL OUT
UPDATE: before + after in 1 record
DELETE: only PK
02569
56290
COMPRESSUPDATES
NOCOMPRESSDELETES
NOLOGALLSUPCOLS
GETUPDATEBEFORES
UPDATERECORDFORMAT COMPACT
PRM
SQL OUT
UPDATE: before + after in 1 record
DELETE: only PK
02569
56902
COMPRESSUPDATES
NOCOMPRESSDELETES
GETUPDATEBEFORES
UPDATERECORDFORMAT COMPACT
NOLOGALLSUPCOLS
PRM
SQL OUT
UPDATE: only after
DELETE: only PK
02569
56920
COMPRESSUPDATES
NOCOMPRESSDELETES
GETUPDATEBEFORES
NOLOGALLSUPCOLS
UPDATERECORDFORMAT COMPACT
PRM
SQL OUT
UPDATE: only after
DELETE: only PK
02569
59026
COMPRESSUPDATES
GETUPDATEBEFORES
UPDATERECORDFORMAT COMPACT
NOLOGALLSUPCOLS
NOCOMPRESSDELETES
PRM
SQL OUT
UPDATE: only after
DELETE: full
02569
59062
COMPRESSUPDATES
GETUPDATEBEFORES
UPDATERECORDFORMAT COMPACT
NOCOMPRESSDELETES
NOLOGALLSUPCOLS
PRM
SQL OUT
UPDATE: only after
DELETE: only PK
02569
59206
COMPRESSUPDATES
GETUPDATEBEFORES
NOLOGALLSUPCOLS
UPDATERECORDFORMAT COMPACT
NOCOMPRESSDELETES
PRM
SQL OUT
UPDATE: only after
DELETE: full
02569
59260
COMPRESSUPDATES
GETUPDATEBEFORES
NOLOGALLSUPCOLS
NOCOMPRESSDELETES
UPDATERECORDFORMAT COMPACT
PRM
SQL OUT
UPDATE: only after
DELETE: full
02569
59602
COMPRESSUPDATES
GETUPDATEBEFORES
NOCOMPRESSDELETES
UPDATERECORDFORMAT COMPACT
NOLOGALLSUPCOLS
PRM
SQL OUT
UPDATE: only after
DELETE: only PK
02569
59620
COMPRESSUPDATES
GETUPDATEBEFORES
NOCOMPRESSDELETES
NOLOGALLSUPCOLS
UPDATERECORDFORMAT COMPACT
PRM
SQL OUT
UPDATE: only after
DELETE: only PK
02569
60259
NOCOMPRESSDELETES
UPDATERECORDFORMAT COMPACT
NOLOGALLSUPCOLS
COMPRESSUPDATES
GETUPDATEBEFORES
PRM
SQL OUT
UPDATE: before + after in 1 record
DELETE: only PK
02569
60295
NOCOMPRESSDELETES
UPDATERECORDFORMAT COMPACT
NOLOGALLSUPCOLS
GETUPDATEBEFORES
COMPRESSUPDATES
PRM
SQL OUT
UPDATE: before + after in 1 record
DELETE: only PK
02569
60529
NOCOMPRESSDELETES
UPDATERECORDFORMAT COMPACT
COMPRESSUPDATES
NOLOGALLSUPCOLS
GETUPDATEBEFORES
PRM
SQL OUT
UPDATE: before + after in 1 record
DELETE: only PK
02569
60592
NOCOMPRESSDELETES
UPDATERECORDFORMAT COMPACT
COMPRESSUPDATES
GETUPDATEBEFORES
NOLOGALLSUPCOLS
PRM
SQL OUT
UPDATE: only after
DELETE: only PK
02569
60925
NOCOMPRESSDELETES
UPDATERECORDFORMAT COMPACT
GETUPDATEBEFORES
NOLOGALLSUPCOLS
COMPRESSUPDATES
PRM
SQL OUT
UPDATE: only after
DELETE: only PK
02569
60952
NOCOMPRESSDELETES
UPDATERECORDFORMAT COMPACT
GETUPDATEBEFORES
COMPRESSUPDATES
NOLOGALLSUPCOLS
PRM
SQL OUT
UPDATE: only after
DELETE: only PK
02569
62059
NOCOMPRESSDELETES
NOLOGALLSUPCOLS
UPDATERECORDFORMAT COMPACT
COMPRESSUPDATES
GETUPDATEBEFORES
PRM
SQL OUT
UPDATE: before + after in 1 record
DELETE: only PK
02569
62095
NOCOMPRESSDELETES
NOLOGALLSUPCOLS
UPDATERECORDFORMAT COMPACT
GETUPDATEBEFORES
COMPRESSUPDATES
PRM
SQL OUT
UPDATE: before + after in 1 record
DELETE: only PK
02569
62509
NOCOMPRESSDELETES
NOLOGALLSUPCOLS
COMPRESSUPDATES
UPDATERECORDFORMAT COMPACT
GETUPDATEBEFORES
PRM
SQL OUT
UPDATE: before + after in 1 record
DELETE: only PK
02569
62590
NOCOMPRESSDELETES
NOLOGALLSUPCOLS
COMPRESSUPDATES
GETUPDATEBEFORES
UPDATERECORDFORMAT COMPACT
PRM
SQL OUT
UPDATE: before + after in 1 record
DELETE: only PK
02569
62905
NOCOMPRESSDELETES
NOLOGALLSUPCOLS
GETUPDATEBEFORES
UPDATERECORDFORMAT COMPACT
COMPRESSUPDATES
PRM
SQL OUT
UPDATE: before + after in 1 record
DELETE: only PK
02569
62950
NOCOMPRESSDELETES
NOLOGALLSUPCOLS
GETUPDATEBEFORES
COMPRESSUPDATES
UPDATERECORDFORMAT COMPACT
PRM
SQL OUT
UPDATE: before + after in 1 record
DELETE: only PK
02569
65029
NOCOMPRESSDELETES
COMPRESSUPDATES
UPDATERECORDFORMAT COMPACT
NOLOGALLSUPCOLS
GETUPDATEBEFORES
PRM
SQL OUT
UPDATE: before + after in 1 record
DELETE: only PK
02569
65092
NOCOMPRESSDELETES
COMPRESSUPDATES
UPDATERECORDFORMAT COMPACT
GETUPDATEBEFORES
NOLOGALLSUPCOLS
PRM
SQL OUT
UPDATE: only after
DELETE: only PK
02569
65209
NOCOMPRESSDELETES
COMPRESSUPDATES
NOLOGALLSUPCOLS
UPDATERECORDFORMAT COMPACT
GETUPDATEBEFORES
PRM
SQL OUT
UPDATE: before + after in 1 record
DELETE: only PK
02569
65290
NOCOMPRESSDELETES
COMPRESSUPDATES
NOLOGALLSUPCOLS
GETUPDATEBEFORES
UPDATERECORDFORMAT COMPACT
PRM
SQL OUT
UPDATE: before + after in 1 record
DELETE: only PK
02569
65902
NOCOMPRESSDELETES
COMPRESSUPDATES
GETUPDATEBEFORES
UPDATERECORDFORMAT COMPACT
NOLOGALLSUPCOLS
PRM
SQL OUT
UPDATE: only after
DELETE: only PK
02569
65920
NOCOMPRESSDELETES
COMPRESSUPDATES
GETUPDATEBEFORES
NOLOGALLSUPCOLS
UPDATERECORDFORMAT COMPACT
PRM
SQL OUT
UPDATE: only after
DELETE: only PK
02569
69025
NOCOMPRESSDELETES
GETUPDATEBEFORES
UPDATERECORDFORMAT COMPACT
NOLOGALLSUPCOLS
COMPRESSUPDATES
PRM
SQL OUT
UPDATE: only after
DELETE: only PK
02569
69052
NOCOMPRESSDELETES
GETUPDATEBEFORES
UPDATERECORDFORMAT COMPACT
COMPRESSUPDATES
NOLOGALLSUPCOLS
PRM
SQL OUT
UPDATE: only after
DELETE: only PK
02569
69205
NOCOMPRESSDELETES
GETUPDATEBEFORES
NOLOGALLSUPCOLS
UPDATERECORDFORMAT COMPACT
COMPRESSUPDATES
PRM
SQL OUT
UPDATE: only after
DELETE: only PK
02569
69250
NOCOMPRESSDELETES
GETUPDATEBEFORES
NOLOGALLSUPCOLS
COMPRESSUPDATES
UPDATERECORDFORMAT COMPACT
PRM
SQL OUT
UPDATE: only after
DELETE: only PK
02569
69502
NOCOMPRESSDELETES
GETUPDATEBEFORES
COMPRESSUPDATES
UPDATERECORDFORMAT COMPACT
NOLOGALLSUPCOLS
PRM
SQL OUT
UPDATE: only after
DELETE: only PK
02569
69520
NOCOMPRESSDELETES
GETUPDATEBEFORES
COMPRESSUPDATES
NOLOGALLSUPCOLS
UPDATERECORDFORMAT COMPACT
PRM
SQL OUT
UPDATE: only after
DELETE: only PK
02569
90256
GETUPDATEBEFORES
UPDATERECORDFORMAT COMPACT
NOLOGALLSUPCOLS
COMPRESSUPDATES
NOCOMPRESSDELETES
PRM
SQL OUT
UPDATE: only after
DELETE: full
02569
90265
GETUPDATEBEFORES
UPDATERECORDFORMAT COMPACT
NOLOGALLSUPCOLS
NOCOMPRESSDELETES
COMPRESSUPDATES
PRM
SQL OUT
UPDATE: only after
DELETE: full
02569
90526
GETUPDATEBEFORES
UPDATERECORDFORMAT COMPACT
COMPRESSUPDATES
NOLOGALLSUPCOLS
NOCOMPRESSDELETES
PRM
SQL OUT
UPDATE: only after
DELETE: full
02569
90562
GETUPDATEBEFORES
UPDATERECORDFORMAT COMPACT
COMPRESSUPDATES
NOCOMPRESSDELETES
NOLOGALLSUPCOLS
PRM
SQL OUT
UPDATE: only after
DELETE: only PK
02569
90625
GETUPDATEBEFORES
UPDATERECORDFORMAT COMPACT
NOCOMPRESSDELETES
NOLOGALLSUPCOLS
COMPRESSUPDATES
PRM
SQL OUT
UPDATE: only after
DELETE: only PK
02569
90652
GETUPDATEBEFORES
UPDATERECORDFORMAT COMPACT
NOCOMPRESSDELETES
COMPRESSUPDATES
NOLOGALLSUPCOLS
PRM
SQL OUT
UPDATE: only after
DELETE: only PK
02569
92056
GETUPDATEBEFORES
NOLOGALLSUPCOLS
UPDATERECORDFORMAT COMPACT
COMPRESSUPDATES
NOCOMPRESSDELETES
PRM
SQL OUT
UPDATE: only after
DELETE: full
02569
92065
GETUPDATEBEFORES
NOLOGALLSUPCOLS
UPDATERECORDFORMAT COMPACT
NOCOMPRESSDELETES
COMPRESSUPDATES
PRM
SQL OUT
UPDATE: only after
DELETE: full
02569
92506
GETUPDATEBEFORES
NOLOGALLSUPCOLS
COMPRESSUPDATES
UPDATERECORDFORMAT COMPACT
NOCOMPRESSDELETES
PRM
SQL OUT
UPDATE: only after
DELETE: full
02569
92560
GETUPDATEBEFORES
NOLOGALLSUPCOLS
COMPRESSUPDATES
NOCOMPRESSDELETES
UPDATERECORDFORMAT COMPACT
PRM
SQL OUT
UPDATE: only after
DELETE: full
02569
92605
GETUPDATEBEFORES
NOLOGALLSUPCOLS
NOCOMPRESSDELETES
UPDATERECORDFORMAT COMPACT
COMPRESSUPDATES
PRM
SQL OUT
UPDATE: only after
DELETE: full
02569
92650
GETUPDATEBEFORES
NOLOGALLSUPCOLS
NOCOMPRESSDELETES
COMPRESSUPDATES
UPDATERECORDFORMAT COMPACT
PRM
SQL OUT
UPDATE: only after
DELETE: full
02569
95026
GETUPDATEBEFORES
COMPRESSUPDATES
UPDATERECORDFORMAT COMPACT
NOLOGALLSUPCOLS
NOCOMPRESSDELETES
PRM
SQL OUT
UPDATE: only after
DELETE: full
02569
95062
GETUPDATEBEFORES
COMPRESSUPDATES
UPDATERECORDFORMAT COMPACT
NOCOMPRESSDELETES
NOLOGALLSUPCOLS
PRM
SQL OUT
UPDATE: only after
DELETE: only PK
02569
95206
GETUPDATEBEFORES
COMPRESSUPDATES
NOLOGALLSUPCOLS
UPDATERECORDFORMAT COMPACT
NOCOMPRESSDELETES
PRM
SQL OUT
UPDATE: only after
DELETE: full
02569
95260
GETUPDATEBEFORES
COMPRESSUPDATES
NOLOGALLSUPCOLS
NOCOMPRESSDELETES
UPDATERECORDFORMAT COMPACT
PRM
SQL OUT
UPDATE: only after
DELETE: full
02569
95602
GETUPDATEBEFORES
COMPRESSUPDATES
NOCOMPRESSDELETES
UPDATERECORDFORMAT COMPACT
NOLOGALLSUPCOLS
PRM
SQL OUT
UPDATE: only after
DELETE: only PK
02569
95620
GETUPDATEBEFORES
COMPRESSUPDATES
NOCOMPRESSDELETES
NOLOGALLSUPCOLS
UPDATERECORDFORMAT COMPACT
PRM
SQL OUT
UPDATE: only after
DELETE: only PK
02569
96025
GETUPDATEBEFORES
NOCOMPRESSDELETES
UPDATERECORDFORMAT COMPACT
NOLOGALLSUPCOLS
COMPRESSUPDATES
PRM
SQL OUT
UPDATE: only after
DELETE: only PK
02569
96052
GETUPDATEBEFORES
NOCOMPRESSDELETES
UPDATERECORDFORMAT COMPACT
COMPRESSUPDATES
NOLOGALLSUPCOLS
PRM
SQL OUT
UPDATE: only after
DELETE: only PK
02569
96205
GETUPDATEBEFORES
NOCOMPRESSDELETES
NOLOGALLSUPCOLS
UPDATERECORDFORMAT COMPACT
COMPRESSUPDATES
PRM
SQL OUT
UPDATE: only after
DELETE: only PK
02569
96250
GETUPDATEBEFORES
NOCOMPRESSDELETES
NOLOGALLSUPCOLS
COMPRESSUPDATES
UPDATERECORDFORMAT COMPACT
PRM
SQL OUT
UPDATE: only after
DELETE: only PK
02569
96502
GETUPDATEBEFORES
NOCOMPRESSDELETES
COMPRESSUPDATES
UPDATERECORDFORMAT COMPACT
NOLOGALLSUPCOLS
PRM
SQL OUT
UPDATE: only after
DELETE: only PK
02569
96520
GETUPDATEBEFORES
NOCOMPRESSDELETES
COMPRESSUPDATES
NOLOGALLSUPCOLS
UPDATERECORDFORMAT COMPACT
PRM
SQL OUT
UPDATE: only after
DELETE: only PK
0257
0257
UPDATERECORDFORMAT COMPACT
NOLOGALLSUPCOLS
COMPRESSUPDATES
COMPRESSDELETES
PRM
SQL OUT
UPDATE: only after
DELETE: only PK
0257
0275
UPDATERECORDFORMAT COMPACT
NOLOGALLSUPCOLS
COMPRESSDELETES
COMPRESSUPDATES
PRM
SQL OUT
UPDATE: only after
DELETE: only PK
0257
0527
UPDATERECORDFORMAT COMPACT
COMPRESSUPDATES
NOLOGALLSUPCOLS
COMPRESSDELETES
PRM
SQL OUT
UPDATE: only after
DELETE: only PK
0257
0572
UPDATERECORDFORMAT COMPACT
COMPRESSUPDATES
COMPRESSDELETES
NOLOGALLSUPCOLS
PRM
SQL OUT
UPDATE: only after
DELETE: only PK
0257
0725
UPDATERECORDFORMAT COMPACT
COMPRESSDELETES
NOLOGALLSUPCOLS
COMPRESSUPDATES
PRM
SQL OUT
UPDATE: only after
DELETE: only PK
0257
0752
UPDATERECORDFORMAT COMPACT
COMPRESSDELETES
COMPRESSUPDATES
NOLOGALLSUPCOLS
PRM
SQL OUT
UPDATE: only after
DELETE: only PK
0257
2057
NOLOGALLSUPCOLS
UPDATERECORDFORMAT COMPACT
COMPRESSUPDATES
COMPRESSDELETES
PRM
SQL OUT
UPDATE: only after
DELETE: only PK
0257
2075
NOLOGALLSUPCOLS
UPDATERECORDFORMAT COMPACT
COMPRESSDELETES
COMPRESSUPDATES
PRM
SQL OUT
UPDATE: only after
DELETE: only PK
0257
2507
NOLOGALLSUPCOLS
COMPRESSUPDATES
UPDATERECORDFORMAT COMPACT
COMPRESSDELETES
PRM
SQL OUT
UPDATE: only after
DELETE: only PK
0257
2570
NOLOGALLSUPCOLS
COMPRESSUPDATES
COMPRESSDELETES
UPDATERECORDFORMAT COMPACT
PRM
SQL OUT
UPDATE: only after
DELETE: only PK
0257
2705
NOLOGALLSUPCOLS
COMPRESSDELETES
UPDATERECORDFORMAT COMPACT
COMPRESSUPDATES
PRM
SQL OUT
UPDATE: only after
DELETE: only PK
0257
2750
NOLOGALLSUPCOLS
COMPRESSDELETES
COMPRESSUPDATES
UPDATERECORDFORMAT COMPACT
PRM
SQL OUT
UPDATE: only after
DELETE: only PK
0257
5027
COMPRESSUPDATES
UPDATERECORDFORMAT COMPACT
NOLOGALLSUPCOLS
COMPRESSDELETES
PRM
SQL OUT
UPDATE: only after
DELETE: only PK
0257
5072
COMPRESSUPDATES
UPDATERECORDFORMAT COMPACT
COMPRESSDELETES
NOLOGALLSUPCOLS
PRM
SQL OUT
UPDATE: only after
DELETE: only PK
0257
5207
COMPRESSUPDATES
NOLOGALLSUPCOLS
UPDATERECORDFORMAT COMPACT
COMPRESSDELETES
PRM
SQL OUT
UPDATE: only after
DELETE: only PK
0257
5270
COMPRESSUPDATES
NOLOGALLSUPCOLS
COMPRESSDELETES
UPDATERECORDFORMAT COMPACT
PRM
SQL OUT
UPDATE: only after
DELETE: only PK
0257
5702
COMPRESSUPDATES
COMPRESSDELETES
UPDATERECORDFORMAT COMPACT
NOLOGALLSUPCOLS
PRM
SQL OUT
UPDATE: only after
DELETE: only PK
0257
5720
COMPRESSUPDATES
COMPRESSDELETES
NOLOGALLSUPCOLS
UPDATERECORDFORMAT COMPACT
PRM
SQL OUT
UPDATE: only after
DELETE: only PK
0257
7025
COMPRESSDELETES
UPDATERECORDFORMAT COMPACT
NOLOGALLSUPCOLS
COMPRESSUPDATES
PRM
SQL OUT
UPDATE: only after
DELETE: only PK
0257
7052
COMPRESSDELETES
UPDATERECORDFORMAT COMPACT
COMPRESSUPDATES
NOLOGALLSUPCOLS
PRM
SQL OUT
UPDATE: only after
DELETE: only PK
0257
7205
COMPRESSDELETES
NOLOGALLSUPCOLS
UPDATERECORDFORMAT COMPACT
COMPRESSUPDATES
PRM
SQL OUT
UPDATE: only after
DELETE: only PK
0257
7250
COMPRESSDELETES
NOLOGALLSUPCOLS
COMPRESSUPDATES
UPDATERECORDFORMAT COMPACT
PRM
SQL OUT
UPDATE: only after
DELETE: only PK
0257
7502
COMPRESSDELETES
COMPRESSUPDATES
UPDATERECORDFORMAT COMPACT
NOLOGALLSUPCOLS
PRM
SQL OUT
UPDATE: only after
DELETE: only PK
0257
7520
COMPRESSDELETES
COMPRESSUPDATES
NOLOGALLSUPCOLS
UPDATERECORDFORMAT COMPACT
PRM
SQL OUT
UPDATE: only after
DELETE: only PK
02578
02578
UPDATERECORDFORMAT COMPACT
NOLOGALLSUPCOLS
COMPRESSUPDATES
COMPRESSDELETES
IGNOREUPDATEBEFORES
PRM
SQL OUT
UPDATE: only after
DELETE: only PK
02578
02587
UPDATERECORDFORMAT COMPACT
NOLOGALLSUPCOLS
COMPRESSUPDATES
IGNOREUPDATEBEFORES
COMPRESSDELETES
PRM
SQL OUT
UPDATE: only after
DELETE: only PK
02578
02758
UPDATERECORDFORMAT COMPACT
NOLOGALLSUPCOLS
COMPRESSDELETES
COMPRESSUPDATES
IGNOREUPDATEBEFORES
PRM
SQL OUT
UPDATE: only after
DELETE: only PK
02578
02785
UPDATERECORDFORMAT COMPACT
NOLOGALLSUPCOLS
COMPRESSDELETES
IGNOREUPDATEBEFORES
COMPRESSUPDATES
PRM
SQL OUT
UPDATE: only after
DELETE: only PK
02578
02857
UPDATERECORDFORMAT COMPACT
NOLOGALLSUPCOLS
IGNOREUPDATEBEFORES
COMPRESSUPDATES
COMPRESSDELETES
PRM
SQL OUT
UPDATE: only after
DELETE: only PK
02578
02875
UPDATERECORDFORMAT COMPACT
NOLOGALLSUPCOLS
IGNOREUPDATEBEFORES
COMPRESSDELETES
COMPRESSUPDATES
PRM
SQL OUT
UPDATE: only after
DELETE: only PK
02578
05278
UPDATERECORDFORMAT COMPACT
COMPRESSUPDATES
NOLOGALLSUPCOLS
COMPRESSDELETES
IGNOREUPDATEBEFORES
PRM
SQL OUT
UPDATE: only after
DELETE: only PK
02578
05287
UPDATERECORDFORMAT COMPACT
COMPRESSUPDATES
NOLOGALLSUPCOLS
IGNOREUPDATEBEFORES
COMPRESSDELETES
PRM
SQL OUT
UPDATE: only after
DELETE: only PK
02578
05728
UPDATERECORDFORMAT COMPACT
COMPRESSUPDATES
COMPRESSDELETES
NOLOGALLSUPCOLS
IGNOREUPDATEBEFORES
PRM
SQL OUT
UPDATE: only after
DELETE: only PK
02578
05782
UPDATERECORDFORMAT COMPACT
COMPRESSUPDATES
COMPRESSDELETES
IGNOREUPDATEBEFORES
NOLOGALLSUPCOLS
PRM
SQL OUT
UPDATE: only after
DELETE: only PK
02578
05827
UPDATERECORDFORMAT COMPACT
COMPRESSUPDATES
IGNOREUPDATEBEFORES
NOLOGALLSUPCOLS
COMPRESSDELETES
PRM
SQL OUT
UPDATE: only after
DELETE: only PK
02578
05872
UPDATERECORDFORMAT COMPACT
COMPRESSUPDATES
IGNOREUPDATEBEFORES
COMPRESSDELETES
NOLOGALLSUPCOLS
PRM
SQL OUT
UPDATE: only after
DELETE: only PK
02578
07258
UPDATERECORDFORMAT COMPACT
COMPRESSDELETES
NOLOGALLSUPCOLS
COMPRESSUPDATES
IGNOREUPDATEBEFORES
PRM
SQL OUT
UPDATE: only after
DELETE: only PK
02578
07285
UPDATERECORDFORMAT COMPACT
COMPRESSDELETES
NOLOGALLSUPCOLS
IGNOREUPDATEBEFORES
COMPRESSUPDATES
PRM
SQL OUT
UPDATE: only after
DELETE: only PK
02578
07528
UPDATERECORDFORMAT COMPACT
COMPRESSDELETES
COMPRESSUPDATES
NOLOGALLSUPCOLS
IGNOREUPDATEBEFORES
PRM
SQL OUT
UPDATE: only after
DELETE: only PK
02578
07582
UPDATERECORDFORMAT COMPACT
COMPRESSDELETES
COMPRESSUPDATES
IGNOREUPDATEBEFORES
NOLOGALLSUPCOLS
PRM
SQL OUT
UPDATE: only after
DELETE: only PK
02578
07825
UPDATERECORDFORMAT COMPACT
COMPRESSDELETES
IGNOREUPDATEBEFORES
NOLOGALLSUPCOLS
COMPRESSUPDATES
PRM
SQL OUT
UPDATE: only after
DELETE: only PK
02578
07852
UPDATERECORDFORMAT COMPACT
COMPRESSDELETES
IGNOREUPDATEBEFORES
COMPRESSUPDATES
NOLOGALLSUPCOLS
PRM
SQL OUT
UPDATE: only after
DELETE: only PK
02578
08257
UPDATERECORDFORMAT COMPACT
IGNOREUPDATEBEFORES
NOLOGALLSUPCOLS
COMPRESSUPDATES
COMPRESSDELETES
PRM
SQL OUT
UPDATE: only after
DELETE: only PK
02578
08275
UPDATERECORDFORMAT COMPACT
IGNOREUPDATEBEFORES
NOLOGALLSUPCOLS
COMPRESSDELETES
COMPRESSUPDATES
PRM
SQL OUT
UPDATE: only after
DELETE: only PK
02578
08527
UPDATERECORDFORMAT COMPACT
IGNOREUPDATEBEFORES
COMPRESSUPDATES
NOLOGALLSUPCOLS
COMPRESSDELETES
PRM
SQL OUT
UPDATE: only after
DELETE: only PK
02578
08572
UPDATERECORDFORMAT COMPACT
IGNOREUPDATEBEFORES
COMPRESSUPDATES
COMPRESSDELETES
NOLOGALLSUPCOLS
PRM
SQL OUT
UPDATE: only after
DELETE: only PK
02578
08725
UPDATERECORDFORMAT COMPACT
IGNOREUPDATEBEFORES
COMPRESSDELETES
NOLOGALLSUPCOLS
COMPRESSUPDATES
PRM
SQL OUT
UPDATE: only after
DELETE: only PK
02578
08752
UPDATERECORDFORMAT COMPACT
IGNOREUPDATEBEFORES
COMPRESSDELETES
COMPRESSUPDATES
NOLOGALLSUPCOLS
PRM
SQL OUT
UPDATE: only after
DELETE: only PK
02578
20578
NOLOGALLSUPCOLS
UPDATERECORDFORMAT COMPACT
COMPRESSUPDATES
COMPRESSDELETES
IGNOREUPDATEBEFORES
PRM
SQL OUT
UPDATE: only after
DELETE: only PK
02578
20587
NOLOGALLSUPCOLS
UPDATERECORDFORMAT COMPACT
COMPRESSUPDATES
IGNOREUPDATEBEFORES
COMPRESSDELETES
PRM
SQL OUT
UPDATE: only after
DELETE: only PK
02578
20758
NOLOGALLSUPCOLS
UPDATERECORDFORMAT COMPACT
COMPRESSDELETES
COMPRESSUPDATES
IGNOREUPDATEBEFORES
PRM
SQL OUT
UPDATE: only after
DELETE: only PK
02578
20785
NOLOGALLSUPCOLS
UPDATERECORDFORMAT COMPACT
COMPRESSDELETES
IGNOREUPDATEBEFORES
COMPRESSUPDATES
PRM
SQL OUT
UPDATE: only after
DELETE: only PK
02578
20857
NOLOGALLSUPCOLS
UPDATERECORDFORMAT COMPACT
IGNOREUPDATEBEFORES
COMPRESSUPDATES
COMPRESSDELETES
PRM
SQL OUT
UPDATE: only after
DELETE: only PK
02578
20875
NOLOGALLSUPCOLS
UPDATERECORDFORMAT COMPACT
IGNOREUPDATEBEFORES
COMPRESSDELETES
COMPRESSUPDATES
PRM
SQL OUT
UPDATE: only after
DELETE: only PK
02578
25078
NOLOGALLSUPCOLS
COMPRESSUPDATES
UPDATERECORDFORMAT COMPACT
COMPRESSDELETES
IGNOREUPDATEBEFORES
PRM
SQL OUT
UPDATE: only after
DELETE: only PK
02578
25087
NOLOGALLSUPCOLS
COMPRESSUPDATES
UPDATERECORDFORMAT COMPACT
IGNOREUPDATEBEFORES
COMPRESSDELETES
PRM
SQL OUT
UPDATE: only after
DELETE: only PK
02578
25708
NOLOGALLSUPCOLS
COMPRESSUPDATES
COMPRESSDELETES
UPDATERECORDFORMAT COMPACT
IGNOREUPDATEBEFORES
PRM
SQL OUT
UPDATE: only after
DELETE: only PK
02578
25780
NOLOGALLSUPCOLS
COMPRESSUPDATES
COMPRESSDELETES
IGNOREUPDATEBEFORES
UPDATERECORDFORMAT COMPACT
PRM
SQL OUT
UPDATE: only after
DELETE: only PK
02578
25807
NOLOGALLSUPCOLS
COMPRESSUPDATES
IGNOREUPDATEBEFORES
UPDATERECORDFORMAT COMPACT
COMPRESSDELETES
PRM
SQL OUT
UPDATE: only after
DELETE: only PK
02578
25870
NOLOGALLSUPCOLS
COMPRESSUPDATES
IGNOREUPDATEBEFORES
COMPRESSDELETES
UPDATERECORDFORMAT COMPACT
PRM
SQL OUT
UPDATE: only after
DELETE: only PK
02578
27058
NOLOGALLSUPCOLS
COMPRESSDELETES
UPDATERECORDFORMAT COMPACT
COMPRESSUPDATES
IGNOREUPDATEBEFORES
PRM
SQL OUT
UPDATE: only after
DELETE: only PK
02578
27085
NOLOGALLSUPCOLS
COMPRESSDELETES
UPDATERECORDFORMAT COMPACT
IGNOREUPDATEBEFORES
COMPRESSUPDATES
PRM
SQL OUT
UPDATE: only after
DELETE: only PK
02578
27508
NOLOGALLSUPCOLS
COMPRESSDELETES
COMPRESSUPDATES
UPDATERECORDFORMAT COMPACT
IGNOREUPDATEBEFORES
PRM
SQL OUT
UPDATE: only after
DELETE: only PK
02578
27580
NOLOGALLSUPCOLS
COMPRESSDELETES
COMPRESSUPDATES
IGNOREUPDATEBEFORES
UPDATERECORDFORMAT COMPACT
PRM
SQL OUT
UPDATE: only after
DELETE: only PK
02578
27805
NOLOGALLSUPCOLS
COMPRESSDELETES
IGNOREUPDATEBEFORES
UPDATERECORDFORMAT COMPACT
COMPRESSUPDATES
PRM
SQL OUT
UPDATE: only after
DELETE: only PK
02578
27850
NOLOGALLSUPCOLS
COMPRESSDELETES
IGNOREUPDATEBEFORES
COMPRESSUPDATES
UPDATERECORDFORMAT COMPACT
PRM
SQL OUT
UPDATE: only after
DELETE: only PK
02578
28057
NOLOGALLSUPCOLS
IGNOREUPDATEBEFORES
UPDATERECORDFORMAT COMPACT
COMPRESSUPDATES
COMPRESSDELETES
PRM
SQL OUT
UPDATE: only after
DELETE: only PK
02578
28075
NOLOGALLSUPCOLS
IGNOREUPDATEBEFORES
UPDATERECORDFORMAT COMPACT
COMPRESSDELETES
COMPRESSUPDATES
PRM
SQL OUT
UPDATE: only after
DELETE: only PK
02578
28507
NOLOGALLSUPCOLS
IGNOREUPDATEBEFORES
COMPRESSUPDATES
UPDATERECORDFORMAT COMPACT
COMPRESSDELETES
PRM
SQL OUT
UPDATE: only after
DELETE: only PK
02578
28570
NOLOGALLSUPCOLS
IGNOREUPDATEBEFORES
COMPRESSUPDATES
COMPRESSDELETES
UPDATERECORDFORMAT COMPACT
PRM
SQL OUT
UPDATE: only after
DELETE: only PK
02578
28705
NOLOGALLSUPCOLS
IGNOREUPDATEBEFORES
COMPRESSDELETES
UPDATERECORDFORMAT COMPACT
COMPRESSUPDATES
PRM
SQL OUT
UPDATE: only after
DELETE: only PK
02578
28750
NOLOGALLSUPCOLS
IGNOREUPDATEBEFORES
COMPRESSDELETES
COMPRESSUPDATES
UPDATERECORDFORMAT COMPACT
PRM
SQL OUT
UPDATE: only after
DELETE: only PK
02578
50278
COMPRESSUPDATES
UPDATERECORDFORMAT COMPACT
NOLOGALLSUPCOLS
COMPRESSDELETES
IGNOREUPDATEBEFORES
PRM
SQL OUT
UPDATE: only after
DELETE: only PK
02578
50287
COMPRESSUPDATES
UPDATERECORDFORMAT COMPACT
NOLOGALLSUPCOLS
IGNOREUPDATEBEFORES
COMPRESSDELETES
PRM
SQL OUT
UPDATE: only after
DELETE: only PK
02578
50728
COMPRESSUPDATES
UPDATERECORDFORMAT COMPACT
COMPRESSDELETES
NOLOGALLSUPCOLS
IGNOREUPDATEBEFORES
PRM
SQL OUT
UPDATE: only after
DELETE: only PK
02578
50782
COMPRESSUPDATES
UPDATERECORDFORMAT COMPACT
COMPRESSDELETES
IGNOREUPDATEBEFORES
NOLOGALLSUPCOLS
PRM
SQL OUT
UPDATE: only after
DELETE: only PK
02578
50827
COMPRESSUPDATES
UPDATERECORDFORMAT COMPACT
IGNOREUPDATEBEFORES
NOLOGALLSUPCOLS
COMPRESSDELETES
PRM
SQL OUT
UPDATE: only after
DELETE: only PK
02578
50872
COMPRESSUPDATES
UPDATERECORDFORMAT COMPACT
IGNOREUPDATEBEFORES
COMPRESSDELETES
NOLOGALLSUPCOLS
PRM
SQL OUT
UPDATE: only after
DELETE: only PK
02578
52078
COMPRESSUPDATES
NOLOGALLSUPCOLS
UPDATERECORDFORMAT COMPACT
COMPRESSDELETES
IGNOREUPDATEBEFORES
PRM
SQL OUT
UPDATE: only after
DELETE: only PK
02578
52087
COMPRESSUPDATES
NOLOGALLSUPCOLS
UPDATERECORDFORMAT COMPACT
IGNOREUPDATEBEFORES
COMPRESSDELETES
PRM
SQL OUT
UPDATE: only after
DELETE: only PK
02578
52708
COMPRESSUPDATES
NOLOGALLSUPCOLS
COMPRESSDELETES
UPDATERECORDFORMAT COMPACT
IGNOREUPDATEBEFORES
PRM
SQL OUT
UPDATE: only after
DELETE: only PK
02578
52780
COMPRESSUPDATES
NOLOGALLSUPCOLS
COMPRESSDELETES
IGNOREUPDATEBEFORES
UPDATERECORDFORMAT COMPACT
PRM
SQL OUT
UPDATE: only after
DELETE: only PK
02578
52807
COMPRESSUPDATES
NOLOGALLSUPCOLS
IGNOREUPDATEBEFORES
UPDATERECORDFORMAT COMPACT
COMPRESSDELETES
PRM
SQL OUT
UPDATE: only after
DELETE: only PK
02578
52870
COMPRESSUPDATES
NOLOGALLSUPCOLS
IGNOREUPDATEBEFORES
COMPRESSDELETES
UPDATERECORDFORMAT COMPACT
PRM
SQL OUT
UPDATE: only after
DELETE: only PK
02578
57028
COMPRESSUPDATES
COMPRESSDELETES
UPDATERECORDFORMAT COMPACT
NOLOGALLSUPCOLS
IGNOREUPDATEBEFORES
PRM
SQL OUT
UPDATE: only after
DELETE: only PK
02578
57082
COMPRESSUPDATES
COMPRESSDELETES
UPDATERECORDFORMAT COMPACT
IGNOREUPDATEBEFORES
NOLOGALLSUPCOLS
PRM
SQL OUT
UPDATE: only after
DELETE: only PK
02578
57208
COMPRESSUPDATES
COMPRESSDELETES
NOLOGALLSUPCOLS
UPDATERECORDFORMAT COMPACT
IGNOREUPDATEBEFORES
PRM
SQL OUT
UPDATE: only after
DELETE: only PK
02578
57280
COMPRESSUPDATES
COMPRESSDELETES
NOLOGALLSUPCOLS
IGNOREUPDATEBEFORES
UPDATERECORDFORMAT COMPACT
PRM
SQL OUT
UPDATE: only after
DELETE: only PK
02578
57802
COMPRESSUPDATES
COMPRESSDELETES
IGNOREUPDATEBEFORES
UPDATERECORDFORMAT COMPACT
NOLOGALLSUPCOLS
PRM
SQL OUT
UPDATE: only after
DELETE: only PK
02578
57820
COMPRESSUPDATES
COMPRESSDELETES
IGNOREUPDATEBEFORES
NOLOGALLSUPCOLS
UPDATERECORDFORMAT COMPACT
PRM
SQL OUT
UPDATE: only after
DELETE: only PK
02578
58027
COMPRESSUPDATES
IGNOREUPDATEBEFORES
UPDATERECORDFORMAT COMPACT
NOLOGALLSUPCOLS
COMPRESSDELETES
PRM
SQL OUT
UPDATE: only after
DELETE: only PK
02578
58072
COMPRESSUPDATES
IGNOREUPDATEBEFORES
UPDATERECORDFORMAT COMPACT
COMPRESSDELETES
NOLOGALLSUPCOLS
PRM
SQL OUT
UPDATE: only after
DELETE: only PK
02578
58207
COMPRESSUPDATES
IGNOREUPDATEBEFORES
NOLOGALLSUPCOLS
UPDATERECORDFORMAT COMPACT
COMPRESSDELETES
PRM
SQL OUT
UPDATE: only after
DELETE: only PK
02578
58270
COMPRESSUPDATES
IGNOREUPDATEBEFORES
NOLOGALLSUPCOLS
COMPRESSDELETES
UPDATERECORDFORMAT COMPACT
PRM
SQL OUT
UPDATE: only after
DELETE: only PK
02578
58702
COMPRESSUPDATES
IGNOREUPDATEBEFORES
COMPRESSDELETES
UPDATERECORDFORMAT COMPACT
NOLOGALLSUPCOLS
PRM
SQL OUT
UPDATE: only after
DELETE: only PK
02578
58720
COMPRESSUPDATES
IGNOREUPDATEBEFORES
COMPRESSDELETES
NOLOGALLSUPCOLS
UPDATERECORDFORMAT COMPACT
PRM
SQL OUT
UPDATE: only after
DELETE: only PK
02578
70258
COMPRESSDELETES
UPDATERECORDFORMAT COMPACT
NOLOGALLSUPCOLS
COMPRESSUPDATES
IGNOREUPDATEBEFORES
PRM
SQL OUT
UPDATE: only after
DELETE: only PK
02578
70285
COMPRESSDELETES
UPDATERECORDFORMAT COMPACT
NOLOGALLSUPCOLS
IGNOREUPDATEBEFORES
COMPRESSUPDATES
PRM
SQL OUT
UPDATE: only after
DELETE: only PK
02578
70528
COMPRESSDELETES
UPDATERECORDFORMAT COMPACT
COMPRESSUPDATES
NOLOGALLSUPCOLS
IGNOREUPDATEBEFORES
PRM
SQL OUT
UPDATE: only after
DELETE: only PK
02578
70582
COMPRESSDELETES
UPDATERECORDFORMAT COMPACT
COMPRESSUPDATES
IGNOREUPDATEBEFORES
NOLOGALLSUPCOLS
PRM
SQL OUT
UPDATE: only after
DELETE: only PK
02578
70825
COMPRESSDELETES
UPDATERECORDFORMAT COMPACT
IGNOREUPDATEBEFORES
NOLOGALLSUPCOLS
COMPRESSUPDATES
PRM
SQL OUT
UPDATE: only after
DELETE: only PK
02578
70852
COMPRESSDELETES
UPDATERECORDFORMAT COMPACT
IGNOREUPDATEBEFORES
COMPRESSUPDATES
NOLOGALLSUPCOLS
PRM
SQL OUT
UPDATE: only after
DELETE: only PK
02578
72058
COMPRESSDELETES
NOLOGALLSUPCOLS
UPDATERECORDFORMAT COMPACT
COMPRESSUPDATES
IGNOREUPDATEBEFORES
PRM
SQL OUT
UPDATE: only after
DELETE: only PK
02578
72085
COMPRESSDELETES
NOLOGALLSUPCOLS
UPDATERECORDFORMAT COMPACT
IGNOREUPDATEBEFORES
COMPRESSUPDATES
PRM
SQL OUT
UPDATE: only after
DELETE: only PK
02578
72508
COMPRESSDELETES
NOLOGALLSUPCOLS
COMPRESSUPDATES
UPDATERECORDFORMAT COMPACT
IGNOREUPDATEBEFORES
PRM
SQL OUT
UPDATE: only after
DELETE: only PK
02578
72580
COMPRESSDELETES
NOLOGALLSUPCOLS
COMPRESSUPDATES
IGNOREUPDATEBEFORES
UPDATERECORDFORMAT COMPACT
PRM
SQL OUT
UPDATE: only after
DELETE: only PK
02578
72805
COMPRESSDELETES
NOLOGALLSUPCOLS
IGNOREUPDATEBEFORES
UPDATERECORDFORMAT COMPACT
COMPRESSUPDATES
PRM
SQL OUT
UPDATE: only after
DELETE: only PK
02578
72850
COMPRESSDELETES
NOLOGALLSUPCOLS
IGNOREUPDATEBEFORES
COMPRESSUPDATES
UPDATERECORDFORMAT COMPACT
PRM
SQL OUT
UPDATE: only after
DELETE: only PK
02578
75028
COMPRESSDELETES
COMPRESSUPDATES
UPDATERECORDFORMAT COMPACT
NOLOGALLSUPCOLS
IGNOREUPDATEBEFORES
PRM
SQL OUT
UPDATE: only after
DELETE: only PK
02578
75082
COMPRESSDELETES
COMPRESSUPDATES
UPDATERECORDFORMAT COMPACT
IGNOREUPDATEBEFORES
NOLOGALLSUPCOLS
PRM
SQL OUT
UPDATE: only after
DELETE: only PK
02578
75208
COMPRESSDELETES
COMPRESSUPDATES
NOLOGALLSUPCOLS
UPDATERECORDFORMAT COMPACT
IGNOREUPDATEBEFORES
PRM
SQL OUT
UPDATE: only after
DELETE: only PK
02578
75280
COMPRESSDELETES
COMPRESSUPDATES
NOLOGALLSUPCOLS
IGNOREUPDATEBEFORES
UPDATERECORDFORMAT COMPACT
PRM
SQL OUT
UPDATE: only after
DELETE: only PK
02578
75802
COMPRESSDELETES
COMPRESSUPDATES
IGNOREUPDATEBEFORES
UPDATERECORDFORMAT COMPACT
NOLOGALLSUPCOLS
PRM
SQL OUT
UPDATE: only after
DELETE: only PK
02578
75820
COMPRESSDELETES
COMPRESSUPDATES
IGNOREUPDATEBEFORES
NOLOGALLSUPCOLS
UPDATERECORDFORMAT COMPACT
PRM
SQL OUT
UPDATE: only after
DELETE: only PK
02578
78025
COMPRESSDELETES
IGNOREUPDATEBEFORES
UPDATERECORDFORMAT COMPACT
NOLOGALLSUPCOLS
COMPRESSUPDATES
PRM
SQL OUT
UPDATE: only after
DELETE: only PK
02578
78052
COMPRESSDELETES
IGNOREUPDATEBEFORES
UPDATERECORDFORMAT COMPACT
COMPRESSUPDATES
NOLOGALLSUPCOLS
PRM
SQL OUT
UPDATE: only after
DELETE: only PK
02578
78205
COMPRESSDELETES
IGNOREUPDATEBEFORES
NOLOGALLSUPCOLS
UPDATERECORDFORMAT COMPACT
COMPRESSUPDATES
PRM
SQL OUT
UPDATE: only after
DELETE: only PK
02578
78250
COMPRESSDELETES
IGNOREUPDATEBEFORES
NOLOGALLSUPCOLS
COMPRESSUPDATES
UPDATERECORDFORMAT COMPACT
PRM
SQL OUT
UPDATE: only after
DELETE: only PK
02578
78502
COMPRESSDELETES
IGNOREUPDATEBEFORES
COMPRESSUPDATES
UPDATERECORDFORMAT COMPACT
NOLOGALLSUPCOLS
PRM
SQL OUT
UPDATE: only after
DELETE: only PK
02578
78520
COMPRESSDELETES
IGNOREUPDATEBEFORES
COMPRESSUPDATES
NOLOGALLSUPCOLS
UPDATERECORDFORMAT COMPACT
PRM
SQL OUT
UPDATE: only after
DELETE: only PK
02578
80257
IGNOREUPDATEBEFORES
UPDATERECORDFORMAT COMPACT
NOLOGALLSUPCOLS
COMPRESSUPDATES
COMPRESSDELETES
PRM
SQL OUT
UPDATE: only after
DELETE: only PK
02578
80275
IGNOREUPDATEBEFORES
UPDATERECORDFORMAT COMPACT
NOLOGALLSUPCOLS
COMPRESSDELETES
COMPRESSUPDATES
PRM
SQL OUT
UPDATE: only after
DELETE: only PK
02578
80527
IGNOREUPDATEBEFORES
UPDATERECORDFORMAT COMPACT
COMPRESSUPDATES
NOLOGALLSUPCOLS
COMPRESSDELETES
PRM
SQL OUT
UPDATE: only after
DELETE: only PK
02578
80572
IGNOREUPDATEBEFORES
UPDATERECORDFORMAT COMPACT
COMPRESSUPDATES
COMPRESSDELETES
NOLOGALLSUPCOLS
PRM
SQL OUT
UPDATE: only after
DELETE: only PK
02578
80725
IGNOREUPDATEBEFORES
UPDATERECORDFORMAT COMPACT
COMPRESSDELETES
NOLOGALLSUPCOLS
COMPRESSUPDATES
PRM
SQL OUT
UPDATE: only after
DELETE: only PK
02578
80752
IGNOREUPDATEBEFORES
UPDATERECORDFORMAT COMPACT
COMPRESSDELETES
COMPRESSUPDATES
NOLOGALLSUPCOLS
PRM
SQL OUT
UPDATE: only after
DELETE: only PK
02578
82057
IGNOREUPDATEBEFORES
NOLOGALLSUPCOLS
UPDATERECORDFORMAT COMPACT
COMPRESSUPDATES
COMPRESSDELETES
PRM
SQL OUT
UPDATE: only after
DELETE: only PK
02578
82075
IGNOREUPDATEBEFORES
NOLOGALLSUPCOLS
UPDATERECORDFORMAT COMPACT
COMPRESSDELETES
COMPRESSUPDATES
PRM
SQL OUT
UPDATE: only after
DELETE: only PK
02578
82507
IGNOREUPDATEBEFORES
NOLOGALLSUPCOLS
COMPRESSUPDATES
UPDATERECORDFORMAT COMPACT
COMPRESSDELETES
PRM
SQL OUT
UPDATE: only after
DELETE: only PK
02578
82570
IGNOREUPDATEBEFORES
NOLOGALLSUPCOLS
COMPRESSUPDATES
COMPRESSDELETES
UPDATERECORDFORMAT COMPACT
PRM
SQL OUT
UPDATE: only after
DELETE: only PK
02578
82705
IGNOREUPDATEBEFORES
NOLOGALLSUPCOLS
COMPRESSDELETES
UPDATERECORDFORMAT COMPACT
COMPRESSUPDATES
PRM
SQL OUT
UPDATE: only after
DELETE: only PK
02578
82750
IGNOREUPDATEBEFORES
NOLOGALLSUPCOLS
COMPRESSDELETES
COMPRESSUPDATES
UPDATERECORDFORMAT COMPACT
PRM
SQL OUT
UPDATE: only after
DELETE: only PK
02578
85027
IGNOREUPDATEBEFORES
COMPRESSUPDATES
UPDATERECORDFORMAT COMPACT
NOLOGALLSUPCOLS
COMPRESSDELETES
PRM
SQL OUT
UPDATE: only after
DELETE: only PK
02578
85072
IGNOREUPDATEBEFORES
COMPRESSUPDATES
UPDATERECORDFORMAT COMPACT
COMPRESSDELETES
NOLOGALLSUPCOLS
PRM
SQL OUT
UPDATE: only after
DELETE: only PK
02578
85207
IGNOREUPDATEBEFORES
COMPRESSUPDATES
NOLOGALLSUPCOLS
UPDATERECORDFORMAT COMPACT
COMPRESSDELETES
PRM
SQL OUT
UPDATE: only after
DELETE: only PK
02578
85270
IGNOREUPDATEBEFORES
COMPRESSUPDATES
NOLOGALLSUPCOLS
COMPRESSDELETES
UPDATERECORDFORMAT COMPACT
PRM
SQL OUT
UPDATE: only after
DELETE: only PK
02578
85702
IGNOREUPDATEBEFORES
COMPRESSUPDATES
COMPRESSDELETES
UPDATERECORDFORMAT COMPACT
NOLOGALLSUPCOLS
PRM
SQL OUT
UPDATE: only after
DELETE: only PK
02578
85720
IGNOREUPDATEBEFORES
COMPRESSUPDATES
COMPRESSDELETES
NOLOGALLSUPCOLS
UPDATERECORDFORMAT COMPACT
PRM
SQL OUT
UPDATE: only after
DELETE: only PK
02578
87025
IGNOREUPDATEBEFORES
COMPRESSDELETES
UPDATERECORDFORMAT COMPACT
NOLOGALLSUPCOLS
COMPRESSUPDATES
PRM
SQL OUT
UPDATE: only after
DELETE: only PK
02578
87052
IGNOREUPDATEBEFORES
COMPRESSDELETES
UPDATERECORDFORMAT COMPACT
COMPRESSUPDATES
NOLOGALLSUPCOLS
PRM
SQL OUT
UPDATE: only after
DELETE: only PK
02578
87205
IGNOREUPDATEBEFORES
COMPRESSDELETES
NOLOGALLSUPCOLS
UPDATERECORDFORMAT COMPACT
COMPRESSUPDATES
PRM
SQL OUT
UPDATE: only after
DELETE: only PK
02578
87250
IGNOREUPDATEBEFORES
COMPRESSDELETES
NOLOGALLSUPCOLS
COMPRESSUPDATES
UPDATERECORDFORMAT COMPACT
PRM
SQL OUT
UPDATE: only after
DELETE: only PK
02578
87502
IGNOREUPDATEBEFORES
COMPRESSDELETES
COMPRESSUPDATES
UPDATERECORDFORMAT COMPACT
NOLOGALLSUPCOLS
PRM
SQL OUT
UPDATE: only after
DELETE: only PK
02578
87520
IGNOREUPDATEBEFORES
COMPRESSDELETES
COMPRESSUPDATES
NOLOGALLSUPCOLS
UPDATERECORDFORMAT COMPACT
PRM
SQL OUT
UPDATE: only after
DELETE: only PK
02579
02579
UPDATERECORDFORMAT COMPACT
NOLOGALLSUPCOLS
COMPRESSUPDATES
COMPRESSDELETES
GETUPDATEBEFORES
PRM
SQL OUT
UPDATE: before + after in 1 record
DELETE: only PK
02579
02597
UPDATERECORDFORMAT COMPACT
NOLOGALLSUPCOLS
COMPRESSUPDATES
GETUPDATEBEFORES
COMPRESSDELETES
PRM
SQL OUT
UPDATE: before + after in 1 record
DELETE: only PK
02579
02759
UPDATERECORDFORMAT COMPACT
NOLOGALLSUPCOLS
COMPRESSDELETES
COMPRESSUPDATES
GETUPDATEBEFORES
PRM
SQL OUT
UPDATE: before + after in 1 record
DELETE: only PK
02579
02795
UPDATERECORDFORMAT COMPACT
NOLOGALLSUPCOLS
COMPRESSDELETES
GETUPDATEBEFORES
COMPRESSUPDATES
PRM
SQL OUT
UPDATE: before + after in 1 record
DELETE: only PK
02579
02957
UPDATERECORDFORMAT COMPACT
NOLOGALLSUPCOLS
GETUPDATEBEFORES
COMPRESSUPDATES
COMPRESSDELETES
PRM
SQL OUT
UPDATE: before + after in 1 record
DELETE: only PK
02579
02975
UPDATERECORDFORMAT COMPACT
NOLOGALLSUPCOLS
GETUPDATEBEFORES
COMPRESSDELETES
COMPRESSUPDATES
PRM
SQL OUT
UPDATE: before + after in 1 record
DELETE: only PK
02579
05279
UPDATERECORDFORMAT COMPACT
COMPRESSUPDATES
NOLOGALLSUPCOLS
COMPRESSDELETES
GETUPDATEBEFORES
PRM
SQL OUT
UPDATE: before + after in 1 record
DELETE: only PK
02579
05297
UPDATERECORDFORMAT COMPACT
COMPRESSUPDATES
NOLOGALLSUPCOLS
GETUPDATEBEFORES
COMPRESSDELETES
PRM
SQL OUT
UPDATE: before + after in 1 record
DELETE: only PK
02579
05729
UPDATERECORDFORMAT COMPACT
COMPRESSUPDATES
COMPRESSDELETES
NOLOGALLSUPCOLS
GETUPDATEBEFORES
PRM
SQL OUT
UPDATE: before + after in 1 record
DELETE: only PK
02579
05792
UPDATERECORDFORMAT COMPACT
COMPRESSUPDATES
COMPRESSDELETES
GETUPDATEBEFORES
NOLOGALLSUPCOLS
PRM
SQL OUT
UPDATE: only after
DELETE: only PK
02579
05927
UPDATERECORDFORMAT COMPACT
COMPRESSUPDATES
GETUPDATEBEFORES
NOLOGALLSUPCOLS
COMPRESSDELETES
PRM
SQL OUT
UPDATE: only after
DELETE: only PK
02579
05972
UPDATERECORDFORMAT COMPACT
COMPRESSUPDATES
GETUPDATEBEFORES
COMPRESSDELETES
NOLOGALLSUPCOLS
PRM
SQL OUT
UPDATE: only after
DELETE: only PK
02579
07259
UPDATERECORDFORMAT COMPACT
COMPRESSDELETES
NOLOGALLSUPCOLS
COMPRESSUPDATES
GETUPDATEBEFORES
PRM
SQL OUT
UPDATE: before + after in 1 record
DELETE: only PK
02579
07295
UPDATERECORDFORMAT COMPACT
COMPRESSDELETES
NOLOGALLSUPCOLS
GETUPDATEBEFORES
COMPRESSUPDATES
PRM
SQL OUT
UPDATE: before + after in 1 record
DELETE: only PK
02579
07529
UPDATERECORDFORMAT COMPACT
COMPRESSDELETES
COMPRESSUPDATES
NOLOGALLSUPCOLS
GETUPDATEBEFORES
PRM
SQL OUT
UPDATE: before + after in 1 record
DELETE: only PK
02579
07592
UPDATERECORDFORMAT COMPACT
COMPRESSDELETES
COMPRESSUPDATES
GETUPDATEBEFORES
NOLOGALLSUPCOLS
PRM
SQL OUT
UPDATE: only after
DELETE: only PK
02579
07925
UPDATERECORDFORMAT COMPACT
COMPRESSDELETES
GETUPDATEBEFORES
NOLOGALLSUPCOLS
COMPRESSUPDATES
PRM
SQL OUT
UPDATE: only after
DELETE: only PK
02579
07952
UPDATERECORDFORMAT COMPACT
COMPRESSDELETES
GETUPDATEBEFORES
COMPRESSUPDATES
NOLOGALLSUPCOLS
PRM
SQL OUT
UPDATE: only after
DELETE: only PK
02579
09257
UPDATERECORDFORMAT COMPACT
GETUPDATEBEFORES
NOLOGALLSUPCOLS
COMPRESSUPDATES
COMPRESSDELETES
PRM
SQL OUT
UPDATE: only after
DELETE: only PK
02579
09275
UPDATERECORDFORMAT COMPACT
GETUPDATEBEFORES
NOLOGALLSUPCOLS
COMPRESSDELETES
COMPRESSUPDATES
PRM
SQL OUT
UPDATE: only after
DELETE: only PK
02579
09527
UPDATERECORDFORMAT COMPACT
GETUPDATEBEFORES
COMPRESSUPDATES
NOLOGALLSUPCOLS
COMPRESSDELETES
PRM
SQL OUT
UPDATE: only after
DELETE: only PK
02579
09572
UPDATERECORDFORMAT COMPACT
GETUPDATEBEFORES
COMPRESSUPDATES
COMPRESSDELETES
NOLOGALLSUPCOLS
PRM
SQL OUT
UPDATE: only after
DELETE: only PK
02579
09725
UPDATERECORDFORMAT COMPACT
GETUPDATEBEFORES
COMPRESSDELETES
NOLOGALLSUPCOLS
COMPRESSUPDATES
PRM
SQL OUT
UPDATE: only after
DELETE: only PK
02579
09752
UPDATERECORDFORMAT COMPACT
GETUPDATEBEFORES
COMPRESSDELETES
COMPRESSUPDATES
NOLOGALLSUPCOLS
PRM
SQL OUT
UPDATE: only after
DELETE: only PK
02579
20579
NOLOGALLSUPCOLS
UPDATERECORDFORMAT COMPACT
COMPRESSUPDATES
COMPRESSDELETES
GETUPDATEBEFORES
PRM
SQL OUT
UPDATE: before + after in 1 record
DELETE: only PK
02579
20597
NOLOGALLSUPCOLS
UPDATERECORDFORMAT COMPACT
COMPRESSUPDATES
GETUPDATEBEFORES
COMPRESSDELETES
PRM
SQL OUT
UPDATE: before + after in 1 record
DELETE: only PK
02579
20759
NOLOGALLSUPCOLS
UPDATERECORDFORMAT COMPACT
COMPRESSDELETES
COMPRESSUPDATES
GETUPDATEBEFORES
PRM
SQL OUT
UPDATE: before + after in 1 record
DELETE: only PK
02579
20795
NOLOGALLSUPCOLS
UPDATERECORDFORMAT COMPACT
COMPRESSDELETES
GETUPDATEBEFORES
COMPRESSUPDATES
PRM
SQL OUT
UPDATE: before + after in 1 record
DELETE: only PK
02579
20957
NOLOGALLSUPCOLS
UPDATERECORDFORMAT COMPACT
GETUPDATEBEFORES
COMPRESSUPDATES
COMPRESSDELETES
PRM
SQL OUT
UPDATE: before + after in 1 record
DELETE: only PK
02579
20975
NOLOGALLSUPCOLS
UPDATERECORDFORMAT COMPACT
GETUPDATEBEFORES
COMPRESSDELETES
COMPRESSUPDATES
PRM
SQL OUT
UPDATE: before + after in 1 record
DELETE: only PK
02579
25079
NOLOGALLSUPCOLS
COMPRESSUPDATES
UPDATERECORDFORMAT COMPACT
COMPRESSDELETES
GETUPDATEBEFORES
PRM
SQL OUT
UPDATE: before + after in 1 record
DELETE: only PK
02579
25097
NOLOGALLSUPCOLS
COMPRESSUPDATES
UPDATERECORDFORMAT COMPACT
GETUPDATEBEFORES
COMPRESSDELETES
PRM
SQL OUT
UPDATE: before + after in 1 record
DELETE: only PK
02579
25709
NOLOGALLSUPCOLS
COMPRESSUPDATES
COMPRESSDELETES
UPDATERECORDFORMAT COMPACT
GETUPDATEBEFORES
PRM
SQL OUT
UPDATE: before + after in 1 record
DELETE: only PK
02579
25790
NOLOGALLSUPCOLS
COMPRESSUPDATES
COMPRESSDELETES
GETUPDATEBEFORES
UPDATERECORDFORMAT COMPACT
PRM
SQL OUT
UPDATE: before + after in 1 record
DELETE: only PK
02579
25907
NOLOGALLSUPCOLS
COMPRESSUPDATES
GETUPDATEBEFORES
UPDATERECORDFORMAT COMPACT
COMPRESSDELETES
PRM
SQL OUT
UPDATE: before + after in 1 record
DELETE: only PK
02579
25970
NOLOGALLSUPCOLS
COMPRESSUPDATES
GETUPDATEBEFORES
COMPRESSDELETES
UPDATERECORDFORMAT COMPACT
PRM
SQL OUT
UPDATE: before + after in 1 record
DELETE: only PK
02579
27059
NOLOGALLSUPCOLS
COMPRESSDELETES
UPDATERECORDFORMAT COMPACT
COMPRESSUPDATES
GETUPDATEBEFORES
PRM
SQL OUT
UPDATE: before + after in 1 record
DELETE: only PK
02579
27095
NOLOGALLSUPCOLS
COMPRESSDELETES
UPDATERECORDFORMAT COMPACT
GETUPDATEBEFORES
COMPRESSUPDATES
PRM
SQL OUT
UPDATE: before + after in 1 record
DELETE: only PK
02579
27509
NOLOGALLSUPCOLS
COMPRESSDELETES
COMPRESSUPDATES
UPDATERECORDFORMAT COMPACT
GETUPDATEBEFORES
PRM
SQL OUT
UPDATE: before + after in 1 record
DELETE: only PK
02579
27590
NOLOGALLSUPCOLS
COMPRESSDELETES
COMPRESSUPDATES
GETUPDATEBEFORES
UPDATERECORDFORMAT COMPACT
PRM
SQL OUT
UPDATE: before + after in 1 record
DELETE: only PK
02579
27905
NOLOGALLSUPCOLS
COMPRESSDELETES
GETUPDATEBEFORES
UPDATERECORDFORMAT COMPACT
COMPRESSUPDATES
PRM
SQL OUT
UPDATE: before + after in 1 record
DELETE: only PK
02579
27950
NOLOGALLSUPCOLS
COMPRESSDELETES
GETUPDATEBEFORES
COMPRESSUPDATES
UPDATERECORDFORMAT COMPACT
PRM
SQL OUT
UPDATE: before + after in 1 record
DELETE: only PK
02579
29057
NOLOGALLSUPCOLS
GETUPDATEBEFORES
UPDATERECORDFORMAT COMPACT
COMPRESSUPDATES
COMPRESSDELETES
PRM
SQL OUT
UPDATE: before + after in 1 record
DELETE: only PK
02579
29075
NOLOGALLSUPCOLS
GETUPDATEBEFORES
UPDATERECORDFORMAT COMPACT
COMPRESSDELETES
COMPRESSUPDATES
PRM
SQL OUT
UPDATE: before + after in 1 record
DELETE: only PK
02579
29507
NOLOGALLSUPCOLS
GETUPDATEBEFORES
COMPRESSUPDATES
UPDATERECORDFORMAT COMPACT
COMPRESSDELETES
PRM
SQL OUT
UPDATE: before + after in 1 record
DELETE: only PK
02579
29570
NOLOGALLSUPCOLS
GETUPDATEBEFORES
COMPRESSUPDATES
COMPRESSDELETES
UPDATERECORDFORMAT COMPACT
PRM
SQL OUT
UPDATE: before + after in 1 record
DELETE: only PK
02579
29705
NOLOGALLSUPCOLS
GETUPDATEBEFORES
COMPRESSDELETES
UPDATERECORDFORMAT COMPACT
COMPRESSUPDATES
PRM
SQL OUT
UPDATE: before + after in 1 record
DELETE: only PK
02579
29750
NOLOGALLSUPCOLS
GETUPDATEBEFORES
COMPRESSDELETES
COMPRESSUPDATES
UPDATERECORDFORMAT COMPACT
PRM
SQL OUT
UPDATE: before + after in 1 record
DELETE: only PK
02579
50279
COMPRESSUPDATES
UPDATERECORDFORMAT COMPACT
NOLOGALLSUPCOLS
COMPRESSDELETES
GETUPDATEBEFORES
PRM
SQL OUT
UPDATE: before + after in 1 record
DELETE: only PK
02579
50297
COMPRESSUPDATES
UPDATERECORDFORMAT COMPACT
NOLOGALLSUPCOLS
GETUPDATEBEFORES
COMPRESSDELETES
PRM
SQL OUT
UPDATE: before + after in 1 record
DELETE: only PK
02579
50729
COMPRESSUPDATES
UPDATERECORDFORMAT COMPACT
COMPRESSDELETES
NOLOGALLSUPCOLS
GETUPDATEBEFORES
PRM
SQL OUT
UPDATE: before + after in 1 record
DELETE: only PK
02579
50792
COMPRESSUPDATES
UPDATERECORDFORMAT COMPACT
COMPRESSDELETES
GETUPDATEBEFORES
NOLOGALLSUPCOLS
PRM
SQL OUT
UPDATE: only after
DELETE: only PK
02579
50927
COMPRESSUPDATES
UPDATERECORDFORMAT COMPACT
GETUPDATEBEFORES
NOLOGALLSUPCOLS
COMPRESSDELETES
PRM
SQL OUT
UPDATE: only after
DELETE: only PK
02579
50972
COMPRESSUPDATES
UPDATERECORDFORMAT COMPACT
GETUPDATEBEFORES
COMPRESSDELETES
NOLOGALLSUPCOLS
PRM
SQL OUT
UPDATE: only after
DELETE: only PK
02579
52079
COMPRESSUPDATES
NOLOGALLSUPCOLS
UPDATERECORDFORMAT COMPACT
COMPRESSDELETES
GETUPDATEBEFORES
PRM
SQL OUT
UPDATE: before + after in 1 record
DELETE: only PK
02579
52097
COMPRESSUPDATES
NOLOGALLSUPCOLS
UPDATERECORDFORMAT COMPACT
GETUPDATEBEFORES
COMPRESSDELETES
PRM
SQL OUT
UPDATE: before + after in 1 record
DELETE: only PK
02579
52709
COMPRESSUPDATES
NOLOGALLSUPCOLS
COMPRESSDELETES
UPDATERECORDFORMAT COMPACT
GETUPDATEBEFORES
PRM
SQL OUT
UPDATE: before + after in 1 record
DELETE: only PK
02579
52790
COMPRESSUPDATES
NOLOGALLSUPCOLS
COMPRESSDELETES
GETUPDATEBEFORES
UPDATERECORDFORMAT COMPACT
PRM
SQL OUT
UPDATE: before + after in 1 record
DELETE: only PK
02579
52907
COMPRESSUPDATES
NOLOGALLSUPCOLS
GETUPDATEBEFORES
UPDATERECORDFORMAT COMPACT
COMPRESSDELETES
PRM
SQL OUT
UPDATE: before + after in 1 record
DELETE: only PK
02579
52970
COMPRESSUPDATES
NOLOGALLSUPCOLS
GETUPDATEBEFORES
COMPRESSDELETES
UPDATERECORDFORMAT COMPACT
PRM
SQL OUT
UPDATE: before + after in 1 record
DELETE: only PK
02579
57029
COMPRESSUPDATES
COMPRESSDELETES
UPDATERECORDFORMAT COMPACT
NOLOGALLSUPCOLS
GETUPDATEBEFORES
PRM
SQL OUT
UPDATE: before + after in 1 record
DELETE: only PK
02579
57092
COMPRESSUPDATES
COMPRESSDELETES
UPDATERECORDFORMAT COMPACT
GETUPDATEBEFORES
NOLOGALLSUPCOLS
PRM
SQL OUT
UPDATE: only after
DELETE: only PK
02579
57209
COMPRESSUPDATES
COMPRESSDELETES
NOLOGALLSUPCOLS
UPDATERECORDFORMAT COMPACT
GETUPDATEBEFORES
PRM
SQL OUT
UPDATE: before + after in 1 record
DELETE: only PK
02579
57290
COMPRESSUPDATES
COMPRESSDELETES
NOLOGALLSUPCOLS
GETUPDATEBEFORES
UPDATERECORDFORMAT COMPACT
PRM
SQL OUT
UPDATE: before + after in 1 record
DELETE: only PK
02579
57902
COMPRESSUPDATES
COMPRESSDELETES
GETUPDATEBEFORES
UPDATERECORDFORMAT COMPACT
NOLOGALLSUPCOLS
PRM
SQL OUT
UPDATE: only after
DELETE: only PK
02579
57920
COMPRESSUPDATES
COMPRESSDELETES
GETUPDATEBEFORES
NOLOGALLSUPCOLS
UPDATERECORDFORMAT COMPACT
PRM
SQL OUT
UPDATE: only after
DELETE: only PK
02579
59027
COMPRESSUPDATES
GETUPDATEBEFORES
UPDATERECORDFORMAT COMPACT
NOLOGALLSUPCOLS
COMPRESSDELETES
PRM
SQL OUT
UPDATE: only after
DELETE: only PK
02579
59072
COMPRESSUPDATES
GETUPDATEBEFORES
UPDATERECORDFORMAT COMPACT
COMPRESSDELETES
NOLOGALLSUPCOLS
PRM
SQL OUT
UPDATE: only after
DELETE: only PK
02579
59207
COMPRESSUPDATES
GETUPDATEBEFORES
NOLOGALLSUPCOLS
UPDATERECORDFORMAT COMPACT
COMPRESSDELETES
PRM
SQL OUT
UPDATE: only after
DELETE: only PK
02579
59270
COMPRESSUPDATES
GETUPDATEBEFORES
NOLOGALLSUPCOLS
COMPRESSDELETES
UPDATERECORDFORMAT COMPACT
PRM
SQL OUT
UPDATE: only after
DELETE: only PK
02579
59702
COMPRESSUPDATES
GETUPDATEBEFORES
COMPRESSDELETES
UPDATERECORDFORMAT COMPACT
NOLOGALLSUPCOLS
PRM
SQL OUT
UPDATE: only after
DELETE: only PK
02579
59720
COMPRESSUPDATES
GETUPDATEBEFORES
COMPRESSDELETES
NOLOGALLSUPCOLS
UPDATERECORDFORMAT COMPACT
PRM
SQL OUT
UPDATE: only after
DELETE: only PK
02579
70259
COMPRESSDELETES
UPDATERECORDFORMAT COMPACT
NOLOGALLSUPCOLS
COMPRESSUPDATES
GETUPDATEBEFORES
PRM
SQL OUT
UPDATE: before + after in 1 record
DELETE: only PK
02579
70295
COMPRESSDELETES
UPDATERECORDFORMAT COMPACT
NOLOGALLSUPCOLS
GETUPDATEBEFORES
COMPRESSUPDATES
PRM
SQL OUT
UPDATE: before + after in 1 record
DELETE: only PK
02579
70529
COMPRESSDELETES
UPDATERECORDFORMAT COMPACT
COMPRESSUPDATES
NOLOGALLSUPCOLS
GETUPDATEBEFORES
PRM
SQL OUT
UPDATE: before + after in 1 record
DELETE: only PK
02579
70592
COMPRESSDELETES
UPDATERECORDFORMAT COMPACT
COMPRESSUPDATES
GETUPDATEBEFORES
NOLOGALLSUPCOLS
PRM
SQL OUT
UPDATE: only after
DELETE: only PK
02579
70925
COMPRESSDELETES
UPDATERECORDFORMAT COMPACT
GETUPDATEBEFORES
NOLOGALLSUPCOLS
COMPRESSUPDATES
PRM
SQL OUT
UPDATE: only after
DELETE: only PK
02579
70952
COMPRESSDELETES
UPDATERECORDFORMAT COMPACT
GETUPDATEBEFORES
COMPRESSUPDATES
NOLOGALLSUPCOLS
PRM
SQL OUT
UPDATE: only after
DELETE: only PK
02579
72059
COMPRESSDELETES
NOLOGALLSUPCOLS
UPDATERECORDFORMAT COMPACT
COMPRESSUPDATES
GETUPDATEBEFORES
PRM
SQL OUT
UPDATE: before + after in 1 record
DELETE: only PK
02579
72095
COMPRESSDELETES
NOLOGALLSUPCOLS
UPDATERECORDFORMAT COMPACT
GETUPDATEBEFORES
COMPRESSUPDATES
PRM
SQL OUT
UPDATE: before + after in 1 record
DELETE: only PK
02579
72509
COMPRESSDELETES
NOLOGALLSUPCOLS
COMPRESSUPDATES
UPDATERECORDFORMAT COMPACT
GETUPDATEBEFORES
PRM
SQL OUT
UPDATE: before + after in 1 record
DELETE: only PK
02579
72590
COMPRESSDELETES
NOLOGALLSUPCOLS
COMPRESSUPDATES
GETUPDATEBEFORES
UPDATERECORDFORMAT COMPACT
PRM
SQL OUT
UPDATE: before + after in 1 record
DELETE: only PK
02579
72905
COMPRESSDELETES
NOLOGALLSUPCOLS
GETUPDATEBEFORES
UPDATERECORDFORMAT COMPACT
COMPRESSUPDATES
PRM
SQL OUT
UPDATE: before + after in 1 record
DELETE: only PK
02579
72950
COMPRESSDELETES
NOLOGALLSUPCOLS
GETUPDATEBEFORES
COMPRESSUPDATES
UPDATERECORDFORMAT COMPACT
PRM
SQL OUT
UPDATE: before + after in 1 record
DELETE: only PK
02579
75029
COMPRESSDELETES
COMPRESSUPDATES
UPDATERECORDFORMAT COMPACT
NOLOGALLSUPCOLS
GETUPDATEBEFORES
PRM
SQL OUT
UPDATE: before + after in 1 record
DELETE: only PK
02579
75092
COMPRESSDELETES
COMPRESSUPDATES
UPDATERECORDFORMAT COMPACT
GETUPDATEBEFORES
NOLOGALLSUPCOLS
PRM
SQL OUT
UPDATE: only after
DELETE: only PK
02579
75209
COMPRESSDELETES
COMPRESSUPDATES
NOLOGALLSUPCOLS
UPDATERECORDFORMAT COMPACT
GETUPDATEBEFORES
PRM
SQL OUT
UPDATE: before + after in 1 record
DELETE: only PK
02579
75290
COMPRESSDELETES
COMPRESSUPDATES
NOLOGALLSUPCOLS
GETUPDATEBEFORES
UPDATERECORDFORMAT COMPACT
PRM
SQL OUT
UPDATE: before + after in 1 record
DELETE: only PK
02579
75902
COMPRESSDELETES
COMPRESSUPDATES
GETUPDATEBEFORES
UPDATERECORDFORMAT COMPACT
NOLOGALLSUPCOLS
PRM
SQL OUT
UPDATE: only after
DELETE: only PK
02579
75920
COMPRESSDELETES
COMPRESSUPDATES
GETUPDATEBEFORES
NOLOGALLSUPCOLS
UPDATERECORDFORMAT COMPACT
PRM
SQL OUT
UPDATE: only after
DELETE: only PK
02579
79025
COMPRESSDELETES
GETUPDATEBEFORES
UPDATERECORDFORMAT COMPACT
NOLOGALLSUPCOLS
COMPRESSUPDATES
PRM
SQL OUT
UPDATE: only after
DELETE: only PK
02579
79052
COMPRESSDELETES
GETUPDATEBEFORES
UPDATERECORDFORMAT COMPACT
COMPRESSUPDATES
NOLOGALLSUPCOLS
PRM
SQL OUT
UPDATE: only after
DELETE: only PK
02579
79205
COMPRESSDELETES
GETUPDATEBEFORES
NOLOGALLSUPCOLS
UPDATERECORDFORMAT COMPACT
COMPRESSUPDATES
PRM
SQL OUT
UPDATE: only after
DELETE: only PK
02579
79250
COMPRESSDELETES
GETUPDATEBEFORES
NOLOGALLSUPCOLS
COMPRESSUPDATES
UPDATERECORDFORMAT COMPACT
PRM
SQL OUT
UPDATE: only after
DELETE: only PK
02579
79502
COMPRESSDELETES
GETUPDATEBEFORES
COMPRESSUPDATES
UPDATERECORDFORMAT COMPACT
NOLOGALLSUPCOLS
PRM
SQL OUT
UPDATE: only after
DELETE: only PK
02579
79520
COMPRESSDELETES
GETUPDATEBEFORES
COMPRESSUPDATES
NOLOGALLSUPCOLS
UPDATERECORDFORMAT COMPACT
PRM
SQL OUT
UPDATE: only after
DELETE: only PK
02579
90257
GETUPDATEBEFORES
UPDATERECORDFORMAT COMPACT
NOLOGALLSUPCOLS
COMPRESSUPDATES
COMPRESSDELETES
PRM
SQL OUT
UPDATE: only after
DELETE: only PK
02579
90275
GETUPDATEBEFORES
UPDATERECORDFORMAT COMPACT
NOLOGALLSUPCOLS
COMPRESSDELETES
COMPRESSUPDATES
PRM
SQL OUT
UPDATE: only after
DELETE: only PK
02579
90527
GETUPDATEBEFORES
UPDATERECORDFORMAT COMPACT
COMPRESSUPDATES
NOLOGALLSUPCOLS
COMPRESSDELETES
PRM
SQL OUT
UPDATE: only after
DELETE: only PK
02579
90572
GETUPDATEBEFORES
UPDATERECORDFORMAT COMPACT
COMPRESSUPDATES
COMPRESSDELETES
NOLOGALLSUPCOLS
PRM
SQL OUT
UPDATE: only after
DELETE: only PK
02579
90725
GETUPDATEBEFORES
UPDATERECORDFORMAT COMPACT
COMPRESSDELETES
NOLOGALLSUPCOLS
COMPRESSUPDATES
PRM
SQL OUT
UPDATE: only after
DELETE: only PK
02579
90752
GETUPDATEBEFORES
UPDATERECORDFORMAT COMPACT
COMPRESSDELETES
COMPRESSUPDATES
NOLOGALLSUPCOLS
PRM
SQL OUT
UPDATE: only after
DELETE: only PK
02579
92057
GETUPDATEBEFORES
NOLOGALLSUPCOLS
UPDATERECORDFORMAT COMPACT
COMPRESSUPDATES
COMPRESSDELETES
PRM
SQL OUT
UPDATE: only after
DELETE: only PK
02579
92075
GETUPDATEBEFORES
NOLOGALLSUPCOLS
UPDATERECORDFORMAT COMPACT
COMPRESSDELETES
COMPRESSUPDATES
PRM
SQL OUT
UPDATE: only after
DELETE: only PK
02579
92507
GETUPDATEBEFORES
NOLOGALLSUPCOLS
COMPRESSUPDATES
UPDATERECORDFORMAT COMPACT
COMPRESSDELETES
PRM
SQL OUT
UPDATE: only after
DELETE: only PK
02579
92570
GETUPDATEBEFORES
NOLOGALLSUPCOLS
COMPRESSUPDATES
COMPRESSDELETES
UPDATERECORDFORMAT COMPACT
PRM
SQL OUT
UPDATE: only after
DELETE: only PK
02579
92705
GETUPDATEBEFORES
NOLOGALLSUPCOLS
COMPRESSDELETES
UPDATERECORDFORMAT COMPACT
COMPRESSUPDATES
PRM
SQL OUT
UPDATE: only after
DELETE: only PK
02579
92750
GETUPDATEBEFORES
NOLOGALLSUPCOLS
COMPRESSDELETES
COMPRESSUPDATES
UPDATERECORDFORMAT COMPACT
PRM
SQL OUT
UPDATE: only after
DELETE: only PK
02579
95027
GETUPDATEBEFORES
COMPRESSUPDATES
UPDATERECORDFORMAT COMPACT
NOLOGALLSUPCOLS
COMPRESSDELETES
PRM
SQL OUT
UPDATE: only after
DELETE: only PK
02579
95072
GETUPDATEBEFORES
COMPRESSUPDATES
UPDATERECORDFORMAT COMPACT
COMPRESSDELETES
NOLOGALLSUPCOLS
PRM
SQL OUT
UPDATE: only after
DELETE: only PK
02579
95207
GETUPDATEBEFORES
COMPRESSUPDATES
NOLOGALLSUPCOLS
UPDATERECORDFORMAT COMPACT
COMPRESSDELETES
PRM
SQL OUT
UPDATE: only after
DELETE: only PK
02579
95270
GETUPDATEBEFORES
COMPRESSUPDATES
NOLOGALLSUPCOLS
COMPRESSDELETES
UPDATERECORDFORMAT COMPACT
PRM
SQL OUT
UPDATE: only after
DELETE: only PK
02579
95702
GETUPDATEBEFORES
COMPRESSUPDATES
COMPRESSDELETES
UPDATERECORDFORMAT COMPACT
NOLOGALLSUPCOLS
PRM
SQL OUT
UPDATE: only after
DELETE: only PK
02579
95720
GETUPDATEBEFORES
COMPRESSUPDATES
COMPRESSDELETES
NOLOGALLSUPCOLS
UPDATERECORDFORMAT COMPACT
PRM
SQL OUT
UPDATE: only after
DELETE: only PK
02579
97025
GETUPDATEBEFORES
COMPRESSDELETES
UPDATERECORDFORMAT COMPACT
NOLOGALLSUPCOLS
COMPRESSUPDATES
PRM
SQL OUT
UPDATE: only after
DELETE: only PK
02579
97052
GETUPDATEBEFORES
COMPRESSDELETES
UPDATERECORDFORMAT COMPACT
COMPRESSUPDATES
NOLOGALLSUPCOLS
PRM
SQL OUT
UPDATE: only after
DELETE: only PK
02579
97205
GETUPDATEBEFORES
COMPRESSDELETES
NOLOGALLSUPCOLS
UPDATERECORDFORMAT COMPACT
COMPRESSUPDATES
PRM
SQL OUT
UPDATE: only after
DELETE: only PK
02579
97250
GETUPDATEBEFORES
COMPRESSDELETES
NOLOGALLSUPCOLS
COMPRESSUPDATES
UPDATERECORDFORMAT COMPACT
PRM
SQL OUT
UPDATE: only after
DELETE: only PK
02579
97502
GETUPDATEBEFORES
COMPRESSDELETES
COMPRESSUPDATES
UPDATERECORDFORMAT COMPACT
NOLOGALLSUPCOLS
PRM
SQL OUT
UPDATE: only after
DELETE: only PK
02579
97520
GETUPDATEBEFORES
COMPRESSDELETES
COMPRESSUPDATES
NOLOGALLSUPCOLS
UPDATERECORDFORMAT COMPACT
PRM
SQL OUT
UPDATE: only after
DELETE: only PK
0258
0258
UPDATERECORDFORMAT COMPACT
NOLOGALLSUPCOLS
COMPRESSUPDATES
IGNOREUPDATEBEFORES
PRM
SQL OUT
UPDATE: only after
DELETE: only PK
0258
0285
UPDATERECORDFORMAT COMPACT
NOLOGALLSUPCOLS
IGNOREUPDATEBEFORES
COMPRESSUPDATES
PRM
SQL OUT
UPDATE: only after
DELETE: only PK
0258
0528
UPDATERECORDFORMAT COMPACT
COMPRESSUPDATES
NOLOGALLSUPCOLS
IGNOREUPDATEBEFORES
PRM
SQL OUT
UPDATE: only after
DELETE: only PK
0258
0582
UPDATERECORDFORMAT COMPACT
COMPRESSUPDATES
IGNOREUPDATEBEFORES
NOLOGALLSUPCOLS
PRM
SQL OUT
UPDATE: only after
DELETE: only PK
0258
0825
UPDATERECORDFORMAT COMPACT
IGNOREUPDATEBEFORES
NOLOGALLSUPCOLS
COMPRESSUPDATES
PRM
SQL OUT
UPDATE: only after
DELETE: only PK
0258
0852
UPDATERECORDFORMAT COMPACT
IGNOREUPDATEBEFORES
COMPRESSUPDATES
NOLOGALLSUPCOLS
PRM
SQL OUT
UPDATE: only after
DELETE: only PK
0258
2058
NOLOGALLSUPCOLS
UPDATERECORDFORMAT COMPACT
COMPRESSUPDATES
IGNOREUPDATEBEFORES
PRM
SQL OUT
UPDATE: only after
DELETE: only PK
0258
2085
NOLOGALLSUPCOLS
UPDATERECORDFORMAT COMPACT
IGNOREUPDATEBEFORES
COMPRESSUPDATES
PRM
SQL OUT
UPDATE: only after
DELETE: only PK
0258
2508
NOLOGALLSUPCOLS
COMPRESSUPDATES
UPDATERECORDFORMAT COMPACT
IGNOREUPDATEBEFORES
PRM
SQL OUT
UPDATE: only after
DELETE: only PK
0258
2580
NOLOGALLSUPCOLS
COMPRESSUPDATES
IGNOREUPDATEBEFORES
UPDATERECORDFORMAT COMPACT
PRM
SQL OUT
UPDATE: only after
DELETE: only PK
0258
2805
NOLOGALLSUPCOLS
IGNOREUPDATEBEFORES
UPDATERECORDFORMAT COMPACT
COMPRESSUPDATES
PRM
SQL OUT
UPDATE: only after
DELETE: only PK
0258
2850
NOLOGALLSUPCOLS
IGNOREUPDATEBEFORES
COMPRESSUPDATES
UPDATERECORDFORMAT COMPACT
PRM
SQL OUT
UPDATE: only after
DELETE: only PK
0258
5028
COMPRESSUPDATES
UPDATERECORDFORMAT COMPACT
NOLOGALLSUPCOLS
IGNOREUPDATEBEFORES
PRM
SQL OUT
UPDATE: only after
DELETE: only PK
0258
5082
COMPRESSUPDATES
UPDATERECORDFORMAT COMPACT
IGNOREUPDATEBEFORES
NOLOGALLSUPCOLS
PRM
SQL OUT
UPDATE: only after
DELETE: only PK
0258
5208
COMPRESSUPDATES
NOLOGALLSUPCOLS
UPDATERECORDFORMAT COMPACT
IGNOREUPDATEBEFORES
PRM
SQL OUT
UPDATE: only after
DELETE: only PK
0258
5280
COMPRESSUPDATES
NOLOGALLSUPCOLS
IGNOREUPDATEBEFORES
UPDATERECORDFORMAT COMPACT
PRM
SQL OUT
UPDATE: only after
DELETE: only PK
0258
5802
COMPRESSUPDATES
IGNOREUPDATEBEFORES
UPDATERECORDFORMAT COMPACT
NOLOGALLSUPCOLS
PRM
SQL OUT
UPDATE: only after
DELETE: only PK
0258
5820
COMPRESSUPDATES
IGNOREUPDATEBEFORES
NOLOGALLSUPCOLS
UPDATERECORDFORMAT COMPACT
PRM
SQL OUT
UPDATE: only after
DELETE: only PK
0258
8025
IGNOREUPDATEBEFORES
UPDATERECORDFORMAT COMPACT
NOLOGALLSUPCOLS
COMPRESSUPDATES
PRM
SQL OUT
UPDATE: only after
DELETE: only PK
0258
8052
IGNOREUPDATEBEFORES
UPDATERECORDFORMAT COMPACT
COMPRESSUPDATES
NOLOGALLSUPCOLS
PRM
SQL OUT
UPDATE: only after
DELETE: only PK
0258
8205
IGNOREUPDATEBEFORES
NOLOGALLSUPCOLS
UPDATERECORDFORMAT COMPACT
COMPRESSUPDATES
PRM
SQL OUT
UPDATE: only after
DELETE: only PK
0258
8250
IGNOREUPDATEBEFORES
NOLOGALLSUPCOLS
COMPRESSUPDATES
UPDATERECORDFORMAT COMPACT
PRM
SQL OUT
UPDATE: only after
DELETE: only PK
0258
8502
IGNOREUPDATEBEFORES
COMPRESSUPDATES
UPDATERECORDFORMAT COMPACT
NOLOGALLSUPCOLS
PRM
SQL OUT
UPDATE: only after
DELETE: only PK
0258
8520
IGNOREUPDATEBEFORES
COMPRESSUPDATES
NOLOGALLSUPCOLS
UPDATERECORDFORMAT COMPACT
PRM
SQL OUT
UPDATE: only after
DELETE: only PK
0259
0259
UPDATERECORDFORMAT COMPACT
NOLOGALLSUPCOLS
COMPRESSUPDATES
GETUPDATEBEFORES
PRM
SQL OUT
UPDATE: before + after in 1 record
DELETE: only PK
0259
0295
UPDATERECORDFORMAT COMPACT
NOLOGALLSUPCOLS
GETUPDATEBEFORES
COMPRESSUPDATES
PRM
SQL OUT
UPDATE: before + after in 1 record
DELETE: only PK
0259
0529
UPDATERECORDFORMAT COMPACT
COMPRESSUPDATES
NOLOGALLSUPCOLS
GETUPDATEBEFORES
PRM
SQL OUT
UPDATE: before + after in 1 record
DELETE: only PK
0259
0592
UPDATERECORDFORMAT COMPACT
COMPRESSUPDATES
GETUPDATEBEFORES
NOLOGALLSUPCOLS
PRM
SQL OUT
UPDATE: only after
DELETE: only PK
0259
0925
UPDATERECORDFORMAT COMPACT
GETUPDATEBEFORES
NOLOGALLSUPCOLS
COMPRESSUPDATES
PRM
SQL OUT
UPDATE: only after
DELETE: only PK
0259
0952
UPDATERECORDFORMAT COMPACT
GETUPDATEBEFORES
COMPRESSUPDATES
NOLOGALLSUPCOLS
PRM
SQL OUT
UPDATE: only after
DELETE: only PK
0259
2059
NOLOGALLSUPCOLS
UPDATERECORDFORMAT COMPACT
COMPRESSUPDATES
GETUPDATEBEFORES
PRM
SQL OUT
UPDATE: before + after in 1 record
DELETE: only PK
0259
2095
NOLOGALLSUPCOLS
UPDATERECORDFORMAT COMPACT
GETUPDATEBEFORES
COMPRESSUPDATES
PRM
SQL OUT
UPDATE: before + after in 1 record
DELETE: only PK
0259
2509
NOLOGALLSUPCOLS
COMPRESSUPDATES
UPDATERECORDFORMAT COMPACT
GETUPDATEBEFORES
PRM
SQL OUT
UPDATE: before + after in 1 record
DELETE: only PK
0259
2590
NOLOGALLSUPCOLS
COMPRESSUPDATES
GETUPDATEBEFORES
UPDATERECORDFORMAT COMPACT
PRM
SQL OUT
UPDATE: before + after in 1 record
DELETE: only PK
0259
2905
NOLOGALLSUPCOLS
GETUPDATEBEFORES
UPDATERECORDFORMAT COMPACT
COMPRESSUPDATES
PRM
SQL OUT
UPDATE: before + after in 1 record
DELETE: only PK
0259
2950
NOLOGALLSUPCOLS
GETUPDATEBEFORES
COMPRESSUPDATES
UPDATERECORDFORMAT COMPACT
PRM
SQL OUT
UPDATE: before + after in 1 record
DELETE: only PK
0259
5029
COMPRESSUPDATES
UPDATERECORDFORMAT COMPACT
NOLOGALLSUPCOLS
GETUPDATEBEFORES
PRM
SQL OUT
UPDATE: before + after in 1 record
DELETE: only PK
0259
5092
COMPRESSUPDATES
UPDATERECORDFORMAT COMPACT
GETUPDATEBEFORES
NOLOGALLSUPCOLS
PRM
SQL OUT
UPDATE: only after
DELETE: only PK
0259
5209
COMPRESSUPDATES
NOLOGALLSUPCOLS
UPDATERECORDFORMAT COMPACT
GETUPDATEBEFORES
PRM
SQL OUT
UPDATE: before + after in 1 record
DELETE: only PK
0259
5290
COMPRESSUPDATES
NOLOGALLSUPCOLS
GETUPDATEBEFORES
UPDATERECORDFORMAT COMPACT
PRM
SQL OUT
UPDATE: before + after in 1 record
DELETE: only PK
0259
5902
COMPRESSUPDATES
GETUPDATEBEFORES
UPDATERECORDFORMAT COMPACT
NOLOGALLSUPCOLS
PRM
SQL OUT
UPDATE: only after
DELETE: only PK
0259
5920
COMPRESSUPDATES
GETUPDATEBEFORES
NOLOGALLSUPCOLS
UPDATERECORDFORMAT COMPACT
PRM
SQL OUT
UPDATE: only after
DELETE: only PK
0259
9025
GETUPDATEBEFORES
UPDATERECORDFORMAT COMPACT
NOLOGALLSUPCOLS
COMPRESSUPDATES
PRM
SQL OUT
UPDATE: only after
DELETE: only PK
0259
9052
GETUPDATEBEFORES
UPDATERECORDFORMAT COMPACT
COMPRESSUPDATES
NOLOGALLSUPCOLS
PRM
SQL OUT
UPDATE: only after
DELETE: only PK
0259
9205
GETUPDATEBEFORES
NOLOGALLSUPCOLS
UPDATERECORDFORMAT COMPACT
COMPRESSUPDATES
PRM
SQL OUT
UPDATE: only after
DELETE: only PK
0259
9250
GETUPDATEBEFORES
NOLOGALLSUPCOLS
COMPRESSUPDATES
UPDATERECORDFORMAT COMPACT
PRM
SQL OUT
UPDATE: only after
DELETE: only PK
0259
9502
GETUPDATEBEFORES
COMPRESSUPDATES
UPDATERECORDFORMAT COMPACT
NOLOGALLSUPCOLS
PRM
SQL OUT
UPDATE: only after
DELETE: only PK
0259
9520
GETUPDATEBEFORES
COMPRESSUPDATES
NOLOGALLSUPCOLS
UPDATERECORDFORMAT COMPACT
PRM
SQL OUT
UPDATE: only after
DELETE: only PK
026
026
UPDATERECORDFORMAT COMPACT
NOLOGALLSUPCOLS
NOCOMPRESSDELETES
PRM
SQL OUT
UPDATE: only after
DELETE: full
026
062
UPDATERECORDFORMAT COMPACT
NOCOMPRESSDELETES
NOLOGALLSUPCOLS
PRM
SQL OUT
UPDATE: only after
DELETE: only PK
026
206
NOLOGALLSUPCOLS
UPDATERECORDFORMAT COMPACT
NOCOMPRESSDELETES
PRM
SQL OUT
UPDATE: only after
DELETE: full
026
260
NOLOGALLSUPCOLS
NOCOMPRESSDELETES
UPDATERECORDFORMAT COMPACT
PRM
SQL OUT
UPDATE: only after
DELETE: full
026
602
NOCOMPRESSDELETES
UPDATERECORDFORMAT COMPACT
NOLOGALLSUPCOLS
PRM
SQL OUT
UPDATE: only after
DELETE: only PK
026
620
NOCOMPRESSDELETES
NOLOGALLSUPCOLS
UPDATERECORDFORMAT COMPACT
PRM
SQL OUT
UPDATE: only after
DELETE: only PK
0268
0268
UPDATERECORDFORMAT COMPACT
NOLOGALLSUPCOLS
NOCOMPRESSDELETES
IGNOREUPDATEBEFORES
PRM
SQL OUT
UPDATE: only after
DELETE: full
0268
0286
UPDATERECORDFORMAT COMPACT
NOLOGALLSUPCOLS
IGNOREUPDATEBEFORES
NOCOMPRESSDELETES
PRM
SQL OUT
UPDATE: only after
DELETE: full
0268
0628
UPDATERECORDFORMAT COMPACT
NOCOMPRESSDELETES
NOLOGALLSUPCOLS
IGNOREUPDATEBEFORES
PRM
SQL OUT
UPDATE: only after
DELETE: only PK
0268
0682
UPDATERECORDFORMAT COMPACT
NOCOMPRESSDELETES
IGNOREUPDATEBEFORES
NOLOGALLSUPCOLS
PRM
SQL OUT
UPDATE: only after
DELETE: only PK
0268
0826
UPDATERECORDFORMAT COMPACT
IGNOREUPDATEBEFORES
NOLOGALLSUPCOLS
NOCOMPRESSDELETES
PRM
SQL OUT
UPDATE: only after
DELETE: full
0268
0862
UPDATERECORDFORMAT COMPACT
IGNOREUPDATEBEFORES
NOCOMPRESSDELETES
NOLOGALLSUPCOLS
PRM
SQL OUT
UPDATE: only after
DELETE: only PK
0268
2068
NOLOGALLSUPCOLS
UPDATERECORDFORMAT COMPACT
NOCOMPRESSDELETES
IGNOREUPDATEBEFORES
PRM
SQL OUT
UPDATE: only after
DELETE: full
0268
2086
NOLOGALLSUPCOLS
UPDATERECORDFORMAT COMPACT
IGNOREUPDATEBEFORES
NOCOMPRESSDELETES
PRM
SQL OUT
UPDATE: only after
DELETE: full
0268
2608
NOLOGALLSUPCOLS
NOCOMPRESSDELETES
UPDATERECORDFORMAT COMPACT
IGNOREUPDATEBEFORES
PRM
SQL OUT
UPDATE: only after
DELETE: full
0268
2680
NOLOGALLSUPCOLS
NOCOMPRESSDELETES
IGNOREUPDATEBEFORES
UPDATERECORDFORMAT COMPACT
PRM
SQL OUT
UPDATE: only after
DELETE: full
0268
2806
NOLOGALLSUPCOLS
IGNOREUPDATEBEFORES
UPDATERECORDFORMAT COMPACT
NOCOMPRESSDELETES
PRM
SQL OUT
UPDATE: only after
DELETE: full
0268
2860
NOLOGALLSUPCOLS
IGNOREUPDATEBEFORES
NOCOMPRESSDELETES
UPDATERECORDFORMAT COMPACT
PRM
SQL OUT
UPDATE: only after
DELETE: full
0268
6028
NOCOMPRESSDELETES
UPDATERECORDFORMAT COMPACT
NOLOGALLSUPCOLS
IGNOREUPDATEBEFORES
PRM
SQL OUT
UPDATE: only after
DELETE: only PK
0268
6082
NOCOMPRESSDELETES
UPDATERECORDFORMAT COMPACT
IGNOREUPDATEBEFORES
NOLOGALLSUPCOLS
PRM
SQL OUT
UPDATE: only after
DELETE: only PK
0268
6208
NOCOMPRESSDELETES
NOLOGALLSUPCOLS
UPDATERECORDFORMAT COMPACT
IGNOREUPDATEBEFORES
PRM
SQL OUT
UPDATE: only after
DELETE: only PK
0268
6280
NOCOMPRESSDELETES
NOLOGALLSUPCOLS
IGNOREUPDATEBEFORES
UPDATERECORDFORMAT COMPACT
PRM
SQL OUT
UPDATE: only after
DELETE: only PK
0268
6802
NOCOMPRESSDELETES
IGNOREUPDATEBEFORES
UPDATERECORDFORMAT COMPACT
NOLOGALLSUPCOLS
PRM
SQL OUT
UPDATE: only after
DELETE: only PK
0268
6820
NOCOMPRESSDELETES
IGNOREUPDATEBEFORES
NOLOGALLSUPCOLS
UPDATERECORDFORMAT COMPACT
PRM
SQL OUT
UPDATE: only after
DELETE: only PK
0268
8026
IGNOREUPDATEBEFORES
UPDATERECORDFORMAT COMPACT
NOLOGALLSUPCOLS
NOCOMPRESSDELETES
PRM
SQL OUT
UPDATE: only after
DELETE: full
0268
8062
IGNOREUPDATEBEFORES
UPDATERECORDFORMAT COMPACT
NOCOMPRESSDELETES
NOLOGALLSUPCOLS
PRM
SQL OUT
UPDATE: only after
DELETE: only PK
0268
8206
IGNOREUPDATEBEFORES
NOLOGALLSUPCOLS
UPDATERECORDFORMAT COMPACT
NOCOMPRESSDELETES
PRM
SQL OUT
UPDATE: only after
DELETE: full
0268
8260
IGNOREUPDATEBEFORES
NOLOGALLSUPCOLS
NOCOMPRESSDELETES
UPDATERECORDFORMAT COMPACT
PRM
SQL OUT
UPDATE: only after
DELETE: full
0268
8602
IGNOREUPDATEBEFORES
NOCOMPRESSDELETES
UPDATERECORDFORMAT COMPACT
NOLOGALLSUPCOLS
PRM
SQL OUT
UPDATE: only after
DELETE: only PK
0268
8620
IGNOREUPDATEBEFORES
NOCOMPRESSDELETES
NOLOGALLSUPCOLS
UPDATERECORDFORMAT COMPACT
PRM
SQL OUT
UPDATE: only after
DELETE: only PK
0269
0269
UPDATERECORDFORMAT COMPACT
NOLOGALLSUPCOLS
NOCOMPRESSDELETES
GETUPDATEBEFORES
PRM
SQL OUT
UPDATE: before + after in 1 record
DELETE: full
0269
0296
UPDATERECORDFORMAT COMPACT
NOLOGALLSUPCOLS
GETUPDATEBEFORES
NOCOMPRESSDELETES
PRM
SQL OUT
UPDATE: before + after in 1 record
DELETE: full
0269
0629
UPDATERECORDFORMAT COMPACT
NOCOMPRESSDELETES
NOLOGALLSUPCOLS
GETUPDATEBEFORES
PRM
SQL OUT
UPDATE: before + after in 1 record
DELETE: only PK
0269
0692
UPDATERECORDFORMAT COMPACT
NOCOMPRESSDELETES
GETUPDATEBEFORES
NOLOGALLSUPCOLS
PRM
SQL OUT
UPDATE: only after
DELETE: only PK
0269
0926
UPDATERECORDFORMAT COMPACT
GETUPDATEBEFORES
NOLOGALLSUPCOLS
NOCOMPRESSDELETES
PRM
SQL OUT
UPDATE: only after
DELETE: full
0269
0962
UPDATERECORDFORMAT COMPACT
GETUPDATEBEFORES
NOCOMPRESSDELETES
NOLOGALLSUPCOLS
PRM
SQL OUT
UPDATE: only after
DELETE: only PK
0269
2069
NOLOGALLSUPCOLS
UPDATERECORDFORMAT COMPACT
NOCOMPRESSDELETES
GETUPDATEBEFORES
PRM
SQL OUT
UPDATE: before + after in 1 record
DELETE: full
0269
2096
NOLOGALLSUPCOLS
UPDATERECORDFORMAT COMPACT
GETUPDATEBEFORES
NOCOMPRESSDELETES
PRM
SQL OUT
UPDATE: before + after in 1 record
DELETE: full
0269
2609
NOLOGALLSUPCOLS
NOCOMPRESSDELETES
UPDATERECORDFORMAT COMPACT
GETUPDATEBEFORES
PRM
SQL OUT
UPDATE: before + after in 1 record
DELETE: full
0269
2690
NOLOGALLSUPCOLS
NOCOMPRESSDELETES
GETUPDATEBEFORES
UPDATERECORDFORMAT COMPACT
PRM
SQL OUT
UPDATE: before + after in 1 record
DELETE: full
0269
2906
NOLOGALLSUPCOLS
GETUPDATEBEFORES
UPDATERECORDFORMAT COMPACT
NOCOMPRESSDELETES
PRM
SQL OUT
UPDATE: before + after in 1 record
DELETE: full
0269
2960
NOLOGALLSUPCOLS
GETUPDATEBEFORES
NOCOMPRESSDELETES
UPDATERECORDFORMAT COMPACT
PRM
SQL OUT
UPDATE: before + after in 1 record
DELETE: full
0269
6029
NOCOMPRESSDELETES
UPDATERECORDFORMAT COMPACT
NOLOGALLSUPCOLS
GETUPDATEBEFORES
PRM
SQL OUT
UPDATE: before + after in 1 record
DELETE: only PK
0269
6092
NOCOMPRESSDELETES
UPDATERECORDFORMAT COMPACT
GETUPDATEBEFORES
NOLOGALLSUPCOLS
PRM
SQL OUT
UPDATE: only after
DELETE: only PK
0269
6209
NOCOMPRESSDELETES
NOLOGALLSUPCOLS
UPDATERECORDFORMAT COMPACT
GETUPDATEBEFORES
PRM
SQL OUT
UPDATE: before + after in 1 record
DELETE: only PK
0269
6290
NOCOMPRESSDELETES
NOLOGALLSUPCOLS
GETUPDATEBEFORES
UPDATERECORDFORMAT COMPACT
PRM
SQL OUT
UPDATE: before + after in 1 record
DELETE: only PK
0269
6902
NOCOMPRESSDELETES
GETUPDATEBEFORES
UPDATERECORDFORMAT COMPACT
NOLOGALLSUPCOLS
PRM
SQL OUT
UPDATE: only after
DELETE: only PK
0269
6920
NOCOMPRESSDELETES
GETUPDATEBEFORES
NOLOGALLSUPCOLS
UPDATERECORDFORMAT COMPACT
PRM
SQL OUT
UPDATE: only after
DELETE: only PK
0269
9026
GETUPDATEBEFORES
UPDATERECORDFORMAT COMPACT
NOLOGALLSUPCOLS
NOCOMPRESSDELETES
PRM
SQL OUT
UPDATE: only after
DELETE: full
0269
9062
GETUPDATEBEFORES
UPDATERECORDFORMAT COMPACT
NOCOMPRESSDELETES
NOLOGALLSUPCOLS
PRM
SQL OUT
UPDATE: only after
DELETE: only PK
0269
9206
GETUPDATEBEFORES
NOLOGALLSUPCOLS
UPDATERECORDFORMAT COMPACT
NOCOMPRESSDELETES
PRM
SQL OUT
UPDATE: only after
DELETE: full
0269
9260
GETUPDATEBEFORES
NOLOGALLSUPCOLS
NOCOMPRESSDELETES
UPDATERECORDFORMAT COMPACT
PRM
SQL OUT
UPDATE: only after
DELETE: full
0269
9602
GETUPDATEBEFORES
NOCOMPRESSDELETES
UPDATERECORDFORMAT COMPACT
NOLOGALLSUPCOLS
PRM
SQL OUT
UPDATE: only after
DELETE: only PK
0269
9620
GETUPDATEBEFORES
NOCOMPRESSDELETES
NOLOGALLSUPCOLS
UPDATERECORDFORMAT COMPACT
PRM
SQL OUT
UPDATE: only after
DELETE: only PK
027
027
UPDATERECORDFORMAT COMPACT
NOLOGALLSUPCOLS
COMPRESSDELETES
PRM
SQL OUT
UPDATE: only after
DELETE: only PK
027
072
UPDATERECORDFORMAT COMPACT
COMPRESSDELETES
NOLOGALLSUPCOLS
PRM
SQL OUT
UPDATE: only after
DELETE: only PK
027
207
NOLOGALLSUPCOLS
UPDATERECORDFORMAT COMPACT
COMPRESSDELETES
PRM
SQL OUT
UPDATE: only after
DELETE: only PK
027
270
NOLOGALLSUPCOLS
COMPRESSDELETES
UPDATERECORDFORMAT COMPACT
PRM
SQL OUT
UPDATE: only after
DELETE: only PK
027
702
COMPRESSDELETES
UPDATERECORDFORMAT COMPACT
NOLOGALLSUPCOLS
PRM
SQL OUT
UPDATE: only after
DELETE: only PK
027
720
COMPRESSDELETES
NOLOGALLSUPCOLS
UPDATERECORDFORMAT COMPACT
PRM
SQL OUT
UPDATE: only after
DELETE: only PK
0278
0278
UPDATERECORDFORMAT COMPACT
NOLOGALLSUPCOLS
COMPRESSDELETES
IGNOREUPDATEBEFORES
PRM
SQL OUT
UPDATE: only after
DELETE: only PK
0278
0287
UPDATERECORDFORMAT COMPACT
NOLOGALLSUPCOLS
IGNOREUPDATEBEFORES
COMPRESSDELETES
PRM
SQL OUT
UPDATE: only after
DELETE: only PK
0278
0728
UPDATERECORDFORMAT COMPACT
COMPRESSDELETES
NOLOGALLSUPCOLS
IGNOREUPDATEBEFORES
PRM
SQL OUT
UPDATE: only after
DELETE: only PK
0278
0782
UPDATERECORDFORMAT COMPACT
COMPRESSDELETES
IGNOREUPDATEBEFORES
NOLOGALLSUPCOLS
PRM
SQL OUT
UPDATE: only after
DELETE: only PK
0278
0827
UPDATERECORDFORMAT COMPACT
IGNOREUPDATEBEFORES
NOLOGALLSUPCOLS
COMPRESSDELETES
PRM
SQL OUT
UPDATE: only after
DELETE: only PK
0278
0872
UPDATERECORDFORMAT COMPACT
IGNOREUPDATEBEFORES
COMPRESSDELETES
NOLOGALLSUPCOLS
PRM
SQL OUT
UPDATE: only after
DELETE: only PK
0278
2078
NOLOGALLSUPCOLS
UPDATERECORDFORMAT COMPACT
COMPRESSDELETES
IGNOREUPDATEBEFORES
PRM
SQL OUT
UPDATE: only after
DELETE: only PK
0278
2087
NOLOGALLSUPCOLS
UPDATERECORDFORMAT COMPACT
IGNOREUPDATEBEFORES
COMPRESSDELETES
PRM
SQL OUT
UPDATE: only after
DELETE: only PK
0278
2708
NOLOGALLSUPCOLS
COMPRESSDELETES
UPDATERECORDFORMAT COMPACT
IGNOREUPDATEBEFORES
PRM
SQL OUT
UPDATE: only after
DELETE: only PK
0278
2780
NOLOGALLSUPCOLS
COMPRESSDELETES
IGNOREUPDATEBEFORES
UPDATERECORDFORMAT COMPACT
PRM
SQL OUT
UPDATE: only after
DELETE: only PK
0278
2807
NOLOGALLSUPCOLS
IGNOREUPDATEBEFORES
UPDATERECORDFORMAT COMPACT
COMPRESSDELETES
PRM
SQL OUT
UPDATE: only after
DELETE: only PK
0278
2870
NOLOGALLSUPCOLS
IGNOREUPDATEBEFORES
COMPRESSDELETES
UPDATERECORDFORMAT COMPACT
PRM
SQL OUT
UPDATE: only after
DELETE: only PK
0278
7028
COMPRESSDELETES
UPDATERECORDFORMAT COMPACT
NOLOGALLSUPCOLS
IGNOREUPDATEBEFORES
PRM
SQL OUT
UPDATE: only after
DELETE: only PK
0278
7082
COMPRESSDELETES
UPDATERECORDFORMAT COMPACT
IGNOREUPDATEBEFORES
NOLOGALLSUPCOLS
PRM
SQL OUT
UPDATE: only after
DELETE: only PK
0278
7208
COMPRESSDELETES
NOLOGALLSUPCOLS
UPDATERECORDFORMAT COMPACT
IGNOREUPDATEBEFORES
PRM
SQL OUT
UPDATE: only after
DELETE: only PK
0278
7280
COMPRESSDELETES
NOLOGALLSUPCOLS
IGNOREUPDATEBEFORES
UPDATERECORDFORMAT COMPACT
PRM
SQL OUT
UPDATE: only after
DELETE: only PK
0278
7802
COMPRESSDELETES
IGNOREUPDATEBEFORES
UPDATERECORDFORMAT COMPACT
NOLOGALLSUPCOLS
PRM
SQL OUT
UPDATE: only after
DELETE: only PK
0278
7820
COMPRESSDELETES
IGNOREUPDATEBEFORES
NOLOGALLSUPCOLS
UPDATERECORDFORMAT COMPACT
PRM
SQL OUT
UPDATE: only after
DELETE: only PK
0278
8027
IGNOREUPDATEBEFORES
UPDATERECORDFORMAT COMPACT
NOLOGALLSUPCOLS
COMPRESSDELETES
PRM
SQL OUT
UPDATE: only after
DELETE: only PK
0278
8072
IGNOREUPDATEBEFORES
UPDATERECORDFORMAT COMPACT
COMPRESSDELETES
NOLOGALLSUPCOLS
PRM
SQL OUT
UPDATE: only after
DELETE: only PK
0278
8207
IGNOREUPDATEBEFORES
NOLOGALLSUPCOLS
UPDATERECORDFORMAT COMPACT
COMPRESSDELETES
PRM
SQL OUT
UPDATE: only after
DELETE: only PK
0278
8270
IGNOREUPDATEBEFORES
NOLOGALLSUPCOLS
COMPRESSDELETES
UPDATERECORDFORMAT COMPACT
PRM
SQL OUT
UPDATE: only after
DELETE: only PK
0278
8702
IGNOREUPDATEBEFORES
COMPRESSDELETES
UPDATERECORDFORMAT COMPACT
NOLOGALLSUPCOLS
PRM
SQL OUT
UPDATE: only after
DELETE: only PK
0278
8720
IGNOREUPDATEBEFORES
COMPRESSDELETES
NOLOGALLSUPCOLS
UPDATERECORDFORMAT COMPACT
PRM
SQL OUT
UPDATE: only after
DELETE: only PK
0279
0279
UPDATERECORDFORMAT COMPACT
NOLOGALLSUPCOLS
COMPRESSDELETES
GETUPDATEBEFORES
PRM
SQL OUT
UPDATE: before + after in 1 record
DELETE: only PK
0279
0297
UPDATERECORDFORMAT COMPACT
NOLOGALLSUPCOLS
GETUPDATEBEFORES
COMPRESSDELETES
PRM
SQL OUT
UPDATE: before + after in 1 record
DELETE: only PK
0279
0729
UPDATERECORDFORMAT COMPACT
COMPRESSDELETES
NOLOGALLSUPCOLS
GETUPDATEBEFORES
PRM
SQL OUT
UPDATE: before + after in 1 record
DELETE: only PK
0279
0792
UPDATERECORDFORMAT COMPACT
COMPRESSDELETES
GETUPDATEBEFORES
NOLOGALLSUPCOLS
PRM
SQL OUT
UPDATE: only after
DELETE: only PK
0279
0927
UPDATERECORDFORMAT COMPACT
GETUPDATEBEFORES
NOLOGALLSUPCOLS
COMPRESSDELETES
PRM
SQL OUT
UPDATE: only after
DELETE: only PK
0279
0972
UPDATERECORDFORMAT COMPACT
GETUPDATEBEFORES
COMPRESSDELETES
NOLOGALLSUPCOLS
PRM
SQL OUT
UPDATE: only after
DELETE: only PK
0279
2079
NOLOGALLSUPCOLS
UPDATERECORDFORMAT COMPACT
COMPRESSDELETES
GETUPDATEBEFORES
PRM
SQL OUT
UPDATE: before + after in 1 record
DELETE: only PK
0279
2097
NOLOGALLSUPCOLS
UPDATERECORDFORMAT COMPACT
GETUPDATEBEFORES
COMPRESSDELETES
PRM
SQL OUT
UPDATE: before + after in 1 record
DELETE: only PK
0279
2709
NOLOGALLSUPCOLS
COMPRESSDELETES
UPDATERECORDFORMAT COMPACT
GETUPDATEBEFORES
PRM
SQL OUT
UPDATE: before + after in 1 record
DELETE: only PK
0279
2790
NOLOGALLSUPCOLS
COMPRESSDELETES
GETUPDATEBEFORES
UPDATERECORDFORMAT COMPACT
PRM
SQL OUT
UPDATE: before + after in 1 record
DELETE: only PK
0279
2907
NOLOGALLSUPCOLS
GETUPDATEBEFORES
UPDATERECORDFORMAT COMPACT
COMPRESSDELETES
PRM
SQL OUT
UPDATE: before + after in 1 record
DELETE: only PK
0279
2970
NOLOGALLSUPCOLS
GETUPDATEBEFORES
COMPRESSDELETES
UPDATERECORDFORMAT COMPACT
PRM
SQL OUT
UPDATE: before + after in 1 record
DELETE: only PK
0279
7029
COMPRESSDELETES
UPDATERECORDFORMAT COMPACT
NOLOGALLSUPCOLS
GETUPDATEBEFORES
PRM
SQL OUT
UPDATE: before + after in 1 record
DELETE: only PK
0279
7092
COMPRESSDELETES
UPDATERECORDFORMAT COMPACT
GETUPDATEBEFORES
NOLOGALLSUPCOLS
PRM
SQL OUT
UPDATE: only after
DELETE: only PK
0279
7209
COMPRESSDELETES
NOLOGALLSUPCOLS
UPDATERECORDFORMAT COMPACT
GETUPDATEBEFORES
PRM
SQL OUT
UPDATE: before + after in 1 record
DELETE: only PK
0279
7290
COMPRESSDELETES
NOLOGALLSUPCOLS
GETUPDATEBEFORES
UPDATERECORDFORMAT COMPACT
PRM
SQL OUT
UPDATE: before + after in 1 record
DELETE: only PK
0279
7902
COMPRESSDELETES
GETUPDATEBEFORES
UPDATERECORDFORMAT COMPACT
NOLOGALLSUPCOLS
PRM
SQL OUT
UPDATE: only after
DELETE: only PK
0279
7920
COMPRESSDELETES
GETUPDATEBEFORES
NOLOGALLSUPCOLS
UPDATERECORDFORMAT COMPACT
PRM
SQL OUT
UPDATE: only after
DELETE: only PK
0279
9027
GETUPDATEBEFORES
UPDATERECORDFORMAT COMPACT
NOLOGALLSUPCOLS
COMPRESSDELETES
PRM
SQL OUT
UPDATE: only after
DELETE: only PK
0279
9072
GETUPDATEBEFORES
UPDATERECORDFORMAT COMPACT
COMPRESSDELETES
NOLOGALLSUPCOLS
PRM
SQL OUT
UPDATE: only after
DELETE: only PK
0279
9207
GETUPDATEBEFORES
NOLOGALLSUPCOLS
UPDATERECORDFORMAT COMPACT
COMPRESSDELETES
PRM
SQL OUT
UPDATE: only after
DELETE: only PK
0279
9270
GETUPDATEBEFORES
NOLOGALLSUPCOLS
COMPRESSDELETES
UPDATERECORDFORMAT COMPACT
PRM
SQL OUT
UPDATE: only after
DELETE: only PK
0279
9702
GETUPDATEBEFORES
COMPRESSDELETES
UPDATERECORDFORMAT COMPACT
NOLOGALLSUPCOLS
PRM
SQL OUT
UPDATE: only after
DELETE: only PK
0279
9720
GETUPDATEBEFORES
COMPRESSDELETES
NOLOGALLSUPCOLS
UPDATERECORDFORMAT COMPACT
PRM
SQL OUT
UPDATE: only after
DELETE: only PK
028
028
UPDATERECORDFORMAT COMPACT
NOLOGALLSUPCOLS
IGNOREUPDATEBEFORES
PRM
SQL OUT
UPDATE: only after
DELETE: only PK
028
082
UPDATERECORDFORMAT COMPACT
IGNOREUPDATEBEFORES
NOLOGALLSUPCOLS
PRM
SQL OUT
UPDATE: only after
DELETE: only PK
028
208
NOLOGALLSUPCOLS
UPDATERECORDFORMAT COMPACT
IGNOREUPDATEBEFORES
PRM
SQL OUT
UPDATE: only after
DELETE: only PK
028
280
NOLOGALLSUPCOLS
IGNOREUPDATEBEFORES
UPDATERECORDFORMAT COMPACT
PRM
SQL OUT
UPDATE: only after
DELETE: only PK
028
802
IGNOREUPDATEBEFORES
UPDATERECORDFORMAT COMPACT
NOLOGALLSUPCOLS
PRM
SQL OUT
UPDATE: only after
DELETE: only PK
028
820
IGNOREUPDATEBEFORES
NOLOGALLSUPCOLS
UPDATERECORDFORMAT COMPACT
PRM
SQL OUT
UPDATE: only after
DELETE: only PK
029
029
UPDATERECORDFORMAT COMPACT
NOLOGALLSUPCOLS
GETUPDATEBEFORES
PRM
SQL OUT
UPDATE: before + after in 1 record
DELETE: only PK
029
092
UPDATERECORDFORMAT COMPACT
GETUPDATEBEFORES
NOLOGALLSUPCOLS
PRM
SQL OUT
UPDATE: only after
DELETE: only PK
029
209
NOLOGALLSUPCOLS
UPDATERECORDFORMAT COMPACT
GETUPDATEBEFORES
PRM
SQL OUT
UPDATE: before + after in 1 record
DELETE: only PK
029
290
NOLOGALLSUPCOLS
GETUPDATEBEFORES
UPDATERECORDFORMAT COMPACT
PRM
SQL OUT
UPDATE: before + after in 1 record
DELETE: only PK
029
902
GETUPDATEBEFORES
UPDATERECORDFORMAT COMPACT
NOLOGALLSUPCOLS
PRM
SQL OUT
UPDATE: only after
DELETE: only PK
029
920
GETUPDATEBEFORES
NOLOGALLSUPCOLS
UPDATERECORDFORMAT COMPACT
PRM
SQL OUT
UPDATE: only after
DELETE: only PK
03
03
UPDATERECORDFORMAT COMPACT
LOGALLSUPCOLS
PRM
SQL OUT
UPDATE: before + after in 1 record
DELETE: full
03
30
LOGALLSUPCOLS
UPDATERECORDFORMAT COMPACT
PRM
SQL OUT
UPDATE: before + after in 1 record
DELETE: full
034
034
UPDATERECORDFORMAT COMPACT
LOGALLSUPCOLS
NOCOMPRESSUPDATES
PRM
SQL OUT
UPDATE: before + after in 1 record
DELETE: full
034
043
UPDATERECORDFORMAT COMPACT
NOCOMPRESSUPDATES
LOGALLSUPCOLS
PRM
SQL OUT
UPDATE: before + after in 1 record
DELETE: full
034
304
LOGALLSUPCOLS
UPDATERECORDFORMAT COMPACT
NOCOMPRESSUPDATES
PRM
SQL OUT
UPDATE: before + after in 1 record
DELETE: full
034
340
LOGALLSUPCOLS
NOCOMPRESSUPDATES
UPDATERECORDFORMAT COMPACT
PRM
SQL OUT
UPDATE: before + after in 1 record
DELETE: full
034
403
NOCOMPRESSUPDATES
UPDATERECORDFORMAT COMPACT
LOGALLSUPCOLS
PRM
SQL OUT
UPDATE: before + after in 1 record
DELETE: full
034
430
NOCOMPRESSUPDATES
LOGALLSUPCOLS
UPDATERECORDFORMAT COMPACT
PRM
SQL OUT
UPDATE: before + after in 1 record
DELETE: full
0346
0346
UPDATERECORDFORMAT COMPACT
LOGALLSUPCOLS
NOCOMPRESSUPDATES
NOCOMPRESSDELETES
PRM
SQL OUT
UPDATE: before + after in 1 record
DELETE: full
0346
0364
UPDATERECORDFORMAT COMPACT
LOGALLSUPCOLS
NOCOMPRESSDELETES
NOCOMPRESSUPDATES
PRM
SQL OUT
UPDATE: before + after in 1 record
DELETE: full
0346
0436
UPDATERECORDFORMAT COMPACT
NOCOMPRESSUPDATES
LOGALLSUPCOLS
NOCOMPRESSDELETES
PRM
SQL OUT
UPDATE: before + after in 1 record
DELETE: full
0346
0463
UPDATERECORDFORMAT COMPACT
NOCOMPRESSUPDATES
NOCOMPRESSDELETES
LOGALLSUPCOLS
PRM
SQL OUT
UPDATE: before + after in 1 record
DELETE: full
0346
0634
UPDATERECORDFORMAT COMPACT
NOCOMPRESSDELETES
LOGALLSUPCOLS
NOCOMPRESSUPDATES
PRM
SQL OUT
UPDATE: before + after in 1 record
DELETE: full
0346
0643
UPDATERECORDFORMAT COMPACT
NOCOMPRESSDELETES
NOCOMPRESSUPDATES
LOGALLSUPCOLS
PRM
SQL OUT
UPDATE: before + after in 1 record
DELETE: full
0346
3046
LOGALLSUPCOLS
UPDATERECORDFORMAT COMPACT
NOCOMPRESSUPDATES
NOCOMPRESSDELETES
PRM
SQL OUT
UPDATE: before + after in 1 record
DELETE: full
0346
3064
LOGALLSUPCOLS
UPDATERECORDFORMAT COMPACT
NOCOMPRESSDELETES
NOCOMPRESSUPDATES
PRM
SQL OUT
UPDATE: before + after in 1 record
DELETE: full
0346
3406
LOGALLSUPCOLS
NOCOMPRESSUPDATES
UPDATERECORDFORMAT COMPACT
NOCOMPRESSDELETES
PRM
SQL OUT
UPDATE: before + after in 1 record
DELETE: full
0346
3460
LOGALLSUPCOLS
NOCOMPRESSUPDATES
NOCOMPRESSDELETES
UPDATERECORDFORMAT COMPACT
PRM
SQL OUT
UPDATE: before + after in 1 record
DELETE: full
0346
3604
LOGALLSUPCOLS
NOCOMPRESSDELETES
UPDATERECORDFORMAT COMPACT
NOCOMPRESSUPDATES
PRM
SQL OUT
UPDATE: before + after in 1 record
DELETE: full
0346
3640
LOGALLSUPCOLS
NOCOMPRESSDELETES
NOCOMPRESSUPDATES
UPDATERECORDFORMAT COMPACT
PRM
SQL OUT
UPDATE: before + after in 1 record
DELETE: full
0346
4036
NOCOMPRESSUPDATES
UPDATERECORDFORMAT COMPACT
LOGALLSUPCOLS
NOCOMPRESSDELETES
PRM
SQL OUT
UPDATE: before + after in 1 record
DELETE: full
0346
4063
NOCOMPRESSUPDATES
UPDATERECORDFORMAT COMPACT
NOCOMPRESSDELETES
LOGALLSUPCOLS
PRM
SQL OUT
UPDATE: before + after in 1 record
DELETE: full
0346
4306
NOCOMPRESSUPDATES
LOGALLSUPCOLS
UPDATERECORDFORMAT COMPACT
NOCOMPRESSDELETES
PRM
SQL OUT
UPDATE: before + after in 1 record
DELETE: full
0346
4360
NOCOMPRESSUPDATES
LOGALLSUPCOLS
NOCOMPRESSDELETES
UPDATERECORDFORMAT COMPACT
PRM
SQL OUT
UPDATE: before + after in 1 record
DELETE: full
0346
4603
NOCOMPRESSUPDATES
NOCOMPRESSDELETES
UPDATERECORDFORMAT COMPACT
LOGALLSUPCOLS
PRM
SQL OUT
UPDATE: before + after in 1 record
DELETE: full
0346
4630
NOCOMPRESSUPDATES
NOCOMPRESSDELETES
LOGALLSUPCOLS
UPDATERECORDFORMAT COMPACT
PRM
SQL OUT
UPDATE: before + after in 1 record
DELETE: full
0346
6034
NOCOMPRESSDELETES
UPDATERECORDFORMAT COMPACT
LOGALLSUPCOLS
NOCOMPRESSUPDATES
PRM
SQL OUT
UPDATE: before + after in 1 record
DELETE: full
0346
6043
NOCOMPRESSDELETES
UPDATERECORDFORMAT COMPACT
NOCOMPRESSUPDATES
LOGALLSUPCOLS
PRM
SQL OUT
UPDATE: before + after in 1 record
DELETE: full
0346
6304
NOCOMPRESSDELETES
LOGALLSUPCOLS
UPDATERECORDFORMAT COMPACT
NOCOMPRESSUPDATES
PRM
SQL OUT
UPDATE: before + after in 1 record
DELETE: full
0346
6340
NOCOMPRESSDELETES
LOGALLSUPCOLS
NOCOMPRESSUPDATES
UPDATERECORDFORMAT COMPACT
PRM
SQL OUT
UPDATE: before + after in 1 record
DELETE: full
0346
6403
NOCOMPRESSDELETES
NOCOMPRESSUPDATES
UPDATERECORDFORMAT COMPACT
LOGALLSUPCOLS
PRM
SQL OUT
UPDATE: before + after in 1 record
DELETE: full
0346
6430
NOCOMPRESSDELETES
NOCOMPRESSUPDATES
LOGALLSUPCOLS
UPDATERECORDFORMAT COMPACT
PRM
SQL OUT
UPDATE: before + after in 1 record
DELETE: full
03468
03468
UPDATERECORDFORMAT COMPACT
LOGALLSUPCOLS
NOCOMPRESSUPDATES
NOCOMPRESSDELETES
IGNOREUPDATEBEFORES
PRM
SQL OUT
UPDATE: before + after in 1 record
DELETE: full
03468
03486
UPDATERECORDFORMAT COMPACT
LOGALLSUPCOLS
NOCOMPRESSUPDATES
IGNOREUPDATEBEFORES
NOCOMPRESSDELETES
PRM
SQL OUT
UPDATE: before + after in 1 record
DELETE: full
03468
03648
UPDATERECORDFORMAT COMPACT
LOGALLSUPCOLS
NOCOMPRESSDELETES
NOCOMPRESSUPDATES
IGNOREUPDATEBEFORES
PRM
SQL OUT
UPDATE: before + after in 1 record
DELETE: full
03468
03684
UPDATERECORDFORMAT COMPACT
LOGALLSUPCOLS
NOCOMPRESSDELETES
IGNOREUPDATEBEFORES
NOCOMPRESSUPDATES
PRM
SQL OUT
UPDATE: before + after in 1 record
DELETE: full
03468
03846
UPDATERECORDFORMAT COMPACT
LOGALLSUPCOLS
IGNOREUPDATEBEFORES
NOCOMPRESSUPDATES
NOCOMPRESSDELETES
PRM
SQL OUT
UPDATE: before + after in 1 record
DELETE: full
03468
03864
UPDATERECORDFORMAT COMPACT
LOGALLSUPCOLS
IGNOREUPDATEBEFORES
NOCOMPRESSDELETES
NOCOMPRESSUPDATES
PRM
SQL OUT
UPDATE: before + after in 1 record
DELETE: full
03468
04368
UPDATERECORDFORMAT COMPACT
NOCOMPRESSUPDATES
LOGALLSUPCOLS
NOCOMPRESSDELETES
IGNOREUPDATEBEFORES
PRM
SQL OUT
UPDATE: before + after in 1 record
DELETE: full
03468
04386
UPDATERECORDFORMAT COMPACT
NOCOMPRESSUPDATES
LOGALLSUPCOLS
IGNOREUPDATEBEFORES
NOCOMPRESSDELETES
PRM
SQL OUT
UPDATE: before + after in 1 record
DELETE: full
03468
04638
UPDATERECORDFORMAT COMPACT
NOCOMPRESSUPDATES
NOCOMPRESSDELETES
LOGALLSUPCOLS
IGNOREUPDATEBEFORES
PRM
SQL OUT
UPDATE: before + after in 1 record
DELETE: full
03468
04683
UPDATERECORDFORMAT COMPACT
NOCOMPRESSUPDATES
NOCOMPRESSDELETES
IGNOREUPDATEBEFORES
LOGALLSUPCOLS
PRM
SQL OUT
UPDATE: before + after in 1 record
DELETE: full
03468
04836
UPDATERECORDFORMAT COMPACT
NOCOMPRESSUPDATES
IGNOREUPDATEBEFORES
LOGALLSUPCOLS
NOCOMPRESSDELETES
PRM
SQL OUT
UPDATE: before + after in 1 record
DELETE: full
03468
04863
UPDATERECORDFORMAT COMPACT
NOCOMPRESSUPDATES
IGNOREUPDATEBEFORES
NOCOMPRESSDELETES
LOGALLSUPCOLS
PRM
SQL OUT
UPDATE: before + after in 1 record
DELETE: full
03468
06348
UPDATERECORDFORMAT COMPACT
NOCOMPRESSDELETES
LOGALLSUPCOLS
NOCOMPRESSUPDATES
IGNOREUPDATEBEFORES
PRM
SQL OUT
UPDATE: before + after in 1 record
DELETE: full
03468
06384
UPDATERECORDFORMAT COMPACT
NOCOMPRESSDELETES
LOGALLSUPCOLS
IGNOREUPDATEBEFORES
NOCOMPRESSUPDATES
PRM
SQL OUT
UPDATE: before + after in 1 record
DELETE: full
03468
06438
UPDATERECORDFORMAT COMPACT
NOCOMPRESSDELETES
NOCOMPRESSUPDATES
LOGALLSUPCOLS
IGNOREUPDATEBEFORES
PRM
SQL OUT
UPDATE: before + after in 1 record
DELETE: full
03468
06483
UPDATERECORDFORMAT COMPACT
NOCOMPRESSDELETES
NOCOMPRESSUPDATES
IGNOREUPDATEBEFORES
LOGALLSUPCOLS
PRM
SQL OUT
UPDATE: before + after in 1 record
DELETE: full
03468
06834
UPDATERECORDFORMAT COMPACT
NOCOMPRESSDELETES
IGNOREUPDATEBEFORES
LOGALLSUPCOLS
NOCOMPRESSUPDATES
PRM
SQL OUT
UPDATE: before + after in 1 record
DELETE: full
03468
06843
UPDATERECORDFORMAT COMPACT
NOCOMPRESSDELETES
IGNOREUPDATEBEFORES
NOCOMPRESSUPDATES
LOGALLSUPCOLS
PRM
SQL OUT
UPDATE: before + after in 1 record
DELETE: full
03468
08346
UPDATERECORDFORMAT COMPACT
IGNOREUPDATEBEFORES
LOGALLSUPCOLS
NOCOMPRESSUPDATES
NOCOMPRESSDELETES
PRM
SQL OUT
UPDATE: before + after in 1 record
DELETE: full
03468
08364
UPDATERECORDFORMAT COMPACT
IGNOREUPDATEBEFORES
LOGALLSUPCOLS
NOCOMPRESSDELETES
NOCOMPRESSUPDATES
PRM
SQL OUT
UPDATE: before + after in 1 record
DELETE: full
03468
08436
UPDATERECORDFORMAT COMPACT
IGNOREUPDATEBEFORES
NOCOMPRESSUPDATES
LOGALLSUPCOLS
NOCOMPRESSDELETES
PRM
SQL OUT
UPDATE: before + after in 1 record
DELETE: full
03468
08463
UPDATERECORDFORMAT COMPACT
IGNOREUPDATEBEFORES
NOCOMPRESSUPDATES
NOCOMPRESSDELETES
LOGALLSUPCOLS
PRM
SQL OUT
UPDATE: before + after in 1 record
DELETE: full
03468
08634
UPDATERECORDFORMAT COMPACT
IGNOREUPDATEBEFORES
NOCOMPRESSDELETES
LOGALLSUPCOLS
NOCOMPRESSUPDATES
PRM
SQL OUT
UPDATE: before + after in 1 record
DELETE: full
03468
08643
UPDATERECORDFORMAT COMPACT
IGNOREUPDATEBEFORES
NOCOMPRESSDELETES
NOCOMPRESSUPDATES
LOGALLSUPCOLS
PRM
SQL OUT
UPDATE: before + after in 1 record
DELETE: full
03468
30468
LOGALLSUPCOLS
UPDATERECORDFORMAT COMPACT
NOCOMPRESSUPDATES
NOCOMPRESSDELETES
IGNOREUPDATEBEFORES
PRM
SQL OUT
UPDATE: before + after in 1 record
DELETE: full
03468
30486
LOGALLSUPCOLS
UPDATERECORDFORMAT COMPACT
NOCOMPRESSUPDATES
IGNOREUPDATEBEFORES
NOCOMPRESSDELETES
PRM
SQL OUT
UPDATE: before + after in 1 record
DELETE: full
03468
30648
LOGALLSUPCOLS
UPDATERECORDFORMAT COMPACT
NOCOMPRESSDELETES
NOCOMPRESSUPDATES
IGNOREUPDATEBEFORES
PRM
SQL OUT
UPDATE: before + after in 1 record
DELETE: full
03468
30684
LOGALLSUPCOLS
UPDATERECORDFORMAT COMPACT
NOCOMPRESSDELETES
IGNOREUPDATEBEFORES
NOCOMPRESSUPDATES
PRM
SQL OUT
UPDATE: before + after in 1 record
DELETE: full
03468
30846
LOGALLSUPCOLS
UPDATERECORDFORMAT COMPACT
IGNOREUPDATEBEFORES
NOCOMPRESSUPDATES
NOCOMPRESSDELETES
PRM
SQL OUT
UPDATE: before + after in 1 record
DELETE: full
03468
30864
LOGALLSUPCOLS
UPDATERECORDFORMAT COMPACT
IGNOREUPDATEBEFORES
NOCOMPRESSDELETES
NOCOMPRESSUPDATES
PRM
SQL OUT
UPDATE: before + after in 1 record
DELETE: full
03468
34068
LOGALLSUPCOLS
NOCOMPRESSUPDATES
UPDATERECORDFORMAT COMPACT
NOCOMPRESSDELETES
IGNOREUPDATEBEFORES
PRM
SQL OUT
UPDATE: before + after in 1 record
DELETE: full
03468
34086
LOGALLSUPCOLS
NOCOMPRESSUPDATES
UPDATERECORDFORMAT COMPACT
IGNOREUPDATEBEFORES
NOCOMPRESSDELETES
PRM
SQL OUT
UPDATE: before + after in 1 record
DELETE: full
03468
34608
LOGALLSUPCOLS
NOCOMPRESSUPDATES
NOCOMPRESSDELETES
UPDATERECORDFORMAT COMPACT
IGNOREUPDATEBEFORES
PRM
SQL OUT
UPDATE: before + after in 1 record
DELETE: full
03468
34680
LOGALLSUPCOLS
NOCOMPRESSUPDATES
NOCOMPRESSDELETES
IGNOREUPDATEBEFORES
UPDATERECORDFORMAT COMPACT
PRM
SQL OUT
UPDATE: before + after in 1 record
DELETE: full
03468
34806
LOGALLSUPCOLS
NOCOMPRESSUPDATES
IGNOREUPDATEBEFORES
UPDATERECORDFORMAT COMPACT
NOCOMPRESSDELETES
PRM
SQL OUT
UPDATE: before + after in 1 record
DELETE: full
03468
34860
LOGALLSUPCOLS
NOCOMPRESSUPDATES
IGNOREUPDATEBEFORES
NOCOMPRESSDELETES
UPDATERECORDFORMAT COMPACT
PRM
SQL OUT
UPDATE: before + after in 1 record
DELETE: full
03468
36048
LOGALLSUPCOLS
NOCOMPRESSDELETES
UPDATERECORDFORMAT COMPACT
NOCOMPRESSUPDATES
IGNOREUPDATEBEFORES
PRM
SQL OUT
UPDATE: before + after in 1 record
DELETE: full
03468
36084
LOGALLSUPCOLS
NOCOMPRESSDELETES
UPDATERECORDFORMAT COMPACT
IGNOREUPDATEBEFORES
NOCOMPRESSUPDATES
PRM
SQL OUT
UPDATE: before + after in 1 record
DELETE: full
03468
36408
LOGALLSUPCOLS
NOCOMPRESSDELETES
NOCOMPRESSUPDATES
UPDATERECORDFORMAT COMPACT
IGNOREUPDATEBEFORES
PRM
SQL OUT
UPDATE: before + after in 1 record
DELETE: full
03468
36480
LOGALLSUPCOLS
NOCOMPRESSDELETES
NOCOMPRESSUPDATES
IGNOREUPDATEBEFORES
UPDATERECORDFORMAT COMPACT
PRM
SQL OUT
UPDATE: before + after in 1 record
DELETE: full
03468
36804
LOGALLSUPCOLS
NOCOMPRESSDELETES
IGNOREUPDATEBEFORES
UPDATERECORDFORMAT COMPACT
NOCOMPRESSUPDATES
PRM
SQL OUT
UPDATE: before + after in 1 record
DELETE: full
03468
36840
LOGALLSUPCOLS
NOCOMPRESSDELETES
IGNOREUPDATEBEFORES
NOCOMPRESSUPDATES
UPDATERECORDFORMAT COMPACT
PRM
SQL OUT
UPDATE: before + after in 1 record
DELETE: full
03468
38046
LOGALLSUPCOLS
IGNOREUPDATEBEFORES
UPDATERECORDFORMAT COMPACT
NOCOMPRESSUPDATES
NOCOMPRESSDELETES
PRM
SQL OUT
UPDATE: before + after in 1 record
DELETE: full
03468
38064
LOGALLSUPCOLS
IGNOREUPDATEBEFORES
UPDATERECORDFORMAT COMPACT
NOCOMPRESSDELETES
NOCOMPRESSUPDATES
PRM
SQL OUT
UPDATE: before + after in 1 record
DELETE: full
03468
38406
LOGALLSUPCOLS
IGNOREUPDATEBEFORES
NOCOMPRESSUPDATES
UPDATERECORDFORMAT COMPACT
NOCOMPRESSDELETES
PRM
SQL OUT
UPDATE: before + after in 1 record
DELETE: full
03468
38460
LOGALLSUPCOLS
IGNOREUPDATEBEFORES
NOCOMPRESSUPDATES
NOCOMPRESSDELETES
UPDATERECORDFORMAT COMPACT
PRM
SQL OUT
UPDATE: before + after in 1 record
DELETE: full
03468
38604
LOGALLSUPCOLS
IGNOREUPDATEBEFORES
NOCOMPRESSDELETES
UPDATERECORDFORMAT COMPACT
NOCOMPRESSUPDATES
PRM
SQL OUT
UPDATE: before + after in 1 record
DELETE: full
03468
38640
LOGALLSUPCOLS
IGNOREUPDATEBEFORES
NOCOMPRESSDELETES
NOCOMPRESSUPDATES
UPDATERECORDFORMAT COMPACT
PRM
SQL OUT
UPDATE: before + after in 1 record
DELETE: full
03468
40368
NOCOMPRESSUPDATES
UPDATERECORDFORMAT COMPACT
LOGALLSUPCOLS
NOCOMPRESSDELETES
IGNOREUPDATEBEFORES
PRM
SQL OUT
UPDATE: before + after in 1 record
DELETE: full
03468
40386
NOCOMPRESSUPDATES
UPDATERECORDFORMAT COMPACT
LOGALLSUPCOLS
IGNOREUPDATEBEFORES
NOCOMPRESSDELETES
PRM
SQL OUT
UPDATE: before + after in 1 record
DELETE: full
03468
40638
NOCOMPRESSUPDATES
UPDATERECORDFORMAT COMPACT
NOCOMPRESSDELETES
LOGALLSUPCOLS
IGNOREUPDATEBEFORES
PRM
SQL OUT
UPDATE: before + after in 1 record
DELETE: full
03468
40683
NOCOMPRESSUPDATES
UPDATERECORDFORMAT COMPACT
NOCOMPRESSDELETES
IGNOREUPDATEBEFORES
LOGALLSUPCOLS
PRM
SQL OUT
UPDATE: before + after in 1 record
DELETE: full
03468
40836
NOCOMPRESSUPDATES
UPDATERECORDFORMAT COMPACT
IGNOREUPDATEBEFORES
LOGALLSUPCOLS
NOCOMPRESSDELETES
PRM
SQL OUT
UPDATE: before + after in 1 record
DELETE: full
03468
40863
NOCOMPRESSUPDATES
UPDATERECORDFORMAT COMPACT
IGNOREUPDATEBEFORES
NOCOMPRESSDELETES
LOGALLSUPCOLS
PRM
SQL OUT
UPDATE: before + after in 1 record
DELETE: full
03468
43068
NOCOMPRESSUPDATES
LOGALLSUPCOLS
UPDATERECORDFORMAT COMPACT
NOCOMPRESSDELETES
IGNOREUPDATEBEFORES
PRM
SQL OUT
UPDATE: before + after in 1 record
DELETE: full
03468
43086
NOCOMPRESSUPDATES
LOGALLSUPCOLS
UPDATERECORDFORMAT COMPACT
IGNOREUPDATEBEFORES
NOCOMPRESSDELETES
PRM
SQL OUT
UPDATE: before + after in 1 record
DELETE: full
03468
43608
NOCOMPRESSUPDATES
LOGALLSUPCOLS
NOCOMPRESSDELETES
UPDATERECORDFORMAT COMPACT
IGNOREUPDATEBEFORES
PRM
SQL OUT
UPDATE: before + after in 1 record
DELETE: full
03468
43680
NOCOMPRESSUPDATES
LOGALLSUPCOLS
NOCOMPRESSDELETES
IGNOREUPDATEBEFORES
UPDATERECORDFORMAT COMPACT
PRM
SQL OUT
UPDATE: before + after in 1 record
DELETE: full
03468
43806
NOCOMPRESSUPDATES
LOGALLSUPCOLS
IGNOREUPDATEBEFORES
UPDATERECORDFORMAT COMPACT
NOCOMPRESSDELETES
PRM
SQL OUT
UPDATE: before + after in 1 record
DELETE: full
03468
43860
NOCOMPRESSUPDATES
LOGALLSUPCOLS
IGNOREUPDATEBEFORES
NOCOMPRESSDELETES
UPDATERECORDFORMAT COMPACT
PRM
SQL OUT
UPDATE: before + after in 1 record
DELETE: full
03468
46038
NOCOMPRESSUPDATES
NOCOMPRESSDELETES
UPDATERECORDFORMAT COMPACT
LOGALLSUPCOLS
IGNOREUPDATEBEFORES
PRM
SQL OUT
UPDATE: before + after in 1 record
DELETE: full
03468
46083
NOCOMPRESSUPDATES
NOCOMPRESSDELETES
UPDATERECORDFORMAT COMPACT
IGNOREUPDATEBEFORES
LOGALLSUPCOLS
PRM
SQL OUT
UPDATE: before + after in 1 record
DELETE: full
03468
46308
NOCOMPRESSUPDATES
NOCOMPRESSDELETES
LOGALLSUPCOLS
UPDATERECORDFORMAT COMPACT
IGNOREUPDATEBEFORES
PRM
SQL OUT
UPDATE: before + after in 1 record
DELETE: full
03468
46380
NOCOMPRESSUPDATES
NOCOMPRESSDELETES
LOGALLSUPCOLS
IGNOREUPDATEBEFORES
UPDATERECORDFORMAT COMPACT
PRM
SQL OUT
UPDATE: before + after in 1 record
DELETE: full
03468
46803
NOCOMPRESSUPDATES
NOCOMPRESSDELETES
IGNOREUPDATEBEFORES
UPDATERECORDFORMAT COMPACT
LOGALLSUPCOLS
PRM
SQL OUT
UPDATE: before + after in 1 record
DELETE: full
03468
46830
NOCOMPRESSUPDATES
NOCOMPRESSDELETES
IGNOREUPDATEBEFORES
LOGALLSUPCOLS
UPDATERECORDFORMAT COMPACT
PRM
SQL OUT
UPDATE: before + after in 1 record
DELETE: full
03468
48036
NOCOMPRESSUPDATES
IGNOREUPDATEBEFORES
UPDATERECORDFORMAT COMPACT
LOGALLSUPCOLS
NOCOMPRESSDELETES
PRM
SQL OUT
UPDATE: before + after in 1 record
DELETE: full
03468
48063
NOCOMPRESSUPDATES
IGNOREUPDATEBEFORES
UPDATERECORDFORMAT COMPACT
NOCOMPRESSDELETES
LOGALLSUPCOLS
PRM
SQL OUT
UPDATE: before + after in 1 record
DELETE: full
03468
48306
NOCOMPRESSUPDATES
IGNOREUPDATEBEFORES
LOGALLSUPCOLS
UPDATERECORDFORMAT COMPACT
NOCOMPRESSDELETES
PRM
SQL OUT
UPDATE: before + after in 1 record
DELETE: full
03468
48360
NOCOMPRESSUPDATES
IGNOREUPDATEBEFORES
LOGALLSUPCOLS
NOCOMPRESSDELETES
UPDATERECORDFORMAT COMPACT
PRM
SQL OUT
UPDATE: before + after in 1 record
DELETE: full
03468
48603
NOCOMPRESSUPDATES
IGNOREUPDATEBEFORES
NOCOMPRESSDELETES
UPDATERECORDFORMAT COMPACT
LOGALLSUPCOLS
PRM
SQL OUT
UPDATE: before + after in 1 record
DELETE: full
03468
48630
NOCOMPRESSUPDATES
IGNOREUPDATEBEFORES
NOCOMPRESSDELETES
LOGALLSUPCOLS
UPDATERECORDFORMAT COMPACT
PRM
SQL OUT
UPDATE: before + after in 1 record
DELETE: full
03468
60348
NOCOMPRESSDELETES
UPDATERECORDFORMAT COMPACT
LOGALLSUPCOLS
NOCOMPRESSUPDATES
IGNOREUPDATEBEFORES
PRM
SQL OUT
UPDATE: before + after in 1 record
DELETE: full
03468
60384
NOCOMPRESSDELETES
UPDATERECORDFORMAT COMPACT
LOGALLSUPCOLS
IGNOREUPDATEBEFORES
NOCOMPRESSUPDATES
PRM
SQL OUT
UPDATE: before + after in 1 record
DELETE: full
03468
60438
NOCOMPRESSDELETES
UPDATERECORDFORMAT COMPACT
NOCOMPRESSUPDATES
LOGALLSUPCOLS
IGNOREUPDATEBEFORES
PRM
SQL OUT
UPDATE: before + after in 1 record
DELETE: full
03468
60483
NOCOMPRESSDELETES
UPDATERECORDFORMAT COMPACT
NOCOMPRESSUPDATES
IGNOREUPDATEBEFORES
LOGALLSUPCOLS
PRM
SQL OUT
UPDATE: before + after in 1 record
DELETE: full
03468
60834
NOCOMPRESSDELETES
UPDATERECORDFORMAT COMPACT
IGNOREUPDATEBEFORES
LOGALLSUPCOLS
NOCOMPRESSUPDATES
PRM
SQL OUT
UPDATE: before + after in 1 record
DELETE: full
03468
60843
NOCOMPRESSDELETES
UPDATERECORDFORMAT COMPACT
IGNOREUPDATEBEFORES
NOCOMPRESSUPDATES
LOGALLSUPCOLS
PRM
SQL OUT
UPDATE: before + after in 1 record
DELETE: full
03468
63048
NOCOMPRESSDELETES
LOGALLSUPCOLS
UPDATERECORDFORMAT COMPACT
NOCOMPRESSUPDATES
IGNOREUPDATEBEFORES
PRM
SQL OUT
UPDATE: before + after in 1 record
DELETE: full
03468
63084
NOCOMPRESSDELETES
LOGALLSUPCOLS
UPDATERECORDFORMAT COMPACT
IGNOREUPDATEBEFORES
NOCOMPRESSUPDATES
PRM
SQL OUT
UPDATE: before + after in 1 record
DELETE: full
03468
63408
NOCOMPRESSDELETES
LOGALLSUPCOLS
NOCOMPRESSUPDATES
UPDATERECORDFORMAT COMPACT
IGNOREUPDATEBEFORES
PRM
SQL OUT
UPDATE: before + after in 1 record
DELETE: full
03468
63480
NOCOMPRESSDELETES
LOGALLSUPCOLS
NOCOMPRESSUPDATES
IGNOREUPDATEBEFORES
UPDATERECORDFORMAT COMPACT
PRM
SQL OUT
UPDATE: before + after in 1 record
DELETE: full
03468
63804
NOCOMPRESSDELETES
LOGALLSUPCOLS
IGNOREUPDATEBEFORES
UPDATERECORDFORMAT COMPACT
NOCOMPRESSUPDATES
PRM
SQL OUT
UPDATE: before + after in 1 record
DELETE: full
03468
63840
NOCOMPRESSDELETES
LOGALLSUPCOLS
IGNOREUPDATEBEFORES
NOCOMPRESSUPDATES
UPDATERECORDFORMAT COMPACT
PRM
SQL OUT
UPDATE: before + after in 1 record
DELETE: full
03468
64038
NOCOMPRESSDELETES
NOCOMPRESSUPDATES
UPDATERECORDFORMAT COMPACT
LOGALLSUPCOLS
IGNOREUPDATEBEFORES
PRM
SQL OUT
UPDATE: before + after in 1 record
DELETE: full
03468
64083
NOCOMPRESSDELETES
NOCOMPRESSUPDATES
UPDATERECORDFORMAT COMPACT
IGNOREUPDATEBEFORES
LOGALLSUPCOLS
PRM
SQL OUT
UPDATE: before + after in 1 record
DELETE: full
03468
64308
NOCOMPRESSDELETES
NOCOMPRESSUPDATES
LOGALLSUPCOLS
UPDATERECORDFORMAT COMPACT
IGNOREUPDATEBEFORES
PRM
SQL OUT
UPDATE: before + after in 1 record
DELETE: full
03468
64380
NOCOMPRESSDELETES
NOCOMPRESSUPDATES
LOGALLSUPCOLS
IGNOREUPDATEBEFORES
UPDATERECORDFORMAT COMPACT
PRM
SQL OUT
UPDATE: before + after in 1 record
DELETE: full
03468
64803
NOCOMPRESSDELETES
NOCOMPRESSUPDATES
IGNOREUPDATEBEFORES
UPDATERECORDFORMAT COMPACT
LOGALLSUPCOLS
PRM
SQL OUT
UPDATE: before + after in 1 record
DELETE: full
03468
64830
NOCOMPRESSDELETES
NOCOMPRESSUPDATES
IGNOREUPDATEBEFORES
LOGALLSUPCOLS
UPDATERECORDFORMAT COMPACT
PRM
SQL OUT
UPDATE: before + after in 1 record
DELETE: full
03468
68034
NOCOMPRESSDELETES
IGNOREUPDATEBEFORES
UPDATERECORDFORMAT COMPACT
LOGALLSUPCOLS
NOCOMPRESSUPDATES
PRM
SQL OUT
UPDATE: before + after in 1 record
DELETE: full
03468
68043
NOCOMPRESSDELETES
IGNOREUPDATEBEFORES
UPDATERECORDFORMAT COMPACT
NOCOMPRESSUPDATES
LOGALLSUPCOLS
PRM
SQL OUT
UPDATE: before + after in 1 record
DELETE: full
03468
68304
NOCOMPRESSDELETES
IGNOREUPDATEBEFORES
LOGALLSUPCOLS
UPDATERECORDFORMAT COMPACT
NOCOMPRESSUPDATES
PRM
SQL OUT
UPDATE: before + after in 1 record
DELETE: full
03468
68340
NOCOMPRESSDELETES
IGNOREUPDATEBEFORES
LOGALLSUPCOLS
NOCOMPRESSUPDATES
UPDATERECORDFORMAT COMPACT
PRM
SQL OUT
UPDATE: before + after in 1 record
DELETE: full
03468
68403
NOCOMPRESSDELETES
IGNOREUPDATEBEFORES
NOCOMPRESSUPDATES
UPDATERECORDFORMAT COMPACT
LOGALLSUPCOLS
PRM
SQL OUT
UPDATE: before + after in 1 record
DELETE: full
03468
68430
NOCOMPRESSDELETES
IGNOREUPDATEBEFORES
NOCOMPRESSUPDATES
LOGALLSUPCOLS
UPDATERECORDFORMAT COMPACT
PRM
SQL OUT
UPDATE: before + after in 1 record
DELETE: full
03468
80346
IGNOREUPDATEBEFORES
UPDATERECORDFORMAT COMPACT
LOGALLSUPCOLS
NOCOMPRESSUPDATES
NOCOMPRESSDELETES
PRM
SQL OUT
UPDATE: before + after in 1 record
DELETE: full
03468
80364
IGNOREUPDATEBEFORES
UPDATERECORDFORMAT COMPACT
LOGALLSUPCOLS
NOCOMPRESSDELETES
NOCOMPRESSUPDATES
PRM
SQL OUT
UPDATE: before + after in 1 record
DELETE: full
03468
80436
IGNOREUPDATEBEFORES
UPDATERECORDFORMAT COMPACT
NOCOMPRESSUPDATES
LOGALLSUPCOLS
NOCOMPRESSDELETES
PRM
SQL OUT
UPDATE: before + after in 1 record
DELETE: full
03468
80463
IGNOREUPDATEBEFORES
UPDATERECORDFORMAT COMPACT
NOCOMPRESSUPDATES
NOCOMPRESSDELETES
LOGALLSUPCOLS
PRM
SQL OUT
UPDATE: before + after in 1 record
DELETE: full
03468
80634
IGNOREUPDATEBEFORES
UPDATERECORDFORMAT COMPACT
NOCOMPRESSDELETES
LOGALLSUPCOLS
NOCOMPRESSUPDATES
PRM
SQL OUT
UPDATE: before + after in 1 record
DELETE: full
03468
80643
IGNOREUPDATEBEFORES
UPDATERECORDFORMAT COMPACT
NOCOMPRESSDELETES
NOCOMPRESSUPDATES
LOGALLSUPCOLS
PRM
SQL OUT
UPDATE: before + after in 1 record
DELETE: full
03468
83046
IGNOREUPDATEBEFORES
LOGALLSUPCOLS
UPDATERECORDFORMAT COMPACT
NOCOMPRESSUPDATES
NOCOMPRESSDELETES
PRM
SQL OUT
UPDATE: before + after in 1 record
DELETE: full
03468
83064
IGNOREUPDATEBEFORES
LOGALLSUPCOLS
UPDATERECORDFORMAT COMPACT
NOCOMPRESSDELETES
NOCOMPRESSUPDATES
PRM
SQL OUT
UPDATE: before + after in 1 record
DELETE: full
03468
83406
IGNOREUPDATEBEFORES
LOGALLSUPCOLS
NOCOMPRESSUPDATES
UPDATERECORDFORMAT COMPACT
NOCOMPRESSDELETES
PRM
SQL OUT
UPDATE: before + after in 1 record
DELETE: full
03468
83460
IGNOREUPDATEBEFORES
LOGALLSUPCOLS
NOCOMPRESSUPDATES
NOCOMPRESSDELETES
UPDATERECORDFORMAT COMPACT
PRM
SQL OUT
UPDATE: before + after in 1 record
DELETE: full
03468
83604
IGNOREUPDATEBEFORES
LOGALLSUPCOLS
NOCOMPRESSDELETES
UPDATERECORDFORMAT COMPACT
NOCOMPRESSUPDATES
PRM
SQL OUT
UPDATE: before + after in 1 record
DELETE: full
03468
83640
IGNOREUPDATEBEFORES
LOGALLSUPCOLS
NOCOMPRESSDELETES
NOCOMPRESSUPDATES
UPDATERECORDFORMAT COMPACT
PRM
SQL OUT
UPDATE: before + after in 1 record
DELETE: full
03468
84036
IGNOREUPDATEBEFORES
NOCOMPRESSUPDATES
UPDATERECORDFORMAT COMPACT
LOGALLSUPCOLS
NOCOMPRESSDELETES
PRM
SQL OUT
UPDATE: before + after in 1 record
DELETE: full
03468
84063
IGNOREUPDATEBEFORES
NOCOMPRESSUPDATES
UPDATERECORDFORMAT COMPACT
NOCOMPRESSDELETES
LOGALLSUPCOLS
PRM
SQL OUT
UPDATE: before + after in 1 record
DELETE: full
03468
84306
IGNOREUPDATEBEFORES
NOCOMPRESSUPDATES
LOGALLSUPCOLS
UPDATERECORDFORMAT COMPACT
NOCOMPRESSDELETES
PRM
SQL OUT
UPDATE: before + after in 1 record
DELETE: full
03468
84360
IGNOREUPDATEBEFORES
NOCOMPRESSUPDATES
LOGALLSUPCOLS
NOCOMPRESSDELETES
UPDATERECORDFORMAT COMPACT
PRM
SQL OUT
UPDATE: before + after in 1 record
DELETE: full
03468
84603
IGNOREUPDATEBEFORES
NOCOMPRESSUPDATES
NOCOMPRESSDELETES
UPDATERECORDFORMAT COMPACT
LOGALLSUPCOLS
PRM
SQL OUT
UPDATE: before + after in 1 record
DELETE: full
03468
84630
IGNOREUPDATEBEFORES
NOCOMPRESSUPDATES
NOCOMPRESSDELETES
LOGALLSUPCOLS
UPDATERECORDFORMAT COMPACT
PRM
SQL OUT
UPDATE: before + after in 1 record
DELETE: full
03468
86034
IGNOREUPDATEBEFORES
NOCOMPRESSDELETES
UPDATERECORDFORMAT COMPACT
LOGALLSUPCOLS
NOCOMPRESSUPDATES
PRM
SQL OUT
UPDATE: before + after in 1 record
DELETE: full
03468
86043
IGNOREUPDATEBEFORES
NOCOMPRESSDELETES
UPDATERECORDFORMAT COMPACT
NOCOMPRESSUPDATES
LOGALLSUPCOLS
PRM
SQL OUT
UPDATE: before + after in 1 record
DELETE: full
03468
86304
IGNOREUPDATEBEFORES
NOCOMPRESSDELETES
LOGALLSUPCOLS
UPDATERECORDFORMAT COMPACT
NOCOMPRESSUPDATES
PRM
SQL OUT
UPDATE: before + after in 1 record
DELETE: full
03468
86340
IGNOREUPDATEBEFORES
NOCOMPRESSDELETES
LOGALLSUPCOLS
NOCOMPRESSUPDATES
UPDATERECORDFORMAT COMPACT
PRM
SQL OUT
UPDATE: before + after in 1 record
DELETE: full
03468
86403
IGNOREUPDATEBEFORES
NOCOMPRESSDELETES
NOCOMPRESSUPDATES
UPDATERECORDFORMAT COMPACT
LOGALLSUPCOLS
PRM
SQL OUT
UPDATE: before + after in 1 record
DELETE: full
03468
86430
IGNOREUPDATEBEFORES
NOCOMPRESSDELETES
NOCOMPRESSUPDATES
LOGALLSUPCOLS
UPDATERECORDFORMAT COMPACT
PRM
SQL OUT
UPDATE: before + after in 1 record
DELETE: full
03469
03469
UPDATERECORDFORMAT COMPACT
LOGALLSUPCOLS
NOCOMPRESSUPDATES
NOCOMPRESSDELETES
GETUPDATEBEFORES
PRM
SQL OUT
UPDATE: before + after in 1 record
DELETE: full
03469
03496
UPDATERECORDFORMAT COMPACT
LOGALLSUPCOLS
NOCOMPRESSUPDATES
GETUPDATEBEFORES
NOCOMPRESSDELETES
PRM
SQL OUT
UPDATE: before + after in 1 record
DELETE: full
03469
03649
UPDATERECORDFORMAT COMPACT
LOGALLSUPCOLS
NOCOMPRESSDELETES
NOCOMPRESSUPDATES
GETUPDATEBEFORES
PRM
SQL OUT
UPDATE: before + after in 1 record
DELETE: full
03469
03694
UPDATERECORDFORMAT COMPACT
LOGALLSUPCOLS
NOCOMPRESSDELETES
GETUPDATEBEFORES
NOCOMPRESSUPDATES
PRM
SQL OUT
UPDATE: before + after in 1 record
DELETE: full
03469
03946
UPDATERECORDFORMAT COMPACT
LOGALLSUPCOLS
GETUPDATEBEFORES
NOCOMPRESSUPDATES
NOCOMPRESSDELETES
PRM
SQL OUT
UPDATE: before + after in 1 record
DELETE: full
03469
03964
UPDATERECORDFORMAT COMPACT
LOGALLSUPCOLS
GETUPDATEBEFORES
NOCOMPRESSDELETES
NOCOMPRESSUPDATES
PRM
SQL OUT
UPDATE: before + after in 1 record
DELETE: full
03469
04369
UPDATERECORDFORMAT COMPACT
NOCOMPRESSUPDATES
LOGALLSUPCOLS
NOCOMPRESSDELETES
GETUPDATEBEFORES
PRM
SQL OUT
UPDATE: before + after in 1 record
DELETE: full
03469
04396
UPDATERECORDFORMAT COMPACT
NOCOMPRESSUPDATES
LOGALLSUPCOLS
GETUPDATEBEFORES
NOCOMPRESSDELETES
PRM
SQL OUT
UPDATE: before + after in 1 record
DELETE: full
03469
04639
UPDATERECORDFORMAT COMPACT
NOCOMPRESSUPDATES
NOCOMPRESSDELETES
LOGALLSUPCOLS
GETUPDATEBEFORES
PRM
SQL OUT
UPDATE: before + after in 1 record
DELETE: full
03469
04693
UPDATERECORDFORMAT COMPACT
NOCOMPRESSUPDATES
NOCOMPRESSDELETES
GETUPDATEBEFORES
LOGALLSUPCOLS
PRM
SQL OUT
UPDATE: before + after in 1 record
DELETE: full
03469
04936
UPDATERECORDFORMAT COMPACT
NOCOMPRESSUPDATES
GETUPDATEBEFORES
LOGALLSUPCOLS
NOCOMPRESSDELETES
PRM
SQL OUT
UPDATE: before + after in 1 record
DELETE: full
03469
04963
UPDATERECORDFORMAT COMPACT
NOCOMPRESSUPDATES
GETUPDATEBEFORES
NOCOMPRESSDELETES
LOGALLSUPCOLS
PRM
SQL OUT
UPDATE: before + after in 1 record
DELETE: full
03469
06349
UPDATERECORDFORMAT COMPACT
NOCOMPRESSDELETES
LOGALLSUPCOLS
NOCOMPRESSUPDATES
GETUPDATEBEFORES
PRM
SQL OUT
UPDATE: before + after in 1 record
DELETE: full
03469
06394
UPDATERECORDFORMAT COMPACT
NOCOMPRESSDELETES
LOGALLSUPCOLS
GETUPDATEBEFORES
NOCOMPRESSUPDATES
PRM
SQL OUT
UPDATE: before + after in 1 record
DELETE: full
03469
06439
UPDATERECORDFORMAT COMPACT
NOCOMPRESSDELETES
NOCOMPRESSUPDATES
LOGALLSUPCOLS
GETUPDATEBEFORES
PRM
SQL OUT
UPDATE: before + after in 1 record
DELETE: full
03469
06493
UPDATERECORDFORMAT COMPACT
NOCOMPRESSDELETES
NOCOMPRESSUPDATES
GETUPDATEBEFORES
LOGALLSUPCOLS
PRM
SQL OUT
UPDATE: before + after in 1 record
DELETE: full
03469
06934
UPDATERECORDFORMAT COMPACT
NOCOMPRESSDELETES
GETUPDATEBEFORES
LOGALLSUPCOLS
NOCOMPRESSUPDATES
PRM
SQL OUT
UPDATE: before + after in 1 record
DELETE: full
03469
06943
UPDATERECORDFORMAT COMPACT
NOCOMPRESSDELETES
GETUPDATEBEFORES
NOCOMPRESSUPDATES
LOGALLSUPCOLS
PRM
SQL OUT
UPDATE: before + after in 1 record
DELETE: full
03469
09346
UPDATERECORDFORMAT COMPACT
GETUPDATEBEFORES
LOGALLSUPCOLS
NOCOMPRESSUPDATES
NOCOMPRESSDELETES
PRM
SQL OUT
UPDATE: before + after in 1 record
DELETE: full
03469
09364
UPDATERECORDFORMAT COMPACT
GETUPDATEBEFORES
LOGALLSUPCOLS
NOCOMPRESSDELETES
NOCOMPRESSUPDATES
PRM
SQL OUT
UPDATE: before + after in 1 record
DELETE: full
03469
09436
UPDATERECORDFORMAT COMPACT
GETUPDATEBEFORES
NOCOMPRESSUPDATES
LOGALLSUPCOLS
NOCOMPRESSDELETES
PRM
SQL OUT
UPDATE: before + after in 1 record
DELETE: full
03469
09463
UPDATERECORDFORMAT COMPACT
GETUPDATEBEFORES
NOCOMPRESSUPDATES
NOCOMPRESSDELETES
LOGALLSUPCOLS
PRM
SQL OUT
UPDATE: before + after in 1 record
DELETE: full
03469
09634
UPDATERECORDFORMAT COMPACT
GETUPDATEBEFORES
NOCOMPRESSDELETES
LOGALLSUPCOLS
NOCOMPRESSUPDATES
PRM
SQL OUT
UPDATE: before + after in 1 record
DELETE: full
03469
09643
UPDATERECORDFORMAT COMPACT
GETUPDATEBEFORES
NOCOMPRESSDELETES
NOCOMPRESSUPDATES
LOGALLSUPCOLS
PRM
SQL OUT
UPDATE: before + after in 1 record
DELETE: full
03469
30469
LOGALLSUPCOLS
UPDATERECORDFORMAT COMPACT
NOCOMPRESSUPDATES
NOCOMPRESSDELETES
GETUPDATEBEFORES
PRM
SQL OUT
UPDATE: before + after in 1 record
DELETE: full
03469
30496
LOGALLSUPCOLS
UPDATERECORDFORMAT COMPACT
NOCOMPRESSUPDATES
GETUPDATEBEFORES
NOCOMPRESSDELETES
PRM
SQL OUT
UPDATE: before + after in 1 record
DELETE: full
03469
30649
LOGALLSUPCOLS
UPDATERECORDFORMAT COMPACT
NOCOMPRESSDELETES
NOCOMPRESSUPDATES
GETUPDATEBEFORES
PRM
SQL OUT
UPDATE: before + after in 1 record
DELETE: full
03469
30694
LOGALLSUPCOLS
UPDATERECORDFORMAT COMPACT
NOCOMPRESSDELETES
GETUPDATEBEFORES
NOCOMPRESSUPDATES
PRM
SQL OUT
UPDATE: before + after in 1 record
DELETE: full
03469
30946
LOGALLSUPCOLS
UPDATERECORDFORMAT COMPACT
GETUPDATEBEFORES
NOCOMPRESSUPDATES
NOCOMPRESSDELETES
PRM
SQL OUT
UPDATE: before + after in 1 record
DELETE: full
03469
30964
LOGALLSUPCOLS
UPDATERECORDFORMAT COMPACT
GETUPDATEBEFORES
NOCOMPRESSDELETES
NOCOMPRESSUPDATES
PRM
SQL OUT
UPDATE: before + after in 1 record
DELETE: full
03469
34069
LOGALLSUPCOLS
NOCOMPRESSUPDATES
UPDATERECORDFORMAT COMPACT
NOCOMPRESSDELETES
GETUPDATEBEFORES
PRM
SQL OUT
UPDATE: before + after in 1 record
DELETE: full
03469
34096
LOGALLSUPCOLS
NOCOMPRESSUPDATES
UPDATERECORDFORMAT COMPACT
GETUPDATEBEFORES
NOCOMPRESSDELETES
PRM
SQL OUT
UPDATE: before + after in 1 record
DELETE: full
03469
34609
LOGALLSUPCOLS
NOCOMPRESSUPDATES
NOCOMPRESSDELETES
UPDATERECORDFORMAT COMPACT
GETUPDATEBEFORES
PRM
SQL OUT
UPDATE: before + after in 1 record
DELETE: full
03469
34690
LOGALLSUPCOLS
NOCOMPRESSUPDATES
NOCOMPRESSDELETES
GETUPDATEBEFORES
UPDATERECORDFORMAT COMPACT
PRM
SQL OUT
UPDATE: before + after in 1 record
DELETE: full
03469
34906
LOGALLSUPCOLS
NOCOMPRESSUPDATES
GETUPDATEBEFORES
UPDATERECORDFORMAT COMPACT
NOCOMPRESSDELETES
PRM
SQL OUT
UPDATE: before + after in 1 record
DELETE: full
03469
34960
LOGALLSUPCOLS
NOCOMPRESSUPDATES
GETUPDATEBEFORES
NOCOMPRESSDELETES
UPDATERECORDFORMAT COMPACT
PRM
SQL OUT
UPDATE: before + after in 1 record
DELETE: full
03469
36049
LOGALLSUPCOLS
NOCOMPRESSDELETES
UPDATERECORDFORMAT COMPACT
NOCOMPRESSUPDATES
GETUPDATEBEFORES
PRM
SQL OUT
UPDATE: before + after in 1 record
DELETE: full
03469
36094
LOGALLSUPCOLS
NOCOMPRESSDELETES
UPDATERECORDFORMAT COMPACT
GETUPDATEBEFORES
NOCOMPRESSUPDATES
PRM
SQL OUT
UPDATE: before + after in 1 record
DELETE: full
03469
36409
LOGALLSUPCOLS
NOCOMPRESSDELETES
NOCOMPRESSUPDATES
UPDATERECORDFORMAT COMPACT
GETUPDATEBEFORES
PRM
SQL OUT
UPDATE: before + after in 1 record
DELETE: full
03469
36490
LOGALLSUPCOLS
NOCOMPRESSDELETES
NOCOMPRESSUPDATES
GETUPDATEBEFORES
UPDATERECORDFORMAT COMPACT
PRM
SQL OUT
UPDATE: before + after in 1 record
DELETE: full
03469
36904
LOGALLSUPCOLS
NOCOMPRESSDELETES
GETUPDATEBEFORES
UPDATERECORDFORMAT COMPACT
NOCOMPRESSUPDATES
PRM
SQL OUT
UPDATE: before + after in 1 record
DELETE: full
03469
36940
LOGALLSUPCOLS
NOCOMPRESSDELETES
GETUPDATEBEFORES
NOCOMPRESSUPDATES
UPDATERECORDFORMAT COMPACT
PRM
SQL OUT
UPDATE: before + after in 1 record
DELETE: full
03469
39046
LOGALLSUPCOLS
GETUPDATEBEFORES
UPDATERECORDFORMAT COMPACT
NOCOMPRESSUPDATES
NOCOMPRESSDELETES
PRM
SQL OUT
UPDATE: before + after in 1 record
DELETE: full
03469
39064
LOGALLSUPCOLS
GETUPDATEBEFORES
UPDATERECORDFORMAT COMPACT
NOCOMPRESSDELETES
NOCOMPRESSUPDATES
PRM
SQL OUT
UPDATE: before + after in 1 record
DELETE: full
03469
39406
LOGALLSUPCOLS
GETUPDATEBEFORES
NOCOMPRESSUPDATES
UPDATERECORDFORMAT COMPACT
NOCOMPRESSDELETES
PRM
SQL OUT
UPDATE: before + after in 1 record
DELETE: full
03469
39460
LOGALLSUPCOLS
GETUPDATEBEFORES
NOCOMPRESSUPDATES
NOCOMPRESSDELETES
UPDATERECORDFORMAT COMPACT
PRM
SQL OUT
UPDATE: before + after in 1 record
DELETE: full
03469
39604
LOGALLSUPCOLS
GETUPDATEBEFORES
NOCOMPRESSDELETES
UPDATERECORDFORMAT COMPACT
NOCOMPRESSUPDATES
PRM
SQL OUT
UPDATE: before + after in 1 record
DELETE: full
03469
39640
LOGALLSUPCOLS
GETUPDATEBEFORES
NOCOMPRESSDELETES
NOCOMPRESSUPDATES
UPDATERECORDFORMAT COMPACT
PRM
SQL OUT
UPDATE: before + after in 1 record
DELETE: full
03469
40369
NOCOMPRESSUPDATES
UPDATERECORDFORMAT COMPACT
LOGALLSUPCOLS
NOCOMPRESSDELETES
GETUPDATEBEFORES
PRM
SQL OUT
UPDATE: before + after in 1 record
DELETE: full
03469
40396
NOCOMPRESSUPDATES
UPDATERECORDFORMAT COMPACT
LOGALLSUPCOLS
GETUPDATEBEFORES
NOCOMPRESSDELETES
PRM
SQL OUT
UPDATE: before + after in 1 record
DELETE: full
03469
40639
NOCOMPRESSUPDATES
UPDATERECORDFORMAT COMPACT
NOCOMPRESSDELETES
LOGALLSUPCOLS
GETUPDATEBEFORES
PRM
SQL OUT
UPDATE: before + after in 1 record
DELETE: full
03469
40693
NOCOMPRESSUPDATES
UPDATERECORDFORMAT COMPACT
NOCOMPRESSDELETES
GETUPDATEBEFORES
LOGALLSUPCOLS
PRM
SQL OUT
UPDATE: before + after in 1 record
DELETE: full
03469
40936
NOCOMPRESSUPDATES
UPDATERECORDFORMAT COMPACT
GETUPDATEBEFORES
LOGALLSUPCOLS
NOCOMPRESSDELETES
PRM
SQL OUT
UPDATE: before + after in 1 record
DELETE: full
03469
40963
NOCOMPRESSUPDATES
UPDATERECORDFORMAT COMPACT
GETUPDATEBEFORES
NOCOMPRESSDELETES
LOGALLSUPCOLS
PRM
SQL OUT
UPDATE: before + after in 1 record
DELETE: full
03469
43069
NOCOMPRESSUPDATES
LOGALLSUPCOLS
UPDATERECORDFORMAT COMPACT
NOCOMPRESSDELETES
GETUPDATEBEFORES
PRM
SQL OUT
UPDATE: before + after in 1 record
DELETE: full
03469
43096
NOCOMPRESSUPDATES
LOGALLSUPCOLS
UPDATERECORDFORMAT COMPACT
GETUPDATEBEFORES
NOCOMPRESSDELETES
PRM
SQL OUT
UPDATE: before + after in 1 record
DELETE: full
03469
43609
NOCOMPRESSUPDATES
LOGALLSUPCOLS
NOCOMPRESSDELETES
UPDATERECORDFORMAT COMPACT
GETUPDATEBEFORES
PRM
SQL OUT
UPDATE: before + after in 1 record
DELETE: full
03469
43690
NOCOMPRESSUPDATES
LOGALLSUPCOLS
NOCOMPRESSDELETES
GETUPDATEBEFORES
UPDATERECORDFORMAT COMPACT
PRM
SQL OUT
UPDATE: before + after in 1 record
DELETE: full
03469
43906
NOCOMPRESSUPDATES
LOGALLSUPCOLS
GETUPDATEBEFORES
UPDATERECORDFORMAT COMPACT
NOCOMPRESSDELETES
PRM
SQL OUT
UPDATE: before + after in 1 record
DELETE: full
03469
43960
NOCOMPRESSUPDATES
LOGALLSUPCOLS
GETUPDATEBEFORES
NOCOMPRESSDELETES
UPDATERECORDFORMAT COMPACT
PRM
SQL OUT
UPDATE: before + after in 1 record
DELETE: full
03469
46039
NOCOMPRESSUPDATES
NOCOMPRESSDELETES
UPDATERECORDFORMAT COMPACT
LOGALLSUPCOLS
GETUPDATEBEFORES
PRM
SQL OUT
UPDATE: before + after in 1 record
DELETE: full
03469
46093
NOCOMPRESSUPDATES
NOCOMPRESSDELETES
UPDATERECORDFORMAT COMPACT
GETUPDATEBEFORES
LOGALLSUPCOLS
PRM
SQL OUT
UPDATE: before + after in 1 record
DELETE: full
03469
46309
NOCOMPRESSUPDATES
NOCOMPRESSDELETES
LOGALLSUPCOLS
UPDATERECORDFORMAT COMPACT
GETUPDATEBEFORES
PRM
SQL OUT
UPDATE: before + after in 1 record
DELETE: full
03469
46390
NOCOMPRESSUPDATES
NOCOMPRESSDELETES
LOGALLSUPCOLS
GETUPDATEBEFORES
UPDATERECORDFORMAT COMPACT
PRM
SQL OUT
UPDATE: before + after in 1 record
DELETE: full
03469
46903
NOCOMPRESSUPDATES
NOCOMPRESSDELETES
GETUPDATEBEFORES
UPDATERECORDFORMAT COMPACT
LOGALLSUPCOLS
PRM
SQL OUT
UPDATE: before + after in 1 record
DELETE: full
03469
46930
NOCOMPRESSUPDATES
NOCOMPRESSDELETES
GETUPDATEBEFORES
LOGALLSUPCOLS
UPDATERECORDFORMAT COMPACT
PRM
SQL OUT
UPDATE: before + after in 1 record
DELETE: full
03469
49036
NOCOMPRESSUPDATES
GETUPDATEBEFORES
UPDATERECORDFORMAT COMPACT
LOGALLSUPCOLS
NOCOMPRESSDELETES
PRM
SQL OUT
UPDATE: before + after in 1 record
DELETE: full
03469
49063
NOCOMPRESSUPDATES
GETUPDATEBEFORES
UPDATERECORDFORMAT COMPACT
NOCOMPRESSDELETES
LOGALLSUPCOLS
PRM
SQL OUT
UPDATE: before + after in 1 record
DELETE: full
03469
49306
NOCOMPRESSUPDATES
GETUPDATEBEFORES
LOGALLSUPCOLS
UPDATERECORDFORMAT COMPACT
NOCOMPRESSDELETES
PRM
SQL OUT
UPDATE: before + after in 1 record
DELETE: full
03469
49360
NOCOMPRESSUPDATES
GETUPDATEBEFORES
LOGALLSUPCOLS
NOCOMPRESSDELETES
UPDATERECORDFORMAT COMPACT
PRM
SQL OUT
UPDATE: before + after in 1 record
DELETE: full
03469
49603
NOCOMPRESSUPDATES
GETUPDATEBEFORES
NOCOMPRESSDELETES
UPDATERECORDFORMAT COMPACT
LOGALLSUPCOLS
PRM
SQL OUT
UPDATE: before + after in 1 record
DELETE: full
03469
49630
NOCOMPRESSUPDATES
GETUPDATEBEFORES
NOCOMPRESSDELETES
LOGALLSUPCOLS
UPDATERECORDFORMAT COMPACT
PRM
SQL OUT
UPDATE: before + after in 1 record
DELETE: full
03469
60349
NOCOMPRESSDELETES
UPDATERECORDFORMAT COMPACT
LOGALLSUPCOLS
NOCOMPRESSUPDATES
GETUPDATEBEFORES
PRM
SQL OUT
UPDATE: before + after in 1 record
DELETE: full
03469
60394
NOCOMPRESSDELETES
UPDATERECORDFORMAT COMPACT
LOGALLSUPCOLS
GETUPDATEBEFORES
NOCOMPRESSUPDATES
PRM
SQL OUT
UPDATE: before + after in 1 record
DELETE: full
03469
60439
NOCOMPRESSDELETES
UPDATERECORDFORMAT COMPACT
NOCOMPRESSUPDATES
LOGALLSUPCOLS
GETUPDATEBEFORES
PRM
SQL OUT
UPDATE: before + after in 1 record
DELETE: full
03469
60493
NOCOMPRESSDELETES
UPDATERECORDFORMAT COMPACT
NOCOMPRESSUPDATES
GETUPDATEBEFORES
LOGALLSUPCOLS
PRM
SQL OUT
UPDATE: before + after in 1 record
DELETE: full
03469
60934
NOCOMPRESSDELETES
UPDATERECORDFORMAT COMPACT
GETUPDATEBEFORES
LOGALLSUPCOLS
NOCOMPRESSUPDATES
PRM
SQL OUT
UPDATE: before + after in 1 record
DELETE: full
03469
60943
NOCOMPRESSDELETES
UPDATERECORDFORMAT COMPACT
GETUPDATEBEFORES
NOCOMPRESSUPDATES
LOGALLSUPCOLS
PRM
SQL OUT
UPDATE: before + after in 1 record
DELETE: full
03469
63049
NOCOMPRESSDELETES
LOGALLSUPCOLS
UPDATERECORDFORMAT COMPACT
NOCOMPRESSUPDATES
GETUPDATEBEFORES
PRM
SQL OUT
UPDATE: before + after in 1 record
DELETE: full
03469
63094
NOCOMPRESSDELETES
LOGALLSUPCOLS
UPDATERECORDFORMAT COMPACT
GETUPDATEBEFORES
NOCOMPRESSUPDATES
PRM
SQL OUT
UPDATE: before + after in 1 record
DELETE: full
03469
63409
NOCOMPRESSDELETES
LOGALLSUPCOLS
NOCOMPRESSUPDATES
UPDATERECORDFORMAT COMPACT
GETUPDATEBEFORES
PRM
SQL OUT
UPDATE: before + after in 1 record
DELETE: full
03469
63490
NOCOMPRESSDELETES
LOGALLSUPCOLS
NOCOMPRESSUPDATES
GETUPDATEBEFORES
UPDATERECORDFORMAT COMPACT
PRM
SQL OUT
UPDATE: before + after in 1 record
DELETE: full
03469
63904
NOCOMPRESSDELETES
LOGALLSUPCOLS
GETUPDATEBEFORES
UPDATERECORDFORMAT COMPACT
NOCOMPRESSUPDATES
PRM
SQL OUT
UPDATE: before + after in 1 record
DELETE: full
03469
63940
NOCOMPRESSDELETES
LOGALLSUPCOLS
GETUPDATEBEFORES
NOCOMPRESSUPDATES
UPDATERECORDFORMAT COMPACT
PRM
SQL OUT
UPDATE: before + after in 1 record
DELETE: full
03469
64039
NOCOMPRESSDELETES
NOCOMPRESSUPDATES
UPDATERECORDFORMAT COMPACT
LOGALLSUPCOLS
GETUPDATEBEFORES
PRM
SQL OUT
UPDATE: before + after in 1 record
DELETE: full
03469
64093
NOCOMPRESSDELETES
NOCOMPRESSUPDATES
UPDATERECORDFORMAT COMPACT
GETUPDATEBEFORES
LOGALLSUPCOLS
PRM
SQL OUT
UPDATE: before + after in 1 record
DELETE: full
03469
64309
NOCOMPRESSDELETES
NOCOMPRESSUPDATES
LOGALLSUPCOLS
UPDATERECORDFORMAT COMPACT
GETUPDATEBEFORES
PRM
SQL OUT
UPDATE: before + after in 1 record
DELETE: full
03469
64390
NOCOMPRESSDELETES
NOCOMPRESSUPDATES
LOGALLSUPCOLS
GETUPDATEBEFORES
UPDATERECORDFORMAT COMPACT
PRM
SQL OUT
UPDATE: before + after in 1 record
DELETE: full
03469
64903
NOCOMPRESSDELETES
NOCOMPRESSUPDATES
GETUPDATEBEFORES
UPDATERECORDFORMAT COMPACT
LOGALLSUPCOLS
PRM
SQL OUT
UPDATE: before + after in 1 record
DELETE: full
03469
64930
NOCOMPRESSDELETES
NOCOMPRESSUPDATES
GETUPDATEBEFORES
LOGALLSUPCOLS
UPDATERECORDFORMAT COMPACT
PRM
SQL OUT
UPDATE: before + after in 1 record
DELETE: full
03469
69034
NOCOMPRESSDELETES
GETUPDATEBEFORES
UPDATERECORDFORMAT COMPACT
LOGALLSUPCOLS
NOCOMPRESSUPDATES
PRM
SQL OUT
UPDATE: before + after in 1 record
DELETE: full
03469
69043
NOCOMPRESSDELETES
GETUPDATEBEFORES
UPDATERECORDFORMAT COMPACT
NOCOMPRESSUPDATES
LOGALLSUPCOLS
PRM
SQL OUT
UPDATE: before + after in 1 record
DELETE: full
03469
69304
NOCOMPRESSDELETES
GETUPDATEBEFORES
LOGALLSUPCOLS
UPDATERECORDFORMAT COMPACT
NOCOMPRESSUPDATES
PRM
SQL OUT
UPDATE: before + after in 1 record
DELETE: full
03469
69340
NOCOMPRESSDELETES
GETUPDATEBEFORES
LOGALLSUPCOLS
NOCOMPRESSUPDATES
UPDATERECORDFORMAT COMPACT
PRM
SQL OUT
UPDATE: before + after in 1 record
DELETE: full
03469
69403
NOCOMPRESSDELETES
GETUPDATEBEFORES
NOCOMPRESSUPDATES
UPDATERECORDFORMAT COMPACT
LOGALLSUPCOLS
PRM
SQL OUT
UPDATE: before + after in 1 record
DELETE: full
03469
69430
NOCOMPRESSDELETES
GETUPDATEBEFORES
NOCOMPRESSUPDATES
LOGALLSUPCOLS
UPDATERECORDFORMAT COMPACT
PRM
SQL OUT
UPDATE: before + after in 1 record
DELETE: full
03469
90346
GETUPDATEBEFORES
UPDATERECORDFORMAT COMPACT
LOGALLSUPCOLS
NOCOMPRESSUPDATES
NOCOMPRESSDELETES
PRM
SQL OUT
UPDATE: before + after in 1 record
DELETE: full
03469
90364
GETUPDATEBEFORES
UPDATERECORDFORMAT COMPACT
LOGALLSUPCOLS
NOCOMPRESSDELETES
NOCOMPRESSUPDATES
PRM
SQL OUT
UPDATE: before + after in 1 record
DELETE: full
03469
90436
GETUPDATEBEFORES
UPDATERECORDFORMAT COMPACT
NOCOMPRESSUPDATES
LOGALLSUPCOLS
NOCOMPRESSDELETES
PRM
SQL OUT
UPDATE: before + after in 1 record
DELETE: full
03469
90463
GETUPDATEBEFORES
UPDATERECORDFORMAT COMPACT
NOCOMPRESSUPDATES
NOCOMPRESSDELETES
LOGALLSUPCOLS
PRM
SQL OUT
UPDATE: before + after in 1 record
DELETE: full
03469
90634
GETUPDATEBEFORES
UPDATERECORDFORMAT COMPACT
NOCOMPRESSDELETES
LOGALLSUPCOLS
NOCOMPRESSUPDATES
PRM
SQL OUT
UPDATE: before + after in 1 record
DELETE: full
03469
90643
GETUPDATEBEFORES
UPDATERECORDFORMAT COMPACT
NOCOMPRESSDELETES
NOCOMPRESSUPDATES
LOGALLSUPCOLS
PRM
SQL OUT
UPDATE: before + after in 1 record
DELETE: full
03469
93046
GETUPDATEBEFORES
LOGALLSUPCOLS
UPDATERECORDFORMAT COMPACT
NOCOMPRESSUPDATES
NOCOMPRESSDELETES
PRM
SQL OUT
UPDATE: before + after in 1 record
DELETE: full
03469
93064
GETUPDATEBEFORES
LOGALLSUPCOLS
UPDATERECORDFORMAT COMPACT
NOCOMPRESSDELETES
NOCOMPRESSUPDATES
PRM
SQL OUT
UPDATE: before + after in 1 record
DELETE: full
03469
93406
GETUPDATEBEFORES
LOGALLSUPCOLS
NOCOMPRESSUPDATES
UPDATERECORDFORMAT COMPACT
NOCOMPRESSDELETES
PRM
SQL OUT
UPDATE: before + after in 1 record
DELETE: full
03469
93460
GETUPDATEBEFORES
LOGALLSUPCOLS
NOCOMPRESSUPDATES
NOCOMPRESSDELETES
UPDATERECORDFORMAT COMPACT
PRM
SQL OUT
UPDATE: before + after in 1 record
DELETE: full
03469
93604
GETUPDATEBEFORES
LOGALLSUPCOLS
NOCOMPRESSDELETES
UPDATERECORDFORMAT COMPACT
NOCOMPRESSUPDATES
PRM
SQL OUT
UPDATE: before + after in 1 record
DELETE: full
03469
93640
GETUPDATEBEFORES
LOGALLSUPCOLS
NOCOMPRESSDELETES
NOCOMPRESSUPDATES
UPDATERECORDFORMAT COMPACT
PRM
SQL OUT
UPDATE: before + after in 1 record
DELETE: full
03469
94036
GETUPDATEBEFORES
NOCOMPRESSUPDATES
UPDATERECORDFORMAT COMPACT
LOGALLSUPCOLS
NOCOMPRESSDELETES
PRM
SQL OUT
UPDATE: before + after in 1 record
DELETE: full
03469
94063
GETUPDATEBEFORES
NOCOMPRESSUPDATES
UPDATERECORDFORMAT COMPACT
NOCOMPRESSDELETES
LOGALLSUPCOLS
PRM
SQL OUT
UPDATE: before + after in 1 record
DELETE: full
03469
94306
GETUPDATEBEFORES
NOCOMPRESSUPDATES
LOGALLSUPCOLS
UPDATERECORDFORMAT COMPACT
NOCOMPRESSDELETES
PRM
SQL OUT
UPDATE: before + after in 1 record
DELETE: full
03469
94360
GETUPDATEBEFORES
NOCOMPRESSUPDATES
LOGALLSUPCOLS
NOCOMPRESSDELETES
UPDATERECORDFORMAT COMPACT
PRM
SQL OUT
UPDATE: before + after in 1 record
DELETE: full
03469
94603
GETUPDATEBEFORES
NOCOMPRESSUPDATES
NOCOMPRESSDELETES
UPDATERECORDFORMAT COMPACT
LOGALLSUPCOLS
PRM
SQL OUT
UPDATE: before + after in 1 record
DELETE: full
03469
94630
GETUPDATEBEFORES
NOCOMPRESSUPDATES
NOCOMPRESSDELETES
LOGALLSUPCOLS
UPDATERECORDFORMAT COMPACT
PRM
SQL OUT
UPDATE: before + after in 1 record
DELETE: full
03469
96034
GETUPDATEBEFORES
NOCOMPRESSDELETES
UPDATERECORDFORMAT COMPACT
LOGALLSUPCOLS
NOCOMPRESSUPDATES
PRM
SQL OUT
UPDATE: before + after in 1 record
DELETE: full
03469
96043
GETUPDATEBEFORES
NOCOMPRESSDELETES
UPDATERECORDFORMAT COMPACT
NOCOMPRESSUPDATES
LOGALLSUPCOLS
PRM
SQL OUT
UPDATE: before + after in 1 record
DELETE: full
03469
96304
GETUPDATEBEFORES
NOCOMPRESSDELETES
LOGALLSUPCOLS
UPDATERECORDFORMAT COMPACT
NOCOMPRESSUPDATES
PRM
SQL OUT
UPDATE: before + after in 1 record
DELETE: full
03469
96340
GETUPDATEBEFORES
NOCOMPRESSDELETES
LOGALLSUPCOLS
NOCOMPRESSUPDATES
UPDATERECORDFORMAT COMPACT
PRM
SQL OUT
UPDATE: before + after in 1 record
DELETE: full
03469
96403
GETUPDATEBEFORES
NOCOMPRESSDELETES
NOCOMPRESSUPDATES
UPDATERECORDFORMAT COMPACT
LOGALLSUPCOLS
PRM
SQL OUT
UPDATE: before + after in 1 record
DELETE: full
03469
96430
GETUPDATEBEFORES
NOCOMPRESSDELETES
NOCOMPRESSUPDATES
LOGALLSUPCOLS
UPDATERECORDFORMAT COMPACT
PRM
SQL OUT
UPDATE: before + after in 1 record
DELETE: full
0347
0347
UPDATERECORDFORMAT COMPACT
LOGALLSUPCOLS
NOCOMPRESSUPDATES
COMPRESSDELETES
PRM
SQL OUT
UPDATE: before + after in 1 record
DELETE: full
0347
0374
UPDATERECORDFORMAT COMPACT
LOGALLSUPCOLS
COMPRESSDELETES
NOCOMPRESSUPDATES
PRM
SQL OUT
UPDATE: before + after in 1 record
DELETE: full
0347
0437
UPDATERECORDFORMAT COMPACT
NOCOMPRESSUPDATES
LOGALLSUPCOLS
COMPRESSDELETES
PRM
SQL OUT
UPDATE: before + after in 1 record
DELETE: full
0347
0473
UPDATERECORDFORMAT COMPACT
NOCOMPRESSUPDATES
COMPRESSDELETES
LOGALLSUPCOLS
PRM
SQL OUT
UPDATE: before + after in 1 record
DELETE: full
0347
0734
UPDATERECORDFORMAT COMPACT
COMPRESSDELETES
LOGALLSUPCOLS
NOCOMPRESSUPDATES
PRM
SQL OUT
UPDATE: before + after in 1 record
DELETE: full
0347
0743
UPDATERECORDFORMAT COMPACT
COMPRESSDELETES
NOCOMPRESSUPDATES
LOGALLSUPCOLS
PRM
SQL OUT
UPDATE: before + after in 1 record
DELETE: full
0347
3047
LOGALLSUPCOLS
UPDATERECORDFORMAT COMPACT
NOCOMPRESSUPDATES
COMPRESSDELETES
PRM
SQL OUT
UPDATE: before + after in 1 record
DELETE: full
0347
3074
LOGALLSUPCOLS
UPDATERECORDFORMAT COMPACT
COMPRESSDELETES
NOCOMPRESSUPDATES
PRM
SQL OUT
UPDATE: before + after in 1 record
DELETE: full
0347
3407
LOGALLSUPCOLS
NOCOMPRESSUPDATES
UPDATERECORDFORMAT COMPACT
COMPRESSDELETES
PRM
SQL OUT
UPDATE: before + after in 1 record
DELETE: full
0347
3470
LOGALLSUPCOLS
NOCOMPRESSUPDATES
COMPRESSDELETES
UPDATERECORDFORMAT COMPACT
PRM
SQL OUT
UPDATE: before + after in 1 record
DELETE: full
0347
3704
LOGALLSUPCOLS
COMPRESSDELETES
UPDATERECORDFORMAT COMPACT
NOCOMPRESSUPDATES
PRM
SQL OUT
UPDATE: before + after in 1 record
DELETE: full
0347
3740
LOGALLSUPCOLS
COMPRESSDELETES
NOCOMPRESSUPDATES
UPDATERECORDFORMAT COMPACT
PRM
SQL OUT
UPDATE: before + after in 1 record
DELETE: full
0347
4037
NOCOMPRESSUPDATES
UPDATERECORDFORMAT COMPACT
LOGALLSUPCOLS
COMPRESSDELETES
PRM
SQL OUT
UPDATE: before + after in 1 record
DELETE: full
0347
4073
NOCOMPRESSUPDATES
UPDATERECORDFORMAT COMPACT
COMPRESSDELETES
LOGALLSUPCOLS
PRM
SQL OUT
UPDATE: before + after in 1 record
DELETE: full
0347
4307
NOCOMPRESSUPDATES
LOGALLSUPCOLS
UPDATERECORDFORMAT COMPACT
COMPRESSDELETES
PRM
SQL OUT
UPDATE: before + after in 1 record
DELETE: full
0347
4370
NOCOMPRESSUPDATES
LOGALLSUPCOLS
COMPRESSDELETES
UPDATERECORDFORMAT COMPACT
PRM
SQL OUT
UPDATE: before + after in 1 record
DELETE: full
0347
4703
NOCOMPRESSUPDATES
COMPRESSDELETES
UPDATERECORDFORMAT COMPACT
LOGALLSUPCOLS
PRM
SQL OUT
UPDATE: before + after in 1 record
DELETE: full
0347
4730
NOCOMPRESSUPDATES
COMPRESSDELETES
LOGALLSUPCOLS
UPDATERECORDFORMAT COMPACT
PRM
SQL OUT
UPDATE: before + after in 1 record
DELETE: full
0347
7034
COMPRESSDELETES
UPDATERECORDFORMAT COMPACT
LOGALLSUPCOLS
NOCOMPRESSUPDATES
PRM
SQL OUT
UPDATE: before + after in 1 record
DELETE: full
0347
7043
COMPRESSDELETES
UPDATERECORDFORMAT COMPACT
NOCOMPRESSUPDATES
LOGALLSUPCOLS
PRM
SQL OUT
UPDATE: before + after in 1 record
DELETE: full
0347
7304
COMPRESSDELETES
LOGALLSUPCOLS
UPDATERECORDFORMAT COMPACT
NOCOMPRESSUPDATES
PRM
SQL OUT
UPDATE: before + after in 1 record
DELETE: full
0347
7340
COMPRESSDELETES
LOGALLSUPCOLS
NOCOMPRESSUPDATES
UPDATERECORDFORMAT COMPACT
PRM
SQL OUT
UPDATE: before + after in 1 record
DELETE: full
0347
7403
COMPRESSDELETES
NOCOMPRESSUPDATES
UPDATERECORDFORMAT COMPACT
LOGALLSUPCOLS
PRM
SQL OUT
UPDATE: before + after in 1 record
DELETE: full
0347
7430
COMPRESSDELETES
NOCOMPRESSUPDATES
LOGALLSUPCOLS
UPDATERECORDFORMAT COMPACT
PRM
SQL OUT
UPDATE: before + after in 1 record
DELETE: full
03478
03478
UPDATERECORDFORMAT COMPACT
LOGALLSUPCOLS
NOCOMPRESSUPDATES
COMPRESSDELETES
IGNOREUPDATEBEFORES
PRM
SQL OUT
UPDATE: before + after in 1 record
DELETE: full
03478
03487
UPDATERECORDFORMAT COMPACT
LOGALLSUPCOLS
NOCOMPRESSUPDATES
IGNOREUPDATEBEFORES
COMPRESSDELETES
PRM
SQL OUT
UPDATE: before + after in 1 record
DELETE: full
03478
03748
UPDATERECORDFORMAT COMPACT
LOGALLSUPCOLS
COMPRESSDELETES
NOCOMPRESSUPDATES
IGNOREUPDATEBEFORES
PRM
SQL OUT
UPDATE: before + after in 1 record
DELETE: full
03478
03784
UPDATERECORDFORMAT COMPACT
LOGALLSUPCOLS
COMPRESSDELETES
IGNOREUPDATEBEFORES
NOCOMPRESSUPDATES
PRM
SQL OUT
UPDATE: before + after in 1 record
DELETE: full
03478
03847
UPDATERECORDFORMAT COMPACT
LOGALLSUPCOLS
IGNOREUPDATEBEFORES
NOCOMPRESSUPDATES
COMPRESSDELETES
PRM
SQL OUT
UPDATE: before + after in 1 record
DELETE: full
03478
03874
UPDATERECORDFORMAT COMPACT
LOGALLSUPCOLS
IGNOREUPDATEBEFORES
COMPRESSDELETES
NOCOMPRESSUPDATES
PRM
SQL OUT
UPDATE: before + after in 1 record
DELETE: full
03478
04378
UPDATERECORDFORMAT COMPACT
NOCOMPRESSUPDATES
LOGALLSUPCOLS
COMPRESSDELETES
IGNOREUPDATEBEFORES
PRM
SQL OUT
UPDATE: before + after in 1 record
DELETE: full
03478
04387
UPDATERECORDFORMAT COMPACT
NOCOMPRESSUPDATES
LOGALLSUPCOLS
IGNOREUPDATEBEFORES
COMPRESSDELETES
PRM
SQL OUT
UPDATE: before + after in 1 record
DELETE: full
03478
04738
UPDATERECORDFORMAT COMPACT
NOCOMPRESSUPDATES
COMPRESSDELETES
LOGALLSUPCOLS
IGNOREUPDATEBEFORES
PRM
SQL OUT
UPDATE: before + after in 1 record
DELETE: full
03478
04783
UPDATERECORDFORMAT COMPACT
NOCOMPRESSUPDATES
COMPRESSDELETES
IGNOREUPDATEBEFORES
LOGALLSUPCOLS
PRM
SQL OUT
UPDATE: before + after in 1 record
DELETE: full
03478
04837
UPDATERECORDFORMAT COMPACT
NOCOMPRESSUPDATES
IGNOREUPDATEBEFORES
LOGALLSUPCOLS
COMPRESSDELETES
PRM
SQL OUT
UPDATE: before + after in 1 record
DELETE: full
03478
04873
UPDATERECORDFORMAT COMPACT
NOCOMPRESSUPDATES
IGNOREUPDATEBEFORES
COMPRESSDELETES
LOGALLSUPCOLS
PRM
SQL OUT
UPDATE: before + after in 1 record
DELETE: full
03478
07348
UPDATERECORDFORMAT COMPACT
COMPRESSDELETES
LOGALLSUPCOLS
NOCOMPRESSUPDATES
IGNOREUPDATEBEFORES
PRM
SQL OUT
UPDATE: before + after in 1 record
DELETE: full
03478
07384
UPDATERECORDFORMAT COMPACT
COMPRESSDELETES
LOGALLSUPCOLS
IGNOREUPDATEBEFORES
NOCOMPRESSUPDATES
PRM
SQL OUT
UPDATE: before + after in 1 record
DELETE: full
03478
07438
UPDATERECORDFORMAT COMPACT
COMPRESSDELETES
NOCOMPRESSUPDATES
LOGALLSUPCOLS
IGNOREUPDATEBEFORES
PRM
SQL OUT
UPDATE: before + after in 1 record
DELETE: full
03478
07483
UPDATERECORDFORMAT COMPACT
COMPRESSDELETES
NOCOMPRESSUPDATES
IGNOREUPDATEBEFORES
LOGALLSUPCOLS
PRM
SQL OUT
UPDATE: before + after in 1 record
DELETE: full
03478
07834
UPDATERECORDFORMAT COMPACT
COMPRESSDELETES
IGNOREUPDATEBEFORES
LOGALLSUPCOLS
NOCOMPRESSUPDATES
PRM
SQL OUT
UPDATE: before + after in 1 record
DELETE: full
03478
07843
UPDATERECORDFORMAT COMPACT
COMPRESSDELETES
IGNOREUPDATEBEFORES
NOCOMPRESSUPDATES
LOGALLSUPCOLS
PRM
SQL OUT
UPDATE: before + after in 1 record
DELETE: full
03478
08347
UPDATERECORDFORMAT COMPACT
IGNOREUPDATEBEFORES
LOGALLSUPCOLS
NOCOMPRESSUPDATES
COMPRESSDELETES
PRM
SQL OUT
UPDATE: before + after in 1 record
DELETE: full
03478
08374
UPDATERECORDFORMAT COMPACT
IGNOREUPDATEBEFORES
LOGALLSUPCOLS
COMPRESSDELETES
NOCOMPRESSUPDATES
PRM
SQL OUT
UPDATE: before + after in 1 record
DELETE: full
03478
08437
UPDATERECORDFORMAT COMPACT
IGNOREUPDATEBEFORES
NOCOMPRESSUPDATES
LOGALLSUPCOLS
COMPRESSDELETES
PRM
SQL OUT
UPDATE: before + after in 1 record
DELETE: full
03478
08473
UPDATERECORDFORMAT COMPACT
IGNOREUPDATEBEFORES
NOCOMPRESSUPDATES
COMPRESSDELETES
LOGALLSUPCOLS
PRM
SQL OUT
UPDATE: before + after in 1 record
DELETE: full
03478
08734
UPDATERECORDFORMAT COMPACT
IGNOREUPDATEBEFORES
COMPRESSDELETES
LOGALLSUPCOLS
NOCOMPRESSUPDATES
PRM
SQL OUT
UPDATE: before + after in 1 record
DELETE: full
03478
08743
UPDATERECORDFORMAT COMPACT
IGNOREUPDATEBEFORES
COMPRESSDELETES
NOCOMPRESSUPDATES
LOGALLSUPCOLS
PRM
SQL OUT
UPDATE: before + after in 1 record
DELETE: full
03478
30478
LOGALLSUPCOLS
UPDATERECORDFORMAT COMPACT
NOCOMPRESSUPDATES
COMPRESSDELETES
IGNOREUPDATEBEFORES
PRM
SQL OUT
UPDATE: before + after in 1 record
DELETE: full
03478
30487
LOGALLSUPCOLS
UPDATERECORDFORMAT COMPACT
NOCOMPRESSUPDATES
IGNOREUPDATEBEFORES
COMPRESSDELETES
PRM
SQL OUT
UPDATE: before + after in 1 record
DELETE: full
03478
30748
LOGALLSUPCOLS
UPDATERECORDFORMAT COMPACT
COMPRESSDELETES
NOCOMPRESSUPDATES
IGNOREUPDATEBEFORES
PRM
SQL OUT
UPDATE: before + after in 1 record
DELETE: full
03478
30784
LOGALLSUPCOLS
UPDATERECORDFORMAT COMPACT
COMPRESSDELETES
IGNOREUPDATEBEFORES
NOCOMPRESSUPDATES
PRM
SQL OUT
UPDATE: before + after in 1 record
DELETE: full
03478
30847
LOGALLSUPCOLS
UPDATERECORDFORMAT COMPACT
IGNOREUPDATEBEFORES
NOCOMPRESSUPDATES
COMPRESSDELETES
PRM
SQL OUT
UPDATE: before + after in 1 record
DELETE: full
03478
30874
LOGALLSUPCOLS
UPDATERECORDFORMAT COMPACT
IGNOREUPDATEBEFORES
COMPRESSDELETES
NOCOMPRESSUPDATES
PRM
SQL OUT
UPDATE: before + after in 1 record
DELETE: full
03478
34078
LOGALLSUPCOLS
NOCOMPRESSUPDATES
UPDATERECORDFORMAT COMPACT
COMPRESSDELETES
IGNOREUPDATEBEFORES
PRM
SQL OUT
UPDATE: before + after in 1 record
DELETE: full
03478
34087
LOGALLSUPCOLS
NOCOMPRESSUPDATES
UPDATERECORDFORMAT COMPACT
IGNOREUPDATEBEFORES
COMPRESSDELETES
PRM
SQL OUT
UPDATE: before + after in 1 record
DELETE: full
03478
34708
LOGALLSUPCOLS
NOCOMPRESSUPDATES
COMPRESSDELETES
UPDATERECORDFORMAT COMPACT
IGNOREUPDATEBEFORES
PRM
SQL OUT
UPDATE: before + after in 1 record
DELETE: full
03478
34780
LOGALLSUPCOLS
NOCOMPRESSUPDATES
COMPRESSDELETES
IGNOREUPDATEBEFORES
UPDATERECORDFORMAT COMPACT
PRM
SQL OUT
UPDATE: before + after in 1 record
DELETE: full
03478
34807
LOGALLSUPCOLS
NOCOMPRESSUPDATES
IGNOREUPDATEBEFORES
UPDATERECORDFORMAT COMPACT
COMPRESSDELETES
PRM
SQL OUT
UPDATE: before + after in 1 record
DELETE: full
03478
34870
LOGALLSUPCOLS
NOCOMPRESSUPDATES
IGNOREUPDATEBEFORES
COMPRESSDELETES
UPDATERECORDFORMAT COMPACT
PRM
SQL OUT
UPDATE: before + after in 1 record
DELETE: full
03478
37048
LOGALLSUPCOLS
COMPRESSDELETES
UPDATERECORDFORMAT COMPACT
NOCOMPRESSUPDATES
IGNOREUPDATEBEFORES
PRM
SQL OUT
UPDATE: before + after in 1 record
DELETE: full
03478
37084
LOGALLSUPCOLS
COMPRESSDELETES
UPDATERECORDFORMAT COMPACT
IGNOREUPDATEBEFORES
NOCOMPRESSUPDATES
PRM
SQL OUT
UPDATE: before + after in 1 record
DELETE: full
03478
37408
LOGALLSUPCOLS
COMPRESSDELETES
NOCOMPRESSUPDATES
UPDATERECORDFORMAT COMPACT
IGNOREUPDATEBEFORES
PRM
SQL OUT
UPDATE: before + after in 1 record
DELETE: full
03478
37480
LOGALLSUPCOLS
COMPRESSDELETES
NOCOMPRESSUPDATES
IGNOREUPDATEBEFORES
UPDATERECORDFORMAT COMPACT
PRM
SQL OUT
UPDATE: before + after in 1 record
DELETE: full
03478
37804
LOGALLSUPCOLS
COMPRESSDELETES
IGNOREUPDATEBEFORES
UPDATERECORDFORMAT COMPACT
NOCOMPRESSUPDATES
PRM
SQL OUT
UPDATE: before + after in 1 record
DELETE: full
03478
37840
LOGALLSUPCOLS
COMPRESSDELETES
IGNOREUPDATEBEFORES
NOCOMPRESSUPDATES
UPDATERECORDFORMAT COMPACT
PRM
SQL OUT
UPDATE: before + after in 1 record
DELETE: full
03478
38047
LOGALLSUPCOLS
IGNOREUPDATEBEFORES
UPDATERECORDFORMAT COMPACT
NOCOMPRESSUPDATES
COMPRESSDELETES
PRM
SQL OUT
UPDATE: before + after in 1 record
DELETE: full
03478
38074
LOGALLSUPCOLS
IGNOREUPDATEBEFORES
UPDATERECORDFORMAT COMPACT
COMPRESSDELETES
NOCOMPRESSUPDATES
PRM
SQL OUT
UPDATE: before + after in 1 record
DELETE: full
03478
38407
LOGALLSUPCOLS
IGNOREUPDATEBEFORES
NOCOMPRESSUPDATES
UPDATERECORDFORMAT COMPACT
COMPRESSDELETES
PRM
SQL OUT
UPDATE: before + after in 1 record
DELETE: full
03478
38470
LOGALLSUPCOLS
IGNOREUPDATEBEFORES
NOCOMPRESSUPDATES
COMPRESSDELETES
UPDATERECORDFORMAT COMPACT
PRM
SQL OUT
UPDATE: before + after in 1 record
DELETE: full
03478
38704
LOGALLSUPCOLS
IGNOREUPDATEBEFORES
COMPRESSDELETES
UPDATERECORDFORMAT COMPACT
NOCOMPRESSUPDATES
PRM
SQL OUT
UPDATE: before + after in 1 record
DELETE: full
03478
38740
LOGALLSUPCOLS
IGNOREUPDATEBEFORES
COMPRESSDELETES
NOCOMPRESSUPDATES
UPDATERECORDFORMAT COMPACT
PRM
SQL OUT
UPDATE: before + after in 1 record
DELETE: full
03478
40378
NOCOMPRESSUPDATES
UPDATERECORDFORMAT COMPACT
LOGALLSUPCOLS
COMPRESSDELETES
IGNOREUPDATEBEFORES
PRM
SQL OUT
UPDATE: before + after in 1 record
DELETE: full
03478
40387
NOCOMPRESSUPDATES
UPDATERECORDFORMAT COMPACT
LOGALLSUPCOLS
IGNOREUPDATEBEFORES
COMPRESSDELETES
PRM
SQL OUT
UPDATE: before + after in 1 record
DELETE: full
03478
40738
NOCOMPRESSUPDATES
UPDATERECORDFORMAT COMPACT
COMPRESSDELETES
LOGALLSUPCOLS
IGNOREUPDATEBEFORES
PRM
SQL OUT
UPDATE: before + after in 1 record
DELETE: full
03478
40783
NOCOMPRESSUPDATES
UPDATERECORDFORMAT COMPACT
COMPRESSDELETES
IGNOREUPDATEBEFORES
LOGALLSUPCOLS
PRM
SQL OUT
UPDATE: before + after in 1 record
DELETE: full
03478
40837
NOCOMPRESSUPDATES
UPDATERECORDFORMAT COMPACT
IGNOREUPDATEBEFORES
LOGALLSUPCOLS
COMPRESSDELETES
PRM
SQL OUT
UPDATE: before + after in 1 record
DELETE: full
03478
40873
NOCOMPRESSUPDATES
UPDATERECORDFORMAT COMPACT
IGNOREUPDATEBEFORES
COMPRESSDELETES
LOGALLSUPCOLS
PRM
SQL OUT
UPDATE: before + after in 1 record
DELETE: full
03478
43078
NOCOMPRESSUPDATES
LOGALLSUPCOLS
UPDATERECORDFORMAT COMPACT
COMPRESSDELETES
IGNOREUPDATEBEFORES
PRM
SQL OUT
UPDATE: before + after in 1 record
DELETE: full
03478
43087
NOCOMPRESSUPDATES
LOGALLSUPCOLS
UPDATERECORDFORMAT COMPACT
IGNOREUPDATEBEFORES
COMPRESSDELETES
PRM
SQL OUT
UPDATE: before + after in 1 record
DELETE: full
03478
43708
NOCOMPRESSUPDATES
LOGALLSUPCOLS
COMPRESSDELETES
UPDATERECORDFORMAT COMPACT
IGNOREUPDATEBEFORES
PRM
SQL OUT
UPDATE: before + after in 1 record
DELETE: full
03478
43780
NOCOMPRESSUPDATES
LOGALLSUPCOLS
COMPRESSDELETES
IGNOREUPDATEBEFORES
UPDATERECORDFORMAT COMPACT
PRM
SQL OUT
UPDATE: before + after in 1 record
DELETE: full
03478
43807
NOCOMPRESSUPDATES
LOGALLSUPCOLS
IGNOREUPDATEBEFORES
UPDATERECORDFORMAT COMPACT
COMPRESSDELETES
PRM
SQL OUT
UPDATE: before + after in 1 record
DELETE: full
03478
43870
NOCOMPRESSUPDATES
LOGALLSUPCOLS
IGNOREUPDATEBEFORES
COMPRESSDELETES
UPDATERECORDFORMAT COMPACT
PRM
SQL OUT
UPDATE: before + after in 1 record
DELETE: full
03478
47038
NOCOMPRESSUPDATES
COMPRESSDELETES
UPDATERECORDFORMAT COMPACT
LOGALLSUPCOLS
IGNOREUPDATEBEFORES
PRM
SQL OUT
UPDATE: before + after in 1 record
DELETE: full
03478
47083
NOCOMPRESSUPDATES
COMPRESSDELETES
UPDATERECORDFORMAT COMPACT
IGNOREUPDATEBEFORES
LOGALLSUPCOLS
PRM
SQL OUT
UPDATE: before + after in 1 record
DELETE: full
03478
47308
NOCOMPRESSUPDATES
COMPRESSDELETES
LOGALLSUPCOLS
UPDATERECORDFORMAT COMPACT
IGNOREUPDATEBEFORES
PRM
SQL OUT
UPDATE: before + after in 1 record
DELETE: full
03478
47380
NOCOMPRESSUPDATES
COMPRESSDELETES
LOGALLSUPCOLS
IGNOREUPDATEBEFORES
UPDATERECORDFORMAT COMPACT
PRM
SQL OUT
UPDATE: before + after in 1 record
DELETE: full
03478
47803
NOCOMPRESSUPDATES
COMPRESSDELETES
IGNOREUPDATEBEFORES
UPDATERECORDFORMAT COMPACT
LOGALLSUPCOLS
PRM
SQL OUT
UPDATE: before + after in 1 record
DELETE: full
03478
47830
NOCOMPRESSUPDATES
COMPRESSDELETES
IGNOREUPDATEBEFORES
LOGALLSUPCOLS
UPDATERECORDFORMAT COMPACT
PRM
SQL OUT
UPDATE: before + after in 1 record
DELETE: full
03478
48037
NOCOMPRESSUPDATES
IGNOREUPDATEBEFORES
UPDATERECORDFORMAT COMPACT
LOGALLSUPCOLS
COMPRESSDELETES
PRM
SQL OUT
UPDATE: before + after in 1 record
DELETE: full
03478
48073
NOCOMPRESSUPDATES
IGNOREUPDATEBEFORES
UPDATERECORDFORMAT COMPACT
COMPRESSDELETES
LOGALLSUPCOLS
PRM
SQL OUT
UPDATE: before + after in 1 record
DELETE: full
03478
48307
NOCOMPRESSUPDATES
IGNOREUPDATEBEFORES
LOGALLSUPCOLS
UPDATERECORDFORMAT COMPACT
COMPRESSDELETES
PRM
SQL OUT
UPDATE: before + after in 1 record
DELETE: full
03478
48370
NOCOMPRESSUPDATES
IGNOREUPDATEBEFORES
LOGALLSUPCOLS
COMPRESSDELETES
UPDATERECORDFORMAT COMPACT
PRM
SQL OUT
UPDATE: before + after in 1 record
DELETE: full
03478
48703
NOCOMPRESSUPDATES
IGNOREUPDATEBEFORES
COMPRESSDELETES
UPDATERECORDFORMAT COMPACT
LOGALLSUPCOLS
PRM
SQL OUT
UPDATE: before + after in 1 record
DELETE: full
03478
48730
NOCOMPRESSUPDATES
IGNOREUPDATEBEFORES
COMPRESSDELETES
LOGALLSUPCOLS
UPDATERECORDFORMAT COMPACT
PRM
SQL OUT
UPDATE: before + after in 1 record
DELETE: full
03478
70348
COMPRESSDELETES
UPDATERECORDFORMAT COMPACT
LOGALLSUPCOLS
NOCOMPRESSUPDATES
IGNOREUPDATEBEFORES
PRM
SQL OUT
UPDATE: before + after in 1 record
DELETE: full
03478
70384
COMPRESSDELETES
UPDATERECORDFORMAT COMPACT
LOGALLSUPCOLS
IGNOREUPDATEBEFORES
NOCOMPRESSUPDATES
PRM
SQL OUT
UPDATE: before + after in 1 record
DELETE: full
03478
70438
COMPRESSDELETES
UPDATERECORDFORMAT COMPACT
NOCOMPRESSUPDATES
LOGALLSUPCOLS
IGNOREUPDATEBEFORES
PRM
SQL OUT
UPDATE: before + after in 1 record
DELETE: full
03478
70483
COMPRESSDELETES
UPDATERECORDFORMAT COMPACT
NOCOMPRESSUPDATES
IGNOREUPDATEBEFORES
LOGALLSUPCOLS
PRM
SQL OUT
UPDATE: before + after in 1 record
DELETE: full
03478
70834
COMPRESSDELETES
UPDATERECORDFORMAT COMPACT
IGNOREUPDATEBEFORES
LOGALLSUPCOLS
NOCOMPRESSUPDATES
PRM
SQL OUT
UPDATE: before + after in 1 record
DELETE: full
03478
70843
COMPRESSDELETES
UPDATERECORDFORMAT COMPACT
IGNOREUPDATEBEFORES
NOCOMPRESSUPDATES
LOGALLSUPCOLS
PRM
SQL OUT
UPDATE: before + after in 1 record
DELETE: full
03478
73048
COMPRESSDELETES
LOGALLSUPCOLS
UPDATERECORDFORMAT COMPACT
NOCOMPRESSUPDATES
IGNOREUPDATEBEFORES
PRM
SQL OUT
UPDATE: before + after in 1 record
DELETE: full
03478
73084
COMPRESSDELETES
LOGALLSUPCOLS
UPDATERECORDFORMAT COMPACT
IGNOREUPDATEBEFORES
NOCOMPRESSUPDATES
PRM
SQL OUT
UPDATE: before + after in 1 record
DELETE: full
03478
73408
COMPRESSDELETES
LOGALLSUPCOLS
NOCOMPRESSUPDATES
UPDATERECORDFORMAT COMPACT
IGNOREUPDATEBEFORES
PRM
SQL OUT
UPDATE: before + after in 1 record
DELETE: full
03478
73480
COMPRESSDELETES
LOGALLSUPCOLS
NOCOMPRESSUPDATES
IGNOREUPDATEBEFORES
UPDATERECORDFORMAT COMPACT
PRM
SQL OUT
UPDATE: before + after in 1 record
DELETE: full
03478
73804
COMPRESSDELETES
LOGALLSUPCOLS
IGNOREUPDATEBEFORES
UPDATERECORDFORMAT COMPACT
NOCOMPRESSUPDATES
PRM
SQL OUT
UPDATE: before + after in 1 record
DELETE: full
03478
73840
COMPRESSDELETES
LOGALLSUPCOLS
IGNOREUPDATEBEFORES
NOCOMPRESSUPDATES
UPDATERECORDFORMAT COMPACT
PRM
SQL OUT
UPDATE: before + after in 1 record
DELETE: full
03478
74038
COMPRESSDELETES
NOCOMPRESSUPDATES
UPDATERECORDFORMAT COMPACT
LOGALLSUPCOLS
IGNOREUPDATEBEFORES
PRM
SQL OUT
UPDATE: before + after in 1 record
DELETE: full
03478
74083
COMPRESSDELETES
NOCOMPRESSUPDATES
UPDATERECORDFORMAT COMPACT
IGNOREUPDATEBEFORES
LOGALLSUPCOLS
PRM
SQL OUT
UPDATE: before + after in 1 record
DELETE: full
03478
74308
COMPRESSDELETES
NOCOMPRESSUPDATES
LOGALLSUPCOLS
UPDATERECORDFORMAT COMPACT
IGNOREUPDATEBEFORES
PRM
SQL OUT
UPDATE: before + after in 1 record
DELETE: full
03478
74380
COMPRESSDELETES
NOCOMPRESSUPDATES
LOGALLSUPCOLS
IGNOREUPDATEBEFORES
UPDATERECORDFORMAT COMPACT
PRM
SQL OUT
UPDATE: before + after in 1 record
DELETE: full
03478
74803
COMPRESSDELETES
NOCOMPRESSUPDATES
IGNOREUPDATEBEFORES
UPDATERECORDFORMAT COMPACT
LOGALLSUPCOLS
PRM
SQL OUT
UPDATE: before + after in 1 record
DELETE: full
03478
74830
COMPRESSDELETES
NOCOMPRESSUPDATES
IGNOREUPDATEBEFORES
LOGALLSUPCOLS
UPDATERECORDFORMAT COMPACT
PRM
SQL OUT
UPDATE: before + after in 1 record
DELETE: full
03478
78034
COMPRESSDELETES
IGNOREUPDATEBEFORES
UPDATERECORDFORMAT COMPACT
LOGALLSUPCOLS
NOCOMPRESSUPDATES
PRM
SQL OUT
UPDATE: before + after in 1 record
DELETE: full
03478
78043
COMPRESSDELETES
IGNOREUPDATEBEFORES
UPDATERECORDFORMAT COMPACT
NOCOMPRESSUPDATES
LOGALLSUPCOLS
PRM
SQL OUT
UPDATE: before + after in 1 record
DELETE: full
03478
78304
COMPRESSDELETES
IGNOREUPDATEBEFORES
LOGALLSUPCOLS
UPDATERECORDFORMAT COMPACT
NOCOMPRESSUPDATES
PRM
SQL OUT
UPDATE: before + after in 1 record
DELETE: full
03478
78340
COMPRESSDELETES
IGNOREUPDATEBEFORES
LOGALLSUPCOLS
NOCOMPRESSUPDATES
UPDATERECORDFORMAT COMPACT
PRM
SQL OUT
UPDATE: before + after in 1 record
DELETE: full
03478
78403
COMPRESSDELETES
IGNOREUPDATEBEFORES
NOCOMPRESSUPDATES
UPDATERECORDFORMAT COMPACT
LOGALLSUPCOLS
PRM
SQL OUT
UPDATE: before + after in 1 record
DELETE: full
03478
78430
COMPRESSDELETES
IGNOREUPDATEBEFORES
NOCOMPRESSUPDATES
LOGALLSUPCOLS
UPDATERECORDFORMAT COMPACT
PRM
SQL OUT
UPDATE: before + after in 1 record
DELETE: full
03478
80347
IGNOREUPDATEBEFORES
UPDATERECORDFORMAT COMPACT
LOGALLSUPCOLS
NOCOMPRESSUPDATES
COMPRESSDELETES
PRM
SQL OUT
UPDATE: before + after in 1 record
DELETE: full
03478
80374
IGNOREUPDATEBEFORES
UPDATERECORDFORMAT COMPACT
LOGALLSUPCOLS
COMPRESSDELETES
NOCOMPRESSUPDATES
PRM
SQL OUT
UPDATE: before + after in 1 record
DELETE: full
03478
80437
IGNOREUPDATEBEFORES
UPDATERECORDFORMAT COMPACT
NOCOMPRESSUPDATES
LOGALLSUPCOLS
COMPRESSDELETES
PRM
SQL OUT
UPDATE: before + after in 1 record
DELETE: full
03478
80473
IGNOREUPDATEBEFORES
UPDATERECORDFORMAT COMPACT
NOCOMPRESSUPDATES
COMPRESSDELETES
LOGALLSUPCOLS
PRM
SQL OUT
UPDATE: before + after in 1 record
DELETE: full
03478
80734
IGNOREUPDATEBEFORES
UPDATERECORDFORMAT COMPACT
COMPRESSDELETES
LOGALLSUPCOLS
NOCOMPRESSUPDATES
PRM
SQL OUT
UPDATE: before + after in 1 record
DELETE: full
03478
80743
IGNOREUPDATEBEFORES
UPDATERECORDFORMAT COMPACT
COMPRESSDELETES
NOCOMPRESSUPDATES
LOGALLSUPCOLS
PRM
SQL OUT
UPDATE: before + after in 1 record
DELETE: full
03478
83047
IGNOREUPDATEBEFORES
LOGALLSUPCOLS
UPDATERECORDFORMAT COMPACT
NOCOMPRESSUPDATES
COMPRESSDELETES
PRM
SQL OUT
UPDATE: before + after in 1 record
DELETE: full
03478
83074
IGNOREUPDATEBEFORES
LOGALLSUPCOLS
UPDATERECORDFORMAT COMPACT
COMPRESSDELETES
NOCOMPRESSUPDATES
PRM
SQL OUT
UPDATE: before + after in 1 record
DELETE: full
03478
83407
IGNOREUPDATEBEFORES
LOGALLSUPCOLS
NOCOMPRESSUPDATES
UPDATERECORDFORMAT COMPACT
COMPRESSDELETES
PRM
SQL OUT
UPDATE: before + after in 1 record
DELETE: full
03478
83470
IGNOREUPDATEBEFORES
LOGALLSUPCOLS
NOCOMPRESSUPDATES
COMPRESSDELETES
UPDATERECORDFORMAT COMPACT
PRM
SQL OUT
UPDATE: before + after in 1 record
DELETE: full
03478
83704
IGNOREUPDATEBEFORES
LOGALLSUPCOLS
COMPRESSDELETES
UPDATERECORDFORMAT COMPACT
NOCOMPRESSUPDATES
PRM
SQL OUT
UPDATE: before + after in 1 record
DELETE: full
03478
83740
IGNOREUPDATEBEFORES
LOGALLSUPCOLS
COMPRESSDELETES
NOCOMPRESSUPDATES
UPDATERECORDFORMAT COMPACT
PRM
SQL OUT
UPDATE: before + after in 1 record
DELETE: full
03478
84037
IGNOREUPDATEBEFORES
NOCOMPRESSUPDATES
UPDATERECORDFORMAT COMPACT
LOGALLSUPCOLS
COMPRESSDELETES
PRM
SQL OUT
UPDATE: before + after in 1 record
DELETE: full
03478
84073
IGNOREUPDATEBEFORES
NOCOMPRESSUPDATES
UPDATERECORDFORMAT COMPACT
COMPRESSDELETES
LOGALLSUPCOLS
PRM
SQL OUT
UPDATE: before + after in 1 record
DELETE: full
03478
84307
IGNOREUPDATEBEFORES
NOCOMPRESSUPDATES
LOGALLSUPCOLS
UPDATERECORDFORMAT COMPACT
COMPRESSDELETES
PRM
SQL OUT
UPDATE: before + after in 1 record
DELETE: full
03478
84370
IGNOREUPDATEBEFORES
NOCOMPRESSUPDATES
LOGALLSUPCOLS
COMPRESSDELETES
UPDATERECORDFORMAT COMPACT
PRM
SQL OUT
UPDATE: before + after in 1 record
DELETE: full
03478
84703
IGNOREUPDATEBEFORES
NOCOMPRESSUPDATES
COMPRESSDELETES
UPDATERECORDFORMAT COMPACT
LOGALLSUPCOLS
PRM
SQL OUT
UPDATE: before + after in 1 record
DELETE: full
03478
84730
IGNOREUPDATEBEFORES
NOCOMPRESSUPDATES
COMPRESSDELETES
LOGALLSUPCOLS
UPDATERECORDFORMAT COMPACT
PRM
SQL OUT
UPDATE: before + after in 1 record
DELETE: full
03478
87034
IGNOREUPDATEBEFORES
COMPRESSDELETES
UPDATERECORDFORMAT COMPACT
LOGALLSUPCOLS
NOCOMPRESSUPDATES
PRM
SQL OUT
UPDATE: before + after in 1 record
DELETE: full
03478
87043
IGNOREUPDATEBEFORES
COMPRESSDELETES
UPDATERECORDFORMAT COMPACT
NOCOMPRESSUPDATES
LOGALLSUPCOLS
PRM
SQL OUT
UPDATE: before + after in 1 record
DELETE: full
03478
87304
IGNOREUPDATEBEFORES
COMPRESSDELETES
LOGALLSUPCOLS
UPDATERECORDFORMAT COMPACT
NOCOMPRESSUPDATES
PRM
SQL OUT
UPDATE: before + after in 1 record
DELETE: full
03478
87340
IGNOREUPDATEBEFORES
COMPRESSDELETES
LOGALLSUPCOLS
NOCOMPRESSUPDATES
UPDATERECORDFORMAT COMPACT
PRM
SQL OUT
UPDATE: before + after in 1 record
DELETE: full
03478
87403
IGNOREUPDATEBEFORES
COMPRESSDELETES
NOCOMPRESSUPDATES
UPDATERECORDFORMAT COMPACT
LOGALLSUPCOLS
PRM
SQL OUT
UPDATE: before + after in 1 record
DELETE: full
03478
87430
IGNOREUPDATEBEFORES
COMPRESSDELETES
NOCOMPRESSUPDATES
LOGALLSUPCOLS
UPDATERECORDFORMAT COMPACT
PRM
SQL OUT
UPDATE: before + after in 1 record
DELETE: full
03479
03479
UPDATERECORDFORMAT COMPACT
LOGALLSUPCOLS
NOCOMPRESSUPDATES
COMPRESSDELETES
GETUPDATEBEFORES
PRM
SQL OUT
UPDATE: before + after in 1 record
DELETE: full
03479
03497
UPDATERECORDFORMAT COMPACT
LOGALLSUPCOLS
NOCOMPRESSUPDATES
GETUPDATEBEFORES
COMPRESSDELETES
PRM
SQL OUT
UPDATE: before + after in 1 record
DELETE: full
03479
03749
UPDATERECORDFORMAT COMPACT
LOGALLSUPCOLS
COMPRESSDELETES
NOCOMPRESSUPDATES
GETUPDATEBEFORES
PRM
SQL OUT
UPDATE: before + after in 1 record
DELETE: full
03479
03794
UPDATERECORDFORMAT COMPACT
LOGALLSUPCOLS
COMPRESSDELETES
GETUPDATEBEFORES
NOCOMPRESSUPDATES
PRM
SQL OUT
UPDATE: before + after in 1 record
DELETE: full
03479
03947
UPDATERECORDFORMAT COMPACT
LOGALLSUPCOLS
GETUPDATEBEFORES
NOCOMPRESSUPDATES
COMPRESSDELETES
PRM
SQL OUT
UPDATE: before + after in 1 record
DELETE: full
03479
03974
UPDATERECORDFORMAT COMPACT
LOGALLSUPCOLS
GETUPDATEBEFORES
COMPRESSDELETES
NOCOMPRESSUPDATES
PRM
SQL OUT
UPDATE: before + after in 1 record
DELETE: full
03479
04379
UPDATERECORDFORMAT COMPACT
NOCOMPRESSUPDATES
LOGALLSUPCOLS
COMPRESSDELETES
GETUPDATEBEFORES
PRM
SQL OUT
UPDATE: before + after in 1 record
DELETE: full
03479
04397
UPDATERECORDFORMAT COMPACT
NOCOMPRESSUPDATES
LOGALLSUPCOLS
GETUPDATEBEFORES
COMPRESSDELETES
PRM
SQL OUT
UPDATE: before + after in 1 record
DELETE: full
03479
04739
UPDATERECORDFORMAT COMPACT
NOCOMPRESSUPDATES
COMPRESSDELETES
LOGALLSUPCOLS
GETUPDATEBEFORES
PRM
SQL OUT
UPDATE: before + after in 1 record
DELETE: full
03479
04793
UPDATERECORDFORMAT COMPACT
NOCOMPRESSUPDATES
COMPRESSDELETES
GETUPDATEBEFORES
LOGALLSUPCOLS
PRM
SQL OUT
UPDATE: before + after in 1 record
DELETE: full
03479
04937
UPDATERECORDFORMAT COMPACT
NOCOMPRESSUPDATES
GETUPDATEBEFORES
LOGALLSUPCOLS
COMPRESSDELETES
PRM
SQL OUT
UPDATE: before + after in 1 record
DELETE: full
03479
04973
UPDATERECORDFORMAT COMPACT
NOCOMPRESSUPDATES
GETUPDATEBEFORES
COMPRESSDELETES
LOGALLSUPCOLS
PRM
SQL OUT
UPDATE: before + after in 1 record
DELETE: full
03479
07349
UPDATERECORDFORMAT COMPACT
COMPRESSDELETES
LOGALLSUPCOLS
NOCOMPRESSUPDATES
GETUPDATEBEFORES
PRM
SQL OUT
UPDATE: before + after in 1 record
DELETE: full
03479
07394
UPDATERECORDFORMAT COMPACT
COMPRESSDELETES
LOGALLSUPCOLS
GETUPDATEBEFORES
NOCOMPRESSUPDATES
PRM
SQL OUT
UPDATE: before + after in 1 record
DELETE: full
03479
07439
UPDATERECORDFORMAT COMPACT
COMPRESSDELETES
NOCOMPRESSUPDATES
LOGALLSUPCOLS
GETUPDATEBEFORES
PRM
SQL OUT
UPDATE: before + after in 1 record
DELETE: full
03479
07493
UPDATERECORDFORMAT COMPACT
COMPRESSDELETES
NOCOMPRESSUPDATES
GETUPDATEBEFORES
LOGALLSUPCOLS
PRM
SQL OUT
UPDATE: before + after in 1 record
DELETE: full
03479
07934
UPDATERECORDFORMAT COMPACT
COMPRESSDELETES
GETUPDATEBEFORES
LOGALLSUPCOLS
NOCOMPRESSUPDATES
PRM
SQL OUT
UPDATE: before + after in 1 record
DELETE: full
03479
07943
UPDATERECORDFORMAT COMPACT
COMPRESSDELETES
GETUPDATEBEFORES
NOCOMPRESSUPDATES
LOGALLSUPCOLS
PRM
SQL OUT
UPDATE: before + after in 1 record
DELETE: full
03479
09347
UPDATERECORDFORMAT COMPACT
GETUPDATEBEFORES
LOGALLSUPCOLS
NOCOMPRESSUPDATES
COMPRESSDELETES
PRM
SQL OUT
UPDATE: before + after in 1 record
DELETE: full
03479
09374
UPDATERECORDFORMAT COMPACT
GETUPDATEBEFORES
LOGALLSUPCOLS
COMPRESSDELETES
NOCOMPRESSUPDATES
PRM
SQL OUT
UPDATE: before + after in 1 record
DELETE: full
03479
09437
UPDATERECORDFORMAT COMPACT
GETUPDATEBEFORES
NOCOMPRESSUPDATES
LOGALLSUPCOLS
COMPRESSDELETES
PRM
SQL OUT
UPDATE: before + after in 1 record
DELETE: full
03479
09473
UPDATERECORDFORMAT COMPACT
GETUPDATEBEFORES
NOCOMPRESSUPDATES
COMPRESSDELETES
LOGALLSUPCOLS
PRM
SQL OUT
UPDATE: before + after in 1 record
DELETE: full
03479
09734
UPDATERECORDFORMAT COMPACT
GETUPDATEBEFORES
COMPRESSDELETES
LOGALLSUPCOLS
NOCOMPRESSUPDATES
PRM
SQL OUT
UPDATE: before + after in 1 record
DELETE: full
03479
09743
UPDATERECORDFORMAT COMPACT
GETUPDATEBEFORES
COMPRESSDELETES
NOCOMPRESSUPDATES
LOGALLSUPCOLS
PRM
SQL OUT
UPDATE: before + after in 1 record
DELETE: full
03479
30479
LOGALLSUPCOLS
UPDATERECORDFORMAT COMPACT
NOCOMPRESSUPDATES
COMPRESSDELETES
GETUPDATEBEFORES
PRM
SQL OUT
UPDATE: before + after in 1 record
DELETE: full
03479
30497
LOGALLSUPCOLS
UPDATERECORDFORMAT COMPACT
NOCOMPRESSUPDATES
GETUPDATEBEFORES
COMPRESSDELETES
PRM
SQL OUT
UPDATE: before + after in 1 record
DELETE: full
03479
30749
LOGALLSUPCOLS
UPDATERECORDFORMAT COMPACT
COMPRESSDELETES
NOCOMPRESSUPDATES
GETUPDATEBEFORES
PRM
SQL OUT
UPDATE: before + after in 1 record
DELETE: full
03479
30794
LOGALLSUPCOLS
UPDATERECORDFORMAT COMPACT
COMPRESSDELETES
GETUPDATEBEFORES
NOCOMPRESSUPDATES
PRM
SQL OUT
UPDATE: before + after in 1 record
DELETE: full
03479
30947
LOGALLSUPCOLS
UPDATERECORDFORMAT COMPACT
GETUPDATEBEFORES
NOCOMPRESSUPDATES
COMPRESSDELETES
PRM
SQL OUT
UPDATE: before + after in 1 record
DELETE: full
03479
30974
LOGALLSUPCOLS
UPDATERECORDFORMAT COMPACT
GETUPDATEBEFORES
COMPRESSDELETES
NOCOMPRESSUPDATES
PRM
SQL OUT
UPDATE: before + after in 1 record
DELETE: full
03479
34079
LOGALLSUPCOLS
NOCOMPRESSUPDATES
UPDATERECORDFORMAT COMPACT
COMPRESSDELETES
GETUPDATEBEFORES
PRM
SQL OUT
UPDATE: before + after in 1 record
DELETE: full
03479
34097
LOGALLSUPCOLS
NOCOMPRESSUPDATES
UPDATERECORDFORMAT COMPACT
GETUPDATEBEFORES
COMPRESSDELETES
PRM
SQL OUT
UPDATE: before + after in 1 record
DELETE: full
03479
34709
LOGALLSUPCOLS
NOCOMPRESSUPDATES
COMPRESSDELETES
UPDATERECORDFORMAT COMPACT
GETUPDATEBEFORES
PRM
SQL OUT
UPDATE: before + after in 1 record
DELETE: full
03479
34790
LOGALLSUPCOLS
NOCOMPRESSUPDATES
COMPRESSDELETES
GETUPDATEBEFORES
UPDATERECORDFORMAT COMPACT
PRM
SQL OUT
UPDATE: before + after in 1 record
DELETE: full
03479
34907
LOGALLSUPCOLS
NOCOMPRESSUPDATES
GETUPDATEBEFORES
UPDATERECORDFORMAT COMPACT
COMPRESSDELETES
PRM
SQL OUT
UPDATE: before + after in 1 record
DELETE: full
03479
34970
LOGALLSUPCOLS
NOCOMPRESSUPDATES
GETUPDATEBEFORES
COMPRESSDELETES
UPDATERECORDFORMAT COMPACT
PRM
SQL OUT
UPDATE: before + after in 1 record
DELETE: full
03479
37049
LOGALLSUPCOLS
COMPRESSDELETES
UPDATERECORDFORMAT COMPACT
NOCOMPRESSUPDATES
GETUPDATEBEFORES
PRM
SQL OUT
UPDATE: before + after in 1 record
DELETE: full
03479
37094
LOGALLSUPCOLS
COMPRESSDELETES
UPDATERECORDFORMAT COMPACT
GETUPDATEBEFORES
NOCOMPRESSUPDATES
PRM
SQL OUT
UPDATE: before + after in 1 record
DELETE: full
03479
37409
LOGALLSUPCOLS
COMPRESSDELETES
NOCOMPRESSUPDATES
UPDATERECORDFORMAT COMPACT
GETUPDATEBEFORES
PRM
SQL OUT
UPDATE: before + after in 1 record
DELETE: full
03479
37490
LOGALLSUPCOLS
COMPRESSDELETES
NOCOMPRESSUPDATES
GETUPDATEBEFORES
UPDATERECORDFORMAT COMPACT
PRM
SQL OUT
UPDATE: before + after in 1 record
DELETE: full
03479
37904
LOGALLSUPCOLS
COMPRESSDELETES
GETUPDATEBEFORES
UPDATERECORDFORMAT COMPACT
NOCOMPRESSUPDATES
PRM
SQL OUT
UPDATE: before + after in 1 record
DELETE: full
03479
37940
LOGALLSUPCOLS
COMPRESSDELETES
GETUPDATEBEFORES
NOCOMPRESSUPDATES
UPDATERECORDFORMAT COMPACT
PRM
SQL OUT
UPDATE: before + after in 1 record
DELETE: full
03479
39047
LOGALLSUPCOLS
GETUPDATEBEFORES
UPDATERECORDFORMAT COMPACT
NOCOMPRESSUPDATES
COMPRESSDELETES
PRM
SQL OUT
UPDATE: before + after in 1 record
DELETE: full
03479
39074
LOGALLSUPCOLS
GETUPDATEBEFORES
UPDATERECORDFORMAT COMPACT
COMPRESSDELETES
NOCOMPRESSUPDATES
PRM
SQL OUT
UPDATE: before + after in 1 record
DELETE: full
03479
39407
LOGALLSUPCOLS
GETUPDATEBEFORES
NOCOMPRESSUPDATES
UPDATERECORDFORMAT COMPACT
COMPRESSDELETES
PRM
SQL OUT
UPDATE: before + after in 1 record
DELETE: full
03479
39470
LOGALLSUPCOLS
GETUPDATEBEFORES
NOCOMPRESSUPDATES
COMPRESSDELETES
UPDATERECORDFORMAT COMPACT
PRM
SQL OUT
UPDATE: before + after in 1 record
DELETE: full
03479
39704
LOGALLSUPCOLS
GETUPDATEBEFORES
COMPRESSDELETES
UPDATERECORDFORMAT COMPACT
NOCOMPRESSUPDATES
PRM
SQL OUT
UPDATE: before + after in 1 record
DELETE: full
03479
39740
LOGALLSUPCOLS
GETUPDATEBEFORES
COMPRESSDELETES
NOCOMPRESSUPDATES
UPDATERECORDFORMAT COMPACT
PRM
SQL OUT
UPDATE: before + after in 1 record
DELETE: full
03479
40379
NOCOMPRESSUPDATES
UPDATERECORDFORMAT COMPACT
LOGALLSUPCOLS
COMPRESSDELETES
GETUPDATEBEFORES
PRM
SQL OUT
UPDATE: before + after in 1 record
DELETE: full
03479
40397
NOCOMPRESSUPDATES
UPDATERECORDFORMAT COMPACT
LOGALLSUPCOLS
GETUPDATEBEFORES
COMPRESSDELETES
PRM
SQL OUT
UPDATE: before + after in 1 record
DELETE: full
03479
40739
NOCOMPRESSUPDATES
UPDATERECORDFORMAT COMPACT
COMPRESSDELETES
LOGALLSUPCOLS
GETUPDATEBEFORES
PRM
SQL OUT
UPDATE: before + after in 1 record
DELETE: full
03479
40793
NOCOMPRESSUPDATES
UPDATERECORDFORMAT COMPACT
COMPRESSDELETES
GETUPDATEBEFORES
LOGALLSUPCOLS
PRM
SQL OUT
UPDATE: before + after in 1 record
DELETE: full
03479
40937
NOCOMPRESSUPDATES
UPDATERECORDFORMAT COMPACT
GETUPDATEBEFORES
LOGALLSUPCOLS
COMPRESSDELETES
PRM
SQL OUT
UPDATE: before + after in 1 record
DELETE: full
03479
40973
NOCOMPRESSUPDATES
UPDATERECORDFORMAT COMPACT
GETUPDATEBEFORES
COMPRESSDELETES
LOGALLSUPCOLS
PRM
SQL OUT
UPDATE: before + after in 1 record
DELETE: full
03479
43079
NOCOMPRESSUPDATES
LOGALLSUPCOLS
UPDATERECORDFORMAT COMPACT
COMPRESSDELETES
GETUPDATEBEFORES
PRM
SQL OUT
UPDATE: before + after in 1 record
DELETE: full
03479
43097
NOCOMPRESSUPDATES
LOGALLSUPCOLS
UPDATERECORDFORMAT COMPACT
GETUPDATEBEFORES
COMPRESSDELETES
PRM
SQL OUT
UPDATE: before + after in 1 record
DELETE: full
03479
43709
NOCOMPRESSUPDATES
LOGALLSUPCOLS
COMPRESSDELETES
UPDATERECORDFORMAT COMPACT
GETUPDATEBEFORES
PRM
SQL OUT
UPDATE: before + after in 1 record
DELETE: full
03479
43790
NOCOMPRESSUPDATES
LOGALLSUPCOLS
COMPRESSDELETES
GETUPDATEBEFORES
UPDATERECORDFORMAT COMPACT
PRM
SQL OUT
UPDATE: before + after in 1 record
DELETE: full
03479
43907
NOCOMPRESSUPDATES
LOGALLSUPCOLS
GETUPDATEBEFORES
UPDATERECORDFORMAT COMPACT
COMPRESSDELETES
PRM
SQL OUT
UPDATE: before + after in 1 record
DELETE: full
03479
43970
NOCOMPRESSUPDATES
LOGALLSUPCOLS
GETUPDATEBEFORES
COMPRESSDELETES
UPDATERECORDFORMAT COMPACT
PRM
SQL OUT
UPDATE: before + after in 1 record
DELETE: full
03479
47039
NOCOMPRESSUPDATES
COMPRESSDELETES
UPDATERECORDFORMAT COMPACT
LOGALLSUPCOLS
GETUPDATEBEFORES
PRM
SQL OUT
UPDATE: before + after in 1 record
DELETE: full
03479
47093
NOCOMPRESSUPDATES
COMPRESSDELETES
UPDATERECORDFORMAT COMPACT
GETUPDATEBEFORES
LOGALLSUPCOLS
PRM
SQL OUT
UPDATE: before + after in 1 record
DELETE: full
03479
47309
NOCOMPRESSUPDATES
COMPRESSDELETES
LOGALLSUPCOLS
UPDATERECORDFORMAT COMPACT
GETUPDATEBEFORES
PRM
SQL OUT
UPDATE: before + after in 1 record
DELETE: full
03479
47390
NOCOMPRESSUPDATES
COMPRESSDELETES
LOGALLSUPCOLS
GETUPDATEBEFORES
UPDATERECORDFORMAT COMPACT
PRM
SQL OUT
UPDATE: before + after in 1 record
DELETE: full
03479
47903
NOCOMPRESSUPDATES
COMPRESSDELETES
GETUPDATEBEFORES
UPDATERECORDFORMAT COMPACT
LOGALLSUPCOLS
PRM
SQL OUT
UPDATE: before + after in 1 record
DELETE: full
03479
47930
NOCOMPRESSUPDATES
COMPRESSDELETES
GETUPDATEBEFORES
LOGALLSUPCOLS
UPDATERECORDFORMAT COMPACT
PRM
SQL OUT
UPDATE: before + after in 1 record
DELETE: full
03479
49037
NOCOMPRESSUPDATES
GETUPDATEBEFORES
UPDATERECORDFORMAT COMPACT
LOGALLSUPCOLS
COMPRESSDELETES
PRM
SQL OUT
UPDATE: before + after in 1 record
DELETE: full
03479
49073
NOCOMPRESSUPDATES
GETUPDATEBEFORES
UPDATERECORDFORMAT COMPACT
COMPRESSDELETES
LOGALLSUPCOLS
PRM
SQL OUT
UPDATE: before + after in 1 record
DELETE: full
03479
49307
NOCOMPRESSUPDATES
GETUPDATEBEFORES
LOGALLSUPCOLS
UPDATERECORDFORMAT COMPACT
COMPRESSDELETES
PRM
SQL OUT
UPDATE: before + after in 1 record
DELETE: full
03479
49370
NOCOMPRESSUPDATES
GETUPDATEBEFORES
LOGALLSUPCOLS
COMPRESSDELETES
UPDATERECORDFORMAT COMPACT
PRM
SQL OUT
UPDATE: before + after in 1 record
DELETE: full
03479
49703
NOCOMPRESSUPDATES
GETUPDATEBEFORES
COMPRESSDELETES
UPDATERECORDFORMAT COMPACT
LOGALLSUPCOLS
PRM
SQL OUT
UPDATE: before + after in 1 record
DELETE: full
03479
49730
NOCOMPRESSUPDATES
GETUPDATEBEFORES
COMPRESSDELETES
LOGALLSUPCOLS
UPDATERECORDFORMAT COMPACT
PRM
SQL OUT
UPDATE: before + after in 1 record
DELETE: full
03479
70349
COMPRESSDELETES
UPDATERECORDFORMAT COMPACT
LOGALLSUPCOLS
NOCOMPRESSUPDATES
GETUPDATEBEFORES
PRM
SQL OUT
UPDATE: before + after in 1 record
DELETE: full
03479
70394
COMPRESSDELETES
UPDATERECORDFORMAT COMPACT
LOGALLSUPCOLS
GETUPDATEBEFORES
NOCOMPRESSUPDATES
PRM
SQL OUT
UPDATE: before + after in 1 record
DELETE: full
03479
70439
COMPRESSDELETES
UPDATERECORDFORMAT COMPACT
NOCOMPRESSUPDATES
LOGALLSUPCOLS
GETUPDATEBEFORES
PRM
SQL OUT
UPDATE: before + after in 1 record
DELETE: full
03479
70493
COMPRESSDELETES
UPDATERECORDFORMAT COMPACT
NOCOMPRESSUPDATES
GETUPDATEBEFORES
LOGALLSUPCOLS
PRM
SQL OUT
UPDATE: before + after in 1 record
DELETE: full
03479
70934
COMPRESSDELETES
UPDATERECORDFORMAT COMPACT
GETUPDATEBEFORES
LOGALLSUPCOLS
NOCOMPRESSUPDATES
PRM
SQL OUT
UPDATE: before + after in 1 record
DELETE: full
03479
70943
COMPRESSDELETES
UPDATERECORDFORMAT COMPACT
GETUPDATEBEFORES
NOCOMPRESSUPDATES
LOGALLSUPCOLS
PRM
SQL OUT
UPDATE: before + after in 1 record
DELETE: full
03479
73049
COMPRESSDELETES
LOGALLSUPCOLS
UPDATERECORDFORMAT COMPACT
NOCOMPRESSUPDATES
GETUPDATEBEFORES
PRM
SQL OUT
UPDATE: before + after in 1 record
DELETE: full
03479
73094
COMPRESSDELETES
LOGALLSUPCOLS
UPDATERECORDFORMAT COMPACT
GETUPDATEBEFORES
NOCOMPRESSUPDATES
PRM
SQL OUT
UPDATE: before + after in 1 record
DELETE: full
03479
73409
COMPRESSDELETES
LOGALLSUPCOLS
NOCOMPRESSUPDATES
UPDATERECORDFORMAT COMPACT
GETUPDATEBEFORES
PRM
SQL OUT
UPDATE: before + after in 1 record
DELETE: full
03479
73490
COMPRESSDELETES
LOGALLSUPCOLS
NOCOMPRESSUPDATES
GETUPDATEBEFORES
UPDATERECORDFORMAT COMPACT
PRM
SQL OUT
UPDATE: before + after in 1 record
DELETE: full
03479
73904
COMPRESSDELETES
LOGALLSUPCOLS
GETUPDATEBEFORES
UPDATERECORDFORMAT COMPACT
NOCOMPRESSUPDATES
PRM
SQL OUT
UPDATE: before + after in 1 record
DELETE: full
03479
73940
COMPRESSDELETES
LOGALLSUPCOLS
GETUPDATEBEFORES
NOCOMPRESSUPDATES
UPDATERECORDFORMAT COMPACT
PRM
SQL OUT
UPDATE: before + after in 1 record
DELETE: full
03479
74039
COMPRESSDELETES
NOCOMPRESSUPDATES
UPDATERECORDFORMAT COMPACT
LOGALLSUPCOLS
GETUPDATEBEFORES
PRM
SQL OUT
UPDATE: before + after in 1 record
DELETE: full
03479
74093
COMPRESSDELETES
NOCOMPRESSUPDATES
UPDATERECORDFORMAT COMPACT
GETUPDATEBEFORES
LOGALLSUPCOLS
PRM
SQL OUT
UPDATE: before + after in 1 record
DELETE: full
03479
74309
COMPRESSDELETES
NOCOMPRESSUPDATES
LOGALLSUPCOLS
UPDATERECORDFORMAT COMPACT
GETUPDATEBEFORES
PRM
SQL OUT
UPDATE: before + after in 1 record
DELETE: full
03479
74390
COMPRESSDELETES
NOCOMPRESSUPDATES
LOGALLSUPCOLS
GETUPDATEBEFORES
UPDATERECORDFORMAT COMPACT
PRM
SQL OUT
UPDATE: before + after in 1 record
DELETE: full
03479
74903
COMPRESSDELETES
NOCOMPRESSUPDATES
GETUPDATEBEFORES
UPDATERECORDFORMAT COMPACT
LOGALLSUPCOLS
PRM
SQL OUT
UPDATE: before + after in 1 record
DELETE: full
03479
74930
COMPRESSDELETES
NOCOMPRESSUPDATES
GETUPDATEBEFORES
LOGALLSUPCOLS
UPDATERECORDFORMAT COMPACT
PRM
SQL OUT
UPDATE: before + after in 1 record
DELETE: full
03479
79034
COMPRESSDELETES
GETUPDATEBEFORES
UPDATERECORDFORMAT COMPACT
LOGALLSUPCOLS
NOCOMPRESSUPDATES
PRM
SQL OUT
UPDATE: before + after in 1 record
DELETE: full
03479
79043
COMPRESSDELETES
GETUPDATEBEFORES
UPDATERECORDFORMAT COMPACT
NOCOMPRESSUPDATES
LOGALLSUPCOLS
PRM
SQL OUT
UPDATE: before + after in 1 record
DELETE: full
03479
79304
COMPRESSDELETES
GETUPDATEBEFORES
LOGALLSUPCOLS
UPDATERECORDFORMAT COMPACT
NOCOMPRESSUPDATES
PRM
SQL OUT
UPDATE: before + after in 1 record
DELETE: full
03479
79340
COMPRESSDELETES
GETUPDATEBEFORES
LOGALLSUPCOLS
NOCOMPRESSUPDATES
UPDATERECORDFORMAT COMPACT
PRM
SQL OUT
UPDATE: before + after in 1 record
DELETE: full
03479
79403
COMPRESSDELETES
GETUPDATEBEFORES
NOCOMPRESSUPDATES
UPDATERECORDFORMAT COMPACT
LOGALLSUPCOLS
PRM
SQL OUT
UPDATE: before + after in 1 record
DELETE: full
03479
79430
COMPRESSDELETES
GETUPDATEBEFORES
NOCOMPRESSUPDATES
LOGALLSUPCOLS
UPDATERECORDFORMAT COMPACT
PRM
SQL OUT
UPDATE: before + after in 1 record
DELETE: full
03479
90347
GETUPDATEBEFORES
UPDATERECORDFORMAT COMPACT
LOGALLSUPCOLS
NOCOMPRESSUPDATES
COMPRESSDELETES
PRM
SQL OUT
UPDATE: before + after in 1 record
DELETE: full
03479
90374
GETUPDATEBEFORES
UPDATERECORDFORMAT COMPACT
LOGALLSUPCOLS
COMPRESSDELETES
NOCOMPRESSUPDATES
PRM
SQL OUT
UPDATE: before + after in 1 record
DELETE: full
03479
90437
GETUPDATEBEFORES
UPDATERECORDFORMAT COMPACT
NOCOMPRESSUPDATES
LOGALLSUPCOLS
COMPRESSDELETES
PRM
SQL OUT
UPDATE: before + after in 1 record
DELETE: full
03479
90473
GETUPDATEBEFORES
UPDATERECORDFORMAT COMPACT
NOCOMPRESSUPDATES
COMPRESSDELETES
LOGALLSUPCOLS
PRM
SQL OUT
UPDATE: before + after in 1 record
DELETE: full
03479
90734
GETUPDATEBEFORES
UPDATERECORDFORMAT COMPACT
COMPRESSDELETES
LOGALLSUPCOLS
NOCOMPRESSUPDATES
PRM
SQL OUT
UPDATE: before + after in 1 record
DELETE: full
03479
90743
GETUPDATEBEFORES
UPDATERECORDFORMAT COMPACT
COMPRESSDELETES
NOCOMPRESSUPDATES
LOGALLSUPCOLS
PRM
SQL OUT
UPDATE: before + after in 1 record
DELETE: full
03479
93047
GETUPDATEBEFORES
LOGALLSUPCOLS
UPDATERECORDFORMAT COMPACT
NOCOMPRESSUPDATES
COMPRESSDELETES
PRM
SQL OUT
UPDATE: before + after in 1 record
DELETE: full
03479
93074
GETUPDATEBEFORES
LOGALLSUPCOLS
UPDATERECORDFORMAT COMPACT
COMPRESSDELETES
NOCOMPRESSUPDATES
PRM
SQL OUT
UPDATE: before + after in 1 record
DELETE: full
03479
93407
GETUPDATEBEFORES
LOGALLSUPCOLS
NOCOMPRESSUPDATES
UPDATERECORDFORMAT COMPACT
COMPRESSDELETES
PRM
SQL OUT
UPDATE: before + after in 1 record
DELETE: full
03479
93470
GETUPDATEBEFORES
LOGALLSUPCOLS
NOCOMPRESSUPDATES
COMPRESSDELETES
UPDATERECORDFORMAT COMPACT
PRM
SQL OUT
UPDATE: before + after in 1 record
DELETE: full
03479
93704
GETUPDATEBEFORES
LOGALLSUPCOLS
COMPRESSDELETES
UPDATERECORDFORMAT COMPACT
NOCOMPRESSUPDATES
PRM
SQL OUT
UPDATE: before + after in 1 record
DELETE: full
03479
93740
GETUPDATEBEFORES
LOGALLSUPCOLS
COMPRESSDELETES
NOCOMPRESSUPDATES
UPDATERECORDFORMAT COMPACT
PRM
SQL OUT
UPDATE: before + after in 1 record
DELETE: full
03479
94037
GETUPDATEBEFORES
NOCOMPRESSUPDATES
UPDATERECORDFORMAT COMPACT
LOGALLSUPCOLS
COMPRESSDELETES
PRM
SQL OUT
UPDATE: before + after in 1 record
DELETE: full
03479
94073
GETUPDATEBEFORES
NOCOMPRESSUPDATES
UPDATERECORDFORMAT COMPACT
COMPRESSDELETES
LOGALLSUPCOLS
PRM
SQL OUT
UPDATE: before + after in 1 record
DELETE: full
03479
94307
GETUPDATEBEFORES
NOCOMPRESSUPDATES
LOGALLSUPCOLS
UPDATERECORDFORMAT COMPACT
COMPRESSDELETES
PRM
SQL OUT
UPDATE: before + after in 1 record
DELETE: full
03479
94370
GETUPDATEBEFORES
NOCOMPRESSUPDATES
LOGALLSUPCOLS
COMPRESSDELETES
UPDATERECORDFORMAT COMPACT
PRM
SQL OUT
UPDATE: before + after in 1 record
DELETE: full
03479
94703
GETUPDATEBEFORES
NOCOMPRESSUPDATES
COMPRESSDELETES
UPDATERECORDFORMAT COMPACT
LOGALLSUPCOLS
PRM
SQL OUT
UPDATE: before + after in 1 record
DELETE: full
03479
94730
GETUPDATEBEFORES
NOCOMPRESSUPDATES
COMPRESSDELETES
LOGALLSUPCOLS
UPDATERECORDFORMAT COMPACT
PRM
SQL OUT
UPDATE: before + after in 1 record
DELETE: full
03479
97034
GETUPDATEBEFORES
COMPRESSDELETES
UPDATERECORDFORMAT COMPACT
LOGALLSUPCOLS
NOCOMPRESSUPDATES
PRM
SQL OUT
UPDATE: before + after in 1 record
DELETE: full
03479
97043
GETUPDATEBEFORES
COMPRESSDELETES
UPDATERECORDFORMAT COMPACT
NOCOMPRESSUPDATES
LOGALLSUPCOLS
PRM
SQL OUT
UPDATE: before + after in 1 record
DELETE: full
03479
97304
GETUPDATEBEFORES
COMPRESSDELETES
LOGALLSUPCOLS
UPDATERECORDFORMAT COMPACT
NOCOMPRESSUPDATES
PRM
SQL OUT
UPDATE: before + after in 1 record
DELETE: full
03479
97340
GETUPDATEBEFORES
COMPRESSDELETES
LOGALLSUPCOLS
NOCOMPRESSUPDATES
UPDATERECORDFORMAT COMPACT
PRM
SQL OUT
UPDATE: before + after in 1 record
DELETE: full
03479
97403
GETUPDATEBEFORES
COMPRESSDELETES
NOCOMPRESSUPDATES
UPDATERECORDFORMAT COMPACT
LOGALLSUPCOLS
PRM
SQL OUT
UPDATE: before + after in 1 record
DELETE: full
03479
97430
GETUPDATEBEFORES
COMPRESSDELETES
NOCOMPRESSUPDATES
LOGALLSUPCOLS
UPDATERECORDFORMAT COMPACT
PRM
SQL OUT
UPDATE: before + after in 1 record
DELETE: full
0348
0348
UPDATERECORDFORMAT COMPACT
LOGALLSUPCOLS
NOCOMPRESSUPDATES
IGNOREUPDATEBEFORES
PRM
SQL OUT
UPDATE: before + after in 1 record
DELETE: full
0348
0384
UPDATERECORDFORMAT COMPACT
LOGALLSUPCOLS
IGNOREUPDATEBEFORES
NOCOMPRESSUPDATES
PRM
SQL OUT
UPDATE: before + after in 1 record
DELETE: full
0348
0438
UPDATERECORDFORMAT COMPACT
NOCOMPRESSUPDATES
LOGALLSUPCOLS
IGNOREUPDATEBEFORES
PRM
SQL OUT
UPDATE: before + after in 1 record
DELETE: full
0348
0483
UPDATERECORDFORMAT COMPACT
NOCOMPRESSUPDATES
IGNOREUPDATEBEFORES
LOGALLSUPCOLS
PRM
SQL OUT
UPDATE: before + after in 1 record
DELETE: full
0348
0834
UPDATERECORDFORMAT COMPACT
IGNOREUPDATEBEFORES
LOGALLSUPCOLS
NOCOMPRESSUPDATES
PRM
SQL OUT
UPDATE: before + after in 1 record
DELETE: full
0348
0843
UPDATERECORDFORMAT COMPACT
IGNOREUPDATEBEFORES
NOCOMPRESSUPDATES
LOGALLSUPCOLS
PRM
SQL OUT
UPDATE: before + after in 1 record
DELETE: full
0348
3048
LOGALLSUPCOLS
UPDATERECORDFORMAT COMPACT
NOCOMPRESSUPDATES
IGNOREUPDATEBEFORES
PRM
SQL OUT
UPDATE: before + after in 1 record
DELETE: full
0348
3084
LOGALLSUPCOLS
UPDATERECORDFORMAT COMPACT
IGNOREUPDATEBEFORES
NOCOMPRESSUPDATES
PRM
SQL OUT
UPDATE: before + after in 1 record
DELETE: full
0348
3408
LOGALLSUPCOLS
NOCOMPRESSUPDATES
UPDATERECORDFORMAT COMPACT
IGNOREUPDATEBEFORES
PRM
SQL OUT
UPDATE: before + after in 1 record
DELETE: full
0348
3480
LOGALLSUPCOLS
NOCOMPRESSUPDATES
IGNOREUPDATEBEFORES
UPDATERECORDFORMAT COMPACT
PRM
SQL OUT
UPDATE: before + after in 1 record
DELETE: full
0348
3804
LOGALLSUPCOLS
IGNOREUPDATEBEFORES
UPDATERECORDFORMAT COMPACT
NOCOMPRESSUPDATES
PRM
SQL OUT
UPDATE: before + after in 1 record
DELETE: full
0348
3840
LOGALLSUPCOLS
IGNOREUPDATEBEFORES
NOCOMPRESSUPDATES
UPDATERECORDFORMAT COMPACT
PRM
SQL OUT
UPDATE: before + after in 1 record
DELETE: full
0348
4038
NOCOMPRESSUPDATES
UPDATERECORDFORMAT COMPACT
LOGALLSUPCOLS
IGNOREUPDATEBEFORES
PRM
SQL OUT
UPDATE: before + after in 1 record
DELETE: full
0348
4083
NOCOMPRESSUPDATES
UPDATERECORDFORMAT COMPACT
IGNOREUPDATEBEFORES
LOGALLSUPCOLS
PRM
SQL OUT
UPDATE: before + after in 1 record
DELETE: full
0348
4308
NOCOMPRESSUPDATES
LOGALLSUPCOLS
UPDATERECORDFORMAT COMPACT
IGNOREUPDATEBEFORES
PRM
SQL OUT
UPDATE: before + after in 1 record
DELETE: full
0348
4380
NOCOMPRESSUPDATES
LOGALLSUPCOLS
IGNOREUPDATEBEFORES
UPDATERECORDFORMAT COMPACT
PRM
SQL OUT
UPDATE: before + after in 1 record
DELETE: full
0348
4803
NOCOMPRESSUPDATES
IGNOREUPDATEBEFORES
UPDATERECORDFORMAT COMPACT
LOGALLSUPCOLS
PRM
SQL OUT
UPDATE: before + after in 1 record
DELETE: full
0348
4830
NOCOMPRESSUPDATES
IGNOREUPDATEBEFORES
LOGALLSUPCOLS
UPDATERECORDFORMAT COMPACT
PRM
SQL OUT
UPDATE: before + after in 1 record
DELETE: full
0348
8034
IGNOREUPDATEBEFORES
UPDATERECORDFORMAT COMPACT
LOGALLSUPCOLS
NOCOMPRESSUPDATES
PRM
SQL OUT
UPDATE: before + after in 1 record
DELETE: full
0348
8043
IGNOREUPDATEBEFORES
UPDATERECORDFORMAT COMPACT
NOCOMPRESSUPDATES
LOGALLSUPCOLS
PRM
SQL OUT
UPDATE: before + after in 1 record
DELETE: full
0348
8304
IGNOREUPDATEBEFORES
LOGALLSUPCOLS
UPDATERECORDFORMAT COMPACT
NOCOMPRESSUPDATES
PRM
SQL OUT
UPDATE: before + after in 1 record
DELETE: full
0348
8340
IGNOREUPDATEBEFORES
LOGALLSUPCOLS
NOCOMPRESSUPDATES
UPDATERECORDFORMAT COMPACT
PRM
SQL OUT
UPDATE: before + after in 1 record
DELETE: full
0348
8403
IGNOREUPDATEBEFORES
NOCOMPRESSUPDATES
UPDATERECORDFORMAT COMPACT
LOGALLSUPCOLS
PRM
SQL OUT
UPDATE: before + after in 1 record
DELETE: full
0348
8430
IGNOREUPDATEBEFORES
NOCOMPRESSUPDATES
LOGALLSUPCOLS
UPDATERECORDFORMAT COMPACT
PRM
SQL OUT
UPDATE: before + after in 1 record
DELETE: full
0349
0349
UPDATERECORDFORMAT COMPACT
LOGALLSUPCOLS
NOCOMPRESSUPDATES
GETUPDATEBEFORES
PRM
SQL OUT
UPDATE: before + after in 1 record
DELETE: full
0349
0394
UPDATERECORDFORMAT COMPACT
LOGALLSUPCOLS
GETUPDATEBEFORES
NOCOMPRESSUPDATES
PRM
SQL OUT
UPDATE: before + after in 1 record
DELETE: full
0349
0439
UPDATERECORDFORMAT COMPACT
NOCOMPRESSUPDATES
LOGALLSUPCOLS
GETUPDATEBEFORES
PRM
SQL OUT
UPDATE: before + after in 1 record
DELETE: full
0349
0493
UPDATERECORDFORMAT COMPACT
NOCOMPRESSUPDATES
GETUPDATEBEFORES
LOGALLSUPCOLS
PRM
SQL OUT
UPDATE: before + after in 1 record
DELETE: full
0349
0934
UPDATERECORDFORMAT COMPACT
GETUPDATEBEFORES
LOGALLSUPCOLS
NOCOMPRESSUPDATES
PRM
SQL OUT
UPDATE: before + after in 1 record
DELETE: full
0349
0943
UPDATERECORDFORMAT COMPACT
GETUPDATEBEFORES
NOCOMPRESSUPDATES
LOGALLSUPCOLS
PRM
SQL OUT
UPDATE: before + after in 1 record
DELETE: full
0349
3049
LOGALLSUPCOLS
UPDATERECORDFORMAT COMPACT
NOCOMPRESSUPDATES
GETUPDATEBEFORES
PRM
SQL OUT
UPDATE: before + after in 1 record
DELETE: full
0349
3094
LOGALLSUPCOLS
UPDATERECORDFORMAT COMPACT
GETUPDATEBEFORES
NOCOMPRESSUPDATES
PRM
SQL OUT
UPDATE: before + after in 1 record
DELETE: full
0349
3409
LOGALLSUPCOLS
NOCOMPRESSUPDATES
UPDATERECORDFORMAT COMPACT
GETUPDATEBEFORES
PRM
SQL OUT
UPDATE: before + after in 1 record
DELETE: full
0349
3490
LOGALLSUPCOLS
NOCOMPRESSUPDATES
GETUPDATEBEFORES
UPDATERECORDFORMAT COMPACT
PRM
SQL OUT
UPDATE: before + after in 1 record
DELETE: full
0349
3904
LOGALLSUPCOLS
GETUPDATEBEFORES
UPDATERECORDFORMAT COMPACT
NOCOMPRESSUPDATES
PRM
SQL OUT
UPDATE: before + after in 1 record
DELETE: full
0349
3940
LOGALLSUPCOLS
GETUPDATEBEFORES
NOCOMPRESSUPDATES
UPDATERECORDFORMAT COMPACT
PRM
SQL OUT
UPDATE: before + after in 1 record
DELETE: full
0349
4039
NOCOMPRESSUPDATES
UPDATERECORDFORMAT COMPACT
LOGALLSUPCOLS
GETUPDATEBEFORES
PRM
SQL OUT
UPDATE: before + after in 1 record
DELETE: full
0349
4093
NOCOMPRESSUPDATES
UPDATERECORDFORMAT COMPACT
GETUPDATEBEFORES
LOGALLSUPCOLS
PRM
SQL OUT
UPDATE: before + after in 1 record
DELETE: full
0349
4309
NOCOMPRESSUPDATES
LOGALLSUPCOLS
UPDATERECORDFORMAT COMPACT
GETUPDATEBEFORES
PRM
SQL OUT
UPDATE: before + after in 1 record
DELETE: full
0349
4390
NOCOMPRESSUPDATES
LOGALLSUPCOLS
GETUPDATEBEFORES
UPDATERECORDFORMAT COMPACT
PRM
SQL OUT
UPDATE: before + after in 1 record
DELETE: full
0349
4903
NOCOMPRESSUPDATES
GETUPDATEBEFORES
UPDATERECORDFORMAT COMPACT
LOGALLSUPCOLS
PRM
SQL OUT
UPDATE: before + after in 1 record
DELETE: full
0349
4930
NOCOMPRESSUPDATES
GETUPDATEBEFORES
LOGALLSUPCOLS
UPDATERECORDFORMAT COMPACT
PRM
SQL OUT
UPDATE: before + after in 1 record
DELETE: full
0349
9034
GETUPDATEBEFORES
UPDATERECORDFORMAT COMPACT
LOGALLSUPCOLS
NOCOMPRESSUPDATES
PRM
SQL OUT
UPDATE: before + after in 1 record
DELETE: full
0349
9043
GETUPDATEBEFORES
UPDATERECORDFORMAT COMPACT
NOCOMPRESSUPDATES
LOGALLSUPCOLS
PRM
SQL OUT
UPDATE: before + after in 1 record
DELETE: full
0349
9304
GETUPDATEBEFORES
LOGALLSUPCOLS
UPDATERECORDFORMAT COMPACT
NOCOMPRESSUPDATES
PRM
SQL OUT
UPDATE: before + after in 1 record
DELETE: full
0349
9340
GETUPDATEBEFORES
LOGALLSUPCOLS
NOCOMPRESSUPDATES
UPDATERECORDFORMAT COMPACT
PRM
SQL OUT
UPDATE: before + after in 1 record
DELETE: full
0349
9403
GETUPDATEBEFORES
NOCOMPRESSUPDATES
UPDATERECORDFORMAT COMPACT
LOGALLSUPCOLS
PRM
SQL OUT
UPDATE: before + after in 1 record
DELETE: full
0349
9430
GETUPDATEBEFORES
NOCOMPRESSUPDATES
LOGALLSUPCOLS
UPDATERECORDFORMAT COMPACT
PRM
SQL OUT
UPDATE: before + after in 1 record
DELETE: full
035
035
UPDATERECORDFORMAT COMPACT
LOGALLSUPCOLS
COMPRESSUPDATES
PRM
SQL OUT
UPDATE: before + after in 1 record
DELETE: full
035
053
UPDATERECORDFORMAT COMPACT
COMPRESSUPDATES
LOGALLSUPCOLS
PRM
SQL OUT
UPDATE: before + after in 1 record
DELETE: full
035
305
LOGALLSUPCOLS
UPDATERECORDFORMAT COMPACT
COMPRESSUPDATES
PRM
SQL OUT
UPDATE: before + after in 1 record
DELETE: full
035
350
LOGALLSUPCOLS
COMPRESSUPDATES
UPDATERECORDFORMAT COMPACT
PRM
SQL OUT
UPDATE: before + after in 1 record
DELETE: full
035
503
COMPRESSUPDATES
UPDATERECORDFORMAT COMPACT
LOGALLSUPCOLS
PRM
SQL OUT
UPDATE: before + after in 1 record
DELETE: full
035
530
COMPRESSUPDATES
LOGALLSUPCOLS
UPDATERECORDFORMAT COMPACT
PRM
SQL OUT
UPDATE: before + after in 1 record
DELETE: full
0356
0356
UPDATERECORDFORMAT COMPACT
LOGALLSUPCOLS
COMPRESSUPDATES
NOCOMPRESSDELETES
PRM
SQL OUT
UPDATE: before + after in 1 record
DELETE: full
0356
0365
UPDATERECORDFORMAT COMPACT
LOGALLSUPCOLS
NOCOMPRESSDELETES
COMPRESSUPDATES
PRM
SQL OUT
UPDATE: before + after in 1 record
DELETE: full
0356
0536
UPDATERECORDFORMAT COMPACT
COMPRESSUPDATES
LOGALLSUPCOLS
NOCOMPRESSDELETES
PRM
SQL OUT
UPDATE: before + after in 1 record
DELETE: full
0356
0563
UPDATERECORDFORMAT COMPACT
COMPRESSUPDATES
NOCOMPRESSDELETES
LOGALLSUPCOLS
PRM
SQL OUT
UPDATE: before + after in 1 record
DELETE: full
0356
0635
UPDATERECORDFORMAT COMPACT
NOCOMPRESSDELETES
LOGALLSUPCOLS
COMPRESSUPDATES
PRM
SQL OUT
UPDATE: before + after in 1 record
DELETE: full
0356
0653
UPDATERECORDFORMAT COMPACT
NOCOMPRESSDELETES
COMPRESSUPDATES
LOGALLSUPCOLS
PRM
SQL OUT
UPDATE: before + after in 1 record
DELETE: full
0356
3056
LOGALLSUPCOLS
UPDATERECORDFORMAT COMPACT
COMPRESSUPDATES
NOCOMPRESSDELETES
PRM
SQL OUT
UPDATE: before + after in 1 record
DELETE: full
0356
3065
LOGALLSUPCOLS
UPDATERECORDFORMAT COMPACT
NOCOMPRESSDELETES
COMPRESSUPDATES
PRM
SQL OUT
UPDATE: before + after in 1 record
DELETE: full
0356
3506
LOGALLSUPCOLS
COMPRESSUPDATES
UPDATERECORDFORMAT COMPACT
NOCOMPRESSDELETES
PRM
SQL OUT
UPDATE: before + after in 1 record
DELETE: full
0356
3560
LOGALLSUPCOLS
COMPRESSUPDATES
NOCOMPRESSDELETES
UPDATERECORDFORMAT COMPACT
PRM
SQL OUT
UPDATE: before + after in 1 record
DELETE: full
0356
3605
LOGALLSUPCOLS
NOCOMPRESSDELETES
UPDATERECORDFORMAT COMPACT
COMPRESSUPDATES
PRM
SQL OUT
UPDATE: before + after in 1 record
DELETE: full
0356
3650
LOGALLSUPCOLS
NOCOMPRESSDELETES
COMPRESSUPDATES
UPDATERECORDFORMAT COMPACT
PRM
SQL OUT
UPDATE: before + after in 1 record
DELETE: full
0356
5036
COMPRESSUPDATES
UPDATERECORDFORMAT COMPACT
LOGALLSUPCOLS
NOCOMPRESSDELETES
PRM
SQL OUT
UPDATE: before + after in 1 record
DELETE: full
0356
5063
COMPRESSUPDATES
UPDATERECORDFORMAT COMPACT
NOCOMPRESSDELETES
LOGALLSUPCOLS
PRM
SQL OUT
UPDATE: before + after in 1 record
DELETE: full
0356
5306
COMPRESSUPDATES
LOGALLSUPCOLS
UPDATERECORDFORMAT COMPACT
NOCOMPRESSDELETES
PRM
SQL OUT
UPDATE: before + after in 1 record
DELETE: full
0356
5360
COMPRESSUPDATES
LOGALLSUPCOLS
NOCOMPRESSDELETES
UPDATERECORDFORMAT COMPACT
PRM
SQL OUT
UPDATE: before + after in 1 record
DELETE: full
0356
5603
COMPRESSUPDATES
NOCOMPRESSDELETES
UPDATERECORDFORMAT COMPACT
LOGALLSUPCOLS
PRM
SQL OUT
UPDATE: before + after in 1 record
DELETE: full
0356
5630
COMPRESSUPDATES
NOCOMPRESSDELETES
LOGALLSUPCOLS
UPDATERECORDFORMAT COMPACT
PRM
SQL OUT
UPDATE: before + after in 1 record
DELETE: full
0356
6035
NOCOMPRESSDELETES
UPDATERECORDFORMAT COMPACT
LOGALLSUPCOLS
COMPRESSUPDATES
PRM
SQL OUT
UPDATE: before + after in 1 record
DELETE: full
0356
6053
NOCOMPRESSDELETES
UPDATERECORDFORMAT COMPACT
COMPRESSUPDATES
LOGALLSUPCOLS
PRM
SQL OUT
UPDATE: before + after in 1 record
DELETE: full
0356
6305
NOCOMPRESSDELETES
LOGALLSUPCOLS
UPDATERECORDFORMAT COMPACT
COMPRESSUPDATES
PRM
SQL OUT
UPDATE: before + after in 1 record
DELETE: full
0356
6350
NOCOMPRESSDELETES
LOGALLSUPCOLS
COMPRESSUPDATES
UPDATERECORDFORMAT COMPACT
PRM
SQL OUT
UPDATE: before + after in 1 record
DELETE: full
0356
6503
NOCOMPRESSDELETES
COMPRESSUPDATES
UPDATERECORDFORMAT COMPACT
LOGALLSUPCOLS
PRM
SQL OUT
UPDATE: before + after in 1 record
DELETE: full
0356
6530
NOCOMPRESSDELETES
COMPRESSUPDATES
LOGALLSUPCOLS
UPDATERECORDFORMAT COMPACT
PRM
SQL OUT
UPDATE: before + after in 1 record
DELETE: full
03568
03568
UPDATERECORDFORMAT COMPACT
LOGALLSUPCOLS
COMPRESSUPDATES
NOCOMPRESSDELETES
IGNOREUPDATEBEFORES
PRM
SQL OUT
UPDATE: before + after in 1 record
DELETE: full
03568
03586
UPDATERECORDFORMAT COMPACT
LOGALLSUPCOLS
COMPRESSUPDATES
IGNOREUPDATEBEFORES
NOCOMPRESSDELETES
PRM
SQL OUT
UPDATE: before + after in 1 record
DELETE: full
03568
03658
UPDATERECORDFORMAT COMPACT
LOGALLSUPCOLS
NOCOMPRESSDELETES
COMPRESSUPDATES
IGNOREUPDATEBEFORES
PRM
SQL OUT
UPDATE: before + after in 1 record
DELETE: full
03568
03685
UPDATERECORDFORMAT COMPACT
LOGALLSUPCOLS
NOCOMPRESSDELETES
IGNOREUPDATEBEFORES
COMPRESSUPDATES
PRM
SQL OUT
UPDATE: before + after in 1 record
DELETE: full
03568
03856
UPDATERECORDFORMAT COMPACT
LOGALLSUPCOLS
IGNOREUPDATEBEFORES
COMPRESSUPDATES
NOCOMPRESSDELETES
PRM
SQL OUT
UPDATE: before + after in 1 record
DELETE: full
03568
03865
UPDATERECORDFORMAT COMPACT
LOGALLSUPCOLS
IGNOREUPDATEBEFORES
NOCOMPRESSDELETES
COMPRESSUPDATES
PRM
SQL OUT
UPDATE: before + after in 1 record
DELETE: full
03568
05368
UPDATERECORDFORMAT COMPACT
COMPRESSUPDATES
LOGALLSUPCOLS
NOCOMPRESSDELETES
IGNOREUPDATEBEFORES
PRM
SQL OUT
UPDATE: before + after in 1 record
DELETE: full
03568
05386
UPDATERECORDFORMAT COMPACT
COMPRESSUPDATES
LOGALLSUPCOLS
IGNOREUPDATEBEFORES
NOCOMPRESSDELETES
PRM
SQL OUT
UPDATE: before + after in 1 record
DELETE: full
03568
05638
UPDATERECORDFORMAT COMPACT
COMPRESSUPDATES
NOCOMPRESSDELETES
LOGALLSUPCOLS
IGNOREUPDATEBEFORES
PRM
SQL OUT
UPDATE: before + after in 1 record
DELETE: full
03568
05683
UPDATERECORDFORMAT COMPACT
COMPRESSUPDATES
NOCOMPRESSDELETES
IGNOREUPDATEBEFORES
LOGALLSUPCOLS
PRM
SQL OUT
UPDATE: before + after in 1 record
DELETE: full
03568
05836
UPDATERECORDFORMAT COMPACT
COMPRESSUPDATES
IGNOREUPDATEBEFORES
LOGALLSUPCOLS
NOCOMPRESSDELETES
PRM
SQL OUT
UPDATE: before + after in 1 record
DELETE: full
03568
05863
UPDATERECORDFORMAT COMPACT
COMPRESSUPDATES
IGNOREUPDATEBEFORES
NOCOMPRESSDELETES
LOGALLSUPCOLS
PRM
SQL OUT
UPDATE: before + after in 1 record
DELETE: full
03568
06358
UPDATERECORDFORMAT COMPACT
NOCOMPRESSDELETES
LOGALLSUPCOLS
COMPRESSUPDATES
IGNOREUPDATEBEFORES
PRM
SQL OUT
UPDATE: before + after in 1 record
DELETE: full
03568
06385
UPDATERECORDFORMAT COMPACT
NOCOMPRESSDELETES
LOGALLSUPCOLS
IGNOREUPDATEBEFORES
COMPRESSUPDATES
PRM
SQL OUT
UPDATE: before + after in 1 record
DELETE: full
03568
06538
UPDATERECORDFORMAT COMPACT
NOCOMPRESSDELETES
COMPRESSUPDATES
LOGALLSUPCOLS
IGNOREUPDATEBEFORES
PRM
SQL OUT
UPDATE: before + after in 1 record
DELETE: full
03568
06583
UPDATERECORDFORMAT COMPACT
NOCOMPRESSDELETES
COMPRESSUPDATES
IGNOREUPDATEBEFORES
LOGALLSUPCOLS
PRM
SQL OUT
UPDATE: before + after in 1 record
DELETE: full
03568
06835
UPDATERECORDFORMAT COMPACT
NOCOMPRESSDELETES
IGNOREUPDATEBEFORES
LOGALLSUPCOLS
COMPRESSUPDATES
PRM
SQL OUT
UPDATE: before + after in 1 record
DELETE: full
03568
06853
UPDATERECORDFORMAT COMPACT
NOCOMPRESSDELETES
IGNOREUPDATEBEFORES
COMPRESSUPDATES
LOGALLSUPCOLS
PRM
SQL OUT
UPDATE: before + after in 1 record
DELETE: full
03568
08356
UPDATERECORDFORMAT COMPACT
IGNOREUPDATEBEFORES
LOGALLSUPCOLS
COMPRESSUPDATES
NOCOMPRESSDELETES
PRM
SQL OUT
UPDATE: before + after in 1 record
DELETE: full
03568
08365
UPDATERECORDFORMAT COMPACT
IGNOREUPDATEBEFORES
LOGALLSUPCOLS
NOCOMPRESSDELETES
COMPRESSUPDATES
PRM
SQL OUT
UPDATE: before + after in 1 record
DELETE: full
03568
08536
UPDATERECORDFORMAT COMPACT
IGNOREUPDATEBEFORES
COMPRESSUPDATES
LOGALLSUPCOLS
NOCOMPRESSDELETES
PRM
SQL OUT
UPDATE: before + after in 1 record
DELETE: full
03568
08563
UPDATERECORDFORMAT COMPACT
IGNOREUPDATEBEFORES
COMPRESSUPDATES
NOCOMPRESSDELETES
LOGALLSUPCOLS
PRM
SQL OUT
UPDATE: before + after in 1 record
DELETE: full
03568
08635
UPDATERECORDFORMAT COMPACT
IGNOREUPDATEBEFORES
NOCOMPRESSDELETES
LOGALLSUPCOLS
COMPRESSUPDATES
PRM
SQL OUT
UPDATE: before + after in 1 record
DELETE: full
03568
08653
UPDATERECORDFORMAT COMPACT
IGNOREUPDATEBEFORES
NOCOMPRESSDELETES
COMPRESSUPDATES
LOGALLSUPCOLS
PRM
SQL OUT
UPDATE: before + after in 1 record
DELETE: full
03568
30568
LOGALLSUPCOLS
UPDATERECORDFORMAT COMPACT
COMPRESSUPDATES
NOCOMPRESSDELETES
IGNOREUPDATEBEFORES
PRM
SQL OUT
UPDATE: before + after in 1 record
DELETE: full
03568
30586
LOGALLSUPCOLS
UPDATERECORDFORMAT COMPACT
COMPRESSUPDATES
IGNOREUPDATEBEFORES
NOCOMPRESSDELETES
PRM
SQL OUT
UPDATE: before + after in 1 record
DELETE: full
03568
30658
LOGALLSUPCOLS
UPDATERECORDFORMAT COMPACT
NOCOMPRESSDELETES
COMPRESSUPDATES
IGNOREUPDATEBEFORES
PRM
SQL OUT
UPDATE: before + after in 1 record
DELETE: full
03568
30685
LOGALLSUPCOLS
UPDATERECORDFORMAT COMPACT
NOCOMPRESSDELETES
IGNOREUPDATEBEFORES
COMPRESSUPDATES
PRM
SQL OUT
UPDATE: before + after in 1 record
DELETE: full
03568
30856
LOGALLSUPCOLS
UPDATERECORDFORMAT COMPACT
IGNOREUPDATEBEFORES
COMPRESSUPDATES
NOCOMPRESSDELETES
PRM
SQL OUT
UPDATE: before + after in 1 record
DELETE: full
03568
30865
LOGALLSUPCOLS
UPDATERECORDFORMAT COMPACT
IGNOREUPDATEBEFORES
NOCOMPRESSDELETES
COMPRESSUPDATES
PRM
SQL OUT
UPDATE: before + after in 1 record
DELETE: full
03568
35068
LOGALLSUPCOLS
COMPRESSUPDATES
UPDATERECORDFORMAT COMPACT
NOCOMPRESSDELETES
IGNOREUPDATEBEFORES
PRM
SQL OUT
UPDATE: before + after in 1 record
DELETE: full
03568
35086
LOGALLSUPCOLS
COMPRESSUPDATES
UPDATERECORDFORMAT COMPACT
IGNOREUPDATEBEFORES
NOCOMPRESSDELETES
PRM
SQL OUT
UPDATE: before + after in 1 record
DELETE: full
03568
35608
LOGALLSUPCOLS
COMPRESSUPDATES
NOCOMPRESSDELETES
UPDATERECORDFORMAT COMPACT
IGNOREUPDATEBEFORES
PRM
SQL OUT
UPDATE: before + after in 1 record
DELETE: full
03568
35680
LOGALLSUPCOLS
COMPRESSUPDATES
NOCOMPRESSDELETES
IGNOREUPDATEBEFORES
UPDATERECORDFORMAT COMPACT
PRM
SQL OUT
UPDATE: before + after in 1 record
DELETE: full
03568
35806
LOGALLSUPCOLS
COMPRESSUPDATES
IGNOREUPDATEBEFORES
UPDATERECORDFORMAT COMPACT
NOCOMPRESSDELETES
PRM
SQL OUT
UPDATE: before + after in 1 record
DELETE: full
03568
35860
LOGALLSUPCOLS
COMPRESSUPDATES
IGNOREUPDATEBEFORES
NOCOMPRESSDELETES
UPDATERECORDFORMAT COMPACT
PRM
SQL OUT
UPDATE: before + after in 1 record
DELETE: full
03568
36058
LOGALLSUPCOLS
NOCOMPRESSDELETES
UPDATERECORDFORMAT COMPACT
COMPRESSUPDATES
IGNOREUPDATEBEFORES
PRM
SQL OUT
UPDATE: before + after in 1 record
DELETE: full
03568
36085
LOGALLSUPCOLS
NOCOMPRESSDELETES
UPDATERECORDFORMAT COMPACT
IGNOREUPDATEBEFORES
COMPRESSUPDATES
PRM
SQL OUT
UPDATE: before + after in 1 record
DELETE: full
03568
36508
LOGALLSUPCOLS
NOCOMPRESSDELETES
COMPRESSUPDATES
UPDATERECORDFORMAT COMPACT
IGNOREUPDATEBEFORES
PRM
SQL OUT
UPDATE: before + after in 1 record
DELETE: full
03568
36580
LOGALLSUPCOLS
NOCOMPRESSDELETES
COMPRESSUPDATES
IGNOREUPDATEBEFORES
UPDATERECORDFORMAT COMPACT
PRM
SQL OUT
UPDATE: before + after in 1 record
DELETE: full
03568
36805
LOGALLSUPCOLS
NOCOMPRESSDELETES
IGNOREUPDATEBEFORES
UPDATERECORDFORMAT COMPACT
COMPRESSUPDATES
PRM
SQL OUT
UPDATE: before + after in 1 record
DELETE: full
03568
36850
LOGALLSUPCOLS
NOCOMPRESSDELETES
IGNOREUPDATEBEFORES
COMPRESSUPDATES
UPDATERECORDFORMAT COMPACT
PRM
SQL OUT
UPDATE: before + after in 1 record
DELETE: full
03568
38056
LOGALLSUPCOLS
IGNOREUPDATEBEFORES
UPDATERECORDFORMAT COMPACT
COMPRESSUPDATES
NOCOMPRESSDELETES
PRM
SQL OUT
UPDATE: before + after in 1 record
DELETE: full
03568
38065
LOGALLSUPCOLS
IGNOREUPDATEBEFORES
UPDATERECORDFORMAT COMPACT
NOCOMPRESSDELETES
COMPRESSUPDATES
PRM
SQL OUT
UPDATE: before + after in 1 record
DELETE: full
03568
38506
LOGALLSUPCOLS
IGNOREUPDATEBEFORES
COMPRESSUPDATES
UPDATERECORDFORMAT COMPACT
NOCOMPRESSDELETES
PRM
SQL OUT
UPDATE: before + after in 1 record
DELETE: full
03568
38560
LOGALLSUPCOLS
IGNOREUPDATEBEFORES
COMPRESSUPDATES
NOCOMPRESSDELETES
UPDATERECORDFORMAT COMPACT
PRM
SQL OUT
UPDATE: before + after in 1 record
DELETE: full
03568
38605
LOGALLSUPCOLS
IGNOREUPDATEBEFORES
NOCOMPRESSDELETES
UPDATERECORDFORMAT COMPACT
COMPRESSUPDATES
PRM
SQL OUT
UPDATE: before + after in 1 record
DELETE: full
03568
38650
LOGALLSUPCOLS
IGNOREUPDATEBEFORES
NOCOMPRESSDELETES
COMPRESSUPDATES
UPDATERECORDFORMAT COMPACT
PRM
SQL OUT
UPDATE: before + after in 1 record
DELETE: full
03568
50368
COMPRESSUPDATES
UPDATERECORDFORMAT COMPACT
LOGALLSUPCOLS
NOCOMPRESSDELETES
IGNOREUPDATEBEFORES
PRM
SQL OUT
UPDATE: before + after in 1 record
DELETE: full
03568
50386
COMPRESSUPDATES
UPDATERECORDFORMAT COMPACT
LOGALLSUPCOLS
IGNOREUPDATEBEFORES
NOCOMPRESSDELETES
PRM
SQL OUT
UPDATE: before + after in 1 record
DELETE: full
03568
50638
COMPRESSUPDATES
UPDATERECORDFORMAT COMPACT
NOCOMPRESSDELETES
LOGALLSUPCOLS
IGNOREUPDATEBEFORES
PRM
SQL OUT
UPDATE: before + after in 1 record
DELETE: full
03568
50683
COMPRESSUPDATES
UPDATERECORDFORMAT COMPACT
NOCOMPRESSDELETES
IGNOREUPDATEBEFORES
LOGALLSUPCOLS
PRM
SQL OUT
UPDATE: before + after in 1 record
DELETE: full
03568
50836
COMPRESSUPDATES
UPDATERECORDFORMAT COMPACT
IGNOREUPDATEBEFORES
LOGALLSUPCOLS
NOCOMPRESSDELETES
PRM
SQL OUT
UPDATE: before + after in 1 record
DELETE: full
03568
50863
COMPRESSUPDATES
UPDATERECORDFORMAT COMPACT
IGNOREUPDATEBEFORES
NOCOMPRESSDELETES
LOGALLSUPCOLS
PRM
SQL OUT
UPDATE: before + after in 1 record
DELETE: full
03568
53068
COMPRESSUPDATES
LOGALLSUPCOLS
UPDATERECORDFORMAT COMPACT
NOCOMPRESSDELETES
IGNOREUPDATEBEFORES
PRM
SQL OUT
UPDATE: before + after in 1 record
DELETE: full
03568
53086
COMPRESSUPDATES
LOGALLSUPCOLS
UPDATERECORDFORMAT COMPACT
IGNOREUPDATEBEFORES
NOCOMPRESSDELETES
PRM
SQL OUT
UPDATE: before + after in 1 record
DELETE: full
03568
53608
COMPRESSUPDATES
LOGALLSUPCOLS
NOCOMPRESSDELETES
UPDATERECORDFORMAT COMPACT
IGNOREUPDATEBEFORES
PRM
SQL OUT
UPDATE: before + after in 1 record
DELETE: full
03568
53680
COMPRESSUPDATES
LOGALLSUPCOLS
NOCOMPRESSDELETES
IGNOREUPDATEBEFORES
UPDATERECORDFORMAT COMPACT
PRM
SQL OUT
UPDATE: before + after in 1 record
DELETE: full
03568
53806
COMPRESSUPDATES
LOGALLSUPCOLS
IGNOREUPDATEBEFORES
UPDATERECORDFORMAT COMPACT
NOCOMPRESSDELETES
PRM
SQL OUT
UPDATE: before + after in 1 record
DELETE: full
03568
53860
COMPRESSUPDATES
LOGALLSUPCOLS
IGNOREUPDATEBEFORES
NOCOMPRESSDELETES
UPDATERECORDFORMAT COMPACT
PRM
SQL OUT
UPDATE: before + after in 1 record
DELETE: full
03568
56038
COMPRESSUPDATES
NOCOMPRESSDELETES
UPDATERECORDFORMAT COMPACT
LOGALLSUPCOLS
IGNOREUPDATEBEFORES
PRM
SQL OUT
UPDATE: before + after in 1 record
DELETE: full
03568
56083
COMPRESSUPDATES
NOCOMPRESSDELETES
UPDATERECORDFORMAT COMPACT
IGNOREUPDATEBEFORES
LOGALLSUPCOLS
PRM
SQL OUT
UPDATE: before + after in 1 record
DELETE: full
03568
56308
COMPRESSUPDATES
NOCOMPRESSDELETES
LOGALLSUPCOLS
UPDATERECORDFORMAT COMPACT
IGNOREUPDATEBEFORES
PRM
SQL OUT
UPDATE: before + after in 1 record
DELETE: full
03568
56380
COMPRESSUPDATES
NOCOMPRESSDELETES
LOGALLSUPCOLS
IGNOREUPDATEBEFORES
UPDATERECORDFORMAT COMPACT
PRM
SQL OUT
UPDATE: before + after in 1 record
DELETE: full
03568
56803
COMPRESSUPDATES
NOCOMPRESSDELETES
IGNOREUPDATEBEFORES
UPDATERECORDFORMAT COMPACT
LOGALLSUPCOLS
PRM
SQL OUT
UPDATE: before + after in 1 record
DELETE: full
03568
56830
COMPRESSUPDATES
NOCOMPRESSDELETES
IGNOREUPDATEBEFORES
LOGALLSUPCOLS
UPDATERECORDFORMAT COMPACT
PRM
SQL OUT
UPDATE: before + after in 1 record
DELETE: full
03568
58036
COMPRESSUPDATES
IGNOREUPDATEBEFORES
UPDATERECORDFORMAT COMPACT
LOGALLSUPCOLS
NOCOMPRESSDELETES
PRM
SQL OUT
UPDATE: before + after in 1 record
DELETE: full
03568
58063
COMPRESSUPDATES
IGNOREUPDATEBEFORES
UPDATERECORDFORMAT COMPACT
NOCOMPRESSDELETES
LOGALLSUPCOLS
PRM
SQL OUT
UPDATE: before + after in 1 record
DELETE: full
03568
58306
COMPRESSUPDATES
IGNOREUPDATEBEFORES
LOGALLSUPCOLS
UPDATERECORDFORMAT COMPACT
NOCOMPRESSDELETES
PRM
SQL OUT
UPDATE: before + after in 1 record
DELETE: full
03568
58360
COMPRESSUPDATES
IGNOREUPDATEBEFORES
LOGALLSUPCOLS
NOCOMPRESSDELETES
UPDATERECORDFORMAT COMPACT
PRM
SQL OUT
UPDATE: before + after in 1 record
DELETE: full
03568
58603
COMPRESSUPDATES
IGNOREUPDATEBEFORES
NOCOMPRESSDELETES
UPDATERECORDFORMAT COMPACT
LOGALLSUPCOLS
PRM
SQL OUT
UPDATE: before + after in 1 record
DELETE: full
03568
58630
COMPRESSUPDATES
IGNOREUPDATEBEFORES
NOCOMPRESSDELETES
LOGALLSUPCOLS
UPDATERECORDFORMAT COMPACT
PRM
SQL OUT
UPDATE: before + after in 1 record
DELETE: full
03568
60358
NOCOMPRESSDELETES
UPDATERECORDFORMAT COMPACT
LOGALLSUPCOLS
COMPRESSUPDATES
IGNOREUPDATEBEFORES
PRM
SQL OUT
UPDATE: before + after in 1 record
DELETE: full
03568
60385
NOCOMPRESSDELETES
UPDATERECORDFORMAT COMPACT
LOGALLSUPCOLS
IGNOREUPDATEBEFORES
COMPRESSUPDATES
PRM
SQL OUT
UPDATE: before + after in 1 record
DELETE: full
03568
60538
NOCOMPRESSDELETES
UPDATERECORDFORMAT COMPACT
COMPRESSUPDATES
LOGALLSUPCOLS
IGNOREUPDATEBEFORES
PRM
SQL OUT
UPDATE: before + after in 1 record
DELETE: full
03568
60583
NOCOMPRESSDELETES
UPDATERECORDFORMAT COMPACT
COMPRESSUPDATES
IGNOREUPDATEBEFORES
LOGALLSUPCOLS
PRM
SQL OUT
UPDATE: before + after in 1 record
DELETE: full
03568
60835
NOCOMPRESSDELETES
UPDATERECORDFORMAT COMPACT
IGNOREUPDATEBEFORES
LOGALLSUPCOLS
COMPRESSUPDATES
PRM
SQL OUT
UPDATE: before + after in 1 record
DELETE: full
03568
60853
NOCOMPRESSDELETES
UPDATERECORDFORMAT COMPACT
IGNOREUPDATEBEFORES
COMPRESSUPDATES
LOGALLSUPCOLS
PRM
SQL OUT
UPDATE: before + after in 1 record
DELETE: full
03568
63058
NOCOMPRESSDELETES
LOGALLSUPCOLS
UPDATERECORDFORMAT COMPACT
COMPRESSUPDATES
IGNOREUPDATEBEFORES
PRM
SQL OUT
UPDATE: before + after in 1 record
DELETE: full
03568
63085
NOCOMPRESSDELETES
LOGALLSUPCOLS
UPDATERECORDFORMAT COMPACT
IGNOREUPDATEBEFORES
COMPRESSUPDATES
PRM
SQL OUT
UPDATE: before + after in 1 record
DELETE: full
03568
63508
NOCOMPRESSDELETES
LOGALLSUPCOLS
COMPRESSUPDATES
UPDATERECORDFORMAT COMPACT
IGNOREUPDATEBEFORES
PRM
SQL OUT
UPDATE: before + after in 1 record
DELETE: full
03568
63580
NOCOMPRESSDELETES
LOGALLSUPCOLS
COMPRESSUPDATES
IGNOREUPDATEBEFORES
UPDATERECORDFORMAT COMPACT
PRM
SQL OUT
UPDATE: before + after in 1 record
DELETE: full
03568
63805
NOCOMPRESSDELETES
LOGALLSUPCOLS
IGNOREUPDATEBEFORES
UPDATERECORDFORMAT COMPACT
COMPRESSUPDATES
PRM
SQL OUT
UPDATE: before + after in 1 record
DELETE: full
03568
63850
NOCOMPRESSDELETES
LOGALLSUPCOLS
IGNOREUPDATEBEFORES
COMPRESSUPDATES
UPDATERECORDFORMAT COMPACT
PRM
SQL OUT
UPDATE: before + after in 1 record
DELETE: full
03568
65038
NOCOMPRESSDELETES
COMPRESSUPDATES
UPDATERECORDFORMAT COMPACT
LOGALLSUPCOLS
IGNOREUPDATEBEFORES
PRM
SQL OUT
UPDATE: before + after in 1 record
DELETE: full
03568
65083
NOCOMPRESSDELETES
COMPRESSUPDATES
UPDATERECORDFORMAT COMPACT
IGNOREUPDATEBEFORES
LOGALLSUPCOLS
PRM
SQL OUT
UPDATE: before + after in 1 record
DELETE: full
03568
65308
NOCOMPRESSDELETES
COMPRESSUPDATES
LOGALLSUPCOLS
UPDATERECORDFORMAT COMPACT
IGNOREUPDATEBEFORES
PRM
SQL OUT
UPDATE: before + after in 1 record
DELETE: full
03568
65380
NOCOMPRESSDELETES
COMPRESSUPDATES
LOGALLSUPCOLS
IGNOREUPDATEBEFORES
UPDATERECORDFORMAT COMPACT
PRM
SQL OUT
UPDATE: before + after in 1 record
DELETE: full
03568
65803
NOCOMPRESSDELETES
COMPRESSUPDATES
IGNOREUPDATEBEFORES
UPDATERECORDFORMAT COMPACT
LOGALLSUPCOLS
PRM
SQL OUT
UPDATE: before + after in 1 record
DELETE: full
03568
65830
NOCOMPRESSDELETES
COMPRESSUPDATES
IGNOREUPDATEBEFORES
LOGALLSUPCOLS
UPDATERECORDFORMAT COMPACT
PRM
SQL OUT
UPDATE: before + after in 1 record
DELETE: full
03568
68035
NOCOMPRESSDELETES
IGNOREUPDATEBEFORES
UPDATERECORDFORMAT COMPACT
LOGALLSUPCOLS
COMPRESSUPDATES
PRM
SQL OUT
UPDATE: before + after in 1 record
DELETE: full
03568
68053
NOCOMPRESSDELETES
IGNOREUPDATEBEFORES
UPDATERECORDFORMAT COMPACT
COMPRESSUPDATES
LOGALLSUPCOLS
PRM
SQL OUT
UPDATE: before + after in 1 record
DELETE: full
03568
68305
NOCOMPRESSDELETES
IGNOREUPDATEBEFORES
LOGALLSUPCOLS
UPDATERECORDFORMAT COMPACT
COMPRESSUPDATES
PRM
SQL OUT
UPDATE: before + after in 1 record
DELETE: full
03568
68350
NOCOMPRESSDELETES
IGNOREUPDATEBEFORES
LOGALLSUPCOLS
COMPRESSUPDATES
UPDATERECORDFORMAT COMPACT
PRM
SQL OUT
UPDATE: before + after in 1 record
DELETE: full
03568
68503
NOCOMPRESSDELETES
IGNOREUPDATEBEFORES
COMPRESSUPDATES
UPDATERECORDFORMAT COMPACT
LOGALLSUPCOLS
PRM
SQL OUT
UPDATE: before + after in 1 record
DELETE: full
03568
68530
NOCOMPRESSDELETES
IGNOREUPDATEBEFORES
COMPRESSUPDATES
LOGALLSUPCOLS
UPDATERECORDFORMAT COMPACT
PRM
SQL OUT
UPDATE: before + after in 1 record
DELETE: full
03568
80356
IGNOREUPDATEBEFORES
UPDATERECORDFORMAT COMPACT
LOGALLSUPCOLS
COMPRESSUPDATES
NOCOMPRESSDELETES
PRM
SQL OUT
UPDATE: before + after in 1 record
DELETE: full
03568
80365
IGNOREUPDATEBEFORES
UPDATERECORDFORMAT COMPACT
LOGALLSUPCOLS
NOCOMPRESSDELETES
COMPRESSUPDATES
PRM
SQL OUT
UPDATE: before + after in 1 record
DELETE: full
03568
80536
IGNOREUPDATEBEFORES
UPDATERECORDFORMAT COMPACT
COMPRESSUPDATES
LOGALLSUPCOLS
NOCOMPRESSDELETES
PRM
SQL OUT
UPDATE: before + after in 1 record
DELETE: full
03568
80563
IGNOREUPDATEBEFORES
UPDATERECORDFORMAT COMPACT
COMPRESSUPDATES
NOCOMPRESSDELETES
LOGALLSUPCOLS
PRM
SQL OUT
UPDATE: before + after in 1 record
DELETE: full
03568
80635
IGNOREUPDATEBEFORES
UPDATERECORDFORMAT COMPACT
NOCOMPRESSDELETES
LOGALLSUPCOLS
COMPRESSUPDATES
PRM
SQL OUT
UPDATE: before + after in 1 record
DELETE: full
03568
80653
IGNOREUPDATEBEFORES
UPDATERECORDFORMAT COMPACT
NOCOMPRESSDELETES
COMPRESSUPDATES
LOGALLSUPCOLS
PRM
SQL OUT
UPDATE: before + after in 1 record
DELETE: full
03568
83056
IGNOREUPDATEBEFORES
LOGALLSUPCOLS
UPDATERECORDFORMAT COMPACT
COMPRESSUPDATES
NOCOMPRESSDELETES
PRM
SQL OUT
UPDATE: before + after in 1 record
DELETE: full
03568
83065
IGNOREUPDATEBEFORES
LOGALLSUPCOLS
UPDATERECORDFORMAT COMPACT
NOCOMPRESSDELETES
COMPRESSUPDATES
PRM
SQL OUT
UPDATE: before + after in 1 record
DELETE: full
03568
83506
IGNOREUPDATEBEFORES
LOGALLSUPCOLS
COMPRESSUPDATES
UPDATERECORDFORMAT COMPACT
NOCOMPRESSDELETES
PRM
SQL OUT
UPDATE: before + after in 1 record
DELETE: full
03568
83560
IGNOREUPDATEBEFORES
LOGALLSUPCOLS
COMPRESSUPDATES
NOCOMPRESSDELETES
UPDATERECORDFORMAT COMPACT
PRM
SQL OUT
UPDATE: before + after in 1 record
DELETE: full
03568
83605
IGNOREUPDATEBEFORES
LOGALLSUPCOLS
NOCOMPRESSDELETES
UPDATERECORDFORMAT COMPACT
COMPRESSUPDATES
PRM
SQL OUT
UPDATE: before + after in 1 record
DELETE: full
03568
83650
IGNOREUPDATEBEFORES
LOGALLSUPCOLS
NOCOMPRESSDELETES
COMPRESSUPDATES
UPDATERECORDFORMAT COMPACT
PRM
SQL OUT
UPDATE: before + after in 1 record
DELETE: full
03568
85036
IGNOREUPDATEBEFORES
COMPRESSUPDATES
UPDATERECORDFORMAT COMPACT
LOGALLSUPCOLS
NOCOMPRESSDELETES
PRM
SQL OUT
UPDATE: before + after in 1 record
DELETE: full
03568
85063
IGNOREUPDATEBEFORES
COMPRESSUPDATES
UPDATERECORDFORMAT COMPACT
NOCOMPRESSDELETES
LOGALLSUPCOLS
PRM
SQL OUT
UPDATE: before + after in 1 record
DELETE: full
03568
85306
IGNOREUPDATEBEFORES
COMPRESSUPDATES
LOGALLSUPCOLS
UPDATERECORDFORMAT COMPACT
NOCOMPRESSDELETES
PRM
SQL OUT
UPDATE: before + after in 1 record
DELETE: full
03568
85360
IGNOREUPDATEBEFORES
COMPRESSUPDATES
LOGALLSUPCOLS
NOCOMPRESSDELETES
UPDATERECORDFORMAT COMPACT
PRM
SQL OUT
UPDATE: before + after in 1 record
DELETE: full
03568
85603
IGNOREUPDATEBEFORES
COMPRESSUPDATES
NOCOMPRESSDELETES
UPDATERECORDFORMAT COMPACT
LOGALLSUPCOLS
PRM
SQL OUT
UPDATE: before + after in 1 record
DELETE: full
03568
85630
IGNOREUPDATEBEFORES
COMPRESSUPDATES
NOCOMPRESSDELETES
LOGALLSUPCOLS
UPDATERECORDFORMAT COMPACT
PRM
SQL OUT
UPDATE: before + after in 1 record
DELETE: full
03568
86035
IGNOREUPDATEBEFORES
NOCOMPRESSDELETES
UPDATERECORDFORMAT COMPACT
LOGALLSUPCOLS
COMPRESSUPDATES
PRM
SQL OUT
UPDATE: before + after in 1 record
DELETE: full
03568
86053
IGNOREUPDATEBEFORES
NOCOMPRESSDELETES
UPDATERECORDFORMAT COMPACT
COMPRESSUPDATES
LOGALLSUPCOLS
PRM
SQL OUT
UPDATE: before + after in 1 record
DELETE: full
03568
86305
IGNOREUPDATEBEFORES
NOCOMPRESSDELETES
LOGALLSUPCOLS
UPDATERECORDFORMAT COMPACT
COMPRESSUPDATES
PRM
SQL OUT
UPDATE: before + after in 1 record
DELETE: full
03568
86350
IGNOREUPDATEBEFORES
NOCOMPRESSDELETES
LOGALLSUPCOLS
COMPRESSUPDATES
UPDATERECORDFORMAT COMPACT
PRM
SQL OUT
UPDATE: before + after in 1 record
DELETE: full
03568
86503
IGNOREUPDATEBEFORES
NOCOMPRESSDELETES
COMPRESSUPDATES
UPDATERECORDFORMAT COMPACT
LOGALLSUPCOLS
PRM
SQL OUT
UPDATE: before + after in 1 record
DELETE: full
03568
86530
IGNOREUPDATEBEFORES
NOCOMPRESSDELETES
COMPRESSUPDATES
LOGALLSUPCOLS
UPDATERECORDFORMAT COMPACT
PRM
SQL OUT
UPDATE: before + after in 1 record
DELETE: full
03569
03569
UPDATERECORDFORMAT COMPACT
LOGALLSUPCOLS
COMPRESSUPDATES
NOCOMPRESSDELETES
GETUPDATEBEFORES
PRM
SQL OUT
UPDATE: before + after in 1 record
DELETE: full
03569
03596
UPDATERECORDFORMAT COMPACT
LOGALLSUPCOLS
COMPRESSUPDATES
GETUPDATEBEFORES
NOCOMPRESSDELETES
PRM
SQL OUT
UPDATE: before + after in 1 record
DELETE: full
03569
03659
UPDATERECORDFORMAT COMPACT
LOGALLSUPCOLS
NOCOMPRESSDELETES
COMPRESSUPDATES
GETUPDATEBEFORES
PRM
SQL OUT
UPDATE: before + after in 1 record
DELETE: full
03569
03695
UPDATERECORDFORMAT COMPACT
LOGALLSUPCOLS
NOCOMPRESSDELETES
GETUPDATEBEFORES
COMPRESSUPDATES
PRM
SQL OUT
UPDATE: before + after in 1 record
DELETE: full
03569
03956
UPDATERECORDFORMAT COMPACT
LOGALLSUPCOLS
GETUPDATEBEFORES
COMPRESSUPDATES
NOCOMPRESSDELETES
PRM
SQL OUT
UPDATE: before + after in 1 record
DELETE: full
03569
03965
UPDATERECORDFORMAT COMPACT
LOGALLSUPCOLS
GETUPDATEBEFORES
NOCOMPRESSDELETES
COMPRESSUPDATES
PRM
SQL OUT
UPDATE: before + after in 1 record
DELETE: full
03569
05369
UPDATERECORDFORMAT COMPACT
COMPRESSUPDATES
LOGALLSUPCOLS
NOCOMPRESSDELETES
GETUPDATEBEFORES
PRM
SQL OUT
UPDATE: before + after in 1 record
DELETE: full
03569
05396
UPDATERECORDFORMAT COMPACT
COMPRESSUPDATES
LOGALLSUPCOLS
GETUPDATEBEFORES
NOCOMPRESSDELETES
PRM
SQL OUT
UPDATE: before + after in 1 record
DELETE: full
03569
05639
UPDATERECORDFORMAT COMPACT
COMPRESSUPDATES
NOCOMPRESSDELETES
LOGALLSUPCOLS
GETUPDATEBEFORES
PRM
SQL OUT
UPDATE: before + after in 1 record
DELETE: full
03569
05693
UPDATERECORDFORMAT COMPACT
COMPRESSUPDATES
NOCOMPRESSDELETES
GETUPDATEBEFORES
LOGALLSUPCOLS
PRM
SQL OUT
UPDATE: before + after in 1 record
DELETE: full
03569
05936
UPDATERECORDFORMAT COMPACT
COMPRESSUPDATES
GETUPDATEBEFORES
LOGALLSUPCOLS
NOCOMPRESSDELETES
PRM
SQL OUT
UPDATE: before + after in 1 record
DELETE: full
03569
05963
UPDATERECORDFORMAT COMPACT
COMPRESSUPDATES
GETUPDATEBEFORES
NOCOMPRESSDELETES
LOGALLSUPCOLS
PRM
SQL OUT
UPDATE: before + after in 1 record
DELETE: full
03569
06359
UPDATERECORDFORMAT COMPACT
NOCOMPRESSDELETES
LOGALLSUPCOLS
COMPRESSUPDATES
GETUPDATEBEFORES
PRM
SQL OUT
UPDATE: before + after in 1 record
DELETE: full
03569
06395
UPDATERECORDFORMAT COMPACT
NOCOMPRESSDELETES
LOGALLSUPCOLS
GETUPDATEBEFORES
COMPRESSUPDATES
PRM
SQL OUT
UPDATE: before + after in 1 record
DELETE: full
03569
06539
UPDATERECORDFORMAT COMPACT
NOCOMPRESSDELETES
COMPRESSUPDATES
LOGALLSUPCOLS
GETUPDATEBEFORES
PRM
SQL OUT
UPDATE: before + after in 1 record
DELETE: full
03569
06593
UPDATERECORDFORMAT COMPACT
NOCOMPRESSDELETES
COMPRESSUPDATES
GETUPDATEBEFORES
LOGALLSUPCOLS
PRM
SQL OUT
UPDATE: before + after in 1 record
DELETE: full
03569
06935
UPDATERECORDFORMAT COMPACT
NOCOMPRESSDELETES
GETUPDATEBEFORES
LOGALLSUPCOLS
COMPRESSUPDATES
PRM
SQL OUT
UPDATE: before + after in 1 record
DELETE: full
03569
06953
UPDATERECORDFORMAT COMPACT
NOCOMPRESSDELETES
GETUPDATEBEFORES
COMPRESSUPDATES
LOGALLSUPCOLS
PRM
SQL OUT
UPDATE: before + after in 1 record
DELETE: full
03569
09356
UPDATERECORDFORMAT COMPACT
GETUPDATEBEFORES
LOGALLSUPCOLS
COMPRESSUPDATES
NOCOMPRESSDELETES
PRM
SQL OUT
UPDATE: before + after in 1 record
DELETE: full
03569
09365
UPDATERECORDFORMAT COMPACT
GETUPDATEBEFORES
LOGALLSUPCOLS
NOCOMPRESSDELETES
COMPRESSUPDATES
PRM
SQL OUT
UPDATE: before + after in 1 record
DELETE: full
03569
09536
UPDATERECORDFORMAT COMPACT
GETUPDATEBEFORES
COMPRESSUPDATES
LOGALLSUPCOLS
NOCOMPRESSDELETES
PRM
SQL OUT
UPDATE: before + after in 1 record
DELETE: full
03569
09563
UPDATERECORDFORMAT COMPACT
GETUPDATEBEFORES
COMPRESSUPDATES
NOCOMPRESSDELETES
LOGALLSUPCOLS
PRM
SQL OUT
UPDATE: before + after in 1 record
DELETE: full
03569
09635
UPDATERECORDFORMAT COMPACT
GETUPDATEBEFORES
NOCOMPRESSDELETES
LOGALLSUPCOLS
COMPRESSUPDATES
PRM
SQL OUT
UPDATE: before + after in 1 record
DELETE: full
03569
09653
UPDATERECORDFORMAT COMPACT
GETUPDATEBEFORES
NOCOMPRESSDELETES
COMPRESSUPDATES
LOGALLSUPCOLS
PRM
SQL OUT
UPDATE: before + after in 1 record
DELETE: full
03569
30569
LOGALLSUPCOLS
UPDATERECORDFORMAT COMPACT
COMPRESSUPDATES
NOCOMPRESSDELETES
GETUPDATEBEFORES
PRM
SQL OUT
UPDATE: before + after in 1 record
DELETE: full
03569
30596
LOGALLSUPCOLS
UPDATERECORDFORMAT COMPACT
COMPRESSUPDATES
GETUPDATEBEFORES
NOCOMPRESSDELETES
PRM
SQL OUT
UPDATE: before + after in 1 record
DELETE: full
03569
30659
LOGALLSUPCOLS
UPDATERECORDFORMAT COMPACT
NOCOMPRESSDELETES
COMPRESSUPDATES
GETUPDATEBEFORES
PRM
SQL OUT
UPDATE: before + after in 1 record
DELETE: full
03569
30695
LOGALLSUPCOLS
UPDATERECORDFORMAT COMPACT
NOCOMPRESSDELETES
GETUPDATEBEFORES
COMPRESSUPDATES
PRM
SQL OUT
UPDATE: before + after in 1 record
DELETE: full
03569
30956
LOGALLSUPCOLS
UPDATERECORDFORMAT COMPACT
GETUPDATEBEFORES
COMPRESSUPDATES
NOCOMPRESSDELETES
PRM
SQL OUT
UPDATE: before + after in 1 record
DELETE: full
03569
30965
LOGALLSUPCOLS
UPDATERECORDFORMAT COMPACT
GETUPDATEBEFORES
NOCOMPRESSDELETES
COMPRESSUPDATES
PRM
SQL OUT
UPDATE: before + after in 1 record
DELETE: full
03569
35069
LOGALLSUPCOLS
COMPRESSUPDATES
UPDATERECORDFORMAT COMPACT
NOCOMPRESSDELETES
GETUPDATEBEFORES
PRM
SQL OUT
UPDATE: before + after in 1 record
DELETE: full
03569
35096
LOGALLSUPCOLS
COMPRESSUPDATES
UPDATERECORDFORMAT COMPACT
GETUPDATEBEFORES
NOCOMPRESSDELETES
PRM
SQL OUT
UPDATE: before + after in 1 record
DELETE: full
03569
35609
LOGALLSUPCOLS
COMPRESSUPDATES
NOCOMPRESSDELETES
UPDATERECORDFORMAT COMPACT
GETUPDATEBEFORES
PRM
SQL OUT
UPDATE: before + after in 1 record
DELETE: full
03569
35690
LOGALLSUPCOLS
COMPRESSUPDATES
NOCOMPRESSDELETES
GETUPDATEBEFORES
UPDATERECORDFORMAT COMPACT
PRM
SQL OUT
UPDATE: before + after in 1 record
DELETE: full
03569
35906
LOGALLSUPCOLS
COMPRESSUPDATES
GETUPDATEBEFORES
UPDATERECORDFORMAT COMPACT
NOCOMPRESSDELETES
PRM
SQL OUT
UPDATE: before + after in 1 record
DELETE: full
03569
35960
LOGALLSUPCOLS
COMPRESSUPDATES
GETUPDATEBEFORES
NOCOMPRESSDELETES
UPDATERECORDFORMAT COMPACT
PRM
SQL OUT
UPDATE: before + after in 1 record
DELETE: full
03569
36059
LOGALLSUPCOLS
NOCOMPRESSDELETES
UPDATERECORDFORMAT COMPACT
COMPRESSUPDATES
GETUPDATEBEFORES
PRM
SQL OUT
UPDATE: before + after in 1 record
DELETE: full
03569
36095
LOGALLSUPCOLS
NOCOMPRESSDELETES
UPDATERECORDFORMAT COMPACT
GETUPDATEBEFORES
COMPRESSUPDATES
PRM
SQL OUT
UPDATE: before + after in 1 record
DELETE: full
03569
36509
LOGALLSUPCOLS
NOCOMPRESSDELETES
COMPRESSUPDATES
UPDATERECORDFORMAT COMPACT
GETUPDATEBEFORES
PRM
SQL OUT
UPDATE: before + after in 1 record
DELETE: full
03569
36590
LOGALLSUPCOLS
NOCOMPRESSDELETES
COMPRESSUPDATES
GETUPDATEBEFORES
UPDATERECORDFORMAT COMPACT
PRM
SQL OUT
UPDATE: before + after in 1 record
DELETE: full
03569
36905
LOGALLSUPCOLS
NOCOMPRESSDELETES
GETUPDATEBEFORES
UPDATERECORDFORMAT COMPACT
COMPRESSUPDATES
PRM
SQL OUT
UPDATE: before + after in 1 record
DELETE: full
03569
36950
LOGALLSUPCOLS
NOCOMPRESSDELETES
GETUPDATEBEFORES
COMPRESSUPDATES
UPDATERECORDFORMAT COMPACT
PRM
SQL OUT
UPDATE: before + after in 1 record
DELETE: full
03569
39056
LOGALLSUPCOLS
GETUPDATEBEFORES
UPDATERECORDFORMAT COMPACT
COMPRESSUPDATES
NOCOMPRESSDELETES
PRM
SQL OUT
UPDATE: before + after in 1 record
DELETE: full
03569
39065
LOGALLSUPCOLS
GETUPDATEBEFORES
UPDATERECORDFORMAT COMPACT
NOCOMPRESSDELETES
COMPRESSUPDATES
PRM
SQL OUT
UPDATE: before + after in 1 record
DELETE: full
03569
39506
LOGALLSUPCOLS
GETUPDATEBEFORES
COMPRESSUPDATES
UPDATERECORDFORMAT COMPACT
NOCOMPRESSDELETES
PRM
SQL OUT
UPDATE: before + after in 1 record
DELETE: full
03569
39560
LOGALLSUPCOLS
GETUPDATEBEFORES
COMPRESSUPDATES
NOCOMPRESSDELETES
UPDATERECORDFORMAT COMPACT
PRM
SQL OUT
UPDATE: before + after in 1 record
DELETE: full
03569
39605
LOGALLSUPCOLS
GETUPDATEBEFORES
NOCOMPRESSDELETES
UPDATERECORDFORMAT COMPACT
COMPRESSUPDATES
PRM
SQL OUT
UPDATE: before + after in 1 record
DELETE: full
03569
39650
LOGALLSUPCOLS
GETUPDATEBEFORES
NOCOMPRESSDELETES
COMPRESSUPDATES
UPDATERECORDFORMAT COMPACT
PRM
SQL OUT
UPDATE: before + after in 1 record
DELETE: full
03569
50369
COMPRESSUPDATES
UPDATERECORDFORMAT COMPACT
LOGALLSUPCOLS
NOCOMPRESSDELETES
GETUPDATEBEFORES
PRM
SQL OUT
UPDATE: before + after in 1 record
DELETE: full
03569
50396
COMPRESSUPDATES
UPDATERECORDFORMAT COMPACT
LOGALLSUPCOLS
GETUPDATEBEFORES
NOCOMPRESSDELETES
PRM
SQL OUT
UPDATE: before + after in 1 record
DELETE: full
03569
50639
COMPRESSUPDATES
UPDATERECORDFORMAT COMPACT
NOCOMPRESSDELETES
LOGALLSUPCOLS
GETUPDATEBEFORES
PRM
SQL OUT
UPDATE: before + after in 1 record
DELETE: full
03569
50693
COMPRESSUPDATES
UPDATERECORDFORMAT COMPACT
NOCOMPRESSDELETES
GETUPDATEBEFORES
LOGALLSUPCOLS
PRM
SQL OUT
UPDATE: before + after in 1 record
DELETE: full
03569
50936
COMPRESSUPDATES
UPDATERECORDFORMAT COMPACT
GETUPDATEBEFORES
LOGALLSUPCOLS
NOCOMPRESSDELETES
PRM
SQL OUT
UPDATE: before + after in 1 record
DELETE: full
03569
50963
COMPRESSUPDATES
UPDATERECORDFORMAT COMPACT
GETUPDATEBEFORES
NOCOMPRESSDELETES
LOGALLSUPCOLS
PRM
SQL OUT
UPDATE: before + after in 1 record
DELETE: full
03569
53069
COMPRESSUPDATES
LOGALLSUPCOLS
UPDATERECORDFORMAT COMPACT
NOCOMPRESSDELETES
GETUPDATEBEFORES
PRM
SQL OUT
UPDATE: before + after in 1 record
DELETE: full
03569
53096
COMPRESSUPDATES
LOGALLSUPCOLS
UPDATERECORDFORMAT COMPACT
GETUPDATEBEFORES
NOCOMPRESSDELETES
PRM
SQL OUT
UPDATE: before + after in 1 record
DELETE: full
03569
53609
COMPRESSUPDATES
LOGALLSUPCOLS
NOCOMPRESSDELETES
UPDATERECORDFORMAT COMPACT
GETUPDATEBEFORES
PRM
SQL OUT
UPDATE: before + after in 1 record
DELETE: full
03569
53690
COMPRESSUPDATES
LOGALLSUPCOLS
NOCOMPRESSDELETES
GETUPDATEBEFORES
UPDATERECORDFORMAT COMPACT
PRM
SQL OUT
UPDATE: before + after in 1 record
DELETE: full
03569
53906
COMPRESSUPDATES
LOGALLSUPCOLS
GETUPDATEBEFORES
UPDATERECORDFORMAT COMPACT
NOCOMPRESSDELETES
PRM
SQL OUT
UPDATE: before + after in 1 record
DELETE: full
03569
53960
COMPRESSUPDATES
LOGALLSUPCOLS
GETUPDATEBEFORES
NOCOMPRESSDELETES
UPDATERECORDFORMAT COMPACT
PRM
SQL OUT
UPDATE: before + after in 1 record
DELETE: full
03569
56039
COMPRESSUPDATES
NOCOMPRESSDELETES
UPDATERECORDFORMAT COMPACT
LOGALLSUPCOLS
GETUPDATEBEFORES
PRM
SQL OUT
UPDATE: before + after in 1 record
DELETE: full
03569
56093
COMPRESSUPDATES
NOCOMPRESSDELETES
UPDATERECORDFORMAT COMPACT
GETUPDATEBEFORES
LOGALLSUPCOLS
PRM
SQL OUT
UPDATE: before + after in 1 record
DELETE: full
03569
56309
COMPRESSUPDATES
NOCOMPRESSDELETES
LOGALLSUPCOLS
UPDATERECORDFORMAT COMPACT
GETUPDATEBEFORES
PRM
SQL OUT
UPDATE: before + after in 1 record
DELETE: full
03569
56390
COMPRESSUPDATES
NOCOMPRESSDELETES
LOGALLSUPCOLS
GETUPDATEBEFORES
UPDATERECORDFORMAT COMPACT
PRM
SQL OUT
UPDATE: before + after in 1 record
DELETE: full
03569
56903
COMPRESSUPDATES
NOCOMPRESSDELETES
GETUPDATEBEFORES
UPDATERECORDFORMAT COMPACT
LOGALLSUPCOLS
PRM
SQL OUT
UPDATE: before + after in 1 record
DELETE: full
03569
56930
COMPRESSUPDATES
NOCOMPRESSDELETES
GETUPDATEBEFORES
LOGALLSUPCOLS
UPDATERECORDFORMAT COMPACT
PRM
SQL OUT
UPDATE: before + after in 1 record
DELETE: full
03569
59036
COMPRESSUPDATES
GETUPDATEBEFORES
UPDATERECORDFORMAT COMPACT
LOGALLSUPCOLS
NOCOMPRESSDELETES
PRM
SQL OUT
UPDATE: before + after in 1 record
DELETE: full
03569
59063
COMPRESSUPDATES
GETUPDATEBEFORES
UPDATERECORDFORMAT COMPACT
NOCOMPRESSDELETES
LOGALLSUPCOLS
PRM
SQL OUT
UPDATE: before + after in 1 record
DELETE: full
03569
59306
COMPRESSUPDATES
GETUPDATEBEFORES
LOGALLSUPCOLS
UPDATERECORDFORMAT COMPACT
NOCOMPRESSDELETES
PRM
SQL OUT
UPDATE: before + after in 1 record
DELETE: full
03569
59360
COMPRESSUPDATES
GETUPDATEBEFORES
LOGALLSUPCOLS
NOCOMPRESSDELETES
UPDATERECORDFORMAT COMPACT
PRM
SQL OUT
UPDATE: before + after in 1 record
DELETE: full
03569
59603
COMPRESSUPDATES
GETUPDATEBEFORES
NOCOMPRESSDELETES
UPDATERECORDFORMAT COMPACT
LOGALLSUPCOLS
PRM
SQL OUT
UPDATE: before + after in 1 record
DELETE: full
03569
59630
COMPRESSUPDATES
GETUPDATEBEFORES
NOCOMPRESSDELETES
LOGALLSUPCOLS
UPDATERECORDFORMAT COMPACT
PRM
SQL OUT
UPDATE: before + after in 1 record
DELETE: full
03569
60359
NOCOMPRESSDELETES
UPDATERECORDFORMAT COMPACT
LOGALLSUPCOLS
COMPRESSUPDATES
GETUPDATEBEFORES
PRM
SQL OUT
UPDATE: before + after in 1 record
DELETE: full
03569
60395
NOCOMPRESSDELETES
UPDATERECORDFORMAT COMPACT
LOGALLSUPCOLS
GETUPDATEBEFORES
COMPRESSUPDATES
PRM
SQL OUT
UPDATE: before + after in 1 record
DELETE: full
03569
60539
NOCOMPRESSDELETES
UPDATERECORDFORMAT COMPACT
COMPRESSUPDATES
LOGALLSUPCOLS
GETUPDATEBEFORES
PRM
SQL OUT
UPDATE: before + after in 1 record
DELETE: full
03569
60593
NOCOMPRESSDELETES
UPDATERECORDFORMAT COMPACT
COMPRESSUPDATES
GETUPDATEBEFORES
LOGALLSUPCOLS
PRM
SQL OUT
UPDATE: before + after in 1 record
DELETE: full
03569
60935
NOCOMPRESSDELETES
UPDATERECORDFORMAT COMPACT
GETUPDATEBEFORES
LOGALLSUPCOLS
COMPRESSUPDATES
PRM
SQL OUT
UPDATE: before + after in 1 record
DELETE: full
03569
60953
NOCOMPRESSDELETES
UPDATERECORDFORMAT COMPACT
GETUPDATEBEFORES
COMPRESSUPDATES
LOGALLSUPCOLS
PRM
SQL OUT
UPDATE: before + after in 1 record
DELETE: full
03569
63059
NOCOMPRESSDELETES
LOGALLSUPCOLS
UPDATERECORDFORMAT COMPACT
COMPRESSUPDATES
GETUPDATEBEFORES
PRM
SQL OUT
UPDATE: before + after in 1 record
DELETE: full
03569
63095
NOCOMPRESSDELETES
LOGALLSUPCOLS
UPDATERECORDFORMAT COMPACT
GETUPDATEBEFORES
COMPRESSUPDATES
PRM
SQL OUT
UPDATE: before + after in 1 record
DELETE: full
03569
63509
NOCOMPRESSDELETES
LOGALLSUPCOLS
COMPRESSUPDATES
UPDATERECORDFORMAT COMPACT
GETUPDATEBEFORES
PRM
SQL OUT
UPDATE: before + after in 1 record
DELETE: full
03569
63590
NOCOMPRESSDELETES
LOGALLSUPCOLS
COMPRESSUPDATES
GETUPDATEBEFORES
UPDATERECORDFORMAT COMPACT
PRM
SQL OUT
UPDATE: before + after in 1 record
DELETE: full
03569
63905
NOCOMPRESSDELETES
LOGALLSUPCOLS
GETUPDATEBEFORES
UPDATERECORDFORMAT COMPACT
COMPRESSUPDATES
PRM
SQL OUT
UPDATE: before + after in 1 record
DELETE: full
03569
63950
NOCOMPRESSDELETES
LOGALLSUPCOLS
GETUPDATEBEFORES
COMPRESSUPDATES
UPDATERECORDFORMAT COMPACT
PRM
SQL OUT
UPDATE: before + after in 1 record
DELETE: full
03569
65039
NOCOMPRESSDELETES
COMPRESSUPDATES
UPDATERECORDFORMAT COMPACT
LOGALLSUPCOLS
GETUPDATEBEFORES
PRM
SQL OUT
UPDATE: before + after in 1 record
DELETE: full
03569
65093
NOCOMPRESSDELETES
COMPRESSUPDATES
UPDATERECORDFORMAT COMPACT
GETUPDATEBEFORES
LOGALLSUPCOLS
PRM
SQL OUT
UPDATE: before + after in 1 record
DELETE: full
03569
65309
NOCOMPRESSDELETES
COMPRESSUPDATES
LOGALLSUPCOLS
UPDATERECORDFORMAT COMPACT
GETUPDATEBEFORES
PRM
SQL OUT
UPDATE: before + after in 1 record
DELETE: full
03569
65390
NOCOMPRESSDELETES
COMPRESSUPDATES
LOGALLSUPCOLS
GETUPDATEBEFORES
UPDATERECORDFORMAT COMPACT
PRM
SQL OUT
UPDATE: before + after in 1 record
DELETE: full
03569
65903
NOCOMPRESSDELETES
COMPRESSUPDATES
GETUPDATEBEFORES
UPDATERECORDFORMAT COMPACT
LOGALLSUPCOLS
PRM
SQL OUT
UPDATE: before + after in 1 record
DELETE: full
03569
65930
NOCOMPRESSDELETES
COMPRESSUPDATES
GETUPDATEBEFORES
LOGALLSUPCOLS
UPDATERECORDFORMAT COMPACT
PRM
SQL OUT
UPDATE: before + after in 1 record
DELETE: full
03569
69035
NOCOMPRESSDELETES
GETUPDATEBEFORES
UPDATERECORDFORMAT COMPACT
LOGALLSUPCOLS
COMPRESSUPDATES
PRM
SQL OUT
UPDATE: before + after in 1 record
DELETE: full
03569
69053
NOCOMPRESSDELETES
GETUPDATEBEFORES
UPDATERECORDFORMAT COMPACT
COMPRESSUPDATES
LOGALLSUPCOLS
PRM
SQL OUT
UPDATE: before + after in 1 record
DELETE: full
03569
69305
NOCOMPRESSDELETES
GETUPDATEBEFORES
LOGALLSUPCOLS
UPDATERECORDFORMAT COMPACT
COMPRESSUPDATES
PRM
SQL OUT
UPDATE: before + after in 1 record
DELETE: full
03569
69350
NOCOMPRESSDELETES
GETUPDATEBEFORES
LOGALLSUPCOLS
COMPRESSUPDATES
UPDATERECORDFORMAT COMPACT
PRM
SQL OUT
UPDATE: before + after in 1 record
DELETE: full
03569
69503
NOCOMPRESSDELETES
GETUPDATEBEFORES
COMPRESSUPDATES
UPDATERECORDFORMAT COMPACT
LOGALLSUPCOLS
PRM
SQL OUT
UPDATE: before + after in 1 record
DELETE: full
03569
69530
NOCOMPRESSDELETES
GETUPDATEBEFORES
COMPRESSUPDATES
LOGALLSUPCOLS
UPDATERECORDFORMAT COMPACT
PRM
SQL OUT
UPDATE: before + after in 1 record
DELETE: full
03569
90356
GETUPDATEBEFORES
UPDATERECORDFORMAT COMPACT
LOGALLSUPCOLS
COMPRESSUPDATES
NOCOMPRESSDELETES
PRM
SQL OUT
UPDATE: before + after in 1 record
DELETE: full
03569
90365
GETUPDATEBEFORES
UPDATERECORDFORMAT COMPACT
LOGALLSUPCOLS
NOCOMPRESSDELETES
COMPRESSUPDATES
PRM
SQL OUT
UPDATE: before + after in 1 record
DELETE: full
03569
90536
GETUPDATEBEFORES
UPDATERECORDFORMAT COMPACT
COMPRESSUPDATES
LOGALLSUPCOLS
NOCOMPRESSDELETES
PRM
SQL OUT
UPDATE: before + after in 1 record
DELETE: full
03569
90563
GETUPDATEBEFORES
UPDATERECORDFORMAT COMPACT
COMPRESSUPDATES
NOCOMPRESSDELETES
LOGALLSUPCOLS
PRM
SQL OUT
UPDATE: before + after in 1 record
DELETE: full
03569
90635
GETUPDATEBEFORES
UPDATERECORDFORMAT COMPACT
NOCOMPRESSDELETES
LOGALLSUPCOLS
COMPRESSUPDATES
PRM
SQL OUT
UPDATE: before + after in 1 record
DELETE: full
03569
90653
GETUPDATEBEFORES
UPDATERECORDFORMAT COMPACT
NOCOMPRESSDELETES
COMPRESSUPDATES
LOGALLSUPCOLS
PRM
SQL OUT
UPDATE: before + after in 1 record
DELETE: full
03569
93056
GETUPDATEBEFORES
LOGALLSUPCOLS
UPDATERECORDFORMAT COMPACT
COMPRESSUPDATES
NOCOMPRESSDELETES
PRM
SQL OUT
UPDATE: before + after in 1 record
DELETE: full
03569
93065
GETUPDATEBEFORES
LOGALLSUPCOLS
UPDATERECORDFORMAT COMPACT
NOCOMPRESSDELETES
COMPRESSUPDATES
PRM
SQL OUT
UPDATE: before + after in 1 record
DELETE: full
03569
93506
GETUPDATEBEFORES
LOGALLSUPCOLS
COMPRESSUPDATES
UPDATERECORDFORMAT COMPACT
NOCOMPRESSDELETES
PRM
SQL OUT
UPDATE: before + after in 1 record
DELETE: full
03569
93560
GETUPDATEBEFORES
LOGALLSUPCOLS
COMPRESSUPDATES
NOCOMPRESSDELETES
UPDATERECORDFORMAT COMPACT
PRM
SQL OUT
UPDATE: before + after in 1 record
DELETE: full
03569
93605
GETUPDATEBEFORES
LOGALLSUPCOLS
NOCOMPRESSDELETES
UPDATERECORDFORMAT COMPACT
COMPRESSUPDATES
PRM
SQL OUT
UPDATE: before + after in 1 record
DELETE: full
03569
93650
GETUPDATEBEFORES
LOGALLSUPCOLS
NOCOMPRESSDELETES
COMPRESSUPDATES
UPDATERECORDFORMAT COMPACT
PRM
SQL OUT
UPDATE: before + after in 1 record
DELETE: full
03569
95036
GETUPDATEBEFORES
COMPRESSUPDATES
UPDATERECORDFORMAT COMPACT
LOGALLSUPCOLS
NOCOMPRESSDELETES
PRM
SQL OUT
UPDATE: before + after in 1 record
DELETE: full
03569
95063
GETUPDATEBEFORES
COMPRESSUPDATES
UPDATERECORDFORMAT COMPACT
NOCOMPRESSDELETES
LOGALLSUPCOLS
PRM
SQL OUT
UPDATE: before + after in 1 record
DELETE: full
03569
95306
GETUPDATEBEFORES
COMPRESSUPDATES
LOGALLSUPCOLS
UPDATERECORDFORMAT COMPACT
NOCOMPRESSDELETES
PRM
SQL OUT
UPDATE: before + after in 1 record
DELETE: full
03569
95360
GETUPDATEBEFORES
COMPRESSUPDATES
LOGALLSUPCOLS
NOCOMPRESSDELETES
UPDATERECORDFORMAT COMPACT
PRM
SQL OUT
UPDATE: before + after in 1 record
DELETE: full
03569
95603
GETUPDATEBEFORES
COMPRESSUPDATES
NOCOMPRESSDELETES
UPDATERECORDFORMAT COMPACT
LOGALLSUPCOLS
PRM
SQL OUT
UPDATE: before + after in 1 record
DELETE: full
03569
95630
GETUPDATEBEFORES
COMPRESSUPDATES
NOCOMPRESSDELETES
LOGALLSUPCOLS
UPDATERECORDFORMAT COMPACT
PRM
SQL OUT
UPDATE: before + after in 1 record
DELETE: full
03569
96035
GETUPDATEBEFORES
NOCOMPRESSDELETES
UPDATERECORDFORMAT COMPACT
LOGALLSUPCOLS
COMPRESSUPDATES
PRM
SQL OUT
UPDATE: before + after in 1 record
DELETE: full
03569
96053
GETUPDATEBEFORES
NOCOMPRESSDELETES
UPDATERECORDFORMAT COMPACT
COMPRESSUPDATES
LOGALLSUPCOLS
PRM
SQL OUT
UPDATE: before + after in 1 record
DELETE: full
03569
96305
GETUPDATEBEFORES
NOCOMPRESSDELETES
LOGALLSUPCOLS
UPDATERECORDFORMAT COMPACT
COMPRESSUPDATES
PRM
SQL OUT
UPDATE: before + after in 1 record
DELETE: full
03569
96350
GETUPDATEBEFORES
NOCOMPRESSDELETES
LOGALLSUPCOLS
COMPRESSUPDATES
UPDATERECORDFORMAT COMPACT
PRM
SQL OUT
UPDATE: before + after in 1 record
DELETE: full
03569
96503
GETUPDATEBEFORES
NOCOMPRESSDELETES
COMPRESSUPDATES
UPDATERECORDFORMAT COMPACT
LOGALLSUPCOLS
PRM
SQL OUT
UPDATE: before + after in 1 record
DELETE: full
03569
96530
GETUPDATEBEFORES
NOCOMPRESSDELETES
COMPRESSUPDATES
LOGALLSUPCOLS
UPDATERECORDFORMAT COMPACT
PRM
SQL OUT
UPDATE: before + after in 1 record
DELETE: full
0357
0357
UPDATERECORDFORMAT COMPACT
LOGALLSUPCOLS
COMPRESSUPDATES
COMPRESSDELETES
PRM
SQL OUT
UPDATE: before + after in 1 record
DELETE: full
0357
0375
UPDATERECORDFORMAT COMPACT
LOGALLSUPCOLS
COMPRESSDELETES
COMPRESSUPDATES
PRM
SQL OUT
UPDATE: before + after in 1 record
DELETE: full
0357
0537
UPDATERECORDFORMAT COMPACT
COMPRESSUPDATES
LOGALLSUPCOLS
COMPRESSDELETES
PRM
SQL OUT
UPDATE: before + after in 1 record
DELETE: full
0357
0573
UPDATERECORDFORMAT COMPACT
COMPRESSUPDATES
COMPRESSDELETES
LOGALLSUPCOLS
PRM
SQL OUT
UPDATE: before + after in 1 record
DELETE: full
0357
0735
UPDATERECORDFORMAT COMPACT
COMPRESSDELETES
LOGALLSUPCOLS
COMPRESSUPDATES
PRM
SQL OUT
UPDATE: before + after in 1 record
DELETE: full
0357
0753
UPDATERECORDFORMAT COMPACT
COMPRESSDELETES
COMPRESSUPDATES
LOGALLSUPCOLS
PRM
SQL OUT
UPDATE: before + after in 1 record
DELETE: full
0357
3057
LOGALLSUPCOLS
UPDATERECORDFORMAT COMPACT
COMPRESSUPDATES
COMPRESSDELETES
PRM
SQL OUT
UPDATE: before + after in 1 record
DELETE: full
0357
3075
LOGALLSUPCOLS
UPDATERECORDFORMAT COMPACT
COMPRESSDELETES
COMPRESSUPDATES
PRM
SQL OUT
UPDATE: before + after in 1 record
DELETE: full
0357
3507
LOGALLSUPCOLS
COMPRESSUPDATES
UPDATERECORDFORMAT COMPACT
COMPRESSDELETES
PRM
SQL OUT
UPDATE: before + after in 1 record
DELETE: full
0357
3570
LOGALLSUPCOLS
COMPRESSUPDATES
COMPRESSDELETES
UPDATERECORDFORMAT COMPACT
PRM
SQL OUT
UPDATE: before + after in 1 record
DELETE: full
0357
3705
LOGALLSUPCOLS
COMPRESSDELETES
UPDATERECORDFORMAT COMPACT
COMPRESSUPDATES
PRM
SQL OUT
UPDATE: before + after in 1 record
DELETE: full
0357
3750
LOGALLSUPCOLS
COMPRESSDELETES
COMPRESSUPDATES
UPDATERECORDFORMAT COMPACT
PRM
SQL OUT
UPDATE: before + after in 1 record
DELETE: full
0357
5037
COMPRESSUPDATES
UPDATERECORDFORMAT COMPACT
LOGALLSUPCOLS
COMPRESSDELETES
PRM
SQL OUT
UPDATE: before + after in 1 record
DELETE: full
0357
5073
COMPRESSUPDATES
UPDATERECORDFORMAT COMPACT
COMPRESSDELETES
LOGALLSUPCOLS
PRM
SQL OUT
UPDATE: before + after in 1 record
DELETE: full
0357
5307
COMPRESSUPDATES
LOGALLSUPCOLS
UPDATERECORDFORMAT COMPACT
COMPRESSDELETES
PRM
SQL OUT
UPDATE: before + after in 1 record
DELETE: full
0357
5370
COMPRESSUPDATES
LOGALLSUPCOLS
COMPRESSDELETES
UPDATERECORDFORMAT COMPACT
PRM
SQL OUT
UPDATE: before + after in 1 record
DELETE: full
0357
5703
COMPRESSUPDATES
COMPRESSDELETES
UPDATERECORDFORMAT COMPACT
LOGALLSUPCOLS
PRM
SQL OUT
UPDATE: before + after in 1 record
DELETE: full
0357
5730
COMPRESSUPDATES
COMPRESSDELETES
LOGALLSUPCOLS
UPDATERECORDFORMAT COMPACT
PRM
SQL OUT
UPDATE: before + after in 1 record
DELETE: full
0357
7035
COMPRESSDELETES
UPDATERECORDFORMAT COMPACT
LOGALLSUPCOLS
COMPRESSUPDATES
PRM
SQL OUT
UPDATE: before + after in 1 record
DELETE: full
0357
7053
COMPRESSDELETES
UPDATERECORDFORMAT COMPACT
COMPRESSUPDATES
LOGALLSUPCOLS
PRM
SQL OUT
UPDATE: before + after in 1 record
DELETE: full
0357
7305
COMPRESSDELETES
LOGALLSUPCOLS
UPDATERECORDFORMAT COMPACT
COMPRESSUPDATES
PRM
SQL OUT
UPDATE: before + after in 1 record
DELETE: full
0357
7350
COMPRESSDELETES
LOGALLSUPCOLS
COMPRESSUPDATES
UPDATERECORDFORMAT COMPACT
PRM
SQL OUT
UPDATE: before + after in 1 record
DELETE: full
0357
7503
COMPRESSDELETES
COMPRESSUPDATES
UPDATERECORDFORMAT COMPACT
LOGALLSUPCOLS
PRM
SQL OUT
UPDATE: before + after in 1 record
DELETE: full
0357
7530
COMPRESSDELETES
COMPRESSUPDATES
LOGALLSUPCOLS
UPDATERECORDFORMAT COMPACT
PRM
SQL OUT
UPDATE: before + after in 1 record
DELETE: full
03578
03578
UPDATERECORDFORMAT COMPACT
LOGALLSUPCOLS
COMPRESSUPDATES
COMPRESSDELETES
IGNOREUPDATEBEFORES
PRM
SQL OUT
UPDATE: before + after in 1 record
DELETE: full
03578
03587
UPDATERECORDFORMAT COMPACT
LOGALLSUPCOLS
COMPRESSUPDATES
IGNOREUPDATEBEFORES
COMPRESSDELETES
PRM
SQL OUT
UPDATE: before + after in 1 record
DELETE: full
03578
03758
UPDATERECORDFORMAT COMPACT
LOGALLSUPCOLS
COMPRESSDELETES
COMPRESSUPDATES
IGNOREUPDATEBEFORES
PRM
SQL OUT
UPDATE: before + after in 1 record
DELETE: full
03578
03785
UPDATERECORDFORMAT COMPACT
LOGALLSUPCOLS
COMPRESSDELETES
IGNOREUPDATEBEFORES
COMPRESSUPDATES
PRM
SQL OUT
UPDATE: before + after in 1 record
DELETE: full
03578
03857
UPDATERECORDFORMAT COMPACT
LOGALLSUPCOLS
IGNOREUPDATEBEFORES
COMPRESSUPDATES
COMPRESSDELETES
PRM
SQL OUT
UPDATE: before + after in 1 record
DELETE: full
03578
03875
UPDATERECORDFORMAT COMPACT
LOGALLSUPCOLS
IGNOREUPDATEBEFORES
COMPRESSDELETES
COMPRESSUPDATES
PRM
SQL OUT
UPDATE: before + after in 1 record
DELETE: full
03578
05378
UPDATERECORDFORMAT COMPACT
COMPRESSUPDATES
LOGALLSUPCOLS
COMPRESSDELETES
IGNOREUPDATEBEFORES
PRM
SQL OUT
UPDATE: before + after in 1 record
DELETE: full
03578
05387
UPDATERECORDFORMAT COMPACT
COMPRESSUPDATES
LOGALLSUPCOLS
IGNOREUPDATEBEFORES
COMPRESSDELETES
PRM
SQL OUT
UPDATE: before + after in 1 record
DELETE: full
03578
05738
UPDATERECORDFORMAT COMPACT
COMPRESSUPDATES
COMPRESSDELETES
LOGALLSUPCOLS
IGNOREUPDATEBEFORES
PRM
SQL OUT
UPDATE: before + after in 1 record
DELETE: full
03578
05783
UPDATERECORDFORMAT COMPACT
COMPRESSUPDATES
COMPRESSDELETES
IGNOREUPDATEBEFORES
LOGALLSUPCOLS
PRM
SQL OUT
UPDATE: before + after in 1 record
DELETE: full
03578
05837
UPDATERECORDFORMAT COMPACT
COMPRESSUPDATES
IGNOREUPDATEBEFORES
LOGALLSUPCOLS
COMPRESSDELETES
PRM
SQL OUT
UPDATE: before + after in 1 record
DELETE: full
03578
05873
UPDATERECORDFORMAT COMPACT
COMPRESSUPDATES
IGNOREUPDATEBEFORES
COMPRESSDELETES
LOGALLSUPCOLS
PRM
SQL OUT
UPDATE: before + after in 1 record
DELETE: full
03578
07358
UPDATERECORDFORMAT COMPACT
COMPRESSDELETES
LOGALLSUPCOLS
COMPRESSUPDATES
IGNOREUPDATEBEFORES
PRM
SQL OUT
UPDATE: before + after in 1 record
DELETE: full
03578
07385
UPDATERECORDFORMAT COMPACT
COMPRESSDELETES
LOGALLSUPCOLS
IGNOREUPDATEBEFORES
COMPRESSUPDATES
PRM
SQL OUT
UPDATE: before + after in 1 record
DELETE: full
03578
07538
UPDATERECORDFORMAT COMPACT
COMPRESSDELETES
COMPRESSUPDATES
LOGALLSUPCOLS
IGNOREUPDATEBEFORES
PRM
SQL OUT
UPDATE: before + after in 1 record
DELETE: full
03578
07583
UPDATERECORDFORMAT COMPACT
COMPRESSDELETES
COMPRESSUPDATES
IGNOREUPDATEBEFORES
LOGALLSUPCOLS
PRM
SQL OUT
UPDATE: before + after in 1 record
DELETE: full
03578
07835
UPDATERECORDFORMAT COMPACT
COMPRESSDELETES
IGNOREUPDATEBEFORES
LOGALLSUPCOLS
COMPRESSUPDATES
PRM
SQL OUT
UPDATE: before + after in 1 record
DELETE: full
03578
07853
UPDATERECORDFORMAT COMPACT
COMPRESSDELETES
IGNOREUPDATEBEFORES
COMPRESSUPDATES
LOGALLSUPCOLS
PRM
SQL OUT
UPDATE: before + after in 1 record
DELETE: full
03578
08357
UPDATERECORDFORMAT COMPACT
IGNOREUPDATEBEFORES
LOGALLSUPCOLS
COMPRESSUPDATES
COMPRESSDELETES
PRM
SQL OUT
UPDATE: before + after in 1 record
DELETE: full
03578
08375
UPDATERECORDFORMAT COMPACT
IGNOREUPDATEBEFORES
LOGALLSUPCOLS
COMPRESSDELETES
COMPRESSUPDATES
PRM
SQL OUT
UPDATE: before + after in 1 record
DELETE: full
03578
08537
UPDATERECORDFORMAT COMPACT
IGNOREUPDATEBEFORES
COMPRESSUPDATES
LOGALLSUPCOLS
COMPRESSDELETES
PRM
SQL OUT
UPDATE: before + after in 1 record
DELETE: full
03578
08573
UPDATERECORDFORMAT COMPACT
IGNOREUPDATEBEFORES
COMPRESSUPDATES
COMPRESSDELETES
LOGALLSUPCOLS
PRM
SQL OUT
UPDATE: before + after in 1 record
DELETE: full
03578
08735
UPDATERECORDFORMAT COMPACT
IGNOREUPDATEBEFORES
COMPRESSDELETES
LOGALLSUPCOLS
COMPRESSUPDATES
PRM
SQL OUT
UPDATE: before + after in 1 record
DELETE: full
03578
08753
UPDATERECORDFORMAT COMPACT
IGNOREUPDATEBEFORES
COMPRESSDELETES
COMPRESSUPDATES
LOGALLSUPCOLS
PRM
SQL OUT
UPDATE: before + after in 1 record
DELETE: full
03578
30578
LOGALLSUPCOLS
UPDATERECORDFORMAT COMPACT
COMPRESSUPDATES
COMPRESSDELETES
IGNOREUPDATEBEFORES
PRM
SQL OUT
UPDATE: before + after in 1 record
DELETE: full
03578
30587
LOGALLSUPCOLS
UPDATERECORDFORMAT COMPACT
COMPRESSUPDATES
IGNOREUPDATEBEFORES
COMPRESSDELETES
PRM
SQL OUT
UPDATE: before + after in 1 record
DELETE: full
03578
30758
LOGALLSUPCOLS
UPDATERECORDFORMAT COMPACT
COMPRESSDELETES
COMPRESSUPDATES
IGNOREUPDATEBEFORES
PRM
SQL OUT
UPDATE: before + after in 1 record
DELETE: full
03578
30785
LOGALLSUPCOLS
UPDATERECORDFORMAT COMPACT
COMPRESSDELETES
IGNOREUPDATEBEFORES
COMPRESSUPDATES
PRM
SQL OUT
UPDATE: before + after in 1 record
DELETE: full
03578
30857
LOGALLSUPCOLS
UPDATERECORDFORMAT COMPACT
IGNOREUPDATEBEFORES
COMPRESSUPDATES
COMPRESSDELETES
PRM
SQL OUT
UPDATE: before + after in 1 record
DELETE: full
03578
30875
LOGALLSUPCOLS
UPDATERECORDFORMAT COMPACT
IGNOREUPDATEBEFORES
COMPRESSDELETES
COMPRESSUPDATES
PRM
SQL OUT
UPDATE: before + after in 1 record
DELETE: full
03578
35078
LOGALLSUPCOLS
COMPRESSUPDATES
UPDATERECORDFORMAT COMPACT
COMPRESSDELETES
IGNOREUPDATEBEFORES
PRM
SQL OUT
UPDATE: before + after in 1 record
DELETE: full
03578
35087
LOGALLSUPCOLS
COMPRESSUPDATES
UPDATERECORDFORMAT COMPACT
IGNOREUPDATEBEFORES
COMPRESSDELETES
PRM
SQL OUT
UPDATE: before + after in 1 record
DELETE: full
03578
35708
LOGALLSUPCOLS
COMPRESSUPDATES
COMPRESSDELETES
UPDATERECORDFORMAT COMPACT
IGNOREUPDATEBEFORES
PRM
SQL OUT
UPDATE: before + after in 1 record
DELETE: full
03578
35780
LOGALLSUPCOLS
COMPRESSUPDATES
COMPRESSDELETES
IGNOREUPDATEBEFORES
UPDATERECORDFORMAT COMPACT
PRM
SQL OUT
UPDATE: before + after in 1 record
DELETE: full
03578
35807
LOGALLSUPCOLS
COMPRESSUPDATES
IGNOREUPDATEBEFORES
UPDATERECORDFORMAT COMPACT
COMPRESSDELETES
PRM
SQL OUT
UPDATE: before + after in 1 record
DELETE: full
03578
35870
LOGALLSUPCOLS
COMPRESSUPDATES
IGNOREUPDATEBEFORES
COMPRESSDELETES
UPDATERECORDFORMAT COMPACT
PRM
SQL OUT
UPDATE: before + after in 1 record
DELETE: full
03578
37058
LOGALLSUPCOLS
COMPRESSDELETES
UPDATERECORDFORMAT COMPACT
COMPRESSUPDATES
IGNOREUPDATEBEFORES
PRM
SQL OUT
UPDATE: before + after in 1 record
DELETE: full
03578
37085
LOGALLSUPCOLS
COMPRESSDELETES
UPDATERECORDFORMAT COMPACT
IGNOREUPDATEBEFORES
COMPRESSUPDATES
PRM
SQL OUT
UPDATE: before + after in 1 record
DELETE: full
03578
37508
LOGALLSUPCOLS
COMPRESSDELETES
COMPRESSUPDATES
UPDATERECORDFORMAT COMPACT
IGNOREUPDATEBEFORES
PRM
SQL OUT
UPDATE: before + after in 1 record
DELETE: full
03578
37580
LOGALLSUPCOLS
COMPRESSDELETES
COMPRESSUPDATES
IGNOREUPDATEBEFORES
UPDATERECORDFORMAT COMPACT
PRM
SQL OUT
UPDATE: before + after in 1 record
DELETE: full
03578
37805
LOGALLSUPCOLS
COMPRESSDELETES
IGNOREUPDATEBEFORES
UPDATERECORDFORMAT COMPACT
COMPRESSUPDATES
PRM
SQL OUT
UPDATE: before + after in 1 record
DELETE: full
03578
37850
LOGALLSUPCOLS
COMPRESSDELETES
IGNOREUPDATEBEFORES
COMPRESSUPDATES
UPDATERECORDFORMAT COMPACT
PRM
SQL OUT
UPDATE: before + after in 1 record
DELETE: full
03578
38057
LOGALLSUPCOLS
IGNOREUPDATEBEFORES
UPDATERECORDFORMAT COMPACT
COMPRESSUPDATES
COMPRESSDELETES
PRM
SQL OUT
UPDATE: before + after in 1 record
DELETE: full
03578
38075
LOGALLSUPCOLS
IGNOREUPDATEBEFORES
UPDATERECORDFORMAT COMPACT
COMPRESSDELETES
COMPRESSUPDATES
PRM
SQL OUT
UPDATE: before + after in 1 record
DELETE: full
03578
38507
LOGALLSUPCOLS
IGNOREUPDATEBEFORES
COMPRESSUPDATES
UPDATERECORDFORMAT COMPACT
COMPRESSDELETES
PRM
SQL OUT
UPDATE: before + after in 1 record
DELETE: full
03578
38570
LOGALLSUPCOLS
IGNOREUPDATEBEFORES
COMPRESSUPDATES
COMPRESSDELETES
UPDATERECORDFORMAT COMPACT
PRM
SQL OUT
UPDATE: before + after in 1 record
DELETE: full
03578
38705
LOGALLSUPCOLS
IGNOREUPDATEBEFORES
COMPRESSDELETES
UPDATERECORDFORMAT COMPACT
COMPRESSUPDATES
PRM
SQL OUT
UPDATE: before + after in 1 record
DELETE: full
03578
38750
LOGALLSUPCOLS
IGNOREUPDATEBEFORES
COMPRESSDELETES
COMPRESSUPDATES
UPDATERECORDFORMAT COMPACT
PRM
SQL OUT
UPDATE: before + after in 1 record
DELETE: full
03578
50378
COMPRESSUPDATES
UPDATERECORDFORMAT COMPACT
LOGALLSUPCOLS
COMPRESSDELETES
IGNOREUPDATEBEFORES
PRM
SQL OUT
UPDATE: before + after in 1 record
DELETE: full
03578
50387
COMPRESSUPDATES
UPDATERECORDFORMAT COMPACT
LOGALLSUPCOLS
IGNOREUPDATEBEFORES
COMPRESSDELETES
PRM
SQL OUT
UPDATE: before + after in 1 record
DELETE: full
03578
50738
COMPRESSUPDATES
UPDATERECORDFORMAT COMPACT
COMPRESSDELETES
LOGALLSUPCOLS
IGNOREUPDATEBEFORES
PRM
SQL OUT
UPDATE: before + after in 1 record
DELETE: full
03578
50783
COMPRESSUPDATES
UPDATERECORDFORMAT COMPACT
COMPRESSDELETES
IGNOREUPDATEBEFORES
LOGALLSUPCOLS
PRM
SQL OUT
UPDATE: before + after in 1 record
DELETE: full
03578
50837
COMPRESSUPDATES
UPDATERECORDFORMAT COMPACT
IGNOREUPDATEBEFORES
LOGALLSUPCOLS
COMPRESSDELETES
PRM
SQL OUT
UPDATE: before + after in 1 record
DELETE: full
03578
50873
COMPRESSUPDATES
UPDATERECORDFORMAT COMPACT
IGNOREUPDATEBEFORES
COMPRESSDELETES
LOGALLSUPCOLS
PRM
SQL OUT
UPDATE: before + after in 1 record
DELETE: full
03578
53078
COMPRESSUPDATES
LOGALLSUPCOLS
UPDATERECORDFORMAT COMPACT
COMPRESSDELETES
IGNOREUPDATEBEFORES
PRM
SQL OUT
UPDATE: before + after in 1 record
DELETE: full
03578
53087
COMPRESSUPDATES
LOGALLSUPCOLS
UPDATERECORDFORMAT COMPACT
IGNOREUPDATEBEFORES
COMPRESSDELETES
PRM
SQL OUT
UPDATE: before + after in 1 record
DELETE: full
03578
53708
COMPRESSUPDATES
LOGALLSUPCOLS
COMPRESSDELETES
UPDATERECORDFORMAT COMPACT
IGNOREUPDATEBEFORES
PRM
SQL OUT
UPDATE: before + after in 1 record
DELETE: full
03578
53780
COMPRESSUPDATES
LOGALLSUPCOLS
COMPRESSDELETES
IGNOREUPDATEBEFORES
UPDATERECORDFORMAT COMPACT
PRM
SQL OUT
UPDATE: before + after in 1 record
DELETE: full
03578
53807
COMPRESSUPDATES
LOGALLSUPCOLS
IGNOREUPDATEBEFORES
UPDATERECORDFORMAT COMPACT
COMPRESSDELETES
PRM
SQL OUT
UPDATE: before + after in 1 record
DELETE: full
03578
53870
COMPRESSUPDATES
LOGALLSUPCOLS
IGNOREUPDATEBEFORES
COMPRESSDELETES
UPDATERECORDFORMAT COMPACT
PRM
SQL OUT
UPDATE: before + after in 1 record
DELETE: full
03578
57038
COMPRESSUPDATES
COMPRESSDELETES
UPDATERECORDFORMAT COMPACT
LOGALLSUPCOLS
IGNOREUPDATEBEFORES
PRM
SQL OUT
UPDATE: before + after in 1 record
DELETE: full
03578
57083
COMPRESSUPDATES
COMPRESSDELETES
UPDATERECORDFORMAT COMPACT
IGNOREUPDATEBEFORES
LOGALLSUPCOLS
PRM
SQL OUT
UPDATE: before + after in 1 record
DELETE: full
03578
57308
COMPRESSUPDATES
COMPRESSDELETES
LOGALLSUPCOLS
UPDATERECORDFORMAT COMPACT
IGNOREUPDATEBEFORES
PRM
SQL OUT
UPDATE: before + after in 1 record
DELETE: full
03578
57380
COMPRESSUPDATES
COMPRESSDELETES
LOGALLSUPCOLS
IGNOREUPDATEBEFORES
UPDATERECORDFORMAT COMPACT
PRM
SQL OUT
UPDATE: before + after in 1 record
DELETE: full
03578
57803
COMPRESSUPDATES
COMPRESSDELETES
IGNOREUPDATEBEFORES
UPDATERECORDFORMAT COMPACT
LOGALLSUPCOLS
PRM
SQL OUT
UPDATE: before + after in 1 record
DELETE: full
03578
57830
COMPRESSUPDATES
COMPRESSDELETES
IGNOREUPDATEBEFORES
LOGALLSUPCOLS
UPDATERECORDFORMAT COMPACT
PRM
SQL OUT
UPDATE: before + after in 1 record
DELETE: full
03578
58037
COMPRESSUPDATES
IGNOREUPDATEBEFORES
UPDATERECORDFORMAT COMPACT
LOGALLSUPCOLS
COMPRESSDELETES
PRM
SQL OUT
UPDATE: before + after in 1 record
DELETE: full
03578
58073
COMPRESSUPDATES
IGNOREUPDATEBEFORES
UPDATERECORDFORMAT COMPACT
COMPRESSDELETES
LOGALLSUPCOLS
PRM
SQL OUT
UPDATE: before + after in 1 record
DELETE: full
03578
58307
COMPRESSUPDATES
IGNOREUPDATEBEFORES
LOGALLSUPCOLS
UPDATERECORDFORMAT COMPACT
COMPRESSDELETES
PRM
SQL OUT
UPDATE: before + after in 1 record
DELETE: full
03578
58370
COMPRESSUPDATES
IGNOREUPDATEBEFORES
LOGALLSUPCOLS
COMPRESSDELETES
UPDATERECORDFORMAT COMPACT
PRM
SQL OUT
UPDATE: before + after in 1 record
DELETE: full
03578
58703
COMPRESSUPDATES
IGNOREUPDATEBEFORES
COMPRESSDELETES
UPDATERECORDFORMAT COMPACT
LOGALLSUPCOLS
PRM
SQL OUT
UPDATE: before + after in 1 record
DELETE: full
03578
58730
COMPRESSUPDATES
IGNOREUPDATEBEFORES
COMPRESSDELETES
LOGALLSUPCOLS
UPDATERECORDFORMAT COMPACT
PRM
SQL OUT
UPDATE: before + after in 1 record
DELETE: full
03578
70358
COMPRESSDELETES
UPDATERECORDFORMAT COMPACT
LOGALLSUPCOLS
COMPRESSUPDATES
IGNOREUPDATEBEFORES
PRM
SQL OUT
UPDATE: before + after in 1 record
DELETE: full
03578
70385
COMPRESSDELETES
UPDATERECORDFORMAT COMPACT
LOGALLSUPCOLS
IGNOREUPDATEBEFORES
COMPRESSUPDATES
PRM
SQL OUT
UPDATE: before + after in 1 record
DELETE: full
03578
70538
COMPRESSDELETES
UPDATERECORDFORMAT COMPACT
COMPRESSUPDATES
LOGALLSUPCOLS
IGNOREUPDATEBEFORES
PRM
SQL OUT
UPDATE: before + after in 1 record
DELETE: full
03578
70583
COMPRESSDELETES
UPDATERECORDFORMAT COMPACT
COMPRESSUPDATES
IGNOREUPDATEBEFORES
LOGALLSUPCOLS
PRM
SQL OUT
UPDATE: before + after in 1 record
DELETE: full
03578
70835
COMPRESSDELETES
UPDATERECORDFORMAT COMPACT
IGNOREUPDATEBEFORES
LOGALLSUPCOLS
COMPRESSUPDATES
PRM
SQL OUT
UPDATE: before + after in 1 record
DELETE: full
03578
70853
COMPRESSDELETES
UPDATERECORDFORMAT COMPACT
IGNOREUPDATEBEFORES
COMPRESSUPDATES
LOGALLSUPCOLS
PRM
SQL OUT
UPDATE: before + after in 1 record
DELETE: full
03578
73058
COMPRESSDELETES
LOGALLSUPCOLS
UPDATERECORDFORMAT COMPACT
COMPRESSUPDATES
IGNOREUPDATEBEFORES
PRM
SQL OUT
UPDATE: before + after in 1 record
DELETE: full
03578
73085
COMPRESSDELETES
LOGALLSUPCOLS
UPDATERECORDFORMAT COMPACT
IGNOREUPDATEBEFORES
COMPRESSUPDATES
PRM
SQL OUT
UPDATE: before + after in 1 record
DELETE: full
03578
73508
COMPRESSDELETES
LOGALLSUPCOLS
COMPRESSUPDATES
UPDATERECORDFORMAT COMPACT
IGNOREUPDATEBEFORES
PRM
SQL OUT
UPDATE: before + after in 1 record
DELETE: full
03578
73580
COMPRESSDELETES
LOGALLSUPCOLS
COMPRESSUPDATES
IGNOREUPDATEBEFORES
UPDATERECORDFORMAT COMPACT
PRM
SQL OUT
UPDATE: before + after in 1 record
DELETE: full
03578
73805
COMPRESSDELETES
LOGALLSUPCOLS
IGNOREUPDATEBEFORES
UPDATERECORDFORMAT COMPACT
COMPRESSUPDATES
PRM
SQL OUT
UPDATE: before + after in 1 record
DELETE: full
03578
73850
COMPRESSDELETES
LOGALLSUPCOLS
IGNOREUPDATEBEFORES
COMPRESSUPDATES
UPDATERECORDFORMAT COMPACT
PRM
SQL OUT
UPDATE: before + after in 1 record
DELETE: full
03578
75038
COMPRESSDELETES
COMPRESSUPDATES
UPDATERECORDFORMAT COMPACT
LOGALLSUPCOLS
IGNOREUPDATEBEFORES
PRM
SQL OUT
UPDATE: before + after in 1 record
DELETE: full
03578
75083
COMPRESSDELETES
COMPRESSUPDATES
UPDATERECORDFORMAT COMPACT
IGNOREUPDATEBEFORES
LOGALLSUPCOLS
PRM
SQL OUT
UPDATE: before + after in 1 record
DELETE: full
03578
75308
COMPRESSDELETES
COMPRESSUPDATES
LOGALLSUPCOLS
UPDATERECORDFORMAT COMPACT
IGNOREUPDATEBEFORES
PRM
SQL OUT
UPDATE: before + after in 1 record
DELETE: full
03578
75380
COMPRESSDELETES
COMPRESSUPDATES
LOGALLSUPCOLS
IGNOREUPDATEBEFORES
UPDATERECORDFORMAT COMPACT
PRM
SQL OUT
UPDATE: before + after in 1 record
DELETE: full
03578
75803
COMPRESSDELETES
COMPRESSUPDATES
IGNOREUPDATEBEFORES
UPDATERECORDFORMAT COMPACT
LOGALLSUPCOLS
PRM
SQL OUT
UPDATE: before + after in 1 record
DELETE: full
03578
75830
COMPRESSDELETES
COMPRESSUPDATES
IGNOREUPDATEBEFORES
LOGALLSUPCOLS
UPDATERECORDFORMAT COMPACT
PRM
SQL OUT
UPDATE: before + after in 1 record
DELETE: full
03578
78035
COMPRESSDELETES
IGNOREUPDATEBEFORES
UPDATERECORDFORMAT COMPACT
LOGALLSUPCOLS
COMPRESSUPDATES
PRM
SQL OUT
UPDATE: before + after in 1 record
DELETE: full
03578
78053
COMPRESSDELETES
IGNOREUPDATEBEFORES
UPDATERECORDFORMAT COMPACT
COMPRESSUPDATES
LOGALLSUPCOLS
PRM
SQL OUT
UPDATE: before + after in 1 record
DELETE: full
03578
78305
COMPRESSDELETES
IGNOREUPDATEBEFORES
LOGALLSUPCOLS
UPDATERECORDFORMAT COMPACT
COMPRESSUPDATES
PRM
SQL OUT
UPDATE: before + after in 1 record
DELETE: full
03578
78350
COMPRESSDELETES
IGNOREUPDATEBEFORES
LOGALLSUPCOLS
COMPRESSUPDATES
UPDATERECORDFORMAT COMPACT
PRM
SQL OUT
UPDATE: before + after in 1 record
DELETE: full
03578
78503
COMPRESSDELETES
IGNOREUPDATEBEFORES
COMPRESSUPDATES
UPDATERECORDFORMAT COMPACT
LOGALLSUPCOLS
PRM
SQL OUT
UPDATE: before + after in 1 record
DELETE: full
03578
78530
COMPRESSDELETES
IGNOREUPDATEBEFORES
COMPRESSUPDATES
LOGALLSUPCOLS
UPDATERECORDFORMAT COMPACT
PRM
SQL OUT
UPDATE: before + after in 1 record
DELETE: full
03578
80357
IGNOREUPDATEBEFORES
UPDATERECORDFORMAT COMPACT
LOGALLSUPCOLS
COMPRESSUPDATES
COMPRESSDELETES
PRM
SQL OUT
UPDATE: before + after in 1 record
DELETE: full
03578
80375
IGNOREUPDATEBEFORES
UPDATERECORDFORMAT COMPACT
LOGALLSUPCOLS
COMPRESSDELETES
COMPRESSUPDATES
PRM
SQL OUT
UPDATE: before + after in 1 record
DELETE: full
03578
80537
IGNOREUPDATEBEFORES
UPDATERECORDFORMAT COMPACT
COMPRESSUPDATES
LOGALLSUPCOLS
COMPRESSDELETES
PRM
SQL OUT
UPDATE: before + after in 1 record
DELETE: full
03578
80573
IGNOREUPDATEBEFORES
UPDATERECORDFORMAT COMPACT
COMPRESSUPDATES
COMPRESSDELETES
LOGALLSUPCOLS
PRM
SQL OUT
UPDATE: before + after in 1 record
DELETE: full
03578
80735
IGNOREUPDATEBEFORES
UPDATERECORDFORMAT COMPACT
COMPRESSDELETES
LOGALLSUPCOLS
COMPRESSUPDATES
PRM
SQL OUT
UPDATE: before + after in 1 record
DELETE: full
03578
80753
IGNOREUPDATEBEFORES
UPDATERECORDFORMAT COMPACT
COMPRESSDELETES
COMPRESSUPDATES
LOGALLSUPCOLS
PRM
SQL OUT
UPDATE: before + after in 1 record
DELETE: full
03578
83057
IGNOREUPDATEBEFORES
LOGALLSUPCOLS
UPDATERECORDFORMAT COMPACT
COMPRESSUPDATES
COMPRESSDELETES
PRM
SQL OUT
UPDATE: before + after in 1 record
DELETE: full
03578
83075
IGNOREUPDATEBEFORES
LOGALLSUPCOLS
UPDATERECORDFORMAT COMPACT
COMPRESSDELETES
COMPRESSUPDATES
PRM
SQL OUT
UPDATE: before + after in 1 record
DELETE: full
03578
83507
IGNOREUPDATEBEFORES
LOGALLSUPCOLS
COMPRESSUPDATES
UPDATERECORDFORMAT COMPACT
COMPRESSDELETES
PRM
SQL OUT
UPDATE: before + after in 1 record
DELETE: full
03578
83570
IGNOREUPDATEBEFORES
LOGALLSUPCOLS
COMPRESSUPDATES
COMPRESSDELETES
UPDATERECORDFORMAT COMPACT
PRM
SQL OUT
UPDATE: before + after in 1 record
DELETE: full
03578
83705
IGNOREUPDATEBEFORES
LOGALLSUPCOLS
COMPRESSDELETES
UPDATERECORDFORMAT COMPACT
COMPRESSUPDATES
PRM
SQL OUT
UPDATE: before + after in 1 record
DELETE: full
03578
83750
IGNOREUPDATEBEFORES
LOGALLSUPCOLS
COMPRESSDELETES
COMPRESSUPDATES
UPDATERECORDFORMAT COMPACT
PRM
SQL OUT
UPDATE: before + after in 1 record
DELETE: full
03578
85037
IGNOREUPDATEBEFORES
COMPRESSUPDATES
UPDATERECORDFORMAT COMPACT
LOGALLSUPCOLS
COMPRESSDELETES
PRM
SQL OUT
UPDATE: before + after in 1 record
DELETE: full
03578
85073
IGNOREUPDATEBEFORES
COMPRESSUPDATES
UPDATERECORDFORMAT COMPACT
COMPRESSDELETES
LOGALLSUPCOLS
PRM
SQL OUT
UPDATE: before + after in 1 record
DELETE: full
03578
85307
IGNOREUPDATEBEFORES
COMPRESSUPDATES
LOGALLSUPCOLS
UPDATERECORDFORMAT COMPACT
COMPRESSDELETES
PRM
SQL OUT
UPDATE: before + after in 1 record
DELETE: full
03578
85370
IGNOREUPDATEBEFORES
COMPRESSUPDATES
LOGALLSUPCOLS
COMPRESSDELETES
UPDATERECORDFORMAT COMPACT
PRM
SQL OUT
UPDATE: before + after in 1 record
DELETE: full
03578
85703
IGNOREUPDATEBEFORES
COMPRESSUPDATES
COMPRESSDELETES
UPDATERECORDFORMAT COMPACT
LOGALLSUPCOLS
PRM
SQL OUT
UPDATE: before + after in 1 record
DELETE: full
03578
85730
IGNOREUPDATEBEFORES
COMPRESSUPDATES
COMPRESSDELETES
LOGALLSUPCOLS
UPDATERECORDFORMAT COMPACT
PRM
SQL OUT
UPDATE: before + after in 1 record
DELETE: full
03578
87035
IGNOREUPDATEBEFORES
COMPRESSDELETES
UPDATERECORDFORMAT COMPACT
LOGALLSUPCOLS
COMPRESSUPDATES
PRM
SQL OUT
UPDATE: before + after in 1 record
DELETE: full